By: Aaron Lai
May 26, 2023
When I was working in retail, I was used to always making sure my name badge was properly seen in case any customers needed to ask for help. The same would be said for at work, where it is important to have an ID card to both identify myself and to access the buildings. Recently, I had to go to the dentist because I noticed a slight chip in my molar tooth. As I was being checked and received X-rays, I saw the dental assistant who was with me had a label on her scrubs that said "FIGS". Obviously, if you know your medical brands, you will know that Figs is a clothing maker for healthcare personnel, which includes scrubs. However, for a good chunk of the appointment, I thought her name was Figs. I know it is not a traditional one, but considering some of the names you hear of newborns in this day and age, I do not think Figs is too wild. I was not really sure how to ask her, especially since there was no opportune moment to confirm my suspicions. It was not until the dentist arrived to smooth out the chip and called her by her real name, which was Selena. I was glad she had a more typical name rather than being named after a fruit. In a similar fashion, when Maono sent us this microphone, it was called the DM20. In fact, during this review, you will see this on the Maono packaging and microphone. However, since receiving the product, they changed the name to GamerWave, which makes sense given the item. This is clearly targeted for gamers, but what makes this a gaming microphone, and is worth your time and money? Let us read on to find out!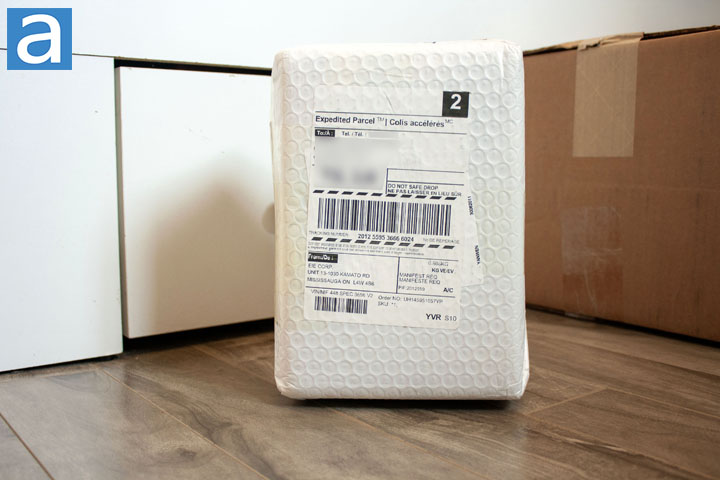 Today's review unit of the Maono GamerWave arrived from Eagle International E-business Corp., which is a logistics company in Mississauga, Ontario, Canada. Traveling with Canada Post and their Expedited Parcel service, this package arrived safely to our APH Networks offices here in Calgary, Alberta, Canada. This box was wrapped in a layer of bubble wrap packaging, but there is not much else for protection. There are no scratches or notable dents from this vantage point, but we will see what that means when we unwrap this box.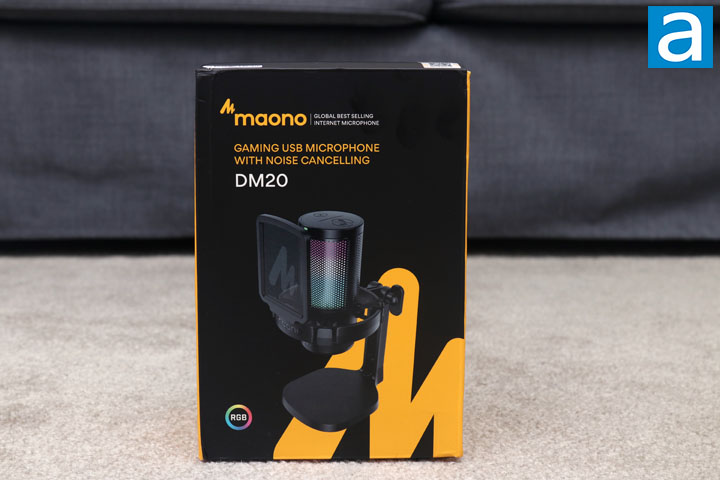 The Maono GamerWave comes in a pretty generic box with a black exterior and yellow highlights. From the front, you can see the Maono logo, next to a tagline which says "Global Best Selling Internet Microphone". This is a pretty big claim to make. According to their statistics, they have sold over 16 million products to 153 countries since their start in 2014. Otherwise, Maono means "vision" in Swahili, which refers to the founder's time in Africa. Moving on, you can see a product description of "Gaming USB Microphone with Noise Cancelling", along with the "DM20" name. As aforementioned, this is now the Maono GamerWave, and will be referred to as such going forward. Around the box, we have a few more diagrams and specifications. It also points out on the back there are three colors available, including white, black, and pink. You will see shortly which color we got, but you can probably take a reasonable guess if you have been a long time reader at APH Networks.
Before we continue on, I have grabbed the specifications from the manufacturer's website for your perusal:
Element Type: Condenser microphone
Polar Pattern: Cardioid
Connectivity: USB/USB-C
Bit Depth/Sample Rate: 24-bit/48kHz
Frequency Response: 80Hz-10kHz
Monitoring Function: ✔
Sensitivity: -40±3dB
SNR: 1kHz>70dB
Compatible Devices: Desktop/Laptop/Computer/PS4/PS5/MAC OS/WINDOWS
Noise Deduction: ✔
RGB Light Mode: 9 Kinds of Modes
Recommended Uses For Product: Podcasting, Recording, Streaming, Gaming, Video Conference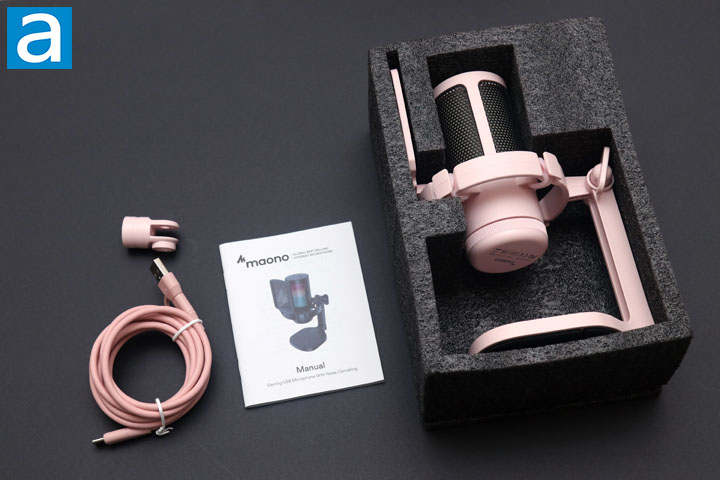 As you might have guessed, Editor-in-Chief Jonathan Kwan acquired the pink version of the Maono GamerWave for us, although you should not be too surprised. It is nice to see colors other than the standard black or white that are so commonly found. Otherwise, the GamerWave comes in a foam bracket with a separate box holding the color-matching 1.8m USB Type-C to Type-A cable and microphone mount. A small manual also comes inside and it includes general quick start information and specifications. The black foam bracket is a bit soft, but does a good enough job to protect the product from damage.
---
Page Index
1. Introduction, Packaging, Specifications
2.
Physical Look - Hardware
3.
Recording Performance Tests
4.
Conclusion