By: Jonathan Kwan
July 23, 2008
You might think that, here at APH Networks, we're a bunch of geeks who own a dozen computers at home. Maybe a TV and a microwave, and that's about it. I don't know about other members of the APH Networks team (Sorry guys hehe), but here's the deal though: While I do have almost a dozen computers around here, and I do own a microwave and an HDTV, I have something more than that. After all, despite popular belief, we do have a life. Okay, jokes aside, my point is that we aren't all over tech and tech related stuff all the time. Once in a while, we do have non-computer related products here in our labs. It's already been two years since we looked at the Sumo Lounge Omni Beanbag Chair. Just a few months ago, we 'reviewed' the TWM Performance Complete Short Shifter Kit just for fun. Automotive accessories? Heck, yes. Last month, Andrew from Sumo Lounge got in touch with me again and asked if I wanted to take a look at their latest product, the Sumo Lounge SumoSac. Obviously, I said "yes", not only to Andrew, but who could say "no" to such a unique piece of furniture? I won't waste any more of your time, let's get to the point!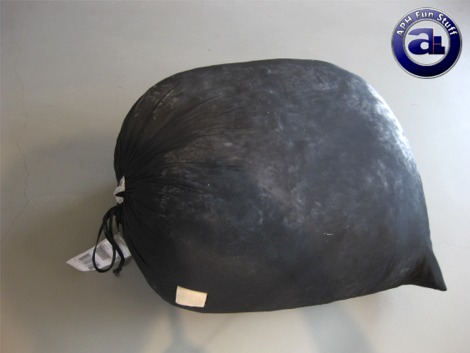 A week later, we received quite a large and heavy package from the other side of the country using FedEx Ground. (Wonder how much that cost!?) Well, point being, when I say 'heavy', it's probably even heavier than the Sumo Lounge Omni. The difference is that it comes in a smaller package; since the Omni that was sent to us back in 2006 came in a large corrugated cardboard box. Mentioning 'small' in this context is a relative term, simply because it's still one of the largest packages we'd ever receive for this purpose.
Our Sumo Lounge SumoSac Sultan came packaged in a tough reusable cloth-like material bag, with a drawstring seal at the top. The rope that held the opening closed was pulled through really tightly, and the way it was tied took us a while to get its content out. You can probably never return it to its original form and fit the SumoSac back inside, so feel free to simply rip it apart at your own will.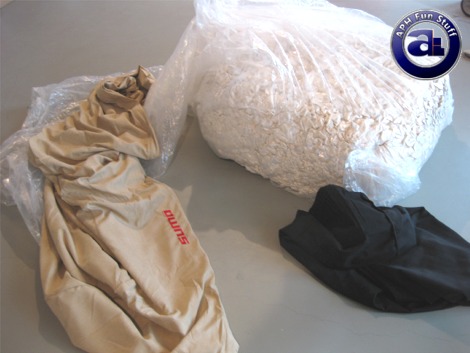 Since the contents are shipped compressed under vacuum, it minimizes the amount of space the SumoSac takes during transport -- and even if you were to pick up the product from a local FedEx facility, it should fit inside most vehicles without a problem. As mentioned earlier, due to the way it's packed, it's darn near impossible for the average user to pack it back into its original packaging. On the bright side, the SumoSac itself should not be hard to transport. I moved the Sumo Lounge Omni from Edmonton to here in Calgary without issues.
After using much effort to get the contents out of the protection bag outside, you will get the internal white zipper cloth filling bag inside a large plastic protection bag (That's a lot of bags, yo), and an included micro suede zipper cover. The removable micro suede cover is physically separate and is available in many colors; of which includes Pitch Black, Khaki, Sky Blue, Funky Brown, and Fiery Red. Our particular unit has a Khaki colored cover, which is quite unique and looks very nice -- especially suitable for its micro suede material that it's made of.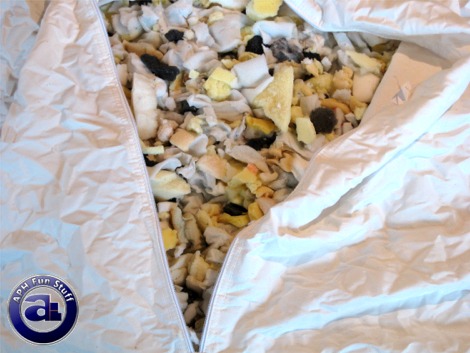 Unzipping the white filling bag reveals the filling used inside. My first reaction was like, "Recycled furniture?" or "Hey, that looks like some cut up foam that came from my old sofa" -- but Sumo Lounge themselves call it "100% shredded furniture grade urethane foam". I actually never saw something that's made like this before, but obviously I don't pay much attention to the furniture scene either haha. That aside, due to the way it was packed during shipping, it will take some time (Or lots of kicking) before the bits and pieces are loosened up for maximum comfort.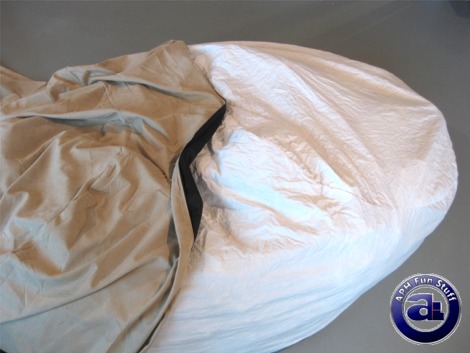 Simply slip the filling bag into the micro suede cover; which again is like another bag. Slide the long zipper closed and you're good to go. This is actually very convenient, as the cover will get dirty -- it's definitely inevitable. However, since it's fully removable, the owner can easily take it off and throw it into the washing machine. It's really convenient and it's really nice to see furniture that easy to clean. I have a steam cleaner at home, but throwing it in the washer is much more convenient. Not to mention that I'm really that lazy. Props to Sumo Lounge.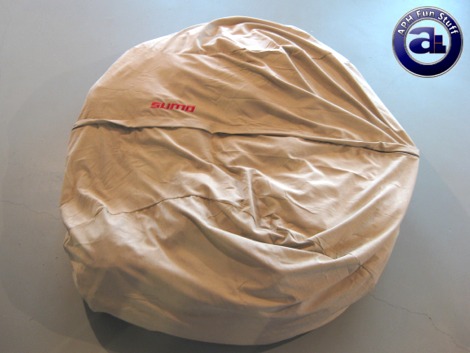 The dimensions of the Sumo Lounge SumoSac Sultan measures 54 x 54 x 42 according to Sumo Lounge themselves, but three other sizes are available. The SumoSac Gamer's dimensions are 42 x 42 x 34, 48 x 48 x 36 for the Couple, and 86 x 60 x 40 Giganator. The SumoSac Sultan is actually very big; it can sit at least two persons -- unless one wants to occupy all the space. If you have a gaming or TV room in your house, a lounge, or whatever, it's actually very comfortable -- once you loosen up the shredded furniture grade urethane foam fillings from shipment. It's very soft and adjusts to different body shapes and sitting positions easily due to the way the design is implemented. To add to that, the micro suede cover is very smooth and comfortable, and you won't slip off easily. I found it much more comfortable than the Sumo Lounge Omni beanbag chair after long periods of time as its fillings do not relocate that dynamically. The biggest difference is that it's not as much fun to sit on as the Omni, but the SumoSac has much better practicality. Each has its advantages, but don't get me wrong -- both are still really fun to use in general, and I can definitely assure you that the SumoSac is a quality product!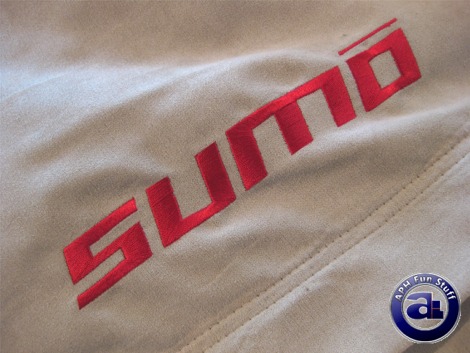 I'd like to thank Andrew over at Sumolounge for providing us with the SumoSac to play around with in our lab... er, lounge. Hehe.