By: Kenneth Kwok
February 25, 2014
It has only been a few weeks since Chinese New Year, but there were certainly some unforgettable moments for me this year. Let's be honest, most years, I just scrape by, collecting Red Pockets and dishing out the standard Chinese greetings to friends and family. However, this year some interesting things happened. It all started a few days before Chinese New Year, when I was on campus hanging out with a few of my friends. While hanging out in the food court, we had a discussion about our upcoming plans to celebrate. Of course, we all talked about collecting Red Pockets and our dinner events. One thing I didn't expect was said by one of my friends, "We're going to be hosting a giant dinner party with family and friends." Usually this wouldn't be out of the ordinary, but this person has barely ever hosted any social events. A few days later after the New Year had passed, I met up with my friends again, and we once again recapped how our celebrations went. When it finally got to this person's turn, he was almost in tears. Apparently, their family had completely forgotten to invite anyone over, as they were too busy preparing for the day. In the end, their family had a giant party and feast set up just for themselves. This story really reminds me of how we can be so focused on one thing that we forget the true meaning behind it all. The same can be said for products as well. Sometimes companies work so hard to make something, they have completely forgotten the root purpose for its existence. This week, we have the Antec High Current Gamer M 750W up for evaluation. Is it a power supply that is back to the basics in delivering lots of power efficiently for the enthusiast? Antec is well known for their computer chassis, power supplies, and other computer supplies. Without further delay, let us dive into our report this week and see how the Antec High Current Gamer M 750W stacks up.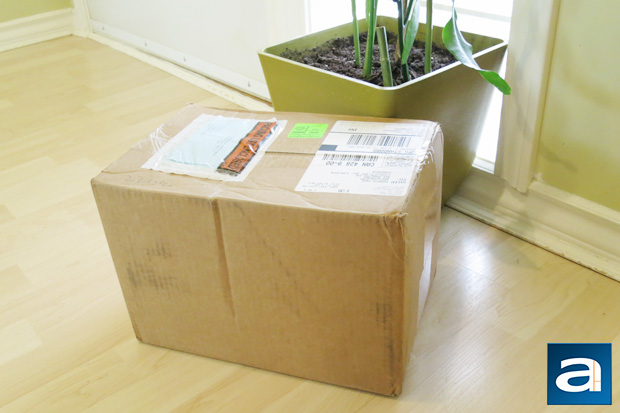 Our review unit of the Antec High Current Gamer M 750W arrived in a large brown corrugated cardboard box from Antec's headquarters in California, USA. Antec used UPS Standard as the shipping method to send this package to our office here in Vancouver, BC. As expected, the package arrived in pristine condition, with a bit of usual wear and tear found when shipping a package. Some plastic bubble packets were used to keep the PSU from moving around inside the box. The PSU was placed on the bottom of the shipping package, and the top area was covered with the aforementioned bubble packets.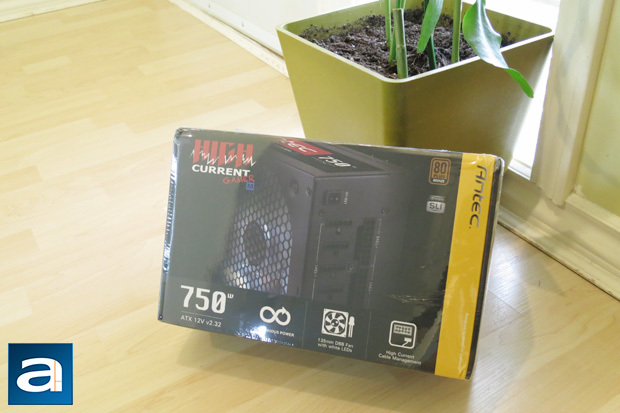 Removing the Antec High Current Gamer M 750W from the corrugated brown shipping box, we are treated with the retail packaging of the power supply. The retail packaging of the Antec High Current Gamer M 750W has the standard box design elements. On the left side, we have a black background with a picture of the PSU itself near the center while surrounded by information all around. The High Current Gamer M logo can be found at the top left, and the 80 PLUS Bronze certification can be found near the right side above the NVIDIA SLI logo. Lining the bottom of this portion are some of the important features of this PSU including the 750W rating, continuous power design, the 135mm fan with LEDs, and the High Current Cable Management system. A yellow strip goes around the box on the right with the Antec logo in a silverish-gray color found on the very right side of it. Overall, the box design is pretty good and does a good job of representing the product.
Before diving deeper into this report, let's take a quick look at the features and specifications of the Antec High Current Gamer M 750W, as obtained from Antec's website:
Features
- 750W Continuous Power - Guaranteed 750W of Continuous Power from Antec
- 80 PLUS® BRONZE certified - Up to 88% efficient, to reduce your electricity bill
- AQ5 - Antec Quality 5 year warranty and lifetime global 24/7 support
- 16-pin Socket - Industry-leading 16-pin sockets double the modular connectivity by supporting 2 different 8-pin cables per socket and allow for future connector changes
- 135 mm LED DBB Silence - Whisper-quiet high-quality double ball bearing LED fan with long lifetime
- Thermal Manager - An advanced low voltage fan control for optimal heat & noise management
- High Current Rails - 2 +12V rails with high load capabilities ensure maximum CPU & GPU compatibility
- 99.2% +12V - Output for maximum CPU & GPU support
- Multi PCI-E - 4 PCI-E connectors for multiple GPU support
- NVIDIA SLI®-Ready & AMD Crossfire certified - Tested & certified by NVIDIA® for SLI® & AMD for Crossfire systems
- Japanese Heavy-Duty Caps - High-performance Japanese capacitors ensure tightest DC stability and regulation
- Stealth Wires - All wires darkened for minimal visibility in chassis
- CircuitShield™ - Full suite of industrial grade protections:
* Over Current Protection (OCP),
* Over Voltage Protection (OVP),
* Under Voltage Protection (UVP),
* Short Circuit Protection (SCP),
* Over Power Protection (OPP),
* Over Temperature Protection (OTP) & Surge & Inrush Protection (SIP)
Specifications
- Model: HCG-750M
- Input Voltage: 100VAC - 240VAC ~ ±10% (Active PFC)
- Input frequency Range: 50Hz - 60Hz, 10A - 5A
- Safety Approvals: UL, cUL, CE, TÜV, CB, FCC, CCC, C-Tick, BSMI, Gost-R
- Net Weight: 4.7 lbs / 2.1 kg (excl. modular cables)
- Size: 86 mm (H) x 150 mm (W) x 170 mm (D) / 3.4" (H) x 5.9" (W) x 6.7" (D)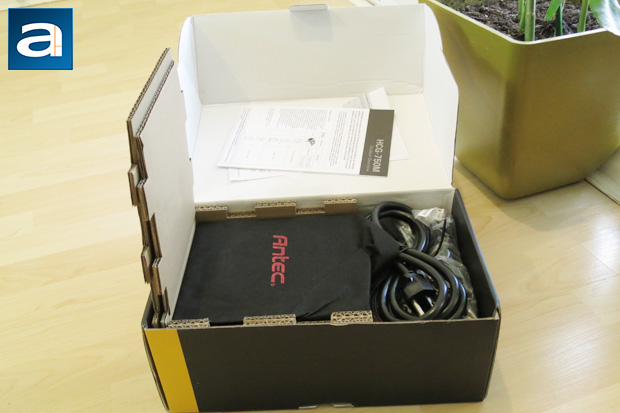 After opening up the packaging, we will find the following items:
- 1x Antec High Current Gamer M 750W
- 1x Instructional manual
- 1x Warranty Card
- 1x Power cable
- 4x Phillips head screws
The interior packaging is quite resourceful, and uses up all of the space found inside the box. On the left side of the box, we have a small cardboard enclosure used to house the power supply. In addition to the cardboard enclosure, the PSU is also placed inside a small fabric bag to keep it safe and away from other items placed inside the box. Found on the right is the assortment of modular cables included with the power supply. Also found in this area is the power cable, as well as the four Phillips head screws inside of a small zip lock bag. The warranty card and the instructional manual are found above these items, and placed on top of the cardboard enclosure.
---
Page Index
1. Introduction, Packaging, Specifications
2.
Physical Look - Outside
3.
Physical Look - Inside
4.
Minor Tests and Conclusion