By: Jonathan Kwan
February 13, 2015
There are just some things in life that are not meant to get a whole lot of attention. Things like computer power supplies and backup dancers come to my mind -- except, unless, you were really bad. Where am I going with this? Unless you have been completely cut off from TV or internet in the last couple of weeks or so, I think you already catch my drift. In the Super Bowl halftime show this year, the left shark behind Katy Perry became a total internet sensation immediately in the days following, thanks to its sloppy and unsynchronized dance moves compared to the one on the right. All of a sudden, the left shark generated more media attention than any backup dancer before it, sparked inspiration for unlicensed products (Which ended up with a cease-and-desist letter from Katy Perry's lawyers), and someone even got a tattoo of it on their arm. And remember -- it was getting all this attention because it was bad. Now, let me ask you a question. What power supply do you own? Unless you are a really hardcore spec junkie, even many enthusiasts will stutter for a moment before spewing out the full brand and model of their PSU. The reason is probably because your power supply works well in the background, and it does not cause any trouble. Like backup dancers, power supplies are meant to work in the background. If it does a good job, it is easily forgettable. However, if it does a poor job, suddenly everyone notices. Today, we will take a look at the Deepcool Quanta DQ750 750W modular power supply. Will it do a good job in the background, or will it call unnecessary attention to itself? We gave it a thorough hardware inspection to find out.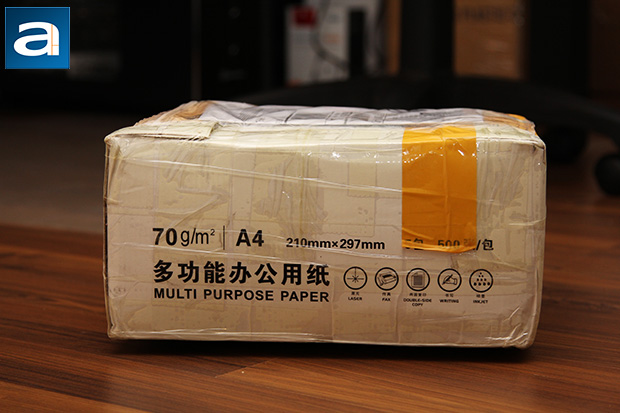 Our review unit of the Deepcool Quanta DQ750 750W came in a previously used, white corrugated cardboard box that apparently spent its previous life holding A4-sized paper. Using the UPS Standard service, it arrived in decent enough condition to us here in Calgary, Alberta, Canada. When they dropped the package off at the doorstep, I was slightly perplexed with regards to the contents inside. An overwhelming majority of manufacturers will state their company name as the shipper. However, Deepcool elected to write "Mr. Dong" instead. After spending at least five minutes wondering how many Mr. Dongs are in China, and why would a Mr. Dong in China send me a package, it finally came to me it was a power supply from Deepcool. With the mystery solved, we soon got to work.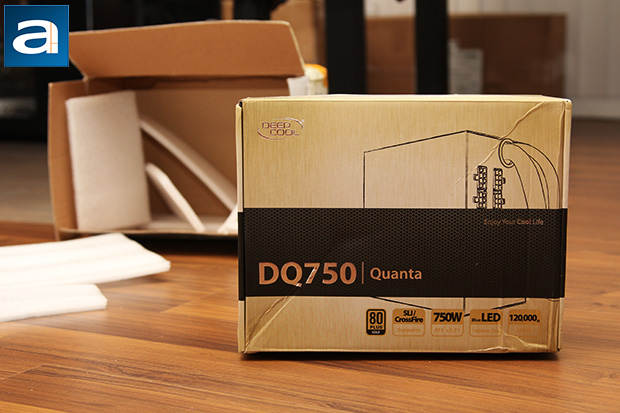 Deepcool ships the Quanta DQ750 750W in a pretty attractive retail package. I think their marketing team has done a fine job for the box artwork; striking a balance between a clean layout and information delivery. The brushed golden background shows off the fact it is an 80 Plus Gold certified component. A CAD outline of the DQ750 in rear three-quarters view forms the predominant image on the front. In front of it, a textured black band stretches from the left to the right, with the product series, model name, and company slogan printed on it. An array of icons complete the bottom; showing off some of the features of the PSU, such as its 80 Plus Gold certification, SLI/CrossFire compatibility, blue LED fan, and 120,000 hour MTBF. The specifications table and available connectors can be found on the sides of the box, with a list of product highlights at the back of the retail box.
Before we move on, let us take a look at the specifications of the Deepcool Quanta DQ750 750W, as obtained from the manufacturer's website:
Model: DQ750
Type: ATX 12V V2.31 & SSI EPS 12V 2.92
Certifications: 80PLUS Gold
Dimension: 150×160×86mm (W x L x H)
Output Capacity: 750W
Input Voltage: 100~240V
Input Current: 10A
Input Frequency Range: 47~63Hz
Fan Size: 140mm Blue LED
PFC: Active PFC (>0.9)
Power Good Signal: 100-500ms
Hold Up Time: >16ms
Efficiency: Up to 90% Under Typical Load
Protection: OVP / SCP / OPP
Operation Temperature: 0~40°C
Regulatory: CE / FCC / CCC / CB / EAC / TUV
MTBF: 120,000 Hours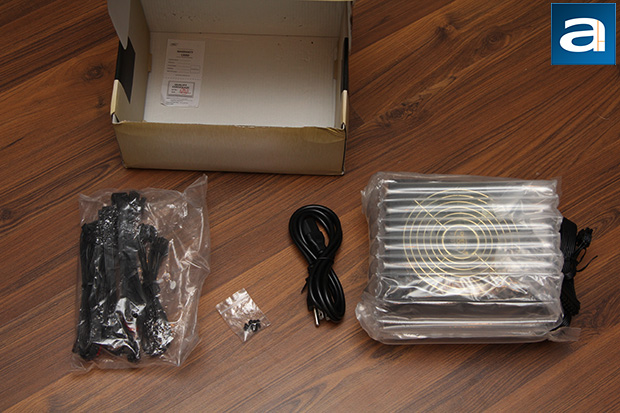 The Deepcool Quanta DQ750 750W's retail packaging can be opened by a flap attached on the bottom. Upon opening the box, you will find everything neatly organized inside. The power supply is wrapped in some air tube bubble wrap, while the modular cables are sealed inside a clear plastic bag next to it. An AC power cable, bag of screws, and a warranty card are also included. For an MSRP of about $130 at press time, I found this bundle rather sparse for a PSU aimed at the performance enthusiast market; you will find no Velcro scrap or even a zip tie to boot. I have also seen much classier presentations for products of this price range.
---
Page Index
1. Introduction, Packaging, Specifications
2.
Physical Look - Outside
3.
Physical Look - Inside
4.
Minor Tests and Conclusion