By: Kenneth Kwok
November 23, 2012
Recently, I had one of the worst possible experiences a web programmer could have -- the dreaded "Server Error 500". In my opinion, this is by far the most annoying error when it comes to building a webpage. The reason for this is because it is a generic error given, and can have so many meanings. This can range from not having a file set properly, lack of a default website, to something as simple as wrong permissions. The worst part about this was I didn't even have full access to the Plesk powered Windows server. In the end, I have easily spent four hours trying to fix the problem, but to no avail. It was not until much later that I was given access to a higher level account, and all it took was a few minutes for me to find the solution to the problem. Luckily, I had a backup of the website, and was able to undo some of the changes I have made to it when I was attempting to resolve the issue. While I may look silly for taking so long to fix such an error, everyone overlooks some things. One thing that should never be overlooked is making sure to have backups, and even backups of your backup. Fortunately, today we have a piece of software that does just that. EaseUS a company based in China who is gracious enough to offer us their Todo Backup Workstation 5.0 for our review today. To be honest, I had never heard of them before, but they do make a variety of backup software, and seems to be quite good, too. So let's dig right in to see how this software stacks up, and remember to always have a backup!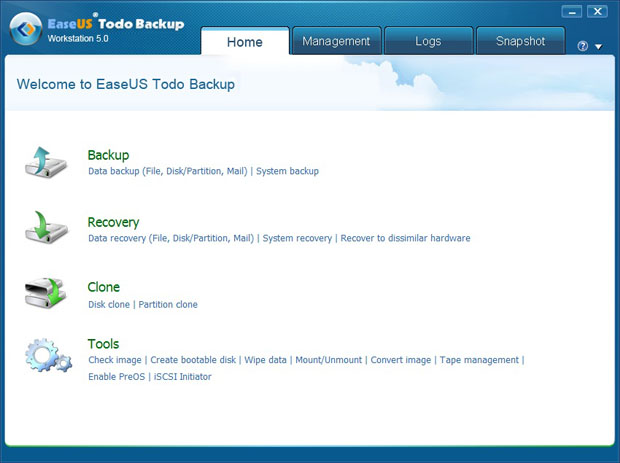 At first glance, this program looks pretty modern, and blends in well with the latest Windows operating system. The blue color scheme is sort of reminiscent of Skype due to the clouds found on the main page, but that could be just me, haha. The only thing that seems a little out of place is the use of text links on the home page, as you can see in our screenshot above. It seems kind of counter intuitive to have a nice looking piece of software that ends up using blue text links like it is 2001 all over again. Otherwise, everything on the main page looks pretty standard, and does not stand out all too much. From here, we are able to access most of the features. We will be going some of these key features in greater detail throughout this report. Fittingly, the first thing we will be taking a look at will be the main feature of EaseUS' Todo Backup Workstation.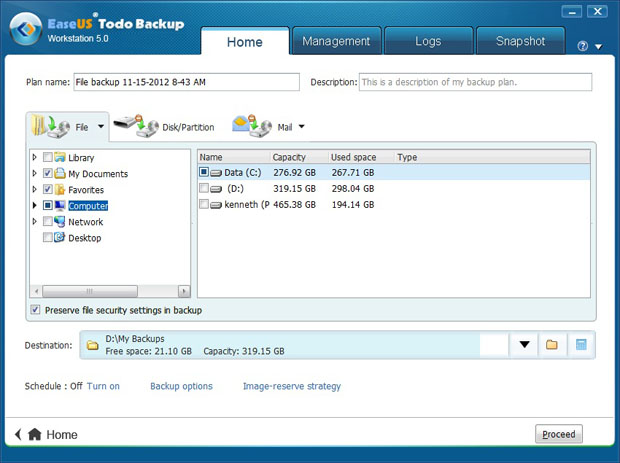 After clicking the text link under Data Backup, we are treated with the backup screen, where we are given a choice of the directories and drive to choose from. The GUI here is fairly standard stuff. The three tabs found above the file selection are different sections, including partitions and email backup. If you don't use Microsoft Outlook as your mail client, you will be unable to save your messages using EaseUS' Todo Backup program. Also, found in this screen is the ability to select specific files and folders you may want to back up, including stuff stored on external storage devices. Surprisingly, this includes network folders (In addition to your main computer, obviously), assuming one has some network storage. At the bottom, it is also possible to set the destination folder for the backup, which is, by default, your secondary drive's main directory under My Backups. This is no different from other popular backup programs such as Acronis True Image.
This version of EaseUS' Todo Backup is the Workstation edition, which is just one step above the Home variant. Some of the features that are included with this version that cannot be found on the Home edition include the following: Remote backup using the Central Management Console, backup to tape (Probably not relevant for most users), Preboot Execution Environment boot restore, recover to dissimilar hardware, and the such. Most notably is restoring to different hardware. This can be a great feature when one needs to restore an image to a system after replacing certain parts on a hardware failure.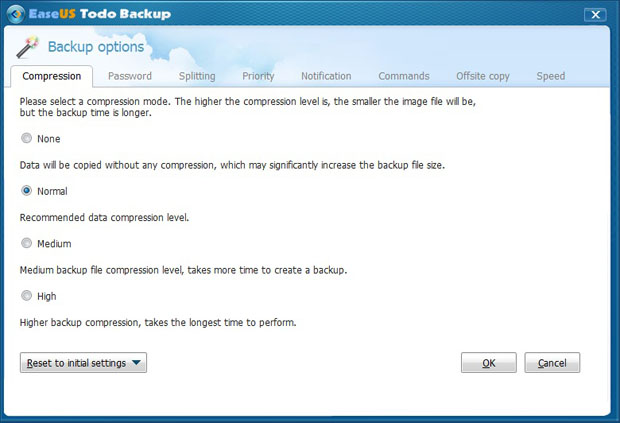 After the Backup options text link found below the destination folder selection pops up a new dialog with additional settings. The tabs found at the top are as listed from left to right: Compression, Password, Splitting, Priority, Notification, Commands, Offsite Copy, and Speed. Compression allows the user to pick between four settings, from 'None' to 'High', which can affect how long it takes to create a backup, and how large the backup archive is. Password is pretty self explanatory -- it adds a password to the archive. Splitting allows users to automatically split the images to smaller files for specific media such as CDs or DVDs. Priority sets how much overall CPU and RAM usage the software can use to create the backup. Notifications can be configured to send an email to a specific email account when the backup process is completed. Commands are additional tasks that can be added before or after the backup. Offsite copy allows you to remotely upload the file to an FTP server; also relevant is the Speed tab, which sets the maximum network transfer speed. From the features here, we can see the software is pretty flexible in terms of usage, and we have come to expect such if you have used competing programs in the past.
Scheduling is an important feature. Being able to have the program set up automatic backups is convenient, if not crucial, and is needed in bigger scale usages and is just as good for the standard user. After all, I am a "set it and forget it" kind of guy when it comes to automatic backups, and without this feature, it could be a real pain in the butt. You can schedule your task to a later date in a daily, weekly, and/or monthly configuration. There is just a lot of flexible here in terms of when a backup task is to be executed, and definitely a "set and forget thing" as our Editor-in-Chief would put it. The most interesting feature is the ability to make it back up on certain events. This includes system startup, user log on, and user log off. These choices can be made to do once a day, or on a specific date only. At the bottom, there is a space for the user to input their username and password to ensure backups are made on next startup if they are missed, when say the computer is shut down. Please note that you will need to have this box checked in Windows 8 to have regular scheduling functions working correctly, otherwise, it will not execute automatically.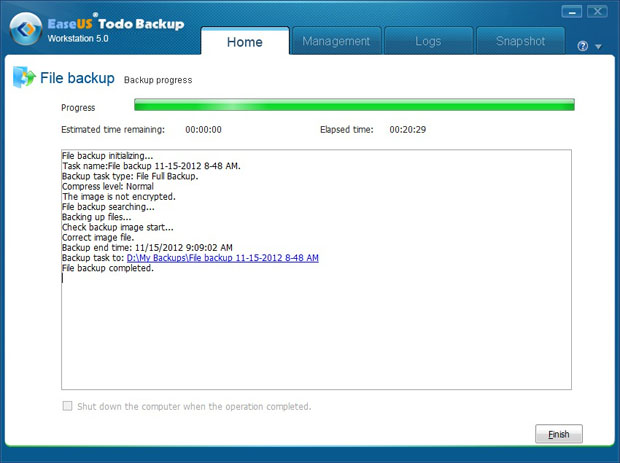 My biggest gripe with the EaseUS' Todo Backup Workstation shows quite plainly in this part of the backup process. The text here just seems so bland, I can't really put it in any better terms than that. Yes, it is functional, and it does work very well, but the progress bar and text doesn't even seem to align half the time. As expected, the estimated time remaining is a tarp (Yes, I did mean to use tarp), and changes sporadically, although this is not really the developer's fault. This part of the backup software is easily the most frustrating part if you are sitting in front of your computer and need to do something else on it or need to leave; the good thing is one can leave and know that the software will do its job. That said, generally speaking, although it isn't the best looking or the fastest backup program, it is functional and does a good job of what it is meant to do well.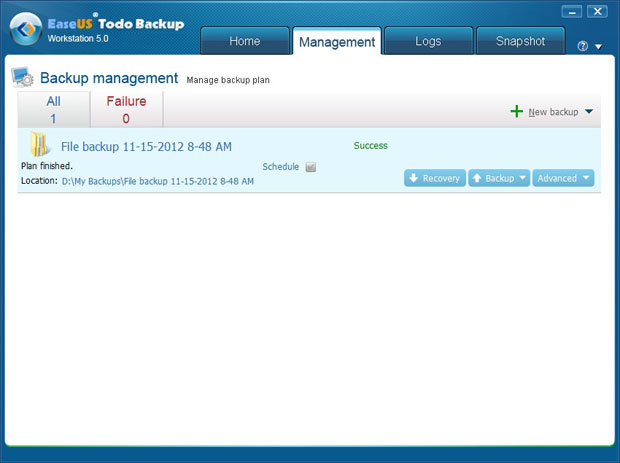 The Management tab is where all the past successful and failed backups are tracked. This would include any automatically scheduled backups and manual backups. Additional options can be found here, such as scheduling a regular interval of backing up the selected files, as well as the ability to add notes to the backed up archive, so it is easier to remember keep track of which is what. The recovery button is pretty much self explanatory. For what it is worth, the features here are pretty useful, and works well for most user's backup and management needs.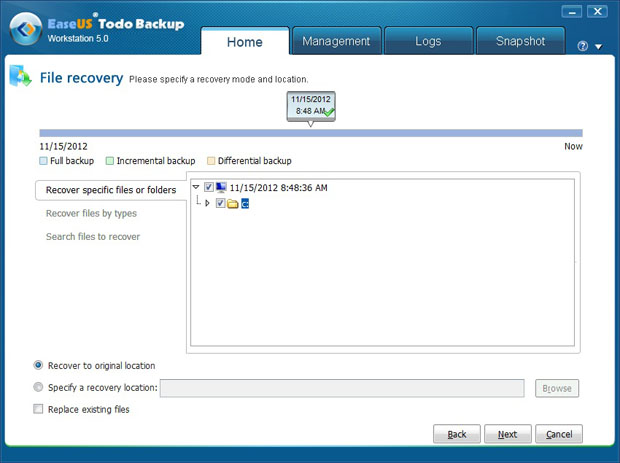 What would a backup program be without the recovery portion? Well, I am pretty sure it would be an interesting (Read: Useless) piece of software, or just an elaborate money making scheme. Anyways, moving on to the recovery portion, we will find the expected no frills recovery screen. There are multiple snapshots that can be selected of certain items, assuming more than one backup has been made; making it easier to revert to an even older version if needed. Recovery is quite simple, and takes about as much time as one would expect backup software to recover an older file.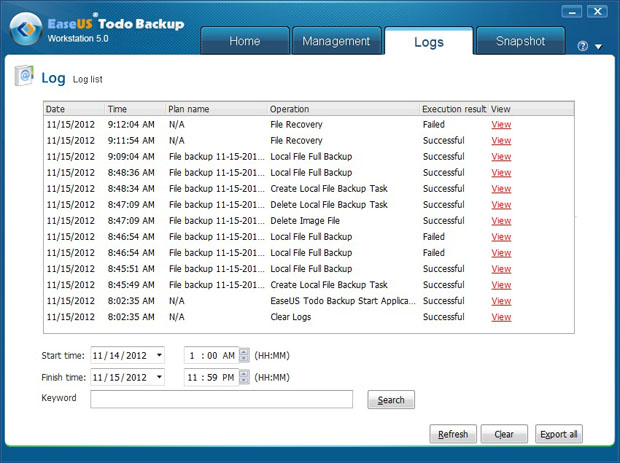 The log portion is one of my favorite features in EaseUS' Todo Backup software. Logs include just about everything you would ever want to know, such as successful and failed past backups and recoveries. These are all date and time-stamped to give peace of mind and the ability to make sure everything is running smoothly, even when away from the computer. The most interesting thing is the logging of when you started up the program, and even when you quit it. I am not too sure why this would be needed in terms of logging purposes, but I guess it could be used in making sure others don't mess around with your computer; or at least not screw around with your backup software.
------------------------------------------
EaseUS' Todo Backup Workstation 5.0 is a fully featured backup software that works the way it is meant to be. It comes with all the tools one would need to keep their computers and files safely backed up. Best of all, it does not come with much bloat. Features such as remote file upload, intuitive scheduling, and the ability to compress files is what it is in theory as it is in real life. The ability to set up backups and just leave knowing it will do its job in the background reliably is a relief, and goes a long way in the industry. Although the software isn't exactly the best looking, it is definitely functional, and fits the bill perfectly for all your backup needs. As far as room for improvements are concerned, EaseUS should refine their look a little bit more. Also, some screen transitions can be painfully slow; a bit optimization for a better user experience will be much appreciated.
EaseUS provided this software package to APH Networks to facilitate this report.

All in all, EaseUS' Todo Backup Workstation 5.0 is stuffed with features and makes backing up your computer a breeze. If you are looking for something that works reliably, for $39 at press time, this is the program to buy.
Do you have any comments or questions about the EaseUS Todo Backup Workstation 5.0? Drop by our Forums. Registration is free, and it only takes a minute!