By: Jonathan Kwan
May 19, 2017
I do not know about you, but I consider eyeglasses a fashion accessory. As such, I have four pairs with an identical prescription; not just because I wear different glasses in different occasions, but also because if I do not claim it on my insurance, I do not get the money anyway. In no particular order, my first pair are black, rectangular with strong curves, thick-rimmed acetate frames made by Ray-Ban. My second are gunmetal, rectangular with less curves, thin-rimmed with medium arms, metal frames made by Smith Optics. My third are black, high height with a flat top and rounded bottom, thick rimmed acetate and metal hybrid frames made by Calvin Klein. My last pair are blue, oval, thick semi-rimless acetate frames made by some generic manufacturer. As you can tell by my description, all of them are considerably different, whether it is the thickness of the rims, manufacturing material, and/or the color. However, according to most of my friends, they all look the same. Either they all need new glasses or I am wildly confused, all I can say is for those who are willing to pay attention will see the difference -- only those who do not care will think they are the same. In the same way, not all power supplies are the same. To the general consumer, they may be, but if you are reading this review here at APH Networks, chances are you are a person who look for differences. Today, we will take a look at FSP's Dagger 600W power supply. Before we begin with our epic disassembly to look at the individual components typical to us here on this website, even if you are not looking for the differences, you will realize this one is not quite the same as the others: FSP's latest PSU, in SFX form, is much smaller than the ATX units we are used to.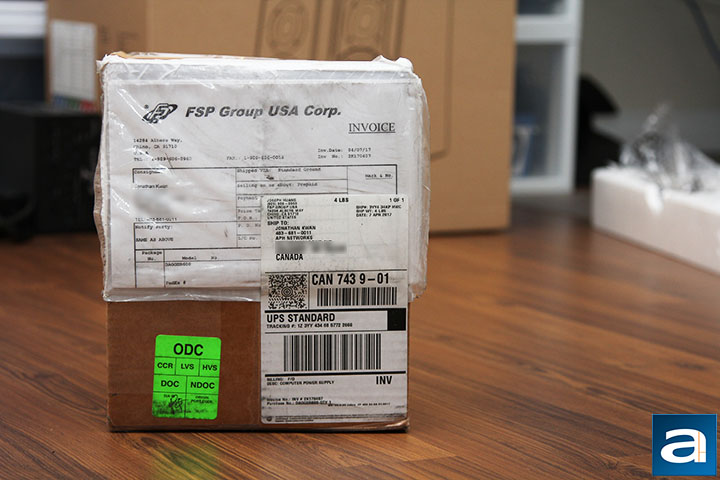 Our review unit of the FSP Dagger 600W arrived in a small, brown corrugated cardboard box from the company's American headquarters in Chino, California, USA. I think this is the smallest box they could use in fitting the retail package of the PSU in there, because there was not a whole lot of room left inside for anything else. Using UPS Standard, everything arrived in reasonably good condition to us here in Calgary, Alberta, Canada for our review today. With that in mind, let us take a crack at the box and dig down into the details.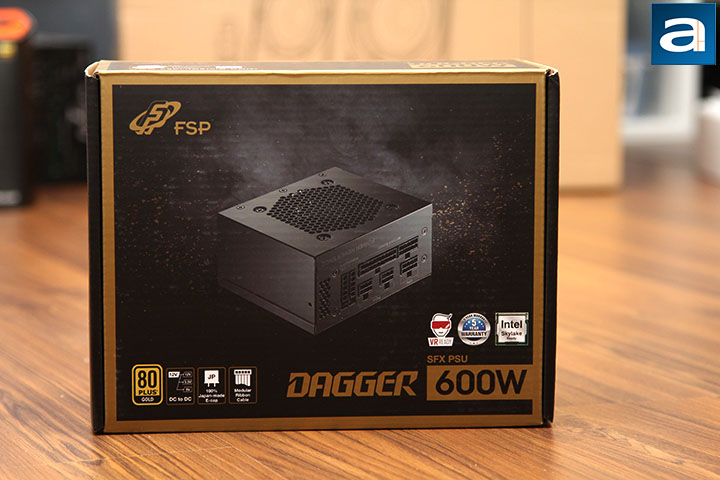 The FSP Dagger 600W's retail box design carries forward some resemblance from past products we have reviewed from the company, even though it has been quite a number of years since I have last taken apart a power supply from them. The predominantly black background is highlighted in gold around the perimeter, creating a slick contrast in presenting its 80 Plus Gold certification. FSP's logo can be found at the top left corner, while the bottom right corner has the "Dagger 600W SFX PSU" branding. An array of badges highlight its DC to DC converter, 100% Japanese E-caps, modular ribbon cables, VR ready, 5-year warranty, and Intel Skylake compatibility. I think the 100% Japanese E-cap badge -- probably E for Electrolytic -- is a bit misleading, because the Dagger 600W has polymer capacitors from Chinese manufacturer CapXon inside; more on this later. In the middle is a photo of the power supply in three quarter view. I do not think it is smoke coming out of the power supply in the photo, but it was definitely what I was thinking at first glance, haha. The remainder of the sides of the box contains feature highlights and specifications of the Dagger.
Before we move on, let us take a look at the specifications of the FSP Dagger 600W power supply, as obtained from the manufacturer's website:
Model: SDA600
Rated Output Power: 600W
Form Factor: SFX
80 PLUS Certification: Gold
Input Voltage: 100-240Vac
Input Current: 8-4A
Input Frequency: 60-50 Hz
PFC: Active PFC
Efficiency: 90%
Fan Type: Dual ball bearing fan, 80mm
Dimensions(Lx W x H): 125 x63.5 x110 mm
Weight: 1.182kg
Protection: OVP/SCP/OPP/OCP/OTP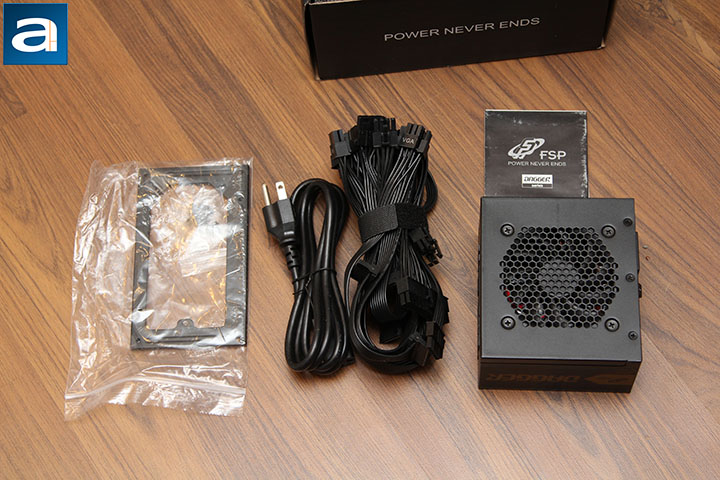 The retail packaging of the FSP Dagger 600W can be opened by a flap at the top. Out of the box, you will get a basic but essential bundle. Clipped between some Styrofoam brackets is the power supply itself. On the side, you will receive an SFX to ATX adapter, bunch of modular cables bundled together by a Velcro strap, AC power cable, eight screws, and a manual in poster form. There is nothing excessive here; just everything you need.
---
Page Index
1. Introduction, Packaging, Specifications
2.
Physical Look - Outside
3.
Physical Look - Inside
4.
Minor Tests and Conclusion