By: Kenneth Kwok
December 27, 2013
When it comes to sequels and continuations, they usually go to one extreme or the other when it comes to quality. At times, you will see sequels that get praise and acclaim greater than the original, and other times you will see sequels that are said to not even deserving to be named after the original. For me, this is one of those statements I look at almost on a regular basis when it comes to both my personal life and my professional life. For me in my personal time, I spend quite a bit of it watching anime. One such anime I have been watching lately is the second season of a series called Little Busters!: Refrain. I have mentioned the original Little Busters! anime a while back, since it was produced by JC Staff, and is a well known adaptation of a very popular visual novel from Visual Art's Key. Refrain is the conclusion of the whole visual novel, and is by far the most climactic; it is similar to what Afterstory was to Clannad. So far, I would have to say that the current season of Little Busters!: Refrain is far surpassing the original series in every way possible; ranging from the music placement, animation quality, to the pacing of the story. Not only does this apply in what I read and watch, but this can very well also apply in our product evaluations as well. There are times when we see that a company has taken the right steps towards making a better product, while at times they also choose to take a different direction that may hamper the outcome. Well today, we will be taking a look at the FSP AURUM S 600W from FSP, which is another PSU in their well regarded AURUM line of power supplies. Is this power supply worthy of its name? Let's dig right in, and see how this compares to the FSP AURUM Gold 600W we have looked at a couple of years back.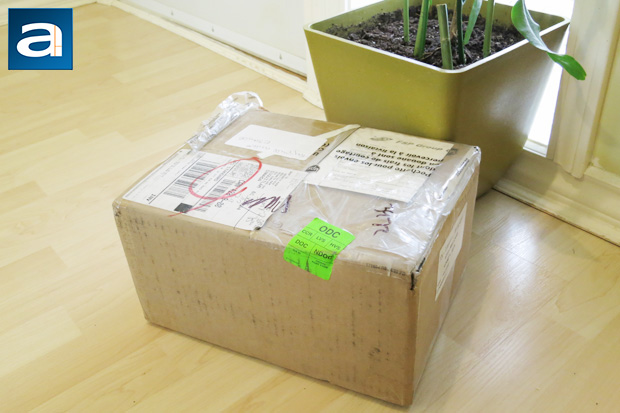 Our sample unit of the FSP AURUM S 600W arrived in a slightly large brown corrugated cardboard box from FSP's American headquarters in California, USA. The package was shipped using UPS Standard, which has become easily the most common shipping method to us here at APH Networks. As usual, the package arrived in near mint condition, save for some bumps and scratches on the exterior shipping box. Bubble wrap was used to surround the retail packaging inside, and the remainder of the box was filled with packing peanuts to ensure that the contents inside would be safe and secure.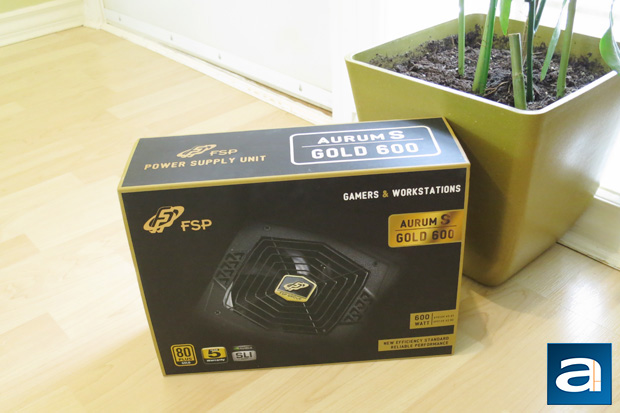 Taking the FSP AURUM S 600W out of the brown corrugated cardboard box, we are greeted with the retail packaging of our PSU. The retail packaging of the FSP AURUM S 600W carries the same design that is found on past FSP products within the AURUM line. The central black theme is still used with a black backdrop, and bold gold and white text to surround it. A picture of the FSP AURUM S 600W can be found in the center of the design, while FSP's logo is found slightly above it and to the left. The right side of the box design consists of the model name and wattage. Finally, the bottom left and bottom right of the front flap is used to showcase various certifications and key features, such as the five year warranty and the 80 PLUS Gold certification.
Before diving deeper into this report, let's take a quick look at the features and specifications of the FSP AURUM S 600W, as obtained from FSP's website:
Features
- Complies with ATX 12V 2.31 & EPS 12V 2.92 version
- 80 PLUS® GOLD Certification
- High efficiency > 90%
- Active PFC > 99%
- +12V Single Rail Circuit Design
- SATA Array Cable Design
- Full Sleeved Cable
- Multiple PCI-E VGA Power Connectors
- Complete Protections: OCP, OVP, SCP, OPP, UVP
- Full Safety Approved
Specifications
- Model: AS-600
- Efficiency: 90%
- Input Voltage: 90 ~ 264Vac
- Frequency: 47 ~ 63Hz
- PFC: Active PFC (0.99)
- Power Provided: 600W
- Over-Current Protection: V
- Over-Voltage Protection: V
- Short-Circuit Protection: V
- Line Type/ Main connector: 24 Pins
- Case Color: Black
- Chassis Fan: 120mm
- Noise: <21 dBA
- Form Factor: ATX 12V V2.31 & EPS 12V V2.92
- Safety Approval: CB, CE, FCC, UL/CUL, TUV, GOST, CCC, BSMI
- Dimensions(L x W x H)mm: 150 x 160 x 86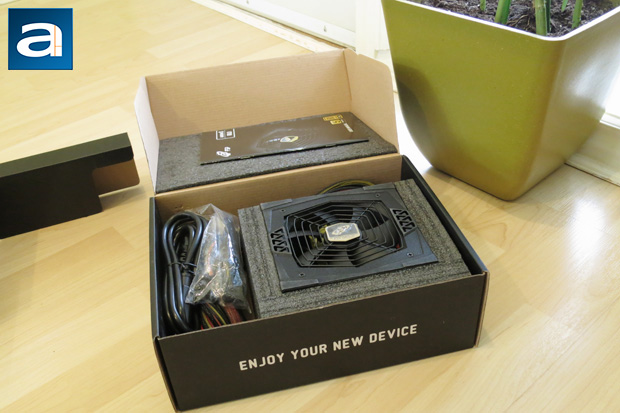 After opening up the packaging, we will find the following items:
- 1x FSP AURUM S 600W
- 1x Instructional manual
- 1x Power cable
- 4x Black colored thumbscrews
- 3x Velcro ties
- 1x Powered by FSP case sticker
Most of these included accessories were used for installation purposes, except for the instructional manual and the case sticker. The nice thing is they included plenty of extras for such a package, like the black colored thumbscrews and the Velcro ties. Small inclusions are always nice, and make the installation and cabling process much easier. Considering the FSP AURUM S 600W is not modular, the Velcro ties will go a long way towards cabling the power supply without having cables ending up all over the place after installation. In my personal opinion, the most interesting accessory has to be the "Powered by FSP" sticker. I can just feel the good old days of 'ricing' up the front of my case coming back to me, haha.
---
Page Index
1. Introduction, Packaging, Specifications
2.
Physical Look - Outside
3.
Physical Look - Inside
4.
Minor Tests and Conclusion