By: Jonathan Kwan
August 3, 2018
I have had my share of embarrassing moments in my life, but the one featuring my uncle at a Chinese restaurant is certainly among the top three. Earlier this year, we were eating at a chain Hong Kong style cafe while visiting my extended family in Toronto. After lunch, my uncle waved down the waitress -- an average-sized Asian lady with a buzz cut and glasses -- to ask for the bill. "Excuse me, mam", my uncle said in Cantonese. The waitress looked at my uncle awaiting his request when my uncle paused for a moment. "Oh, sorry, I mean sir." At that instant, our faces collectively hit our palms while my uncle continued on. The waitress delivered the bill without saying a word, and with our faces were still firmly planted in our palms, my uncle was a little bit perplexed as to why we all responded in this way. "What? I was just trying to be respectful." There was no doubt in anybody's mind the waitress is a woman, but clearly my uncle was not used to seeing women with hair that short. We all have our biases and expectations, and for me, I am no exception. When Gigabyte announced their new P850W power supply from their gaming brand AORUS, I just assumed it was a PSU with RGB LEDs. I mean, what is gaming product without RGB in 2018, especially since we looked at products like the GAMDIAS ASTRAPE P1-750G 750W? As it turned out, the Gigabyte AORUS P850W 850W is a conventional PSU with no RGB LEDs. But is it any good? Well, we cracked one open for a detailed inspection as always, so read on to find out!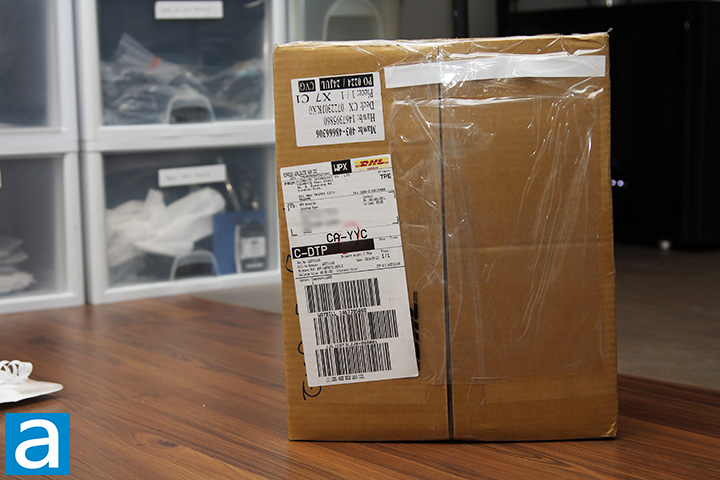 Our review unit of the Gigabyte AORUS P850W 850W came directly from the company's Taiwanese headquarters in New Taipei City. When I first got a notification of an inbound DHL Express shipment, I was a little bit perplexed on what the product could be. Most companies send us review samples using UPS or FedEx, while DHL is the mostly a thing with mainland Chinese manufacturers. I do not recall agreeing to reviewing anything from any mainland Chinese manufacturer since my colleague Aaron Lai's gamepad to be covered in the coming weeks, but alas, the mystery was solved when Gigabyte sent me the shipping information of the AORUS P850W. With that in mind, the medium-sized, brown corrugated cardboard box holding our first Gigabyte power supply arrived in excellent condition to us here in Calgary, Alberta, Canada for our review today.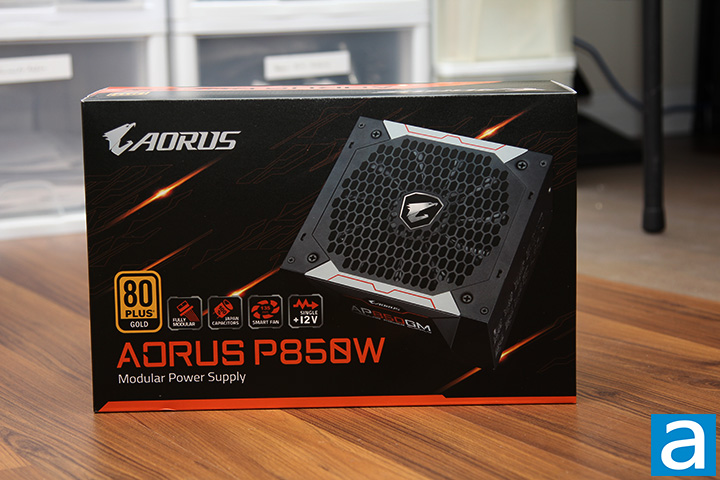 Reminiscent of Gigabyte's AORUS motherboard and video cards, the AORUS P850W comes in a box with a predominantly black background complemented by some sharp orange lines. Gigabyte's AORUS logo is printed at the top left corner, while the model name and product description are located near the bottom edge. In the middle, an array of five icons highlight its 80 Plus Gold certification, fully modular design, 100% Japanese capacitors, 135mm smart fan, and single +12V rail. A photo of the power supply itself occupies the largest percentage of real estate beginning from the upper right. In case you are wondering, Gigabyte's logo is indeed nowhere to be found. Its efficiency curve, fan profile chart, feature highlights, and specifications can be found on the remaining sides of the box.
Before we move on, let us take a look at the specifications of the Gigabyte AORUS P850W 850W, as obtained from the manufacturer's website:
Model: GP-AP850GM
Type: Intel Form Factor ATX 12V v2.31
PFC: Active PFC (>0.9 typical)
Input Voltage: 100-240 Vac (full range)
Input Current: 10A
Input Frequency: 47-63 Hz
Output Capacity: 850W
Dimension: 150 x 160 x 86mm
Fan Type: 135mm Double ball bearing fan
80 PLUS: Gold
Efficiency: 90% at typical load
MTBF: >100,000 hours
Protection: OVP/OPP/SCP/UVP/OCP/OTP
Power Good Signal: 100ms ~ 150ms
Hold Up Time: > 16m sec at full load (115V)
Cable Type: Flat, All black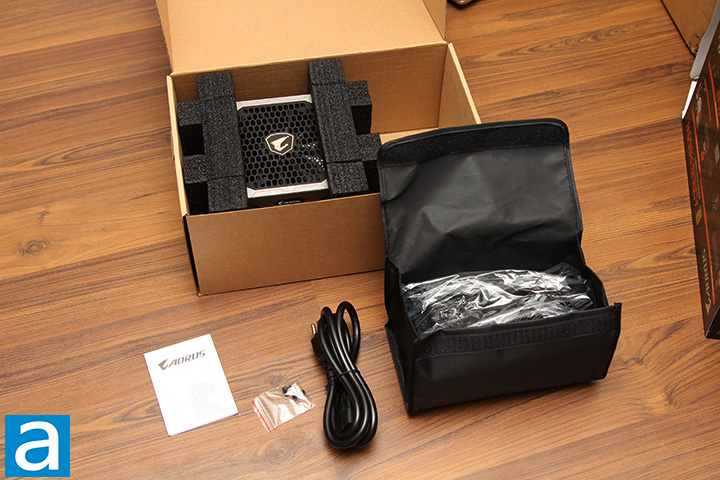 The Gigabyte AORUS P850W 850W's retail packaging can be opened by a flap attached at the bottom after sliding out the brown corrugated cardboard box. Upon opening the box, you will find everything neatly organized. The power supply is securely clipped in by two foam brackets on the left with cables and everything else in a nylon bag on the right. Out of the box, you will receive the AORUS P850W power supply itself, modular cables, AC power cable, four screws, and a product manual. The bundle is very minimalist; you will not even find a Velcro strap or zip tie.
---
Page Index
1. Introduction, Packaging, Specifications
2.
Physical Look - Outside
3.
Physical Look - Inside
4.
Minor Tests and Conclusion