By: Preston Yuen
December 2, 2011
Over the progression of time, the evolution of the human race and ideas change with it. This is quite obvious when you take a look at your photo album or history books dating back to who-knows-when. Whether it be experiences of your own life, or mistakes and successes recorded in the books of history, there are many valuable lessons to be learned. Success is what we all should take pride in, and further improvement makes us even more successful people. But as you flip the coin over and take a look at the failures, do we simply push them aside and forget that it ever happened? Getting your finger burnt on the stove teaches you to watch what you're doing and where you're placing things. Such concepts could also be applied in the world of technology. While in the process of developing the carbonized cotton-thread filament for the incandescent light bulb, Thomas Edison had said, "I didn't fail; I found out 2,000 ways how not to make a light bulb". The process of trial and error is one of the many paths that can be taken in the development of ideas and technology. I'm not exactly sure how some companies get things done, but what I am certain of is that the method of trial and error has been used at least once here and there. What we have today is a fully modular 80 Plus Bronze Certified mid-range power supply from OCZ -- namely, the ZT Series 650W. From the looks of it, the ZT Series 650W is a more budget friendly power supply for those that are looking for performance with 100% modular cables. Generally speaking, is the OCZ ZT Series 650W an error or a success? Read on to find out!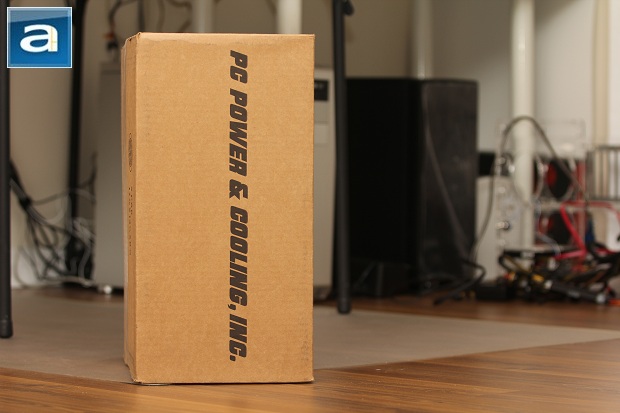 Our review unit of the OCZ ZT Series 650W power supply came in a large brown corrugated cardboard box from OCZ's American headquarters in California, USA via UPS Saver. It landed on our doorstep here at APH Networks Calgary about a day later. Almost anyone would love packages arriving in pristine condition, and the ZT Series 650W is of no exception. On top of that, there were a bunch of packing peanuts that tagged along, as it will be seen in the next photo. You can now be rest assured, because OCZ does take much care in keeping people happy when receiving their products. As the famous Counter-Strike saying goes, you run faster with a knife, so after admiring the packaging for a good minute, I quickly pulled out my utility knife and got straight down to work.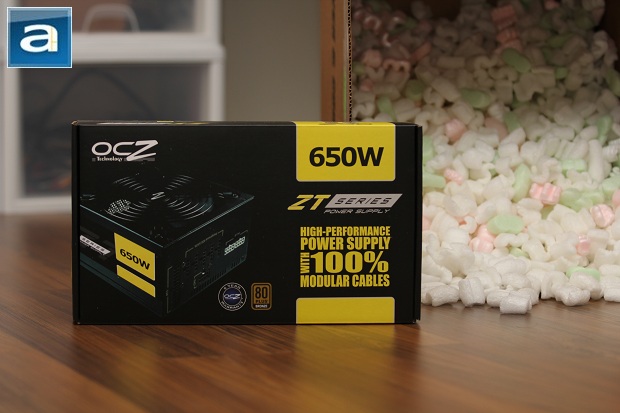 The packaging for the OCZ ZT Series 650W is actually quite simple. The background is mainly painted black, with the image of the PSU itself predominantly on the left side. I almost wanted to ask the question, "Where's the image of the PSU?" but soon realized it was very well blended in with the background, haha. On the right, you will be presented with the model and its main features. A couple of badges are placed near the bottom edge, stating that it has a good 5-year warranty as well as being 80 Plus Bronze Certified. Other details are printed around the box for your quick reference. If you would like to take a closer look at the details, we have obtained the specifications of the OCZ ZT Series 650W from the manufacturer's website, and formatted it here for your reference:
- Part Number: OCZ-ZT650W
- Available in 550W, 650W, 750W
- Single +12V rail for efficient power distribution
- Heavy-duty protection circuitry
- Fully Modular Cabling System
- 80-Plus Bronze Certified (85% efficient at typical load)
- 140mm ball-bearing fan
- Dimensions: 150 x 86 x 175mm (W x L x H)
- Rated at 45°C ambient
- Premium 105°C electrolytic capacitors
- Erp compliant, low power usage in standby mode
- Active PFC
- ATX 12V 2.2 Compliant
- MTBF: 100,000 hours
- 5-year warranty
- Connectors: 1 x 20+4-pin ATX
1 x 4+4-pin ESP/12V CPU
2 x 6+2-pin PCI-E
6 x 4-pin Peripheral
9 x 5-pin SATA
1 x Floppy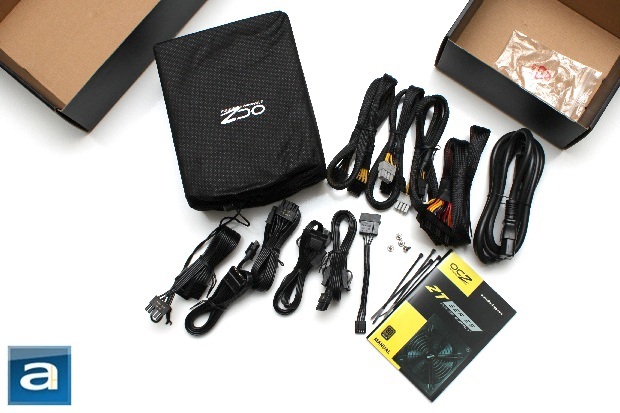 Upon opening the flap, you will find the modular PSU in its own special bag. All the appropriate accessories are in a smaller box next to it. You will receive all the necessary modular cables (As specified above), power cable, several zip ties, four extra screws, and a small manual. In other words, there are no excessive accessories here -- just what you need is provided out of the box.
---
Page Index
1. Introduction, Packaging, Specifications
2.
Physical Look - Outside
3.
Physical Look - Inside
4.
Minor Tests and Conclusion