By: Jonathan Kwan
December 25, 2007
What's an ideal Christmas? For us, it's getting a PC Power & Cooling power supply. PC Power & Cooling is one of the oldest power supply manufacturers; and well known for their high performance enthusiast power supplies -- representing the industry standard in personal computer power supply engineering. After OCZ purchased them, they continued their reputation of high quality products with excellent OCZ warranty and support. Being that, I still held some reserve on PC Power & Cooling power supplies over the years. I understand their take on performance in power, but I don't like their emission in noise. When OCZ asked me to take a look at PC Power & Cooling's Silencer 610W power supply, it sure piqued my interest -- how could a power supply with perpendicular 80mm fan implementation in the back be a 'silent' power supply? While at APH Networks we don't actually review-review power supplies, as we don't have the testing equipment to make a real review, let's take this one apart and see what's inside in our report today.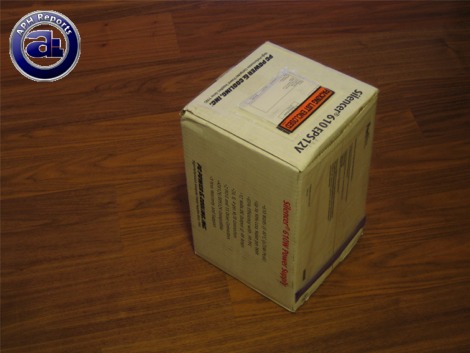 Using FedEx International Economy, our evaluation unit came in PC Power & Cooling Silencer 610W's retail packaging; which conveniently doubles as its shipping packaging as well. The box is quite different from standard retail packaging we've seen in other power supplies -- this large box utilizes thick, corrugated cardboard that encloses the contents inside securely. Without using fancy design or packaging, it has taken a subtle approach in simplicity to denote in text of what's inside -- the name, and its features/specifications. Interesting, I think it well reflects my impression on PC Power & Cooling -- a brand that emphasizes on what's inside without too much attention on the outside; rather than simply the outside with all the fancy packaging with no real quality inside.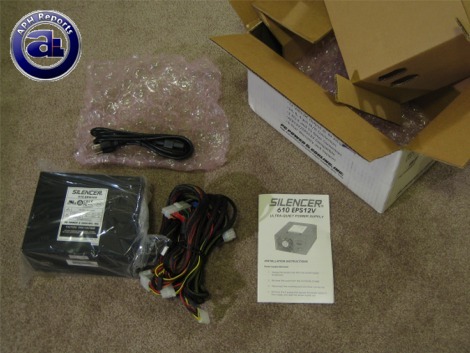 The majority of the box's weight comes from the power supply itself. Out of the box and removing the partitions, you will receive a unit of PC Power & Cooling's Silencer 610W itself, along with a brief manual and a power cable enclosed in bubble wrap. Absolutely no frills. You buy a power supply, and you will get a power supply. According to many, the PC Power & Cooling Silencer is also a very solid power supply in every aspect as well.
Before we move on, let's take a look at the features and specifications of this power supply, as obtained from PC Power & Cooling's website. It's the same set that's printed on the side of the box as well:
- 610W Continuous @ 40C (670W Peak)
- Up to 90% (10dB) Less Noise per Watt
- EPS12V / NVIDIA® SLI Certified
- 80+ Certified (83%); .99 Active PFC
- +12VDC @ 49A (Large Single Rail)
- 24-pin, 8-pin, 4-pin M/B Connectors
- 2 PCI-E and 15 Drive Connectors
- Automatic Fan Speed Control Circuit
- Black Finish (Copper on request)
- 5-Year Warranty and Tech Support
AC Input
Operating Range: 90-264 VAC / .99 power factor
Frequency: 47-63Hz
Current: 10A
Efficiency: 83%
EMI: FCC-B, CE
DC Output
Output: +5V @ 30A, +12V @ 49A, -12V @ 0.8A, +3.3V @ 24A, +5VSB @ 3A
Continuous output: 610W
Peak output: 670W
Regulation: 3% (+3.3V, +5V, +12V) 5% (-12V)
Ripple: 1% (p-p)
Hold Time: 16ms
PG Delay: 300ms
Safety
OV Protection: +3.3V, +5V, +12V
OC Protection: 135% OPP
Agency Approval: UL/ULC/CE/CB/RoHS
Environmental Temperature: 0° - 40°C
Humidity: 20% - 80% RH
Fan Type: 22 - 55 CFM ball-bearing
Noise: 26-38dB(A)
Miscellaneous Compatibility: EPS12V / NVIDIA SLI certified
M/B Connectors: 24-pin, 8-pin, 4-pin, dual 6-pin Video
Drive Connectors: 15 (6 SATA, 8 Molex, 1 mini)
MTBF: 100,000 hours
Power Cord: 6' 18AWG (incl.)
---
Page Index
1. Introduction, Packaging, Specifications
2.
Physical Look - Outside
3.
Physical Look - Inside
4.
Minor Tests and Conclusion