By: Jonathan Kwan
March 7, 2013
Yesterday morning, I had the opportunity to meet up with Philippe Lozier (Director, Business Solution Group) and Steven Cull (Alliance Manager, Business Solution Group) at Samsung Canada. After going through a presentation introducing Samsung KNOX –- a platform that runs on Android to address the new "Bring Your Own Device" business trend, a preproduction Samsung Galaxy Note 8 was on the table for me to play around with. With a clear emphasis on the company's focus on the business side of things, how is Samsung responding to the market of the ever popular iPhone and the good old Blackberry? And of course, how does the Galaxy Note 8 feel in real life? Here at APH Networks, we have you covered.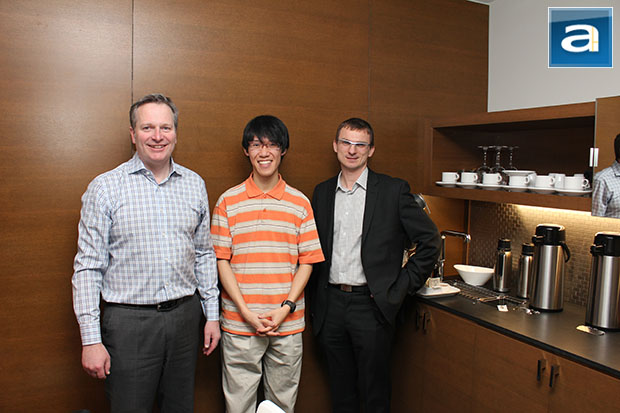 Left: Philippe Lozier (Director, Business Solution Group, Samsung Canada), Center: Jonathan Kwan (Editor-in-Chief, APH Networks), Right: Steven Cull (Alliance Manager, Business Solution Group, Samsung Canada)
"Bring your own device", or BYOD, is a popular trend in many companies -- this is no exception in the engineering firm I work at. With Android's popularity in conjunction with Samsung's continuously rising popularity in the smartphone market, security is a big concern for IT departments. Android's fragmentation and open ecosystem caused its popularity to not translate accordingly into the business world. As such, Samsung's KNOX is an initiative taken to address an area once dominated by Blackberry devices, and now Apple smartphones. This is broken down into areas including corporate email/calendar/contacts, on-device encryption, virtual private network, and mobile device management.
I am not going to go too much into details, and repeat what you can find on other publications, or even Samsung's own product page, for that matter -- so I will just fill you in on the details of which I found interesting, and unique information available to APH Networks through a question and answer session.
As far as KNOX is concerned, it runs alongside the standard Android OS in a separate high security container developed by NSA. Software running in the high security container can be monitored for integrity, in case there is a malware infection. It supports 256 bit AES encryption for both the device itself, as well as removable storage cards. Even the background can be customizable by the IT department to let the user know which mode their device is running in. Lozier claims it supports very quick switching and low lag between business and personal mode. When I asked how it compares against Blackberry Balance, Cull highlights that it works with many industry standard, existing infrastructure -- so the IT department does not need to spend any money putting in new technology and retrain employees.
One interesting feature discussed is the application based VPN access. Rather than forcing all applications to go through VPN, the IT manager can control what will and what won't. This can, in theory, allow employees on their Samsung Galaxy devices to be able to watch YouTube without going through the company network. With over 390 IT policies and over 840 MDM APIs, Samsung claims this is the most comprehensive in the industry. They say the closest competitor is only 220. They won't say who the competitor is, but I am willing to put money on the table that it is Apple, haha.
Now, for the Galaxy Note 8 hands on...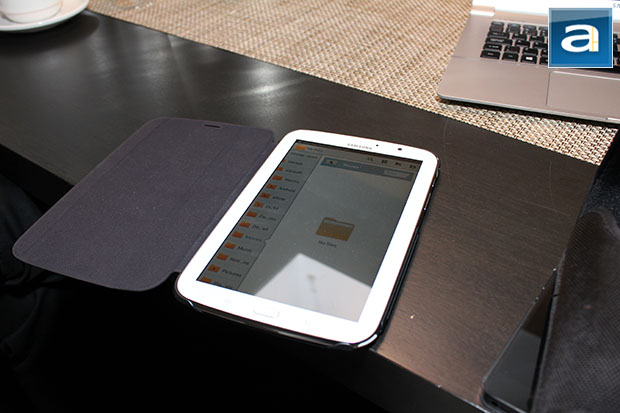 To be absolutely fair, the Samsung Galaxy Note 8 is more of a Galaxy Tab than a Galaxy Note. However, it carries a striking family resemblance with the Galaxy SIII, which is quite interesting. Those who are familiar with the latest Samsung mobile devices will find the build quality of this device to be very similar. As an iPhone user, in my personal opinion, it is definitely not quite Apple in quality and refinement -- but a solid enough device nonetheless. The S Pen can be found at the bottom right corner of the device, and sits flush with the case. Cool.
This is a preproduction unit, and runs Android 4.1.2. It has a huge 4600 mAh battery, and supports split-screen operation of two programs running side by side. I asked Lozier and Cull whether or not KNOX is only for smartphones only, or will it be implemented to tablets as well in the future. They said their primary focus right now is on cell phones, but it does not rule out the possibility of such technology trickling into their tablet devices.
Here are a few more photos of the Samsung Galaxy Note 8 with and without the case. It will be available in Q2 2013. Before you ask, yes, that is my iPhone 5 in the photos, along with their Series 9 laptop at the back. Full hardware specifications of the Galaxy Note 8 can be found at the bottom of this article.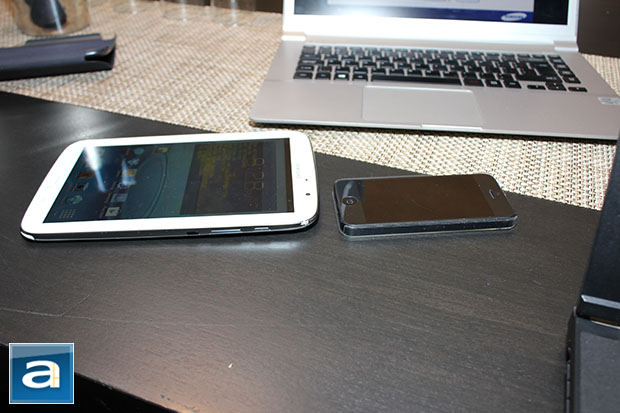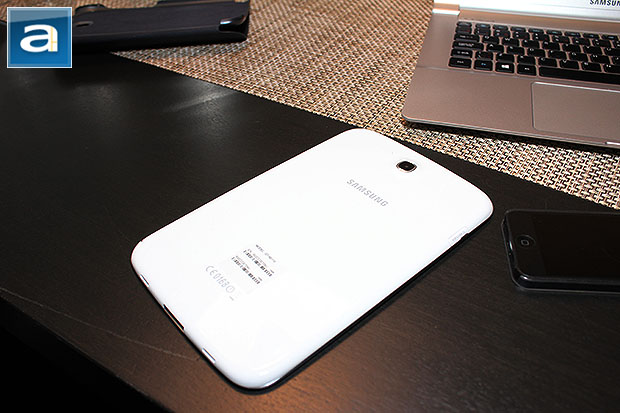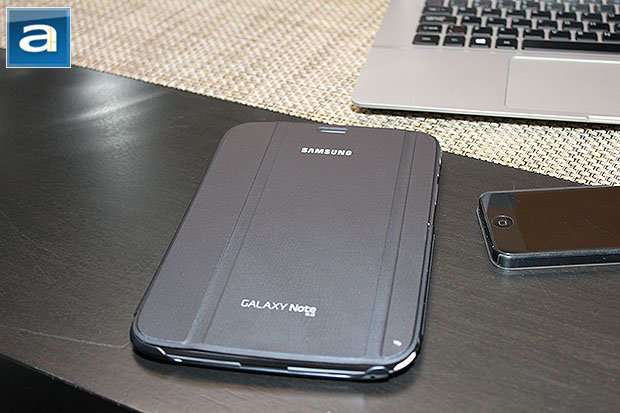 Processor: 1.6GHz A9 quad-core processor
Display: 8" WXGA (1280x800, 189 ppi) TFT
OS: Android 4.1.2 (Jellybean)
Camera: Main(Rear): 5 Megapixel Camera
Sub(Front): 1.3 Megapixel Camera
Video: Codec: MPEG4, H.263, H.264, WMV, DivX, (1080p Full HD video @ 30fps)
Audio: Codec: MP3, AAC, AAC+, eAAC+, WMA, AC3, FLAC3.5mm Ear Jack, Stereo Speaker
S Pen Optimized Features: S Pen Experience - S Note, S Planner, Email with hand-writing integration, Quick Command, Easy Clip, Photo Note, Paper Artist; Air View, Popup Note, Popup Video; Shape Match, Formula Match, Idea Sketch
Sharing Features: Samsung AllShare Play, Samsung AllShare Cast(WiFi Display) – Mirroring & Extension, Samsung AllShare Framework; Content Features & Services - Samsung Apps, Samsung Kies /Samsung Kies Air, Samsung TouchWiz / Samsung L!ve Panel; Samsung Hub - Game Hub, Learning Hub / Readers Hub / Music Hub / Video Hub; Samsung ChatOn mobile communication service (version 2.0); Smart Stay; Page Buddy/ Tag Buddy/ Word Buddy; Google Search, Google Now, Google Maps, Gmail, Google Latitude, Google Play Store, Google Play Books, Google Play Movies, Google Plus, YouTube, Google Talk, Google Places, Google Navigation, Google Downloads; Awesome Note; Flipboard; Photoshop Touch
GPS: A-GPS
Connectivity: Wi-Fi 802.11 a/b/g/n (2.4 & 5 GHz), Wi-Fi Direct, AllShareCast, BT4.0, USB2.0
Sensor: Accelerometer, Digital Compass, Proximity
Memory: 2GB (RAM), 16GB
microSD (up to 32GB)
Dimension: 210.8 X 135.9mm, 338g
Battery: Standard battery, Li-ion 4,600mAh
APH Networks attended a press event to facilitate this report.