By: Jonah Chow
July 9, 2021
Something I find companies have been doing more recently is remastering old and beloved games. While this is not a new practice by any means, I like to ask myself, "What is the point of simply remaking a game when you can just play the original?" To answer my own question, it is quite simple: Aside from newer graphics, a remastered game can bring new elements to the original to enhance the experience. The remastered Resident Evil brings a more realistic feel to the survival aspects, which I think adds to what should be a generally intense game. On the flip side, the remastered Pokémon adds new ones to catch and train while introducing new side quests to continually level up your Pokémon. While these are still the same games, the remastered version is, as the title suggests, a better version of it. At the end of the day, I think remastered games do have a purpose in the entertainment industry. It gives gamers a way to feel nostalgic over their favorite titles along with a somewhat new experience. Over ten years ago, SilverStone released their Decathlon power supply unit series to the PC world. Today, in the year 2021, SilverStone re-releases the Decathlon PSU series with a certified 80 Plus Gold rating, bringing us to today's report of the SilverStone Decathlon DA850 Gold 850W. Does this remastered edition of one of SilverStone's classic products bring a new level of quality to the table with its 80 Plus Gold rating? Let us read on to find out!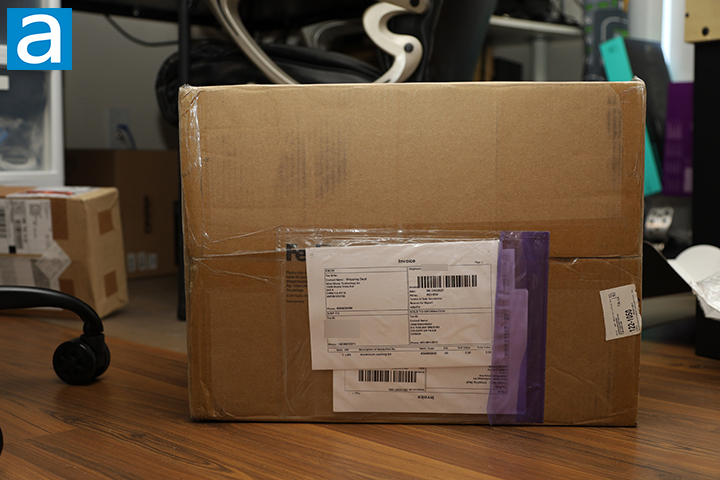 Our review unit of the SilverStone Decathlon DA850 Gold 850W arrived via FedEx Ground from their offices in Chino, California, USA. The shipping package arrived here in Calgary, Alberta, Canada. Other than a few minor dents, the medium-sized brown corrugated cardboard box arrived in good condition. Along with the Decathlon DA850 Gold 850W, SilverStone also sent us a multitude of other products, which will be reviewed in the coming weeks by both me and my colleagues.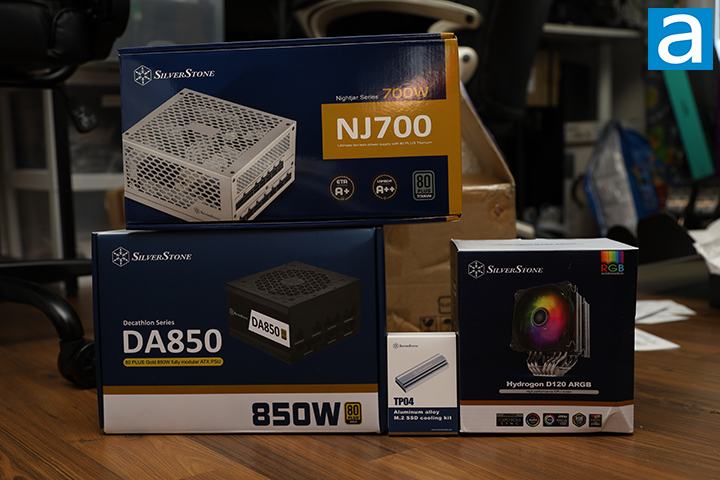 SilverStone does not usually follow much of a trend for how they design their power supply retail containers. The Decathlon DA850 Gold 850W comes in a blue and white box that resembles more recent SilverStone products like the IceGem 280. On the front, you will see a scaled-down image of the power supply unit on the right side. The name and product description of "80 PLUS Gold 850W fully modular ATX PSU" can be seen towards the left side. Some features are found under the large DA850 label. The power capacity is labeled at the bottom of the box with the 80 Plus Gold logo right beside it. Other details, such as the given cables and power distribution chart, can be found around the box.
Before we continue on, I have obtained the specifications from the manufacturer's website for your perusal:
Product No: SST-DA850-G
Max. DC Output: 850W
Power density: 471W per liter
Model (safety certification): SST-AX0850MCGD-A
Color: black (lead-free paint)
Combined +3.3V & +5V: 110W
Combined +12V: 846W
Input Voltage: 90 ~ 264 Vrms
Input Frequency Range: 47Hz ~ 63Hz
PFC: Active PFC (PF>0.9 at full load)
Efficiency: 87% ~ 90% (at 20% ~ 100% loading)
MTBF: 100,000 hours
Operating temperature: 0 ~ 40°C
Protection: Over current protection, Over power protection, Over voltage protection, Short circuit protection, Over temperature protection
Connectors: 1 x 24 / 20-Pin motherboard connector (600mm), 2 x 8 / 4-Pin EPS / ATX 12V connector ("750mm" x 2), 2 x 8 / 6-Pin PCIe connector ("650mm / 150mm" x 3), 8 x, SATA connector ("600mm / 150mm / 150mm / 150mm" x 2), 6 x 4-Pin Peripheral connector + 2 x 4-Pin Floppy adapter connector ("600mm / 150mm / 150mm / 150mm" x 2)
Cooling System: Silent 120mm FDB fan
Form factor: ATX (PS2)
Noise Level: 18 dBA minimum
Dimension: 150 mm (W) x 86 mm (H) x 140 mm (D), 5.91" (W) x 3.39" (H) x 5.51" (D)
Weight: 1.46 kg
Certification: 80 PLUS Gold
Other: GPU Support list, Compatible with ATX12V v2.4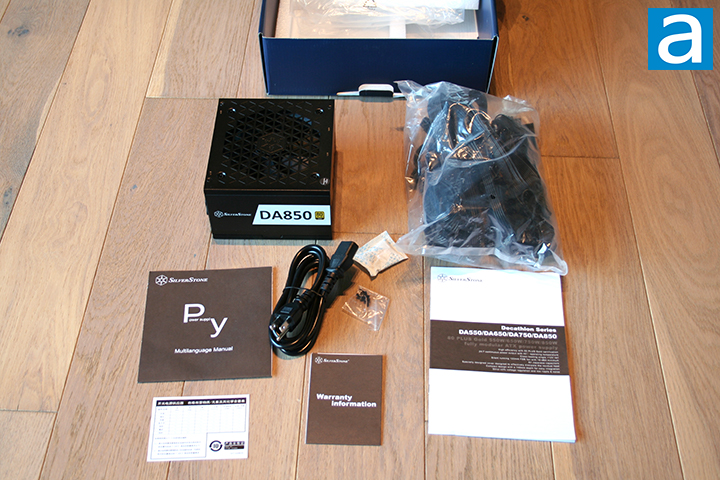 The SilverStone Decathlon DA850 Gold 850W's retail packaging can be opened by a flap along the bottom. The power supply unit came to us placed inside a Styrofoam bracket. The cables are bundled in a nylon bag. As with other SilverStone PSUs, we have two booklets to describe the different qualities and limits of the unit, as well as some usage instructions. Just to note, this PSU comes with a 3-year warranty. More information regarding the warranty can be found in the warranty information booklet included with the Decathlon DA850 Gold 850W package.
---
Page Index
1. Introduction, Packaging, Specifications
2.
Physical Look - Outside
3.
Physical Look - Inside
4.
Minor Tests and Conclusion