By: Jonah Chow
November 5, 2021
A few months ago, I bought a Moose Knuckles bomber jacket from my friend, which has received many comments from people around me. The most common one goes along the line of, "It looks nice, but does do anything special that a $50 bomber jacket would not do?" This got me thinking about designer brands and whether they actually add more value than their much cheaper counterparts. Canada Goose is a brand that probably comes to many people's minds on the topic of high-end brands. Their winter jackets are great to look at and look nice on anyone who wears them, but at what point do looks overtake practicality? Now, I have never owned a Canada Goose jacket, but just from trying them on from time to time, I can say they are very comfortable to wear and do feel quite warm, which is perfect if you live in Canada. Even this Moose Knuckles bomber jacket has more going on besides just looking slick. There are six different pockets where I can store anything I need, and it works perfectly in moderate temperatures, which is typically what a bomber jacket is for. With that said, looks are a big part of the clothing industry, as people generally want to look good in what they wear. Turns out the appeal for good looks also translates to PCs, as RGB is being put into almost everything now including power supply units, bringing us to today's review of the SilverStone ET500-ARGB 500W. This is not our first RGB power supply unit report, but they are not common by any means, especially ones that have multiple lighting modes built into the unit like this one. With that said, to repeat a question I have asked in many reviews, is the ET500-ARGB 500W all style or does it also have the substance to back it up? Let us read on to find out!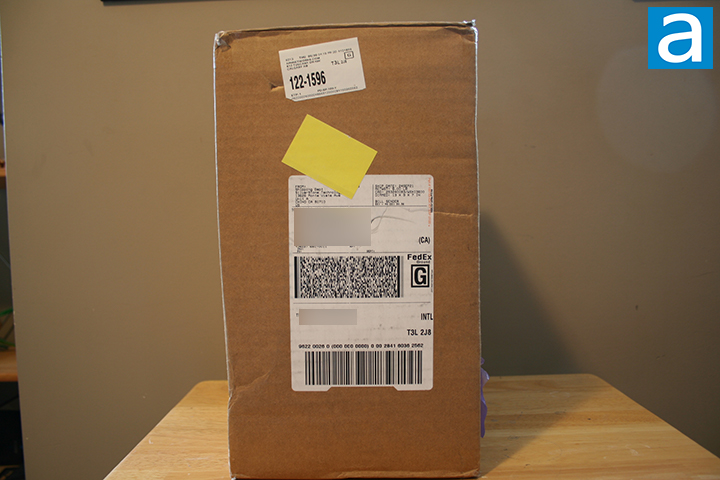 Our review unit of the SilverStone ET500-ARGB 500W arrived via FedEx Ground from their offices in Chino, California, USA. The shipping package arrived to us here in Calgary, Alberta, Canada. Other than a few minor dents, the medium-sized brown corrugated cardboard box arrived in good condition.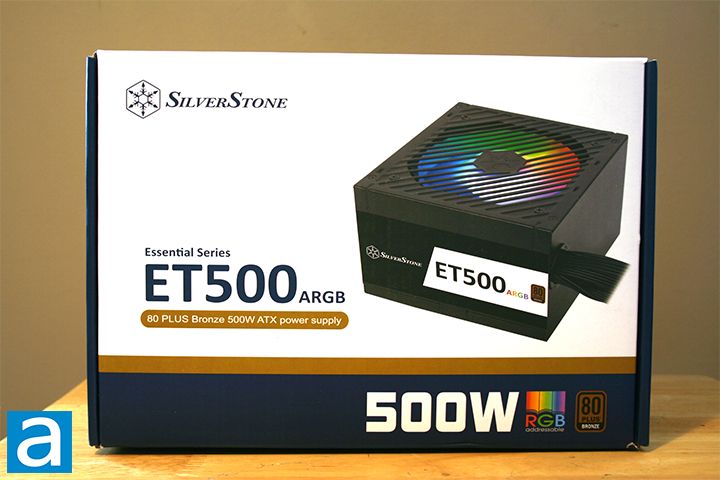 SilverStone does not usually follow much of a trend for how they design their power supply retail boxes. The ET500-ARGB 500W comes in a blue and white box that resembles more recent SilverStone products like the IceGem 280, although the white color scheme is more prominent on this specific product. On the front, the SilverStone brand name can be seen at the top left. A scaled-down image of the power supply unit and its RGB glory can be seen on the right side. The name and product description of "80 PLUS Bronze 500W ATX power supply" can be seen towards the left side along with the Essential Series branding. The power capacity, addressable RGB, and 80 Plus Bronze label can be seen lined up at the bottom. Other details, such as the provided cables and power distribution chart, can be found around the box.
Before we continue, I have obtained the specifications from the manufacturer's website for your convenience:
Product No: SST-ET500-ARGB
Max. DC Output: 500W
Power density: 277W per liter
Model (safety certification): SST-ET500-ARGB
Color: black (lead-free paint)
Combined +3.3V & +5V: 110W
Combined +12V: 456W
Input Voltage: 103 ~ 253 Vrms
Input Frequency Range: 47Hz ~ 63Hz
PFC: Active PFC (PF>0.9 at full load)
Efficiency: 87% ~ 85% (at 20% ~ 100% loading)
MTBF: 100,000 hours
Operating temperature: 0 ~ 40°C
Protection: Over current protection, Over power protection, Over voltage protection, Short circuit protection, Over temperature protection
Connectors: 1 x 24 / 20-Pin motherboard connector, 1 x 8-Pin EPS connector, 1 x 4-Pin + 4-Pin ATX 12V connector, 2 x 8 / 6-Pin PCIe connectors, 4 x SATA connectors, 3 x 4-Pin Peripheral connectors, 1 x Male ARGB 4-1 pin connector, 1 x Female ARGB 4-1 pin connector
Cooling System: Single 120mm ARGB fan
Form factor: ATX (PS2)
Noise Level: 18 dBA minimum
Dimension: 150 mm (W) x 86 mm (H) x 140 mm (D), 5.91" (W) x 3.39" (H) x 5.51" (D)
Weight: 1.37 kg
Certification: 80 PLUS Bronze
Other: GPU Support list, Compatible with ATX12V v2.4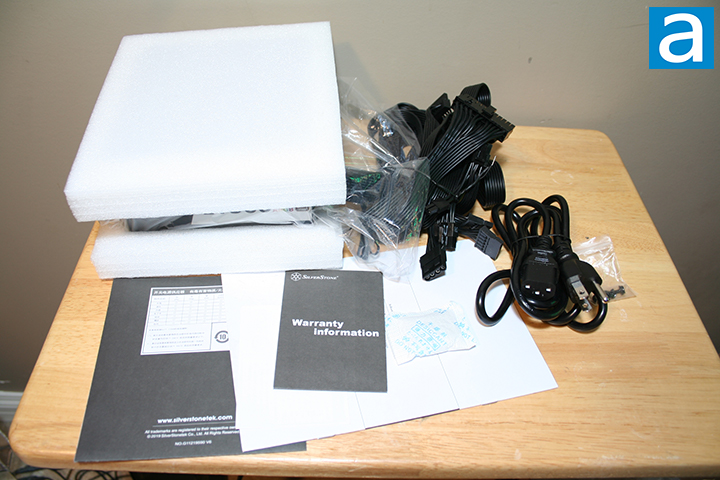 The SilverStone ET500-ARGB 500W's retail packaging can be opened by a flap along the bottom. The power supply unit came to us placed inside a Styrofoam bracket. The cables are bundled in a nylon bag. As with other SilverStone PSUs, we have two booklets to describe the different qualities and limits of the unit, as well as some usage instructions. Just to note, this PSU comes with a 3-year warranty. More information regarding the warranty can be found in the warranty information booklet included with the ET500-ARGB 500W package.
---
Page Index
1. Introduction, Packaging, Specifications
2.
Physical Look - Outside
3.
Physical Look - Inside
4.
Minor Tests and Conclusion