By: Jonathan Kwan
April 29, 2016
A few weeks ago, I parked my car at the train station at 9:56am. After I got out of my car, I saw a ParkPlus vehicle -- a car equipped with automatic cameras for issuing parking tickets -- incoming at the one-way loop behind a bunch of cars. In a heartbeat, I knew I had about thirty seconds to get out before the automatic ticketing vehicle gets to my car and takes a picture of my plate, since the section of the parking lot I parked in is not free until 10:00am. As I attempted to back out of my stall as soon as possible, the driver of an old Buick in through traffic became noticeably agitated. He stopped, got out of his car, and started hurling insults at me for blocking him. Exactly how I could be blocking his car when we were perpendicular to each other and he was behind me is beyond my understanding, but I digress. I simply asked him to keep going, as I needed to get out, and he was in my way. After he continued on, the guy behind him yielded, so I took the opportunity to back out. Now, there may be a few questions you may want to ask me. Was I mad? Did I feel insulted? Why did not I yell back? Now, beside the point you should never get into a fight with someone while you are parking your vehicle (After all, my bumper is worth more than his entire car), I knew I had one goal in mind at the time: Get out of that place immediately, or else I will be ticketed. I was not even thinking about him, since there were clearly more important and immediate goals. Similarly, when releasing a product, it is important we focus on the main priorities. If the main priorities are not clear, then the market of the product will not be clear, either. With the SilverStone Strider Titanium ST80F-TI 800W, the company is clear with what they want to do: To create the smallest 800W power supply with an 80 Plus Titanium certification. How successful were they? Let us explore that in our article today. Oh, the Buick driver? He parked in the stall beside where I originally parked. The ParkPlus vehicle came by moments after I left, stopped, and gave him a parking ticket at 9:58am.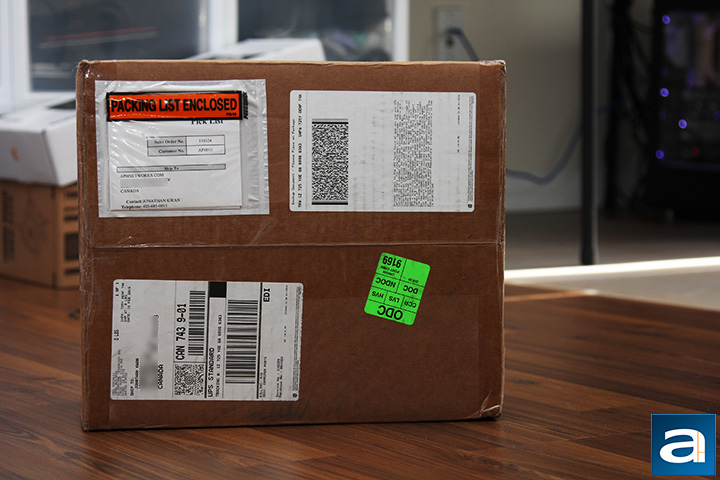 Last week, I cracked open the G.Skill Ripjaws V F4-2400C15D-32GVR 2x16GB, the first DDR4 memory kit reviewed here at APH Networks that are 16GB per module. This week, I got another first: An 80 Plus Titanium certified power supply. As always, our review unit of the SilverStone Strider Titanium ST80F-TI 800W came in a medium sized, brown corrugated cardboard box from the company's American headquarters in Chino, California, USA. Unlike the last few times, the power supply traveled by itself with nothing else in the box. Using UPS Standard, everything arrived in excellent condition to us here in Calgary, Alberta, Canada for our review today.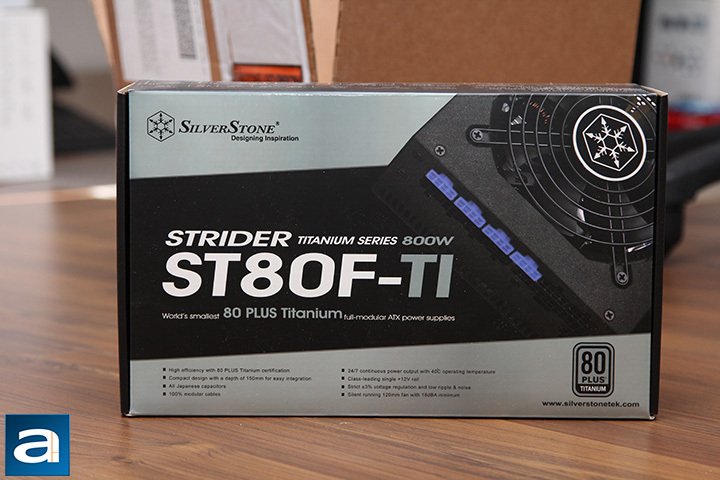 The SilverStone Strider Titanium ST80F-TI 800W's retail box is designed with some stylistic consistency with the rest of the company's power supply lineup, but the layout has once again been revised with the latest model. The box comes in a predominantly grey background, with a black band in the middle to allude to its 80 Plus Titanium certification. Inside the black band, its model number is written in super large font, while a more consumer friendly name in English is printed above it. The line "World's smallest 80 Plus Titanium full modular ATX power supplies" occupies the space below the model number. At the top left corner, we can see SilverStone's logo and slogan. A photo of the power supply can be seen on the right. Under that, a large 80 Plus Titanium badge ensures you know this is an 80 Plus Titanium certified power supply, just in case you could not tell by the name or the box already. Lastly, at the bottom, a matrix of bullets points out the feature highlight of SilverStone's latest ultra-high efficiency power supply.
Before we move on, let us take a look at the specifications of the SilverStone Strider Titanium ST80F-TI 800W, as obtained from the manufacturer's website:
Model No.: SST-ST80F-TI
Max. DC Output: 800W (Peak 850W)
Power density: 413W per liter
Color: black (lead-free paint)
combined +3.3, +5V: 120W
combined +12V: 792W
Input Voltage: 90V ~ 264V
Input Frequency Range: 47Hz ~ 63Hz
PFC: Active PFC (PF>0.9 at full load)
Efficiency: 90% ~ 94% at 10% ~ 100% loading
MTBF: 100,000 hours
Operating temperature: 0 ~ 40°C
Protection:
- Over Current Protection
- Over Power Protection
- Over Voltage Protection
- Short Circuit Protection
- Under voltage protection
- Over Temperature Protection
Connectors:
- 1 x 24 / 20-Pin motherboard connector (550mm)
- 1 x 8 / 4-Pin EPS / ATX 12V connector (750mm)
- 1 x 8 / 4-Pin EPS / ATX 12V connector (550mm)
- 4 x 8 / 6-Pin PCIE connector (550mm x 4)
- 12 x SATA connector (600mm / 150mm / 150mm / 150mm x 3)
- 3 x 4-Pin Peripheral connector (600mm / 150mm / 150mm)
- 1 x 4-Pin Floppy adapter connector (100mm)
Cooling System: Single 120mm silent fan
Noise Level: 18 dBA minimum
Dimension: 150 mm (W) × 86 mm (H) × 150 mm (D)
Weight: 2.7 kg
Form factor: ATX
Certification: 80 PLUS Titanium
Other: GPU Support list, Compatible with ATX12V v2.4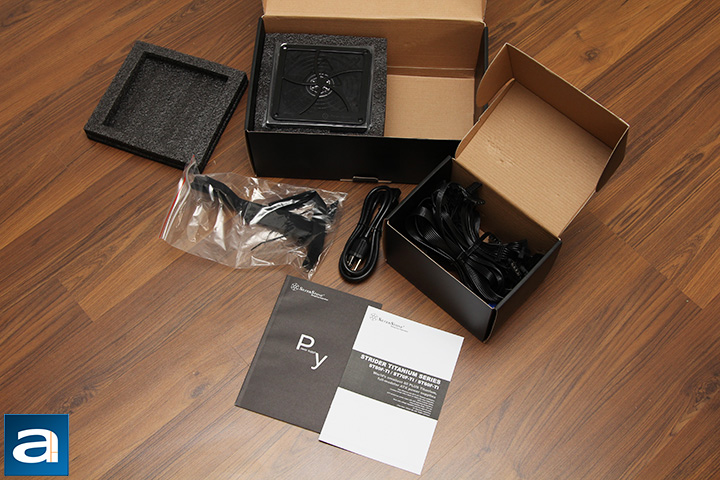 The SilverStone Strider Titanium ST80F-TI 800W's retail packaging can be opened by a flap attached at the bottom. Upon opening the box, you will find everything neatly organized. The power supply is located on the left, cables on the right, and everything else in a resealable plastic bag. There is also an instruction manual as well as a specifications booklet out in the open. The instruction manual is highlighted with the letters "PY" in front, which is a generic booklet in multiple languages that comes with all SilverStone power supplies. Out of the box, you will receive the ST80F-TI 800W power supply itself, two pieces of literature as aforementioned, magnetic dust filter, modular cables, AC power cable, and a bag that contains some zip ties, Velcro straps, four thumbscrews, and four regular screws.
---
Page Index
1. Introduction, Packaging, Specifications
2.
Physical Look - Outside
3.
Physical Look - Inside
4.
Minor Tests and Conclusion