By: Jonathan Kwan
July 1, 2011
What is the first thing that comes to mind when I mention the words 'cake' and 'cheese'? Cheese that is melted on top of a cake? A cake made out of cheese? Or should I simply refer to it as a cheesecake? Recently, I have been reading Preston's Toughpower Grand 750W report, and thought to myself: What better way is there to start the Thermaltake Toughpower Grand 1200W review, than to plagiarize a few lines from the my colleague's article introduction earlier in March this year? Now obviously plagiarism and cheesecakes have nothing to do with a power supply we are reviewing today -- but before you click the little 'X' next to your browser's tab, let me ask you this question first before moving on further in this review: Would you buy an ugly looking cheesecake to munch down on, or an ugly plagiarized cake (Oh yes, cakes can be plagiarized) for that special someone? Probably not, and I believe nine out of ten people would agree also. In the world of computers, PC enthusiasts will go pretty far in obtaining hardware to make their system look pretty, and I have to admit that I am one of them. Not too long ago, I was checking my email, and it so happens Thermaltake dropped by with a note asking if I wanted to check out the Toughpower Grand 1200W. At first glance, it still has a simple, yet unique strip of red on a dark matte body with rounded corners; this no different than any other models in this product line. Knowing how awesome the 750W is with regards to its top notch build quality and simply class leading performance, without further thought, I told myself this is really the one to get if I desired awesomeness. But what and how much has changed under the hood in this kilowatt-plus monster? Keep reading to see what we have found!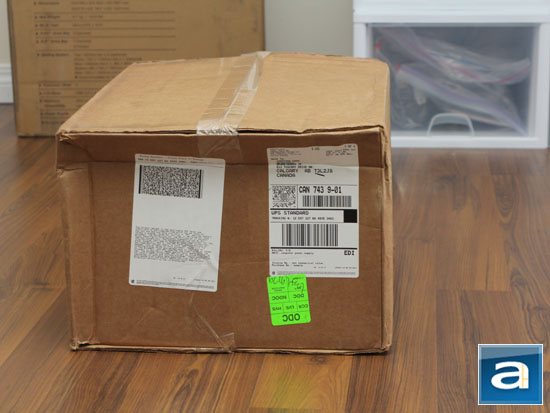 Our review unit of the Thermaltake Toughpower Grand 1200W power supply came in a medium sized, brown corrugated cardboard box from Thermaltake's American headquarters in California, USA. Using UPS Standard, the box was crushed slightly at the top. Fortunately, it took those hits like a man, and came to our Calgary, Alberta, Canada location safely. Included inside was a lot of packing peanuts, and with that in mind, we were happy to see the contents actually arrived in absolutely pristine condition.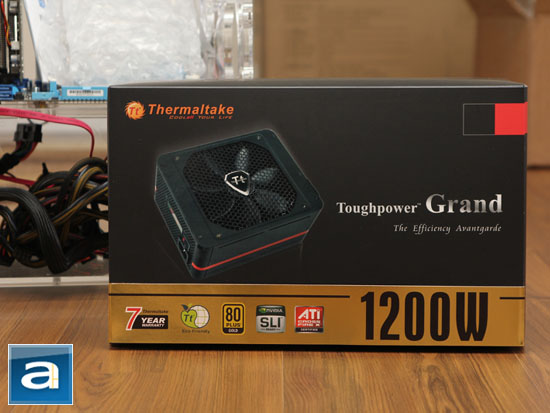 Unsurprisingly, the Thermaltake Toughpower Grand 1200W carries over the same retail box design, as with the rest of the power supplies in the Toughpower Grand product line. The wide aspect ratio box features a clean, prominent black background. Thermaltake's logo can be found at the upper left corner, followed by an image of the power supply below it. On the right half of the front flap, we have the "Toughpower Grand" branding and "The Efficiency Avantgarde" slogan in white and silver. A gold band extends all the way across the bottom; on it is an array of icons highlighting its 7-year warranty, eco-friendly design, 80 Plus Gold certification, as well as its NVIDIA SLI and ATI CrossFire X compatibility. Of course, the most outstanding of them all is the big and bold '1200W' text. As literal as it can be, this means you will find none other than a 1200W PSU inside. Feature highlights and specifications can be found behind the front flap as well as the back side of the box. Speaking of which, before we move on, let's take a look at the specifications of the Thermaltake Toughpower Grand 1200W PSU, as obtained from the manufacturer's website:
- Wattage: 1200 Watts
- Fan: 140 mm Dual Ball Bearing fan; 1900RPM ± 10%; 99.6 CFM
- Efficiency: up to 93%
- PFC: Active PFC
- Hold-Up Time: 16 ms at 75% full @ 230 VAC input
- Switches: ATX Logic on-off additional power rocker switch (with light indicator)
- Motherboard Connectors: 24-pin Main Connector; 8-pin Power Connector; 4+4-pin Power Connector
- Power Good Signal: 100 - 500 ms
- Form Factor: ATX 12V 2.3 & EPS 12V 2.92
- Dimension: 7.08 x 5.9 x 3.4 inch (L)x(W)x(H); 180 x 150 x 86 mm (L)x(W)x(H)
- Warranty: 7 Years
- Certifications: ATI CrossFireX Certified; NVIDIA SLI Certified; 80PLUS Gold Certified
- Operating Temperature: 10 c to 50 c
- Storage Temperature: -40 c to 70 c
- Operating Humidity: 20% to 90%, non-condensing
- Storage Humidity: 5% to 95%, non-condensing
- Over Voltage Protection: Yes
- Over Current Protection: Yes
- Over Load Protection: Yes
- Over Termperature Protection: Yes
- Under Voltage Protection: Yes
- Short Circuit Protection: Yes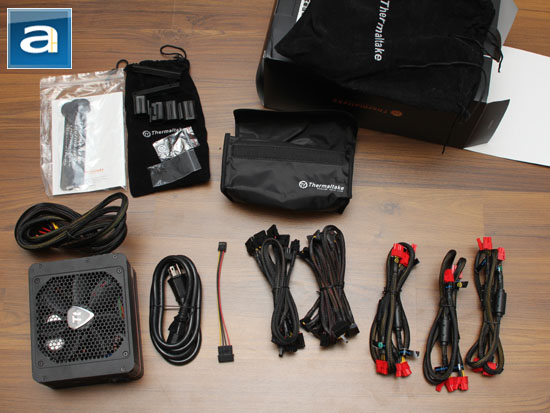 Upon opening the black retail box described earlier, you will find another brown corrugated flap-top box used for extra protection. Inside, you will find all its contents neatly packaged in its own bag. The best part of this is while other manufacturers throw everything inside disposable plastic bags, Thermaltake included most of the stuff inside classy reusable drawstring or Velcro pouches. For a bit over $300 at press time, we expected nothing less, and we were glad this performance 1200W PSU is very well presented to the end user. Out of the box, you will receive the following items:
1x Thermaltake Toughpower Grand 1200W PSU w/Modular Cables
4x Attachment Screws
4x Velcro Straps
4x Plastic Clips
2x Self Adhesive Vibration Dampeners
1x Power Cable
1x Manual
---
Page Index
1. Introduction, Packaging, Specifications
2.
Physical Look - Outside
3.
Physical Look - Inside
4.
Minor Tests and Conclusion