By: Jadon Lee and Jonathan Kwan
February 3, 2023
If you know me, you may know that I really enjoy the Fire Emblem game franchise. Every chapter feels like a challenge with a good amount of strategy and difficulty. Of course, while it feels good to completely destroy another human player in an online game, the peace of getting to beat an AI player just hits different. Beating another human player that is prone to human error is fun, but being able to outsmart a computer in tactics is so much more satisfying. Mind you, I am not the best Fire Emblem player, but I have been able to beat Fire Emblem Awakening on the Lunatic difficulty mode without having a single unit lost. I found Fire Emblem games have been a nice way for me to relax in my own space and in my own mind. Being in the state where my full mind is invested into the strategy behind the game allows me to have some peace inside. This is something difficult nowadays, but sometimes you just want to block out all of the noise in your life. Something that helps that is a nice pair of active noise cancelling earbuds. 1MORE has sent over their Aero earbuds to test out. These earbuds are feature-rich with their latest active noise canceling technology, detailed sound profiles, and good battery life. Will these earbuds hold up to their claims and provide me with the peace and serenity of removing myself from the world's noise I need? Keep on reading to find out!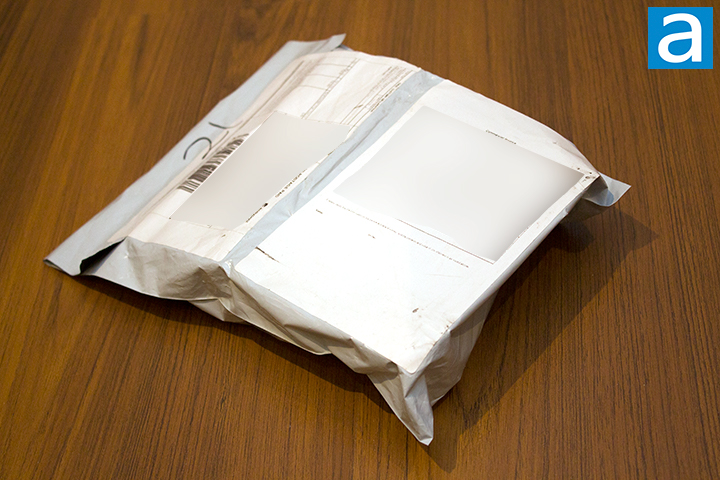 Today's review unit of the 1MORE Aero was shipped to us here in Calgary, Alberta, Canada via USPS and a transfer using Canada Post from San Diego, California, USA. The small-sized bag was handled with a decent amount of care, as it arrived in relatively good condition with basically no marks or visible scuffs. I was not too concerned about the shipping because of the satisfactory condition of the retail box.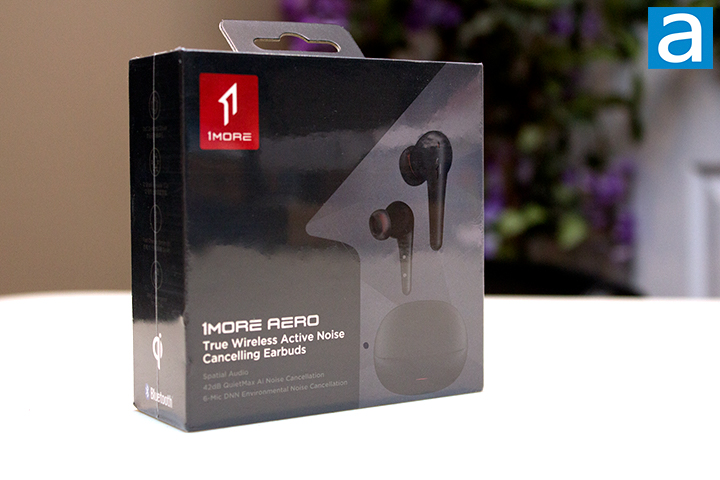 As we may have seen from other 1MORE products such as the EVO, there is a trend for good packaging. The retail box looks clean, modern, and minimalistic. In the top left corner, you will find 1MORE's logo in the black area. The product name, description, and list of feature highlights can be found at the bottom left corner. A photo of the headphones occupies the remaining gray areas of the box on the right. Feature highlights and specifications in multiple languages can be found on the left and back side of the box.
Before we move on, let us take a look at the specifications of the 1MORE Aero, as obtained from the manufacturer's website:
Model: ES903
Single Earbud Weight(With M-sized Ear Tips): 4.9g
Case Weight: 45.2g
Gross Weight: 55.1g
Earbud Dimension: 39.42 x 20.33 x 24.36 mm
Case Dimensions: 61.99 x 56.40 x 25.5 mm
earbud Battery Capacity (Single): 40 mAh
Case Battery Capacity: 450 mAh
Earbuds Charging Time: 1 hour
Case Charging Time (Wired/Wireless): 2 hours
Playtime (ANC Off):
- Earbuds Fully Charged Music Playback: 7 hours
- Case and Earbuds Fully Charged Music Playback: 28 hours
Playtime (ANC On):
- Earbuds Fully Charged Music Playback: 5 hours
- Case and Earbuds Fully Charged Music Playback: 20 hours
Speaker Impedance: 32 Ω
Bluetooth Range: 10m (Open Space)
Bluetooth Version: Bluetooth 5.2
Bluetooth Protocols: HFP / A2DP/ AVRCP
Input: 5v – 0.7
Working Temperature: 0℃ ~ 45℃
Frequency Range: 2.400 GHz – 2.4835 Ghz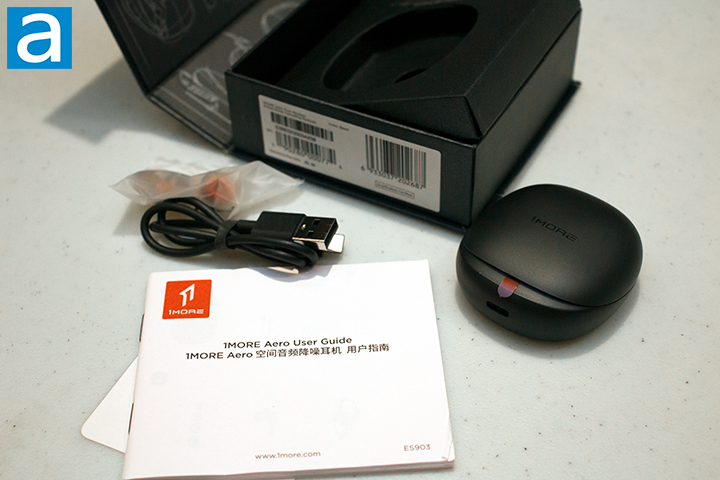 The box can be opened like a door, which reveals sketches of the 1MORE Aero on the magnetically closed inside flap. You will find everything in various boxes enclosed by a clear plastic cover. What you will get are the earbuds themselves, charging case, two additional pairs of different-sized ear sleeves in addition to the one already installed, and a USB Type-C to Type-A cable for charging. Product literature included are a user guide in various languages and a warranty card.
---
Page Index
1. Introduction, Packaging, Specifications
2.
Physical Look - Hardware
3.
Subjective Audio Analysis
4.
Conclusion