By: Aaron Lai
November 21, 2014
In early October, a few of my friends, including Editor-in-Chief Jonathan Kwan took a road trip up to our neighboring city of Edmonton, Alberta. While Calgary and Edmonton does have a bit of a rivalry, there are good and bad aspects of each city (But obviously Calgary has a much higher pro-to-con ratio in comparison to Edmonton). During our visit to the capital of Alberta, we went to West Edmonton Mall, and found a store sign that read "New fit slim boyfriend - Your favorite boyfriend fit just got better". Now, being the mature and grown-up people we were, Jonathan and I decided to cover up the words "fit". We got our chuckles out of it, and everyone else looked at us as if we were half our age. For all we know, this could be the actual intention of the store -- to bring up a comparison between your jeans and your boyfriend. However, I think this brings up a different point. Covering or hiding a single word allowed us to change the meaning of the phrasing. Furthermore, if you were to only see our altered slogan, you probably would not expect this to be written for jeans, but rather for a person. Thus when Antec released the Kuhler H2O 1250, a cooler said to have maximum and "best-in-class performance in a quick, easy-to-install package", I really had to question if this was all true. For one, this is what we are looking for in a CPU cooler generally, but is that what Antec is actually giving us? Or are there actually some words hidden words? Let us read on to find out!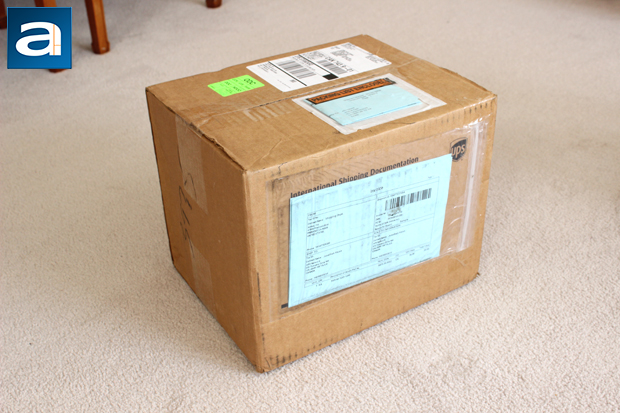 Today's unit of the Antec Kuhler H2O 1250 arrived in a brown corrugated cardboard box from Antec's headquarters, located in Fremont, California, USA. With UPS Standard as the mode of shipment, the large parcel arrived to our Calgary APH Networks location. As we have seen from UPS Standard, the box arrived in pretty good condition with very few dents or tears. To prevent the closed loop water cooler from sloshing about, standard brown packing paper was placed inside the box to fill up the empty spaces. The Kuhler H2O 1250 has also been shrink-wrapped to prevent any scratches on the retail box.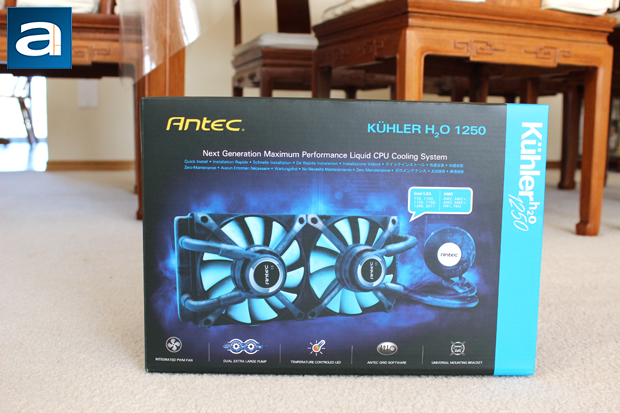 In front of us is the retail packaging of the Antec Kuhler H2O 1250, sans the shrink wrap, so it appears better in photos. Antec has utilized a mainly blue and black theme, which emulates an Arctic icy cold look. Antec's logo is found in its regular yellow on the top left hand corner. The cooler itself is also shown on the front box, with the same icy blue or frost-like aura around it. I can assure you the Kuhler H2O 1250 does not actually have any blue on the fans nor the pump, as you will see later on. If it were to actually look frosted, I would be thinking the liquid inside has leaked, haha. I should mention this is the largest liquid cooler in the Antec Kuhler lineup, and therefore your case must be able to support a 240mm radiator. Most mid- to full-tower cases will have no problem meeting this criteria, but it should be noted nonetheless. If you are working in tighter environments, Antec also offers the Kuhler H2O 950 and 650, both with a smaller 120mm radiator footprint. Other features and specifications can be found underneath the picture, as well as around the entire retail packaging. As it is hard to read the specifications on the box, I will pull them from the manufacturer's website for your perusal:
Specifications:
- Model: Kühler H2O 1250
- UPC: 0-761345-77187-0
- Fan Speed: 600 - 2400 RPM
- Radiator Dimensions: 280mm x 120mm x 27mm / 11.0" x 4.7" x 1.1"
- Fan Dimensions (2 total): 120mm x 25mm / 4.7" x 1.0"
- Cold Plate + Pump Height: 26mm / 1.0"
- Tubing Length: 300mm / 11.8"
- Cooling Liquid: Safe, environmentally-friendly, anti-corrosive
- Net Weight: 1.3kg / 2.9lbs
- CPU Socket Compatibility: Intel LGA 775/1150/1155/1156/1366/2011; AMD AM2/AM2+/AM3/AM3+/FM1/FM2
- Warranty: 3 years
Features:
- Copper cold plate is optimized for thermal conduction
- Extra large pump and integrated fan were engineered to cool the radiator efficiently
- Two Integrated PWM fans automatically adjust fan speed based on temperature. Built-in directional blades focus airflow through the radiator
- RGB LED illuminates your case and changes color to indicate CPU temperature
- Included software provides essential tools to control and monitor the KÜHLER H2O 1250
- Dual pump operation for maximum performance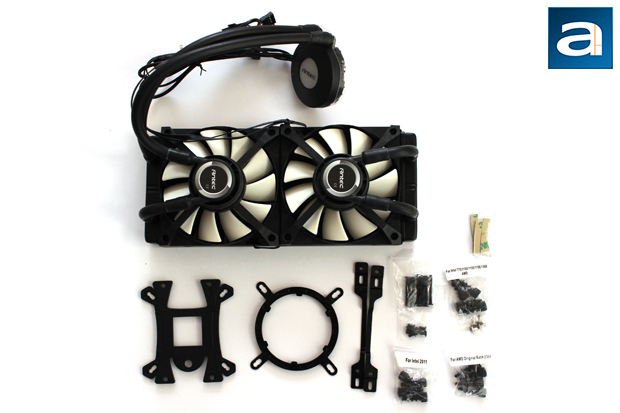 Opening the Antec Kuhler H2O 1250's container up, you can see everything is held in a large cardboard tray with a thin foam sheet covering the top. This follows Asetek's general packaging, as Asetek is the actual OEM of the Kuhler lineup. However, what you might get with Antec is the additional parts to make the installation as straight-forward as possible. At the very top of the photo is the Kuhler H2O 1250. Underneath, from left to right, is a cooler plastic backplate, a metal cold plate mount, a pair of spacers for the radiator, and more small baggies with screws and nuts inside. There is also some 3M double-sided adhesive foam to mount the backplate to the back of your motherboard. Not included in this picture is also an installation guide manual, as well as a CD with Antec's GRID software, but this will be covered later. Let us take a closer look at the Kuhler H20 1250 itself.
---
Page Index
1. Introduction, Packaging, Specifications
2.
Physical Look - Hardware; Installation
3.
Test Results
4.
Conclusion