By: Jonathan Kwan
September 25, 2007
There are just so many computer case manufacturers with such a variety in models and styles, it's really starting to confuse the consumer -- I mean, there's probably more diversity in this area than there are cars on the street. However, there's really one case from one manufacturer that stands out from the rest today -- famous for silence, simplicity in aesthetics, detail of design, reputation for performance, and mainstream pricing -- in fact, it's so popular among our readers that it really pushed me to get one to try one out. If you already have an answer in your head, you probably guessed it -- the P182 'Performance One' series case from Antec. Built upon the Antec P180, this improved version comes in a slightly different color by default and promises much better cabling capabilities without whipping out any power equipment. So, what's the craze all about, and should you get one as well? We'll dig into the details in our review today.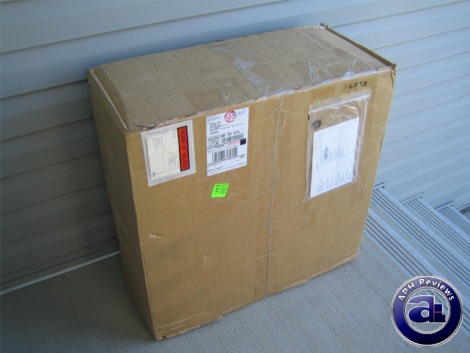 I've always wanted an Antec P180 since it came out a few years back -- but I did not have a chance to get my hands on one until now. The Antec P182 is certainly one of those rare review units I am really excited for. Checking the UPS tracking number online, I was wondering what was happening -- the page says "Out for delivery", and it was already 5pm and nothing showed up. A glance out the second floor window revealed a black UPS truck already at my front door. Was I happy and excited? You bet.
Our Antec P182 came in a large cardboard box from Antec's offices in California using UPS Ground. It was a package nearly forty pounds, which was really some thing to ship. With a box that big, it must have been quite a trip for the driver to carry it up my driveway as well!
Antec carefully packed the retail box of the Antec P182 inside the large outer cardboard box, with air pockets filling in the gaps to ensure everything -- including the retail box itself -- arrived in perfect condition. It sure is pretty rare to see companies ship products with such care.
With its excellent protection in shipping, our retail box came in perfect condition. The different shadings of black on the retail box with small image crops across the front comes along with a front angle photo of the Antec P182 itself. The clean, uncluttered design of the box with spotlight effect on the Antec P182 image creates a sense of elegance, class, and space. The captions printed all over the box such as 'Without Compromise' and 'Advanced Super Mid-Tower' also denotes the same effect -- in bold literalness. From my interpretation, it's apparent that Antec is extremely confident in what they make, and 100% sure than the consumer will be pleased by the perfection of this product.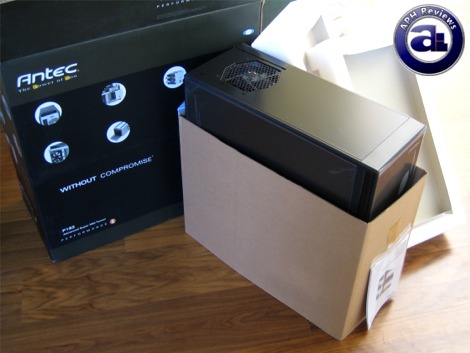 Opening the retail box, the Antec P182 itself is clipped and held between two Styrofoam brackets. Wrapped loosely around the Antec P182 is a sheet of cardboard; with the front and both side panels protected from scratches by clear plastic adhesive sheets. You will receive the same careful packaging if you were to purchase this from a retail or online store -- at this rate, I would not be too worried about the Antec P182 arriving in mint scratch-free condition. Because it probably will. ;)
Before we move on, let's take a look at the specifications of this product, as obtained from Antec's product page:

* Attractive gun metal black finish
* Dual chambers structure: The power supply (not included) is located in the lower chamber to isolate heat from the system and lower system noise
* Special three-layer side panels and front door (aluminum, plastic, aluminum) dampen system generated noise, making this one of the quietest cases available
* 0.8mm cold rolled steel for durability used through the majority of the chassis, 1.0mm cold rolled steel around the 4x HDD area
* 11 Drive Bays:
- External 4 x 5.25"; 1 x 3.5"
- Internal 6 x 3.5" for HDD
* 7 Expansion Slots
* Cooling System:
- 1 rear 120mm TriCool™ Fan (standard)
- 1 top 120mm TriCool™ fan (standard)
- 1 lower chamber 120mm TriCool™ Fan (standard)
- 1 front 120mm fan (optional)
- 1 middle 120mm fan (optional) to cool the VGA
* External fan control on the rear panel for the top and rear fans in the upper chamber
* Motherboard: Up to Standard ATX (12" x 9.6")
* Double hinge door designed to open up to 270º
* Rubber grommeted ports on the rear for liquid-cooling tubes allow you to mount external liquid-cooling hardware
* Front-mounted ports provide convenient connections:
- 2 x USB 2.0
- 1x IEEE 1394 (FireWire®, i.Link®
- Audio In/Out (HDA & AC'97)
* Cable organizers behind motherboard tray minimize cable clutter
* Dimensions:
- 21.3" (H) x 8.1" (W) x 19.9" (D)
- 52cm (H) x 21cm (W) x 51cm (D)
* Net Weight:
- 30.9lbs
- 14kg

---
Page Index
1. Introduction, Packaging
2.
Physical Look - Outside
3.
Physical Look - Inside
4.
Installation and Conclusion