By: Preston Yuen
September 3, 2010
The world of technology has changed greatly within the last couple of decades -- from the good old video cassette player and monochromatic televisions, to the latest high definition LED backlit LCD flat panel televisions, Blu-ray players, and high performance surround sound systems -- it is so easy to overlook how far we have come. Many of us who are technology enthusiasts can relate to this, and I am no exception. I have dedicated myself more towards the line of computer hardware, and over the years, I have noticed many changes even to the standard QWERTY keyboard. From old school Microsoft units with big blocky keys to slim Razer keyboards with sleek backlit LED lights, I must admit, this humble but important computer peripheral which appears to be ever unchanging has experienced a significant degree of evolutionary development in recent times. And there are many types of keyboards. Some are made for professional gamers, and yet others are made for hardcore productivity users. Most of the time, I have a tough time deciding between a very nice looking keyboard or a more practical one that I could comfortably use every day. Well, Arctic Cooling gave me somewhat of a surprise when they came up with their K381 keyboard. At first sight, it is clear that this keyboard is a slim, sleek, low profile, and down to earth keyboard. Is this the same keyboard that both suits the "nice looking" description and has typing quality good enough for everyday use at the same time? Read on to find out!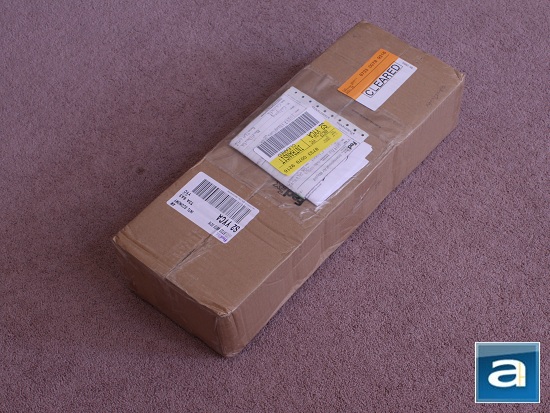 Our review unit of Arctic Cooling's ARCTIC K381 Keyboard came packed in the usual brown corrugated box from Hong Kong using FedEx International Economy to our Calgary, Alberta, Canada office. This is the first time I've ever received international parcels that are not from our good neighbors down south, haha. Obviously, FedEx has done a very good job in keeping our unit in good condition, with next to no bumps and bruises after traveling half way across the world.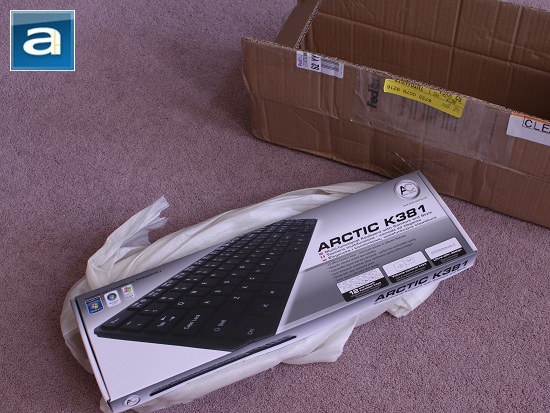 Arctic Cooling carefully packed the retail box of the K381 with lots of thin sheets of foam around it, ensuring that everything would arrive safe and sound and ready for our review today. The design of the box is composed of a mainly gray, white, and black color scheme. This color scheme more or less reflects the general design and style of Arctic Cooling as a company for easy to recognize branding by consumers. As shown in the image above, a photo of the keyboard takes up much of the left half of the box, with its name printed boldly on the right side, as well as a short list of features and product description printed right below it. The top left corner has an array of badges to show its compatibility with Windows 7, Vista, and XP 64-bit. The back side has a slightly more descriptive list of the features of the K381. Generally speaking, the box itself doesn't take up much space at all, so this should tell you how slim and low profile the K381 should be.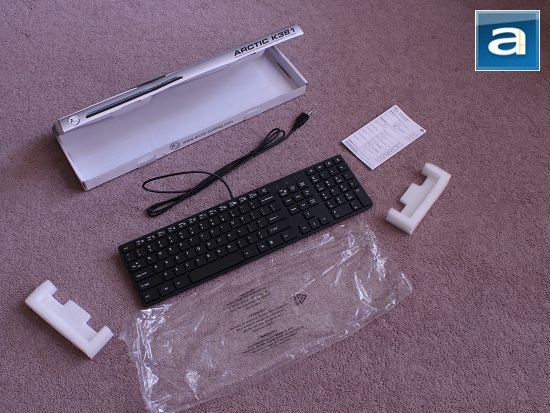 Opening the top flap of the box reveals the ARCTIC K381 keyboard wrapped neatly inside a clear plastic bag with foam brackets on both sides. The K381 is available in black or white; our particular unit for review is the black colored version. A short guide providing information on each of the function keys tags along with the product. Other than that, there is nothing else included, and this is as simple as it gets in terms of Arctic Cooling's packaging for this keyboard.
Before we move on, let's take a look at the features and specifications of this keyboard, as obtained from Arctic Cooling's website:
- 12 office function keys – one-touch access to different features
- Keys for volume control and standby
- Low-profile layout and key structure – perfect for comfortable typing
- Low resistance switches allow continuous typing without fatigue
- Sharp and clear pressure point
- Save space with ultra-slim design
Connectivity: USB
Dimensions: 430 (L) x 115 (W) x 18 (H) mm
Weight: 555 g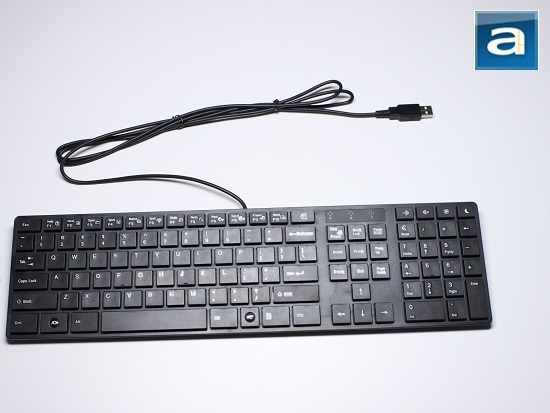 To be honest with you, I have never owned an Arctic Cooling product in my life, so having to get my hands on the ARCTIC K381 gives me a sense of excitement, especially when my first impression of this keyboard was pretty much like, "Oh, it looks almost exactly like an Apple keyboard!" Many PC and Apple fanatics might even go as far as to say that this keyboard is just a knockoff version of the Apple keyboard. It is really up to you to judge whether it is true or not, and whether it is a good thing or not. Whatever your opinion may be, the ARCTIC K381 is a still standard PC keyboard, except for the fact that it is very slim and space-saving. It measures to no more than 12 mm in height for the front and 20 mm for the back. I must say, that is first slim keyboard I have owned in a long time. This design allows the user to rest their wrists on closer to the table, instead of having them dangle their wrists in mid-air like keyboards lacking a palm rest. In my opinion, I would prefer if Arctic Cooling still included a palm rest, even though it is only 12 mm off the table. Also, it is not height adjustable, and rear risers aren't really that expensive anyway.
The Arctic Cooling ARCTIC K381 keyboard connects to any computer through its USB. It is quite standard these days to connect pretty much anything via this interface (Sorry guys, the PS/2 days are over, haha). No driver CD is included -- nor necessary -- to install drivers; all you have to do is plug it into your computer and let Windows work its magic. You may have to restart your system after installation, but I have experienced absolutely no problems otherwise in using the K381 on any of my computers.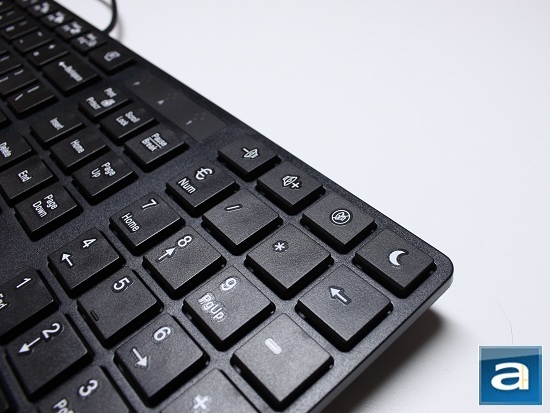 Taking a closer look, you will find that the ARCTIC K381 is a modern chiclet keyboard. This simply means that the unit is built with an array of small, flat rectangular plastic keys that look like pieces of chewing gum in its package. Why, you may ask, do I say it looks like pieces of chewing gum? Well, "Chiclets" is actually brand of chewing gum, although it is no longer widely available in North America (Think Excel or Dentyne if you reside here). Specific about a chiclet keyboard is that each key is surrounded and held in place by a perforated plate so that there is a space between each key. Unlike chiclet keyboards made in the past, modern designs incorporate improved mechanisms for better response and feel based on low-profile, low-travel keyboards. The chiclet keyboard resurgence is mainly for style only, with a significantly different mechanical underlay than the past.
With that aside, one thing I have to say about the ARCTIC K381 is that when pressing on some of the keys, they seem to be very stiff, although you may say that it is supposed to be that way when you get the keyboard fresh out of the box. But in comparison to many other keyboards I have used, they do not seem to exhibit this problem, despite being brand new. Like many other keyboards, my personal first time experience with the keyboard is somewhat of a challenge. There are many aspects to a keyboard that users have to get used to, whether you know it or not. Firstly and most obvious is the stiffness of the keys, as aforementioned. Next, from my previous experiences of both laptop and standard keyboards are the slight differences in layout as well minute differences in size and spacing of each key. Lastly, I find that the size of the keyboard in correlation with whether a wrist rest is provided is also a key factor for comfort. These three factors took me some time to get used to when switching between examples. Every keyboard is slightly different, and suits different preferences of people. Some adjustments just affects more than others.
The Arctic Cooling ARCTIC K381 features a standard keypad on the side. However, they have added an extra backspace key for correcting errors that may have been made when entering numbers. This allows the user to make corrections without having to switch between the standard backspace key and the keypad itself. Obviously, the usual size of the "+" key has shrunk to the same size as most of the other keys, while the "-" button is shifted down to accommodate its additional backspace. There are also three standard volume control buttons above the keypad. A sleep key is conveniently placed at the top right corner. However, instead of recessing it to be planar with the surface of the keyboard, Arctic Cooling implemented it as a standard button, and it could prove to be quite annoying since it can be easily pressed by accident.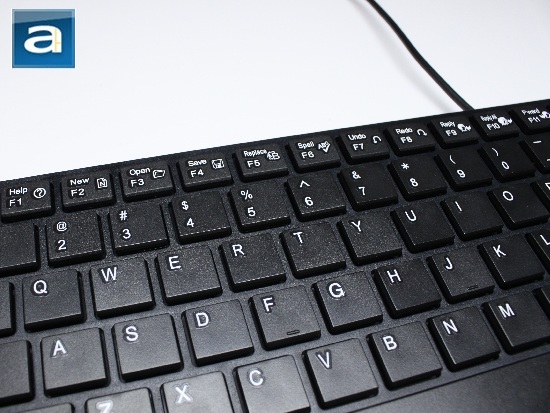 In the image above, you can see the row of standard F keys found near the top of the keyboard. Each F key has a secondary function as well. Listing them in order corresponding to F1 to F12, respectively, are: Help, New, Open, Save, Replace, Spell, Undo, Redo, Reply, Reply All, F'ward (Forward), and Send. As far as their functions are concerned, it should be pretty self explanatory; but they also have a small icon on the side to help you out if you still do not get what they mean. The functions of these keys are also explained in the short guide provided as mentioned earlier. To enable their secondary function, simply press the Function Lock button located adjacent to the F12 key, so if you plan on not using the standard F1 to F12 functions, having the Function Lock on would be a good idea. A quick note is that there is a Function LED to tell you that you have Function Lock on, much like Caps Lock and Num Lock, and this replaces the Scroll Lock indicator.
-----------------------------------------
Carrying an MSRP of $24.99 at press time, the Arctic Cooling ARCTIC K381 is a slim, low profile keyboard built upon a philosophy of keeping a good old keyboard, well, a good old keyboard. While it is really nothing special at all, its slim design provides style you won't normally find in a value oriented product, and the chiclet keys adds an overall good impression to what is really a bland basic product. They even added a few enhancements to it, such as an additional backspace key on the numpad, as well as additional Function keys to make your life a little easier. Normally, something that is so basic and simple would not have too much to improve upon, but there are some issues that I would like the good guys at Arctic Cooling to address in the future. While the ARCTIC K381 allows you to easily rest your wrists on the table, it is still 12 mm above the surface, so a proper detachable palm rest would definitely be appreciated. The lack of risers at the back may also be an area of complaint for some consumers, as well as the too-conveniently-placed standby button. Additionally, I must say that a keyboard's typing quality is quite fundamental, and the K381 is really not that brilliant -- not to mention that some keys are even stiffer than what we would normally expect. If you're looking for a stylish, low profile, sleek and slim chiclet keyboard, the ARCTIC K381 is all yours for only twenty five bucks... just remember that it is only as good as any other run of the mill keyboard in this price bracket once you get your hands on it. But at least it looks good!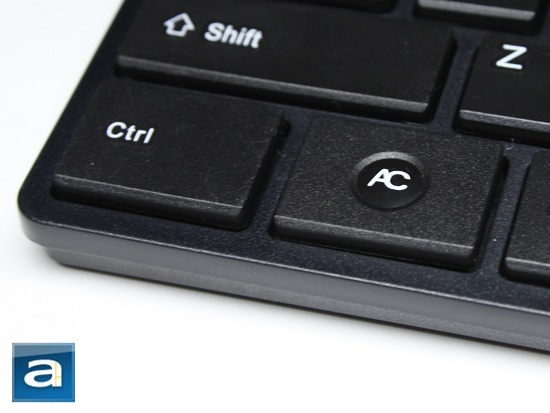 Special thanks to Eason over at Arctic Cooling for making this review possible.
APH Review Focus Summary:
7/10 means Great product with many advantages and certain insignificant drawbacks; but should be considered before purchasing.
6/10 means A product with its advantages, but drawbacks should not be ignored before purchasing.
-- Final APH Numeric Rating is 6.8/10
Please note that the APH Numeric Rating system is based off our proprietary guidelines in the Review Focus, and should not be compared to other sites.
The ARCTIC K381 is a good old basic keyboard with some style tacked on for a reasonable $25 MSRP.
Do you have any comments or questions about the Arctic Cooling ARCTIC K381? Drop by our Forums. Registration is free, and it only takes a minute!