By: Kenneth Kwok
November 5, 2010
It is hard to believe it has been over two years since we last took a look into this category of products for reviews (It really shows how diverse we are here at APH Networks, haha). Now that the wait has finally come to an end, we can dive right back into another laptop bag review. Lately, Arctic Cooling has become somewhat (in)famous for their various products that do not pertain to their usual internal component cooling products, such as audio equipment, mobile chargers, home entertainment consoles, and the such. For example, the ARCTIC GYM is similar to something that would occur if someone meshed a yoga game and DDR together (No, it's not double data rate -- I'm talking about Dance Dance Revolution, but it does sound like an interesting product for gamers who lack the ability to exercise without gaming at the same time). Other interesting products include their game console, which looks remarkably similar to the Nintendo Wii, along with the company's Game Boy Advanced lookalike. Unwilling to be left out of the program, we decided to look at yet another Arctic Cooling's non-cooling product -- the NB series of notebook bags; specifically the ARCTIC NB201 -- which is designed for 12 inch notebooks or smaller. If you have a larger laptop, the NB501 and NB701 are also available for 15" and 17" notebooks, respectively. Without further delay, let's take a look at this laptop bag, and see if their latest creation is as good as they project them to be.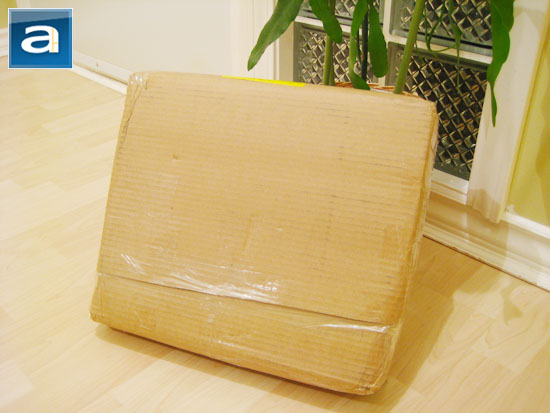 Our review unit of the ARCTIC NB201 came from Arctic Cooling's offices in Hong Kong using FedEx International Economy as usual. It was left at our front door while no one was around, except it was hidden in a corner that was harder to spot, just in case someone may have wanted to take it. The corrugated cardboard box was not damaged at all as we have come to expect from FedEx, and the packaging kept things in good enough condition for our review today. I wonder if the FedEx person questions why I get packages in such a constant basis, haha.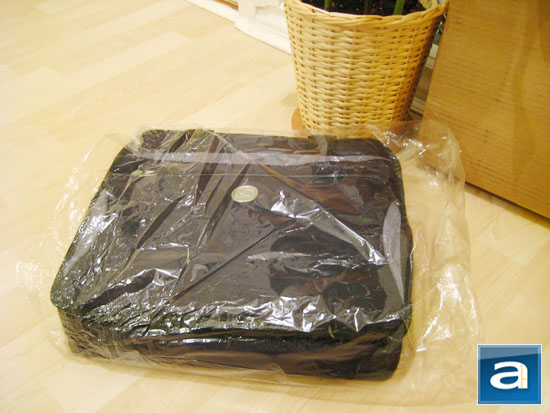 Opening up the box, there was not much to be found, other than the ARCTIC NB201 encased in a plastic bag to prevent damage, dust and/or liquid from getting into the product during transport. Not that we expected much in the packaging; everything was kept from moving around thanks to a box that fits the product quite snugly. The ARCTIC NB series has three sizes/models, as aforementioned: the NB201, NB501, and NB701 for 12", 15", and 17" laptops, respectively. That does not leave too many options, but it should be good enough for the majority of laptops on the market today.
Before we move further onto our review, let's take a look at the specifications for the ARCTIC NB series of laptop bags, as obtained from Arctic Cooling's website:
Features:
-All-rounded laptop protection
-Organizational compartments
-Ideal for frequent travelers
-Durable
-Material: Nylon, Polyester
-Carrying options: Carrying handles + Optional carrying strap
Sizes:
-NB201: 35 L x 30 W x 8.5 H (cm)
-NB501: 44 L x 33.5 W x 10.5 H (cm)
-NB701: 45.5 L x 35.5 W x 11 H (cm)
Number of compartments:
-NB201: 2
-NB501: 4
-NB701: 4
Fit devices up to size of:
-NB201: 27 W x 25 D x 4 H (cm)
-NB501: 38 W x 28 D x 19 H (cm)
-NB701: 40 W x 31 D x 21 H (cm)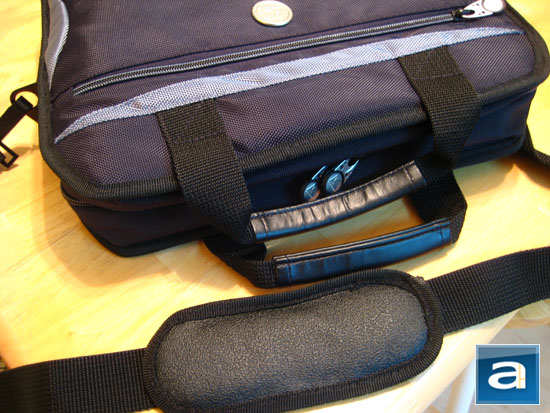 The ARCTIC NB201 is quite a standard looking laptop bag; quite the kind that screams "I have a laptop inside!" kind of product. If that is your thing, then it's beside the point -- because this is, in fact, something you use to carry your laptop with. Measuring in at 27cm in width, 25cm in depth, and 4cm in height, the black, silver, and gray polyester-and-nylon NB201 is quite thin and sufficiently light for business and home users alike. Found at the top of the ARCTIC NB201 is a double section, leather padded carrying handle. The slim wrappings that are used to connect the handles are attached to the bag itself, with them being found on both the front and the back of the NB201, respectively. There is one main compartment to be found for storing bigger items such as paper, binders, and of course, your laptop. The main compartment features an internal partition; with it being padded all around for the laptop to reduce vibrations and/or damage while being transported around. The external section inside the main compartment is also fully padded; as it piggy backs off the padding used on the main sidewalls of the bag. This partition can accommodate your accessories, such as the power adapter, or could also be used for carrying binders or paper as well.
The zipper for the main compartment extends about 10cm down both sides of the laptop bag, and ends at the shoulder strap metal buckles. The front compartment zipper does not reach the side of the bag. We will discuss this one in detail later on.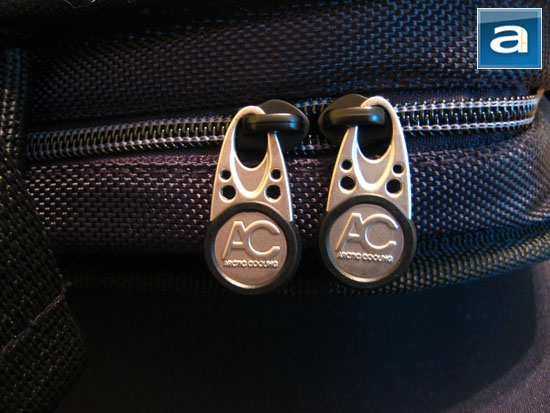 The double zippers (Whoa, what does it mean?) are of great quality from my initial assessment. Additionally, a ring of rubber is featured along the edges of the metal slider for better grip. The zipper seems to be quite strong overall, and even the has enough space near the back to apply a small lock if needed. Arctic Cooling's logo can also be found on the sliders, which adds a nice premium touch to the overall design of the laptop bag in my opinion.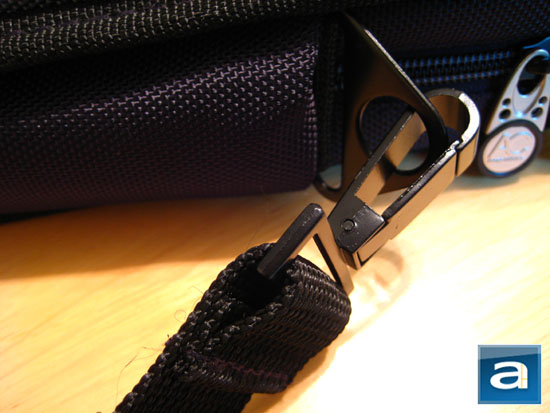 As touched upon earlier, the zippers for the laptop compartment reach down a certain length down the sides of the bag. At the origin of the zippers, two triangular shape metal buckles can be found, with an attachment hole in the middle. An included shoulder strap can be attached to the ARCTIC NB201 using a simple and intuitive metal latching system. The latches at the end of the strap are flat and very easy to use, making attachment and detachment a breeze. Of course, thanks to its metal construction, issues regarding durability become quite insignificant compared to plastic locks, as plastic locks are more prone to damage from external sources as well as normal wear and tear.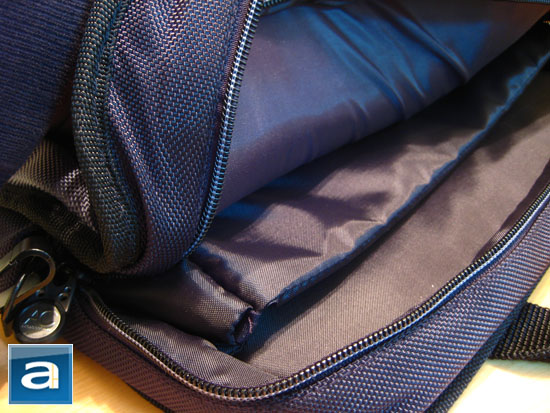 Like we said before, the ARCTIC NB201 has one main compartment for the laptop that is distinctly separated; with the back side being fully padded for storing the laptop. The internal material is made of nylon, which feels quite smooth, and should be fairly easy on the laptop surface, but won't be completely non-scratching. The other upside is that it not easily prone to tearing in comparison to some other materials. Padding can be found on all four sides of this location, with the sidewalls being slightly thinner than the padding found on the front and the back of this compartment. The front compartment can be used for holding accessories, paper, documents or just about anything that will fit as aforementioned; and extends the full dimensions of the ARCTIC NB201.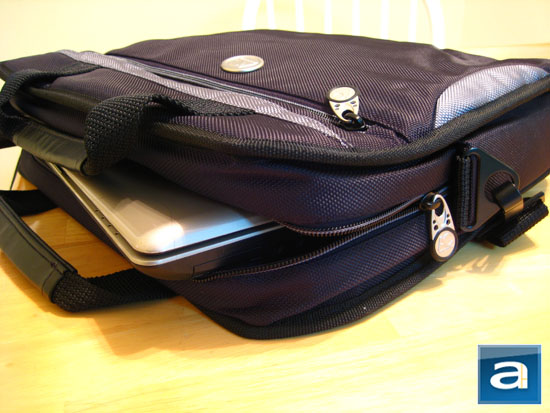 As far as real life usage is concerned with regards to practicality, I found the design of the ARCTIC NB201 to be very well executed overall. I was able to pack all my accessories into the bag with little to no hassle. For testing, I used my Asus N10 series netbook. Although the screen size is only 10" diagonal, the bezel is actually quite thick, making it quite snug and secure overall. It was by no means too tight, because the machine is slightly smaller than the design size of ARCTIC's NB201 laptop bag. However, it was still secure enough, and I felt that it was safe and sufficient for day to day usage. I had absolutely no trouble with the zippers, as expected due to the nature of our laptop. The size seems to be just right for most standard 12" laptops with thin to medium sized bezels around the screen.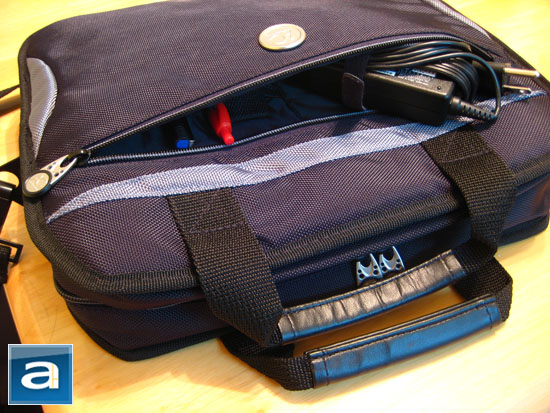 Other than the main compartment, there is also a front pocket to hold your miscellaneous small items. There are custom holders for pens, pencils, cell phones, cards, and almost any other common thing that will fit in here. A detachable plastic buckle with a key ring can also be found, for those who prefer having their keys in their bag rather than their pockets. I was able to fit in my power adapter in here as well. Even with it being in this compartment, it only protruded out the front a bit; adding a small bump when viewing from the front. The single slider zipper is also easy to close, even without power adapter being inside.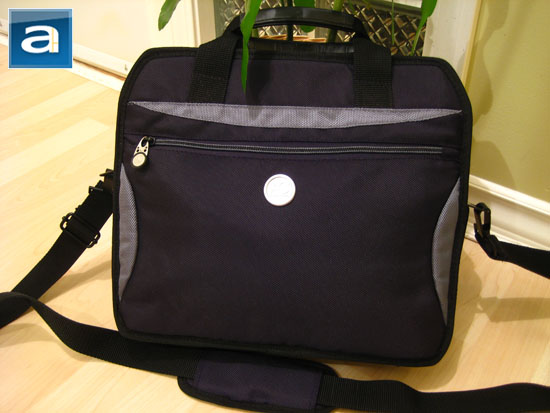 With everything in place, the ARCTIC NB201 still looks about the same as before. There is a barely noticeable bulge near the front due to the power adapter. Everything fits snugly inside; the design looks quite standard for most laptop bags of this category, and does a fine job in protecting my laptop and everything I have included inside. The shoulder strap is easy to use, and with the additional padding on it for comfort adds to the feasibility of using it for traveling to work or to school -- as long as the bag isn't overly heavy. But this probably won't be much of a problem for a 12" laptop bag anyway.
------------------------------------------
Comprehensively, the ARCTIC NB201 is a very decent laptop bag. From the build quality, materials, to general usage, it serves its purpose well. The nylon and polyester construction does a good job of keeping the laptop and any accessories enclosed inside the bag safe. It is also relatively easy to carry around, thanks to it being a sufficiently thin and light product. While its design elements draw from that of many other standard laptop bags in the market, it is a good thing as it fits right in for both professional users and general consumers alike. The included front compartment for storage of pens, cards, and various accessories was a nice touch providing additional storage space for day to day items. That's not to mention there are three sizes for the most common sizes of laptops such as the 12", 15", and 17" in the ARCTIC NB series to accommodate users with different needs. Holding a MSRP of $25 at press time, the ARCTIC NB201 offers great value for anyone looking for a good laptop bag to travel around with.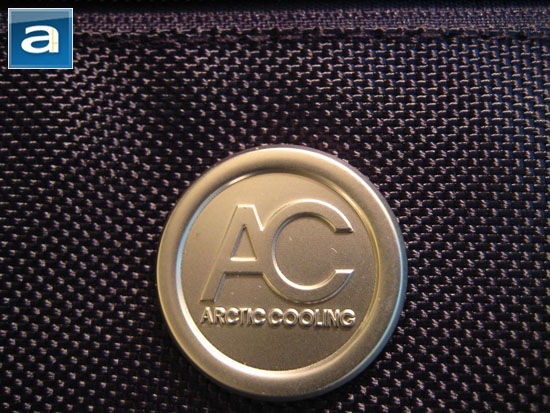 Special thanks to Eason over at Arctic Cooling for making this review possible.
APH Review Focus Summary:
7/10 means Great product with many advantages and certain insignificant drawbacks; but should be considered before purchasing.
8/10 means Definitely a very good product with drawbacks that aren't likely going to matter to the end user.
-- Final APH Numeric Rating is 7.8/10
Please note that the APH Numeric Rating system is based off our proprietary guidelines in the Review Focus, and should not be compared to other sites.
If traditional laptop bag formats is your thing, then the ARCTIC NB201 is a great contender for your money -- being practical in design and affordable in price.
Do you have any comments or questions about the Arctic Cooling ARCTIC NB201? Drop by our Forums. Registration is free, and it only takes a minute!