By: Jonathan Kwan
December 8, 2007
As far as laptops go, lately it's gotten as close as it would get to desktop performance in all but one area: Sound. For a while now, I've been looking around for a decent USB audio solution for my mobile computer -- and most of them are either impractical, provides virtually no improvement over my Dell Inspiron's integrated audio, or the features offered are simply not enough to make a difference. Last year, my friend lent me his Creative X-Mod USB sound device for my enjoyment -- while it has great looks and builds upon the X-Fi brand, the performance was more or less disappointing for me. After Asus' successful release of the Asus Xonar D2 sound card, Asus made quite a smart move and decided to expand on this brand to the USB sound device market. How will this sweet looking Asus Xonar U1, combined with a complete set of home theater audio technologies and features such as optical digital out, perform altogether? Is it the sound solution for notebook PC owners? We'll put it through our tests today to see how it goes.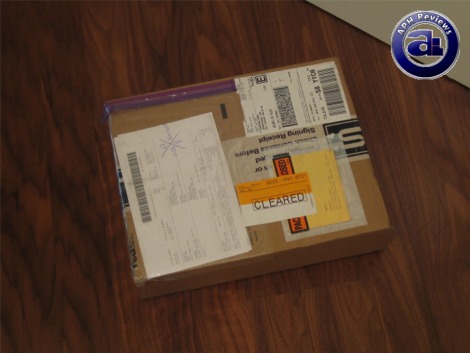 Our review unit came in an Asus tape-sealed box from Fremont, California using FedEx International Economy. As usual from Asus, everything was well packed with tons of paper fillings inside to prevent its contents from being damaged. We actually received the Asus Xonar U1 on November 7th, 2007 -- the initial shipment of Asus' Xonar U1, well before its official North America release date -- thus giving us a over a month's time to use and test it for this review.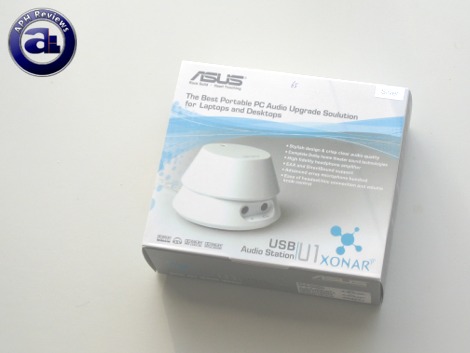 Continuing the design and stylistic implementation with Asus Xonar D2's box, the Asus Xonar U1 utilizes a similar color scheme; except with a smaller box. The studio blue and white color scheme is adapted to the Xonar U1 -- except compressed to a much smaller package, and its features as well as a photo of the unit printed in front. The actual color of the Asus Xonar U1 included is actually stated by a sticker in the top right corner -- in our case, it's the silver version.
Specifications, features, bundled information, and system requirements are printed on both side flaps; while an extent of certain feature highlights are printed on the back in 11 different languages (Chinese is separated into Traditional and Simplified). The front can be flapped open with more feature highlights and a circular window is cut into the box to show the top part of the Asus Xonar U1 itself.
On an interesting note, someone wrote '65' with a pen on the front of the box when I received the sealed package from FedEx... oh, the mystery!
Before we move on, let's have a look at the specifications, as obtained from Asus' website:
Audio Performance
Output Signal-to-Noise Ratio (A-Weighted): 100 dB
Output THD+N at 1kHz (A-Weighted): 0.0045% (87 dB)
(-60dB, A-Weighted) 96 dB
Dynamic Range: 96 dB
Analog Playback Sample Rate and Resolution: 48 KHz
Cross-talk (10Kohms, 1KHz) -104 dB
Headphone Amp
THD+N< 0.005% @ 47 mW x2/ 32ohms
THD+N< 0.006% @88 mW x2/16ohms
96 dB SNR >1.1Vrms full-scale output voltage for >8 ohms load
Frequency response (-3dB/48KHz): 20~20 KHz for 32 ohms
(headphones with 8~150 ohm @ >10mWx2 recommended)
Audio Processor
U100
I/O Ports
Bus Compatibility: USB
Analog Output Jack & Digital S/PDIF Output Combo: Analog 2CH/Digital 5.1
Analog Input Jack: Yes, stereo recording
Driver features
Operation System: Windows Vista (32 & 64 bit), Windows XP (32 & 64 bit)
Dolby® Technologies: Dolby® Headphone, Dolby® Virtual Speaker, Dolby® Pro-Logic IIx, Dolby® Digital Live
DirectSound3D Game Extensions 1.0/DirectX: DS3D GX 1.0 supports EAX gaming sound effects and DirectSound 3D hardware enhanced functions on Windows Vista. (DirectX/DirectSound 3D compatible)
Smart Volume Normalizer™ : Normalizes the volume of all audio sources into a constant level and also enhances your 3D sound listening range and advantages in gaming
Magic Voice™: Modifies the sound of your voice, for VOIP and online chat applications
Karaoke Functions: Music Key-Shifting and Microphone Echo effects
Xear 3DTM Virtual Speaker Shifter: Virtual 7.1 speaker positioning
Array Microphone: Reducing environmental background sounds and noises; keeping your front side voice input as clean as possible
Other Effects: 10-band Equalizer/27 Environment Effects
Accessories
1 x Optical S/PDIF adapter cable
1 x Stereo Vertical Array Microphone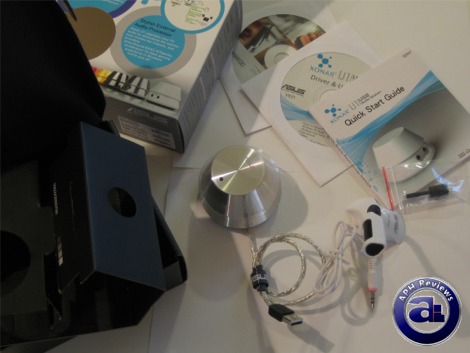 Upon opening the box, you can expect everything inside aligned by classy black cardboard partitions. Out of the box, you will receive a unit of the Asus Xonar U1 itself, a microphone, optical out adapter, quick start guide, and a driver/application/utility disc plus a separate demo disc. Nothing fancy, nothing extra -- just the bare necessities -- which isn't necessarily a bad thing.
---
Page Index
1. Introduction, Specifications, Bundle
2.
A Closer Look - Hardware
3.
A Closer Look - Software
4.
RightMark Audio Analyzer 16-bit/48 kHz
5.
Subjective Listening and Conclusion