By: Hai Wang
February 3, 2023
One of the benefits of having a large vehicle is the potential to turn it into something exciting. For example, if you have full-size van like Ford Transit, it is possible to convert that into an RV. You can put a couch, bed, stove, and even a shower to make a campervan out of your Transit. Taking your family on a road trip in that campervan can give you lots of freedom, both in terms of schedule and finances, since you do not need to book for hotels anymore. On the other hand, those who like high-performance cars but do not have tons of cash to start with could look at buying a large vehicle with small engine. A large sedan like a Dodge Charger has an affordable base model with a relatively small V6 engine, and an expensive top model with a powerful supercharged V8 engine. Both the base model and the top model have the same chassis, so it is possible to swap the smaller V6 engine for the V8. As awesome as it may sound, modifying a car is not an easy task. It takes a lot of time, effort, and money to get things right, not to mention the potential insurance and legal issues that may come with car modifications. On the other hand, I am not sure if computer DIYers would apply the same theory. If you have the plan to build a high-performance computer with a limited budget, you probably put your money into the primary components and go with the lowest price case that would still fit everything. However, for those with money to splurge, you might look at a full-tower computer case, as it will fit all the high-performance and bulky components or custom cooling options. Today's review unit, the Cooler Master HAF 700, is a full-tower that can accommodate up to an E-ATX motherboard and have probably some of the best cooling capabilities available. including two 200mm fans preinstalled in the front. It is large enough to take whatever components you throw into it, and is it a case that is worthy of holding all your performance parts? Let us read on and find out!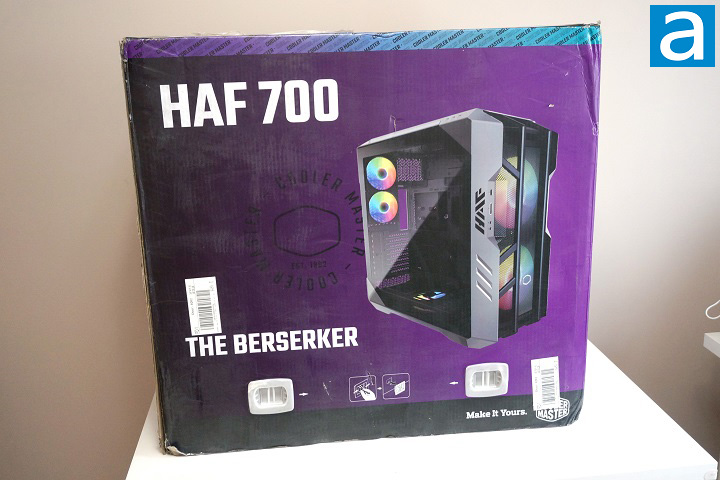 Today's review unit was shipped from the City of Industry, California, USA to our APH Networks offices here in Calgary, Alberta, Canada. Although you may see some small dents at the corners of the parcel, everything was relatively acceptable on the shipping box itself. There was no need to be nervous about the safety of the tempered glass window panel after over a thousand miles of transportation thanks to UPS and their Standard ground service. The box was really big and heavy, which I felt pretty excited about, as it is sure to be full of goodies.
Usually, a good retail package design can draw people's attention and make the product itself stand out among hundreds of other products on the shelf. However, a computer case is different. Most of the time, the retailer will either directly put sample cases on the shelf or just demonstrate some fully built computers using those chassis. I personally would not buy a computer case just because it looks great on the retail box. The retail package of HAF 700, which is also the shipping package, is a cardboard box with colored graphics printed on it. One colored photo of the case with all the included ARGB fans lit up is shown on the purple background front cover. The company's name and famous "Make It Yours" slogan is presented at the bottom of the package. On the top left, there is the HAF 700 model name printed on the box. Below, the product's nickname "The Berserker" is also printed to show its gaming character. Overall, the retail box of Cooler Master HAF 700 definitely looks good. Although I do not feel it is necessary to make colorful packages for computer cases, it stands out among other brown corrugated cardboard boxes. To me, it suggests that this product is a bit more premium than a normal gaming case. If you were looking for more information, you can look around the package to find some specifications printed.
Before we do anything else, let use quick look at the specifications of the mid-tower from their official website:
- Model Number: H700-IGNN-S00
- Exterior Color: Titanium Grey
- Materials - Exterior: Steel, Plastic
- Materials - Left Side Panel: Tempered Glass, Steel, Plastic
- Dimensions (L x W x H): 556 x 279 x 540 mm (Body Size), 666 x 291 x 626 mm (incl. Protrusions)
- Motherboard Support: Mini ITX, Micro ATX, ATX, E-ATX, SSI CEB, SSI EEB
- Expansion Slots: 8
- 2.5" / 3.5" Drive Bays (Combo): 9 (4*HDD bracket, 5*Screw+Rubber)
- I/O Panel - USB Ports: 1x USB 3.2 Gen 2 Type C, 4x USB 3.2 Gen 1 (3.0)
- I/O Panel - Audio In / Out: 1x 3.5mm 4 Poles Audio Jack, 1x 3.5mm Mic Jack
- Pre-installed Fans - Front: 2x SickleFlow 200 ARGB PWM
- Pre-installed Fans - Rear: 2x SickleFlow 120 ARGB PWM
- Pre-installed Fans - Bottom: 1x SickleFlow 120 ARGB PWM
- Fan Support - Top: 2x 200mm, 3x 140mm, 6x 120mm (Remove 480mm bracket)
- Fan Support - Front: 2x 200mm
- Fan Support - Rear: 2x 120mm
- Fan Support - Bottom: 3x 120/140mm
- Fan Support - Side: 4x 120mm / 3x 140mm
- Radiator Support - Top: Up to 2x 360mm / 1x 420mm
- Radiator Support - Rear: Up to 240mm
- Radiator Support - Bottom: Up to 420/360mm
- Radiator Support - Side: Up to 480/420/360mm
- Clearance - CPU Cooler: 166mm / 6.53 inch
- Clearance - PSU: 200mm / 7.87"
- Clearance - GFX: 490mm
- Cable Routing - Behind Motherboard Tray: 90-101mm
- Included Accessories: 1x Rotatable Radiator Bracket, 1x LED Controller A1 (ARGB Gen2), 1x ARGB/PWM Hub
- Dust Filters: Bottom, Right side
- Power Supply Support: Bottom Mount, ATX
- Warranty: 2 years
- Series: HAF Series
- Size: Full Tower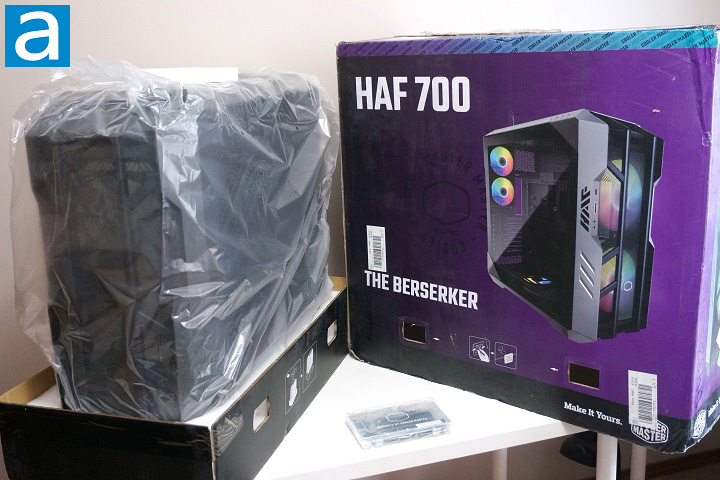 Due the fact that the Cooler Master HAF 700 is really big and heavy, it actually features a unique way to take the case out of the package. You can find an instruction of how to open this package on top of the box. Upon removing the box, you will see the case is wrapped inside a big plastic bag. The bag provides protection to the case from scratches and other surface damage. Aside from the plastic bag, two foam brackets are used to secure the computer case while it is in the box. The whole chassis is supported by the two brackets at the corners, such that there is no direct contact with the shipping box and therefore minimizing any damage to the product itself. To allow for quick installation, a small user manual is included in the package. Building a computer is not rocket science and there is no demand for a book-like user guide, but it is nice for those who are new to this hobby. All the accessories, including hardware and zip ties, are contained in a nice plastic box that has a Cooler Master logo on it.
---
Page Index
1. Introduction, Packaging, Specifications
2.
Physical Look - Outside
3.
Physical Look - Inside
4.
Installation and Conclusion