By: Hai Wang
October 22, 2021
The other day, I drove to the University of Calgary to pick up my friend. It has been quite a while since the last time I visited my alma mater. The thing is, I would love to visit my old research lab and talk to my professor from time to time if there was no pandemic consideration. For me, doing research in a university environment was a lot of fun. Yes, being a graduate student means a lot of work. I still remember at the first day of my graduate program, my professor told me graduate school research assistant was a 24/7 job. It really takes a lot of effort to find a topic that was worth looking into. After the research direction is determined, the next challenge is to find the gap in knowledge as the research problem, which required a lot of paper reading. With a solid problem proposed, solving it becomes another major part of doing graduate level research. Finally, after all the hard work, the last step is to write everything into a paper to publish. The fun of doing research is not complete without having your paper published at top peer-reviewed journals and conferences. Interestingly, I find doing review of a computer product is somewhat similar to conducting research at university. In both scenarios, we can start with asking a question, and then trying everything we can to answer that question. For today's review unit, the Cooler Master MasterBox 540, is it a good chassis choice if you want to build a good-looking and high-performance gaming PC? To answer this question, a thorough investigation of the case needs to be performed. Let us read on and find out the details of this mini research paper known as a review here at APH Networks.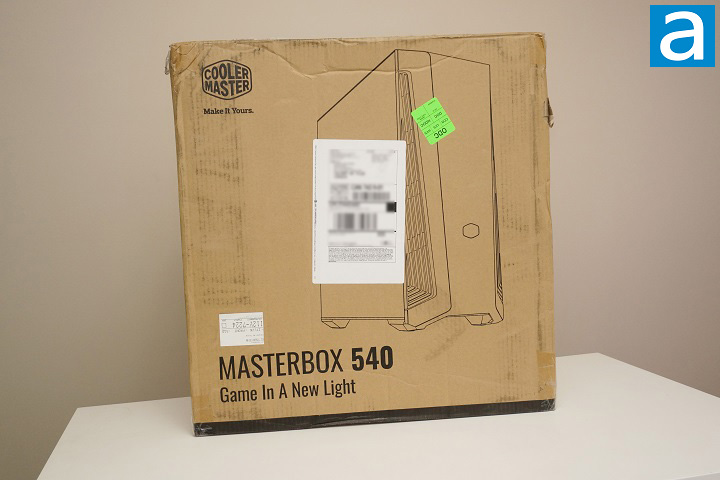 Today's review unit was shipped from the City of Industry, California, USA to us here in Calgary, AB, Canada. Although you may see a sign of small dent at the top of the parcel, there was actually no unacceptable damage on the shipping box itself. There was no need to be nervous about the safety of the tempered glass window panel after over a thousand miles of transportation thanks to UPS and their Standard service. The box was rather big and heavy, which I felt pretty excited about, since it must be full of goodies.
Usually, a good retail package design can draw people's attention and make the product itself stand out among hundreds of other products on the shelf. However, a computer case is different. Most of the time, the retailer will either directly put sample cases on the shelf or just demonstrate some fully built computers using those chassis. I personally would not buy a computer case just because it looks great on the box. The retail package of MasterBox 540, which is also the shipping package, is essentially a cardboard box in its original color. One sketch of the case is shown on the front cover of the box. The company's name and famous "Make It Yours" slogan are presented at the top left corner. In the bottom, there is the model name of the product, and there is also a "Game in A New Light" printed on the box, which I think it means this product has really focused on the RGB lighting performance. The retail box design of MasterBox 540 is simple, so if you were looking for more information, I would recommend looking at Cooler Master's website.
Before we do anything else, let use quick look at the specifications of the mid-tower from their official website:
-MODEL NUMBER: MB540-KGNN-S00
-SERIES: MasterBox Series
-SIZE: Mid Tower
-AVAILABLE COLOR(S): Black
-MATERIALS: Steel, Mesh, Plastic, Tempered Glass
-DIMENSIONS (L X W X H): 499.3 x 208.6 x 498mm (incl. Protrusions), 488.3 x 208.6 x 498mm (excl. Protrusions)
-VOLUME (EXLC. PROTRUSIONS): 51.87L
-MOTHERBOARD SUPPORT: Mini ITX, Micro ATX, ATX, E-ATX*, (*up to 12" x 10.7" motherboards, may impact cable management feature)
-EXPANSION SLOTS: 7
-5.25" DRIVE BAYS: 0
-2.5" / 3.5" DRIVE BAYS (COMBO): 2
-2.5" DRIVE BAYS: 4
-I/O PANEL: 2x USB 3.2 Gen 1 Type-A, 1x USB 3.2 Gen 2 Type-C, 1x 3.5mm Headset Jack (Audio+Mic), 1x Reset/ARGB button
-PRE-INSTALLED FANS - TOP: N/A
-PRE-INSTALLED FANS - FRONT: N/A
-PRE-INSTALLED FANS - REAR: 1x 120mm 650~1800RPM SickleFlow PWM ARGB
-FAN SUPPORT - TOP: 3x 120mm, 2x 140mm
-FAN SUPPORT - FRONT: 3x 120mm, 2x 140mm
-FAN SUPPORT - REAR: 1x 120mm
-RADIATOR SUPPORT - TOP: 120mm, 140mm, 240mm, 280mm, 360mm, (recommended maximum thickness -55mm)
-RADIATOR SUPPORT - FRONT: 120mm, 140mm, 240mm, 280mm, 360mm
-RADIATOR SUPPORT - REAR: 120mm
-CLEARANCE - CPU COOLER: 165mm/6.49"
-CLEARANCE - PSU: 180mm/7.08", 295mm/11.61" (w/ HDD cage removed)
-CLEARANCE - GFX: 410mm/16.1"
-DUST FILTERS: Top, Front, Bottom
-POWER SUPPLY SUPPORT: ATX
-WARRANTY: 2 years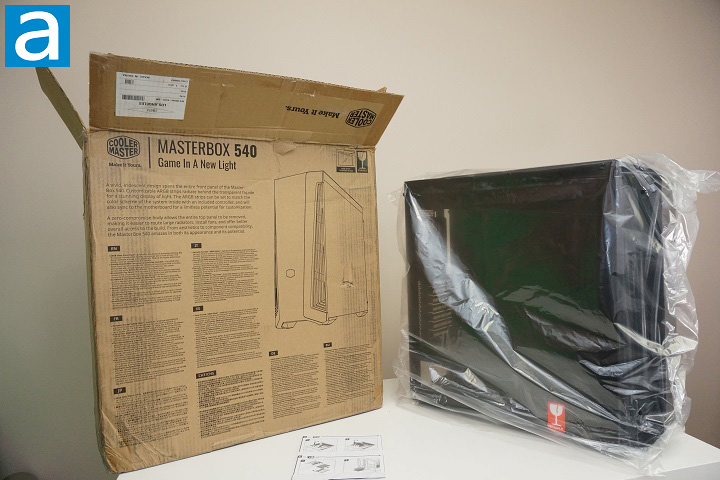 Upon opening the box, you will see the case is wrapped inside a big plastic bag. The bag provides protection to the case from scratches and other surface damages. Aside from the plastic bag, no other protection was provided for the tempered glass window. However, there is a sticker on the tempered glass window that indicates this product, at least this side, is fragile. I would prefer the sticker to be put on the outside of the shipping box too. Furthermore, two foam brackets are used to secure the computer case while it is in the box. The whole chassis is supported by the two brackets at the corners, such that there is no direct contact with the shipping package and thereby no damage was found on the case. To allow for quick installation, a small user manual is included in the package. Since computer building is not rocket science, there is no demand for a book-like user guide, but it is nice to see. All the accessories, including hardware and zip ties, are contained in a plastic bag located in the PSU chamber.
---
Page Index
1. Introduction, Packaging, Specifications
2.
Physical Look - Outside
3.
Physical Look - Inside
4.
Installation and Conclusion