By: Seth Claussen (Guest Writer)
December 16, 2016
Happy Holidays! As we move towards the Christmas season, the first thing many people begin to think about is buying a present for that special someone. Being somewhat of a procrastinator, I have yet to do any Christmas shopping, and with such limited time in front of me, panic has begun to set in. As many shoppers do for their loved ones, they try to find a personalized gift, which sometimes is easier said than done. If you are anything like me, you have a hard time buying for certain people on your list, because they seem to have everything. Sometimes, I just straight up ask someone what they want -- other times, I listen for dropped hints. On the odd occasion, I have resorted to a "millennial generation" move and have bought something with the desperate hope it will suffice. In the end, not every gift that is given ends up being perfect, and so it really can become a hit or miss situation. When Editor-in-Chief Jonathan offered me the opportunity to review the MasterBox 5t, it felt like I had just received an amazing gift. This computer case has so much of what I appreciate, and my interest was especially piqued because of the shift Cooler Master has begun to make in their MasterBox line of cases. Always eager to explore, I wondered whether this case had the potential to be a 'must have' for the holiday season. Interested? Read on.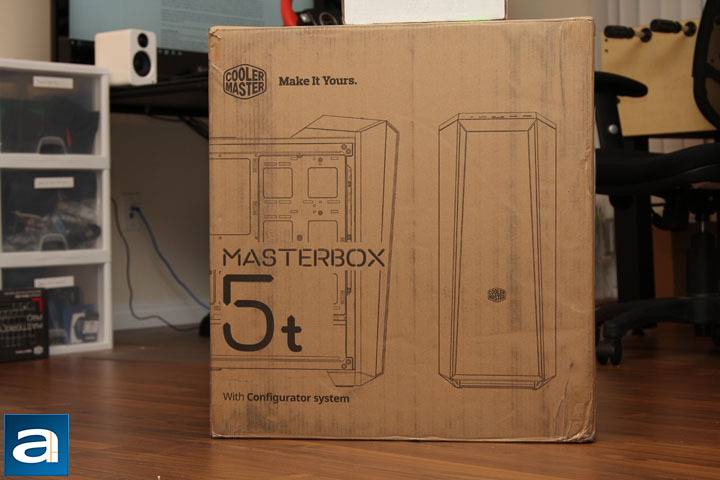 When I first picked up the case on an especially frigid fall evening, I must admit I felt both super excited and privileged to be one of the first to have in my possession. The MasterBox 5t was shipped via UPS Standard from Chino, California, and for some reason, they shipped the fan intake filter in a separate, smaller unmarked box. The case arrived in a retail box with the Cooler Master logo and the slogan "Make it Yours" in the top left corner, and the name of the product in large font below. The phrase "With Configurator System" was printed in the bottom left corner underneath a clean line drawing of the product as viewed from the both the side and front. The back of the retail box provided concise features of the MasterBox 5t in multiple languages, while the side panel contained product specifications. Both boxes were noted to be in very good condition without any noticeable dents or perforations to the exterior. Now, on to the product itself.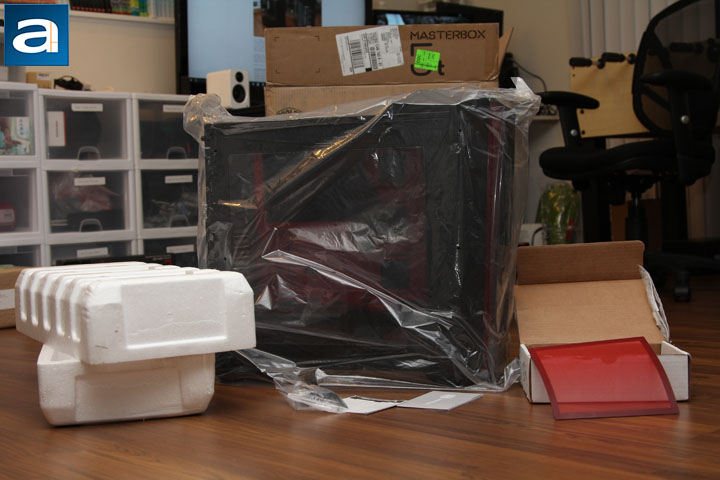 Using the always handy box cutters, I sliced open the box to reveal two Styrofoam brackets on either end, with the MasterBox 5t case solidly cradled between. The case itself was wrapped with a plastic sheet to protect it from small scratches and shifts during transport. Additional accessories located inside the box included plenty of zip ties, screws to mount the motherboard, as well as motherboard mounting pegs. Literature for the product consisted of the manufacturer's two-year warranty information sheet and an installation guide.
A quick look at the actual technical specifications obtained from the manufacture's website provides a nice overview for this case before moving to the actual physicality of the item:
- Available Color: Dual Tone (Black and Red)
- Materials: Steel body, plastic bezel
- Dimensions (LxWxH ): 541.2 x 220 x 513.5mm
- Mother board support: Extended ATX, Micro-ATX, Mini-ITX
- Expansion slots: 7
- Drive Bays: Combo 3.5"/2.5" – 2 , SSD – 2
- I/O Port: USB 3.0 x , Audio in/out, Fan speed control (high and low)
- Preinstalled fans: Front x 1, Rear x 1
- Fan Support: Top - 120mm x 1/140mm x 1, Front - 120mm x 3/140mm x 2, Rear - 120 mm x 1
- Liquid Cooling Support: Front – 240mm / 280mm / 360mm radiator, up to 50mm thickness without fan, Rear – 120mm x 1
- Clearances: CPU – 167 mm/ 6.5", PSU – 180mm / 7.1", GPU – 410mm / 16.1"
- Cable Routing: Behind mother board Tray – 25mm – 35mm
- Dust Filters: Front, bottom, Top
- Power Supply Support: Bottom mount, ATX
- Product Weight: 7.73 kg, 17.04 lbs.
- Warranty: 2 Years
---
Page Index
1. Introduction, Packaging, Specifications
2.
Physical Look - Outside
3.
Physical Look - Inside
4.
Installation and Conclusion