Page 4 - Installation and Conclusion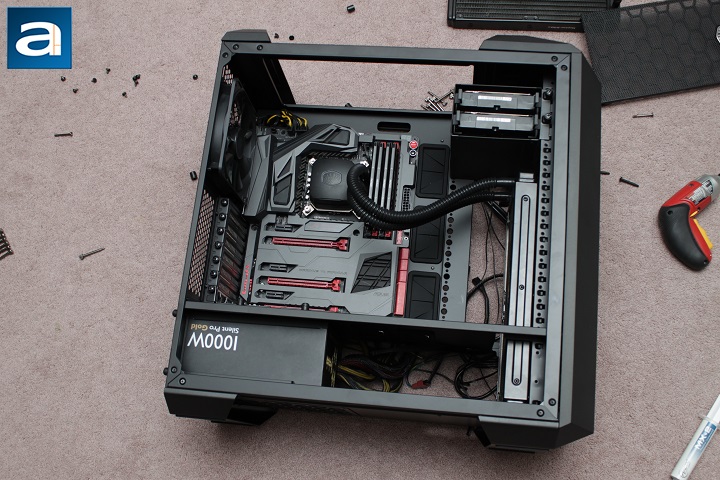 By now, many readers are pretty familiar with my installation procedure, as I always like to install my power supply first, and have all the cables routed before anything else goes into the case. However, I did a slightly different approach this time, with only a few cables pre-routed. Because Cooler Master has adopted the idea of clean cabling as a priority, it has made this one of the cleaner and tidier builds I have done. Cooler Master also emphasized the idea of modularity quite a bit to us, so I wanted to find out how challenging it was to remove certain components and re-route cables while other components are installed. As it turns out, Cooler Master has done a great job in internal layout and component modularity, making the installation process easy, no matter which order your install your components in.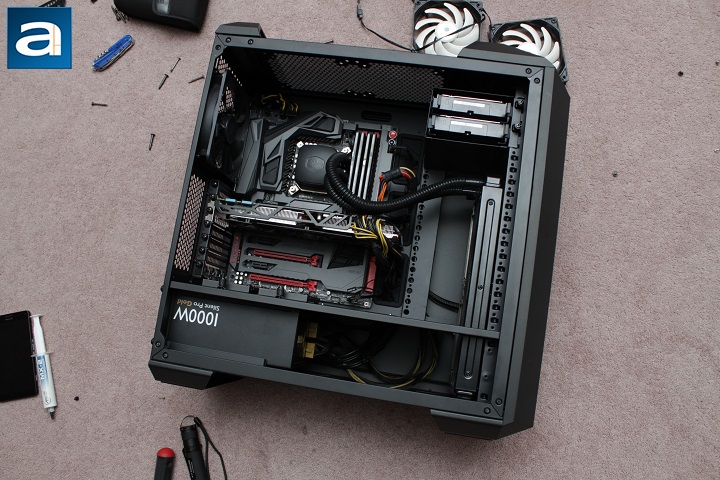 With all the components in place, I did a minor clean-up job with all the cables, and that was the end of that. Overall, the installation process went very smoothly. One thing to note here is with most radiators, if you are planning to install it on the front, you will most likely install the fans between the chassis frame and the front panel. Unless you are using ultra slim fans, Cooler Master did not provide enough space on the power supply and motherboard divider to have both the radiator and the fans to be on the same side. If you are one of those enthusiasts thinking of stacking fans on both sides of the radiator, you would be out of luck. I think Cooler Master could have spared a couple of centimeters here without having to compromise in other areas.
Another note to pay attention to is there are small bumps on the front side of the frame where the fans are installed. You will definitely need a few longer screws to install the fans. Personally speaking, I would have gone with the Pro version, so installing the radiator on the top would ease the installation process a little bit. In the unit we have, installing the radiator on the top was not an option, no matter how hard you try. Unless you are modifying your case, buying a different top panel, or would not mind having fans on the exterior, I would not recommend installing your radiator on the top, as there is not enough clearance to have both fans and radiator in that position. With everything in place, I slapped the panels back on without much force, and was ready to rock and roll.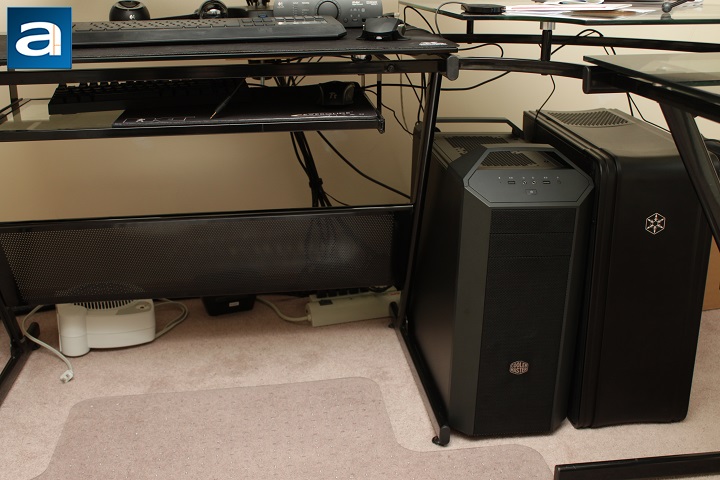 After plugging everything in, our system configured inside the Cooler Master MasterCase 5 was ready to go. I hit the power button, and the system roared to life. Honestly speaking, I found the MasterCase 5 is really good looking, despite the fact I have a distaste for conservative designs. Although sticking in LED lights may not make your build look glamorous, the Pro version with the window will definitely look nice. Moving on to the topic of noise, on a scale from 0.0 to 10.0 where 0.0 is silent and 10.0 is the loudest, the stock fans would come in at 2.5/10 on everyday usage, and about 3.5/10 subjective sound rating at full blast. I was very impressed by this, given Cooler Master has not provided any sound dampening material. I am quite sensitive to perceived sound volume, and the bearing on the included fans ran smoothly with no annoying noise during operation, which is always a plus.
-----------------------------------------
Although Aaron and I may not have gotten a tour from Alfredo himself, I am sure he is just as enthusiastic as the other representative in emphasizing Cooler Master's new "Make It Yours" theme and the idea of modularity. Taking the MasterCase 5 into consideration, Cooler Master did not disappoint in terms of a great layout of internal components. In terms of modularity, it is a step in the right direction, but it does not quite revolutionize the industry quite yet. In the MasterCase 5, you are equipped with two 140 mm fans for plenty of cooling. Additionally, you are provided with two SSD trays and a hard drive cage to hold two hard drives below the 5.25" bays. All of these are tool-free, which makes the installation process easy. If you decide to buy the Pro version, there is an extra hard drive cage capable of housing three more hard drives. Furthermore, there are plenty of cable routing holes all around outfitted with rubber grommets. The MasterCase 5's double chamber design makes the interior great to look at, and is very functional when it comes down to cable management, especially behind the motherboard tray where there is a groove to fit all your cables. There is also space to stick in a water cooling unit either on the top or in the front, with dust filters covering all appropriate places to keep the nasty stuff out. On the flip side, however, there a couple of things to note that you may want to pay attention to. When installing the radiator on the front, you will not be able to install the fans on the same side as the radiator, as there is not enough space to fit both radiator and fans in this configuration. If you decide to install it on the top, then the Pro version is definitely for you, as there is an extra bracket specifically for this purpose. I also noticed there are extra bumps on the front of the frame. This may be an issue for some users, as they may not have long enough screws to hold both the fans and radiator in place. If Cooler Master could fix these issues up, the MasterCase 5 will be a really competitive case in my books. For approximately $110 USD at press time, what more can you ask for in a slick and clean looking case?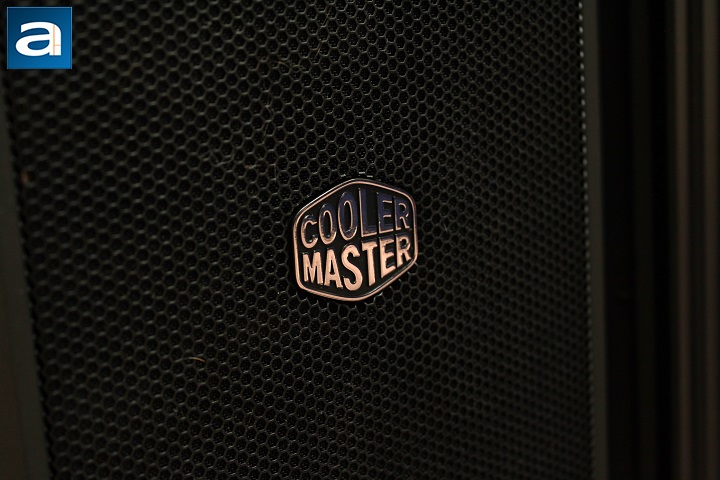 Cooler Master provided this product to APH Networks for the purpose of evaluation.
APH Review Focus Summary:
8/10 means Definitely a very good product with drawbacks that are not likely going to matter to the end user.
7/10 means Great product with many advantages and certain insignificant drawbacks; but should be considered before purchasing.
-- Final APH Numeric Rating is 7.2/10
Please note that the APH Numeric Rating system is based off our proprietary guidelines in the Review Focus, and should not be compared to other sites.
The Cooler Master MasterCase 5 is a competitively priced case with slick looks, great internal layout, and a step in the right direction in terms of modularity to outfit your computer to your needs.
Do you have any comments or questions about the Cooler Master MasterCase 5? Drop by our Forums. Registration is free, and it only takes a minute!
---
Page Index
1.
Introduction, Packaging, Specifications
2.
Physical Look - Outside
3.
Physical Look - Inside
4. Installation and Conclusion