By: Ben Joubert
December 2, 2016
Companies always have interesting names. Sometimes, their names directly attribute to the products they are making, and they are very obvious in that regard. I would think it is good for the name to be fairly indicative of a company's aims, although that is not always the easiest to achieve. There could be so many different connotations to a name, especially with everyone seeing a name and understanding it differently. Some company names seem almost random at times. Scythe would be an example of this. They have quite a few different coolers and fans as their main products. However, their name seems random compared to the products they make. What does a scythe have to do with coolers? Perhaps they are constructed of the same materials, but how obvious is that to the average computer user? SilverStone also has a fairly random name if you start to think about it. I ended up doing a Google search on what a Silverstone is, and I actually got a result different from the company in the contended top spot of the search results. Apparently it is a non-stick plastic coating made by DuPont, which is more durable than a Teflon coating. I have a different connotation now when I hear the name. Then there are company names that are fairly obvious. Cooler Master is easily understood as the master of cooling or coolers. Today, we have the Cooler Master MasterLiquid Pro 140 all-in-one water cooler up for review. Will it stand the test of the all the masters in its name? Read on to find out!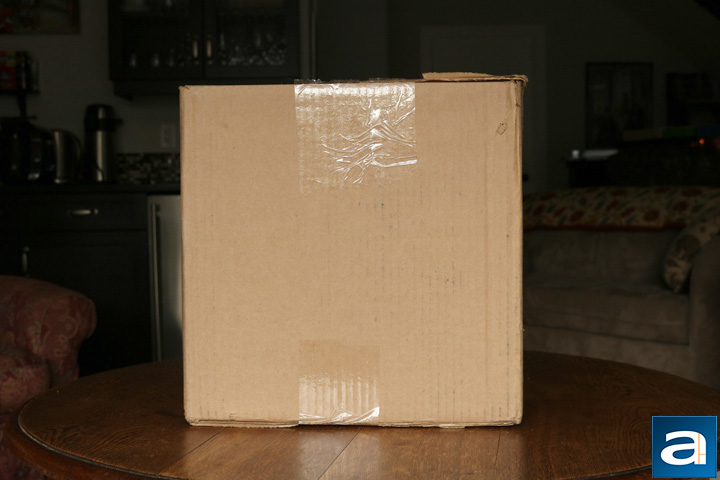 The Cooler Master MasterLiquid Pro 140 arrived in a large brown corrugated shipping box. The product arrived via UPS Standard, and I was not disappointed in the condition of the box. The shipping box arrived in good condition, with only a few small dents on the sides, and the corners slightly beat up. The package arrived all the way from Chino, California to our APH Networks location here in Calgary, Alberta. Enough of the shipping box, let us move on to the actual product.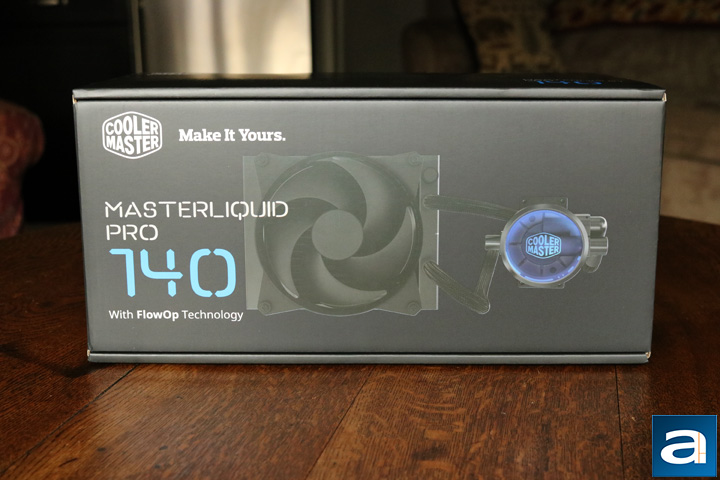 I had to do a double take with the retail box because of its unusual shape. Usually, a cooler with a 120 mm or 140 mm radiator arrives in a squarer shaped box because it is smaller. However, the Cooler Master MasterLiquid Pro 140 arrived in an elongated rectangular shaped box, which I usually assume would contain either a 240 mm or a 280 mm radiator. After getting over my surprise, the rest of the retail box is fairly standard. An image of the cooler is on the front, with its name and its size in the biggest font, also in blue. Also on the front is one of the main selling features of the cooler, which is Cooler Master's FlowOp technology. On the rest of the sides of the box are specifications, miscellaneous information, and some more images of the product.
Before we move on, here are some specifications of the Cooler Master MasterLiquid Pro 140, as obtained from the manufacturer's website:
Specifications
Model: MLY-D14M-A22MB-R1
CPU Socket: Intel LGA 2011-v3 / 2011 / 1151 / 1150 / 1155 / 1156 / 1366 / 775 socket
AMD AM3+ / AM3 / AM2+ / AM2 / FM2+ / FM2 / FM1 socket
Radiator Dimension (L x W x H): 171 x 138 x 27 mm (6.7 x 5.4 x 1.1")
Material: Aluminum
Fan Dimension:140 x 140 x 25 mm (5.5 x 5.5 x 1")
Fan Speed : 650 ~ 2000RPM (PWM) ± 10%
Air Flow: 64.21 CFM (Max)
Air Pressure: 3.15 mmH2O (Max)
Noise Level: 6 ~ 30 dBA (Max)
MTTF: 490,000 Hours
L-10 Life: 70,000 Hours
Rated Voltage: 12 VDC
Connector: 4-Pin
Pump Noise Level: < 12 dBA (Max)
MTTF: 175,000 Hours
L-10 Life: 50,000 Hours
Rated Voltage: 12 VDC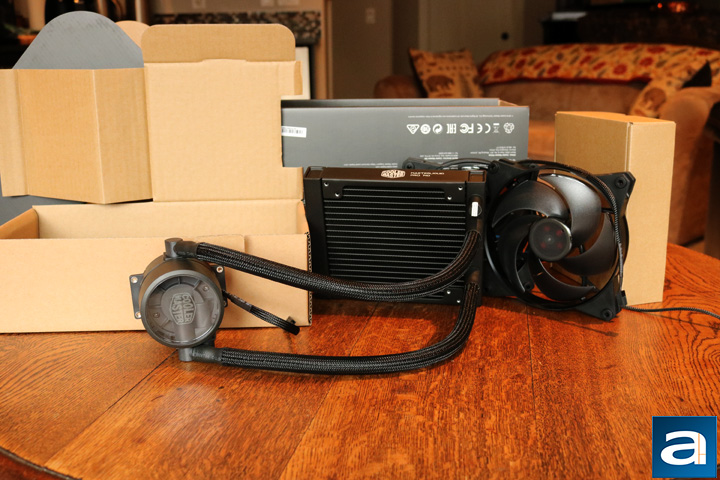 The contents are tightly packaged to ensure their safety during transportation. There are quite a few cardboard pieces that cover the water block, radiator, and fans. Everything required for installing the cooler is found in another brown box. The thermal paste and all the screws are actually placed in a plastic mold, so it is easy to see if anything is missing. I really liked this, because I like to see a place for everything. For clarification, there are two Cooler Master MasterFan Pro 140 Air Balance fans included, as well as two rubber frames for the fans to reduce vibration noise.
---
Page Index
1. Introduction, Packaging, Specifications
2.
Physical Look - Hardware; Installation
3.
Test Results
4.
Conclusion