By: Jeremy To
May 11, 2012
"T'was two weeks before Christmas
When all through the house
Not a creature was stirring
Not even a mouse,
The tree was decorated
By the front foyer with care
In the hopes that Cooler Master
Soon would mail the case there,
When out on the lawn
There arose a car clatter
My friend had to drive me home in his SUV
Cosmos II compared to others was fatter,
I heard him exclaim
As my friend drove out of sight
It was truly a happy two-weeks-before-Christmas to all
and to all a goodnight." - Some awesome poet (2012)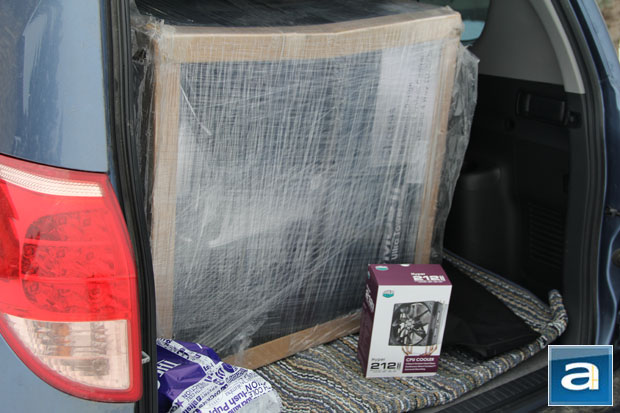 It really was a good two weeks before Christmas. Finals were about to be over, friends returning back home from school, the malls filled with great Christmas sales, and best of all, receiving a Cosmos II two weeks before the most wonderful time of the year. If you have been paying attention, this makes it about three to four weeks before its public release date. If you have read my Cooler Master Hyper 212 CPU heatsink cooler review back in January, you would have come across how I had to hitch a ride off of my friend, simply because the Cosmos II in its retail box would not fit in my car when my colleague Jonathan passed it along. When Cooler Master classified this case as an Ultra tower chassis, they really weren't joking around. This case is simply "ultra" big. As well, the Cosmos II has an "ultra" amount of features, with some "ultra" exterior design elements, which includes some "ultra" cooling potential; and lastly, is accompanied with an "ultra" price tag. So without further adieu, let's go on to reading this "ultra" review. (Editor: On a side note, this case fitted perfectly in the trunk of my 2007 Honda Civic sedan. Your car just has a terrible design.)
So... Christmas. What took so long? Well, unfortunately, the front bezel on the unit that was shipped to us broke a week after it arrived at our offices here in Canada. It is most likely not a design flaw with the Cosmos II itself, but simply an isolated issue with our unit. The case was shipped to our Calgary offices via UPS Standard from Cooler Master's office down in Chino, California. One could very well say it was the shipping that caused the unit to suffer damage. However, since this case is simply so enormous and heavy, I am even proud UPS Standard got it to us all the way from the south.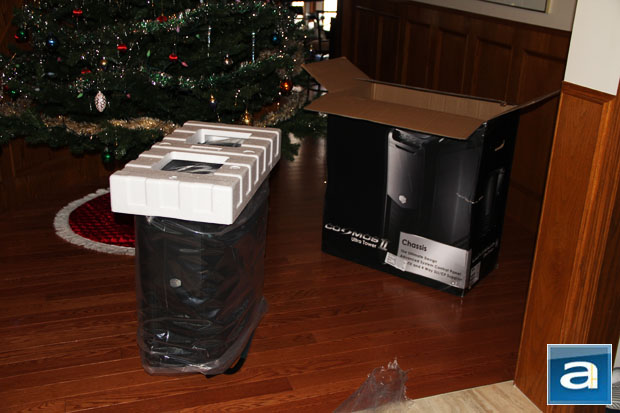 This ultra tower enthusiast case by Cooler Master is very unique. Looking back at the previous Cosmos brand, the Cosmos II is reminiscent of the highly popular supercar design exterior. The retail box itself is huge, with Cooler Master's purple color theme seen around the box with the black theme of the case itself. Around the box, one will find the usual list of features and specifications of the product. Speaking of specifications, let us briefly look at the specifications of the unit, as found on the manufacturer's website:
Specifications:
-Available Color: Midnight Black
-Material: Exterior: Aluminum, Mesh, Synthetics; Interior: Steel-Alloy, Synthetics, Rubber
-Dimension: (W / H / D) 344 x 704 x 664 mm / 13.5 x 27.7 x 26.1 inch
-Weight: 22 kg / 48.5 lb
-M/B Type: Micro-ATX, ATX, E-ATX, XL-ATX, SSI CEB, SSI EEB
-5.25" Drive Bays: 3
-3.5" Drive Bays: 13 (2 from X-docking with key locks, 5 HDDs in the Middle -cage, 6 HDDs in the bottom cage)
-2.5" Drive Bay: 11 (converted from 3.5" cages)
-I/O Panel: USB 3.0 x 2, USB 2.0 x 4, e-SATA x 1, Audio In and Out
-Expansion Slots: 10+1
-Advanced Control Panel: Power, Reset, Fan Controller (10 fans in 4 groups), Fan LED control
-Water Cooling Support: 1x 240mm Radiator top; 1x 240mm Radiator at the bottom
-Power Supply Type: ATX PS2 / EPS 12V (optional)
-2.5" Drive Bays: 11 (converted from 3.5" cages)
-Maximum Compatibility: CPU cooler height: 190mm / 7.48 inch; VGA card length: 385mm / 15.15 inch
Cooling System:
-Front: 200mm LED fan x 1, 700 RPM, 19 dBA(converted from 120/140mm x 1)
-Top: 120mm black fan x 1, 1200 RPM, 17 dBA (200mm fan x 1 / 140mm fan x 2 / 120mm fan x 3)
-Rear: 140mm fan x 1, 1200 RPM, 19 dBA
-Side: 120mm fan x 2 (optional)
-HDD: Mid.HDD: 120x25mm fan x 1 (optional); Bottom HDD: 120mm fan x 2, 1200 RPM, 17 dBA
---
Page Index
1. Introduction, Packaging, Specifications
2.
Physical Look - Outside
3.
Physical Look - Inside
4.
Installation and Conclusion