By: Devin Chollak
July 12, 2011
Have you ever been on a long car ride in the middle of a blazing hot summer afternoon without air conditioning? Well, for those who have always had air conditioned cars, you should try it for a day. Make sure to try it with the windows rolled up, and you will get a feeling of what being stuck in a steam room with a bunch of very large men is like. Thankfully, I am one of the fortunate individuals who always had air conditioning in their car. Why am I going off about air conditioning? Well, when I am playing games for a long period of time, which is a rare occurrence in itself, the laptop I am playing on usually starts to feel like it has been locked up in a car with all the windows closed. Of course, anyone who plays games knows the last thing you want is to be uncomfortable while fighting the boss, or searching for secret items (Which probably don't even exist). Once upon a time, I had an old laptop that seemed to think cooling solutions were overrated. After a couple minutes under heavy load, the laptop, without any warning, would cut the power off. I was very grateful when someone finally figured out some poorly designed laptops have a tendency to overheat, and they came up with cooling pads. Cooler Master has kept that going with a wonderful array of NotePal coolers. With the new X-Slim is a portable notebook cooler, let's find out if it has what it takes to turn off the stove while I'm teaching a boss who is really the boss!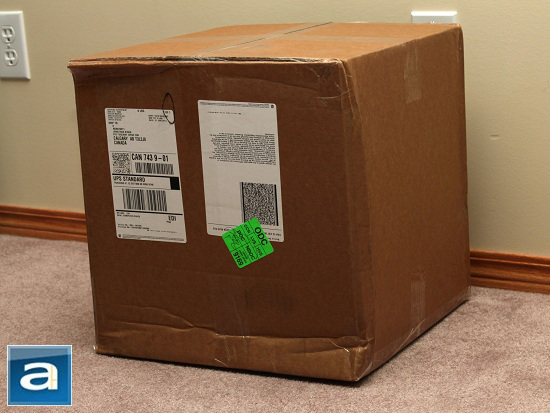 When the NotePal X-Slim came to our Calgary office, it wasn't alone in its package. It came along with another piece of epic loot from Cooler Master, but I'm sorry to say you will just have to wait to hear about that item from my colleague Preston. The overall condition of the box of loot was good, with the typical battle scars of taking an epic and heroic journey across the border with UPS Standard. Of course, when I was given the Cooler Master NotePal X-Slim, it was in pristine condition, and had not suffered any loss of durability. Hold onto your seats, as we crack it open in just a moment.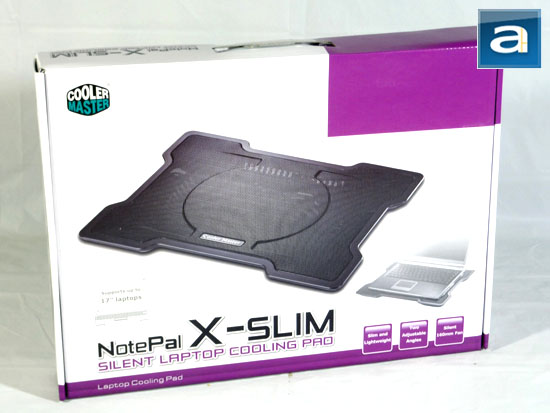 At first glance, the box looks fairly typical in accordance to the other Cooler Master NotePal packaging -- a sharp white box with a vibrant violet accent, the color of epics, presents the notebook cooler in an aesthetically pleasing fashion. It makes a note on front to inform the consumer of its ability to handle behemoth sized 17-inch laptops. As well, it does a notable effort to express the slimness of the cooler, because everyone knows lighter is better -- especially when it comes down to talking about laptops and such products. A few key features are also mentioned on the front, such as being slim and lightweight with two adjustable angles, as well as incorporating a claimed-silent 160mm fan. Looking at the manufacturer's website, here is a full listing of the features and specifications for the Cooler Master NotePal X-Slim:
Features
- Classic X design, slim and lightweight for easy charring.
- Silent 160mm fan with great cooling performance.
- Two height settings for the ideal viewing/typing angle.
- Full range metal mesh for superior airflow.
- Cable grooves for easy USB cable management.
- Powered by USB port extender.
- Supports up to 17" laptops.
Specifications
- Color: Black
- Material: Plastics, Metal mesh, Rubber,
- Weight: 0.7 Kg
- Dimension (W / H / D): 380 x 270 x 27.5-46 mm
- Fan Dimension (W / H / D): 160 x 15 mm fan
- Fan Speed: 1400 +- 15% R.P.M.
- Fan Speed Adjustment: Single Speed
- Fan Airflow: 70 CFM
- Fan Noise Level (dB-A): 21 dBA
- Power: USB 5V DC
- USB: USB 2.0/1.1 x1 (For Power Input)
- Power consumption: 0.38A, 1.9W
- Compatibility: Supports up to 17" laptops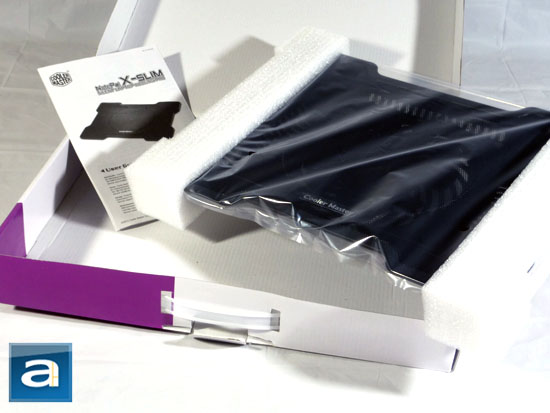 Ripping off the X-Slim's armor, we get to see what is underneath. Well, it does not have a whole lot, but I appreciate it when companies give you only what you need, such as what Cooler Master has done here. I really hate it when things come with a bunch other accessories you probably will never actually use -- kind of like gray items. The contents consisted of only two parts: The user manual, and the notebook cooler itself. The cooler is very well protected with sturdy foam padding on both ends, keeping the cooler protected, and securely elevates it to the middle of the box. I think it is time to slip off the plastic cover, and take a closer look at what we got.
---
Page Index
1. Introduction, Packaging, Specifications
2.
A Closer Look, Usage
3.
Testing and Conclusion