By: Preston Yuen
November 12, 2010
Looking back in history, before I was born, and when dinosaurs still roamed the Earth in the prehistoric age of April 1981 (Well, dinosaurs were long extinct, but you get the point haha), the first successful portable computer was released -- namely, the Osborne 1 from, well, a company called Osborne Computer Corporation. It is hard to believe how fast technology has been progressing in the last thirty or so years. Laptop sizes get smaller and slimmer, internal components increase in efficiency and performance, and many other features of the notebook simply improve to various extents. But as these components become more powerful, there is one very important factor that is forgotten by many consumers, especially in the market of laptop gaming -- and that is heat output. Even though common healthy mainstream laptops are capable of cooling down themselves without external help, there's just that special breed of portable computers that simply isn't so... portable. We're talking about desktop replacement/gaming laptops. They're powerful, they're big, they're heavy, and they generate enough heat to keep your room cozy in the winter. Here is where Cooler Master just enters the scene and attempts to rectify this problem for people who own such systems. The company presents a laptop cooler that is able to support up to 19" laptops, and also features dual 140mm fans under the hood to move lots of air. Will the Cooler Master Storm SF-19 Strike Force be able to relieve problems associated with the massive heat-generating computers of laptop gaming enthusiasts? Read on to see what this cooler is really all about!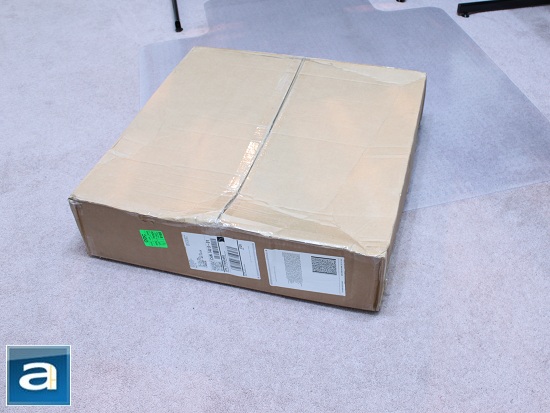 Our package arrived in the usual brown corrugated box via UPS Standard along with the Choiix Power Fort 5.5, which I will be reviewing in the near future. Man, the box was huge -- the picture does not tell the whole story. Anywho, although it was slightly dented, everything inside arrived safe and sound, as Cooler Master packaged some additional brown packing paper inside for extra protection.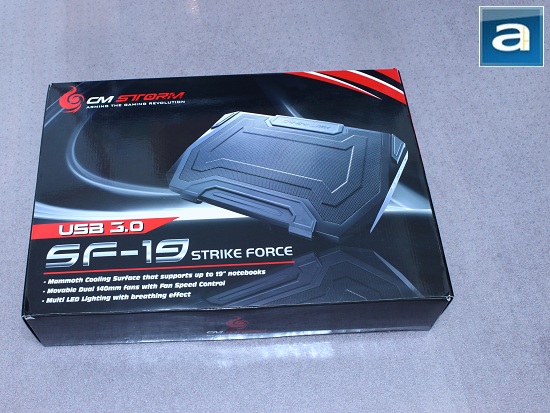 To enforce the idea of how hardcore and intense this cooler is, especially a cooler that is able to cool down high-intensity heat-producing gaming laptops, Cooler Master presents the Storm SF-19 Strike Force predominately on the right-side of the box with contrasting black, white, and red background colors and shades. Its name is printed boldly close to the lower bottom side, with its main features listed under it. The company also highlights the cooler's USB 3.0 support just above its name. For your information, there are two versions of this cooler: The CM Storm SF-19, and the Storm SF-19 Strike Force. The vanilla SF-19 is not available in America at press time. The main difference between them, besides their name, is simply that the former supports USB 2.0 and comes in gray, while the Storm SF-19 Strike Force we are reviewing today supports USB 3.0 and comes in black. The back-side of the box will inform you of the specifications of the cooler. As well, all the features are listed on the inside of the front cover. These specifications and features can also be found on the manufacturer's website as well. Let's take a look at that before moving on in our review:
Features
- Mammoth Cooling Surfacing: SF-19 is constructed with an enormous heat-dissipating surface plain, made capable to endure critical temperatures from all laptop sizes, it is the state-of-the-art laptop cooler for all 19" gaming laptops and beyond.
- 4 USB 3.0 Ports: 4 advanced USB 3.0 ports - supports the next generation of gaming laptops.
- Structurally Enhanced Mesh Surfacing: Cold-forged polygon mesh surface plains allows maximum air flow from high rotating fans, structured to efficiently normalize thermal formations, effectively cooling and alleviating tough spot-thermal build ups.
- Swift Carrying Handle: Built for mobility, the SF-19's swift-carrying handle is build with an intuitive design and sturdy construction, made for quick LAN-party relocation and fast mobilization - The SF-19 is stealth and ambitious.
- Anti-Slip Rubber Cable Slot: the Sf-19 safely secures the laptop in place even under rigorous gaming. The rubberized areas also protect the hardware under transport. In addition to the anti-slip features, it also acts as a cable management system, assorting various types of cables for your laptop and peripherals.
- Movable Dual 140mm S Shaped Blade Fans: SF-19 is equipped considerably with 2 turbine fans, fully customizable and positioned to dissipate heat from the heat source directly. S shaped blade facilitates and exhale more cold air, providing unprecedented airflow.
- Multi-Light Shader: Multi-light shader displays 7 changeable personalized with breathing effect. Formulating the ultimate customization and ambiences for your favorite gaming rig.
Specifications
- Model: Black, SGA-6000-KKYF1
- Material: Reinforced Anti-Slip Rubber, ABS Plastic, Enhanced Mesh Structure
- Weight: 1.98 kg
- Dimension: 490(L) x 354(W) x 74(H) mm
- Fan Dimension: 140 x 140 x 75 mm
- Fan Speed: 1,200 ~ 2,600 rpm
- Compatibility: Up to 19" laptops
- USB port: Advance USB 3.0 x4, Micro-B x1
- Controller: Stepless fan speed controller, color switchable LED light, LED on/off
- Operation degree: 7.5 degree
- Power: DC12V/2.5A adapter
- UPC Code: 884102010200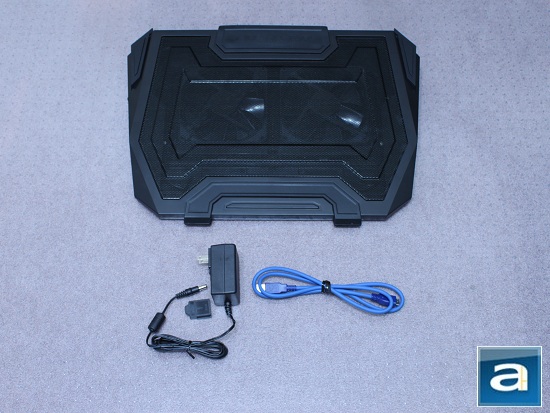 There were only three items that came from such a gigantic box, which did not surprise me, since this monstrous cooler takes up most of the room, as represented in the front picture and from one of its features. Out of the box, you will receive the following:
- 1x Cooler Master Storm SF-19 Strike Force
- 1x DC12V/2.5A adapter
- 1x USB 3.0/Micro-B cable
If you were planning to take this cooler out of the country for usage, the adapter has an interchangeable head for you to conveniently swap out. Unfortunately, Cooler Master does not provide you with extra swappable heads. On the flip side, since this cooler is so massive and heavy anyway, I doubt anyone would want to travel with it, regardless of adapter availability.
---
Page Index
1. Introduction, Packaging, Specification
2.
A Closer Look, Usage
3.
Testing and Conclusion