By: Hai Wang
December 4, 2020
I have been having several conversations with my colleague recently about the relationship between academia and industry; specifically in the context of areas such as engineering or information technology. My colleague is a practical guy, so he emphasizes more on hands-on experience instead of theory. In other words, he has very little faith in doing research for an engineering project. He believes, instead of spending time and money into research and developing, it is better for a company to quickly rollout products with off-the-shelf components. I think my colleague had some good points, but I cannot say that I completely agree with his opinion. I think a successful company should more or less have a bunch of people who can develop and research new ideas. At least, a balance should be considered for the amount of new inventions and conventional parts when developing new products. A new product should add value for its customer as well as making the company profitable. It is unavoidable to increase the cost in terms of introducing new features into the design, but the effort will eventually be worthwhile. A product with unique features has better potential to win in the market. In other words, the market likely demands innovation, embraces new thoughts and ideas, and will reward the one that thinks outside of the box. I can hardly believe a company with little to no R&D capabilities will do well in their business. Speaking of new features, this is something I will particularly look into for today's review unit, the Corsair 4000D tempered glass mid-tower ATX case. The reason is because all computer cases may function as expected, but why you would choose one instead of another, or vice versa? I really want to see if this case is just like your everyday tower or if it has some good innovations that make it worth considering. For more details, let us read on!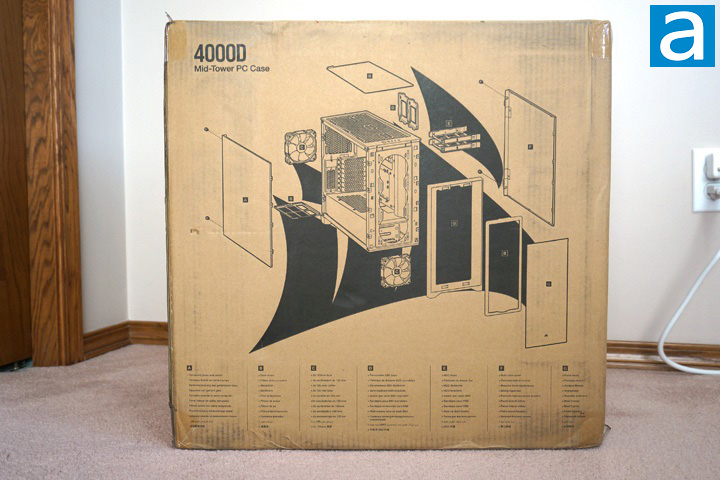 Today's review unit was shipped from Fremont, California, USA to us here in Calgary, Alberta, Canada via UPS Standard. Fremont is the location of Corsair's office in North America. Although you may see a beat-up corner on bottom left of the parcel, there were no signs of unacceptable damage on the shipping box itself that may make you nervous about the safety of the case. After more than a thousand miles of transportation, I can take one hit on the corner.
Usually, a good retail package design can draw people's attention and make the product itself stand out among hundreds of other products on the shelf. However, the realm of computer cases is different. Most of the time, the dealer will either directly put sample cases on the shelf or just demonstrate some fully built computers using those chassis. Therefore, it is mostly unnecessary to have a fancy retail packaging for a computer tower. At least for me, I would not buy a computer case just because it looks great on the box. The retail package of Corsair 4000D is simply a brown cardboard box. It shows a nice breakdown drawing of the case's front panel. At the front side, the product name is present on top left of the box, as you can see from the above picture. It is also interesting to see there is a giant company logo used as background. Overall, the retail package looks very eco-friendly, and it prompts us to open the package to see what is inside the box.
Before we do anything else, let use quick look at the specifications of the mid-tower from its official website:
-Case Dimensions: 453mm x 230mm x 466mm
-Maximum GPU Length: 360mm
-Maximum PSU Length: 180mm (220mm if HDD cage removed)
-Maximum CPU Cooler Height: 170mm
-Case Expansion Slots: 7+2 vertical
-Case Drive Bays: (x2) 3.5in (x2) 2.5in
-Case Form Factor: Mid-Tower
-Case Windowed: Tempered Glass
-Case Warranty: Two years
-iCUE enabled: No
-Color: Black
-Case Material: Steel, Tempered Glass, Plastic
-Radiator Compatibility: 120mm, 140mm, 240mm, 280mm, 360mm
-Compatible Corsair Liquid Coolers: H55, H60, H75, H80i, H90, H100i, H105, H110i, H115i, H150i
-Case Power Supply: ATX (not included)
-Weight: 7.8kg/17.20lbs
-Case Drive Bays: 3.5" 2
-Case Drive Bays: 2.5" 2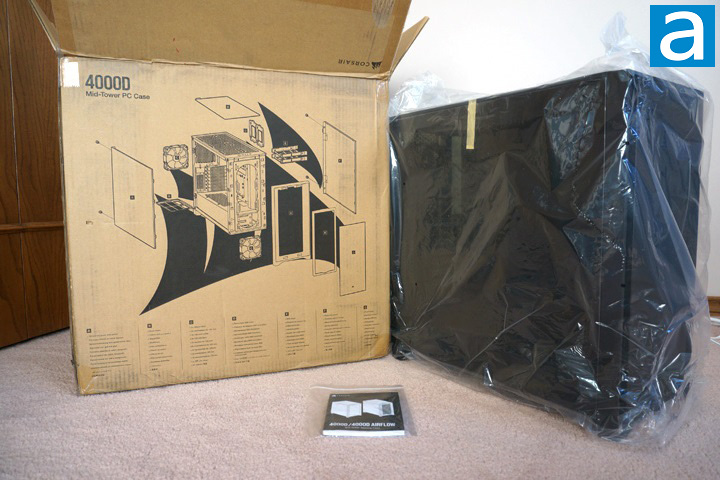 Upon opening the box, you will see the case is wrapped inside a big plastic bag. The plastic bag is strong enough to prevent the paint from getting scratches. You can keep the plastic bag, since it can be reused if you want to take your computer to other places. An extra layer of protection has always been a good thing. Since the whole chassis is supported by two pieces of foam brackets around the case, there is no direct contact from the shipping package, therefore no damage is found. As a minimalist design, there are not a lot of things in the box other than the computer case and a user's manual. The bag that contains all the hardware is located somewhere inside the case. We just need to take the tempered glass panel off and see.
---
Page Index
1. Introduction, Packaging, Specifications
2.
Physical Look - Outside
3.
Physical Look - Inside
4.
Installation and Conclusion