By: Aaron Lai
August 26, 2022
At the end of July, I went to see the musical Hamilton with my girlfriend, as the traveling show was in Calgary for a couple of weeks. Personally, I am not a huge theater person, but I am starting to enjoy the charm and appeal of it as I grow up. In my mind, there are a lot of parts to a musical that really make it great. This starts with the music and singing, followed by the choreography, which all spins into the telling of a story. I also really like seeing the different sets that look really nice and add to the whole narrative. The one thing I noticed while watching Hamilton was how they were able to move so many things around, including set pieces, furniture, and people, without the audience noticing. In comparison to the first Broadway I watched, The Phantom of the Opera, this was a bit less amazing, but this is also not that fair of a comparison. From what I understand, the Phantom of the Opera is one of the longest running musicals in New York and does not need to travel across different theaters. As such, the Phantom's set can be a lot more impressive and immersive since it stays in a theater. Even so, I enjoyed both shows and I left each quite pleased. In a similar vein, today we have a new microphone in the form of the Creative Live! Mic M3. I have reviewed a fair share of microphones in differing price regions, so I think the comparisons between this and others will be a bit more apples-to-apples than my musicals comparison. How does the Mic M3 compare, and will it impress me like the set movement of Hamilton? Let us read on to find out!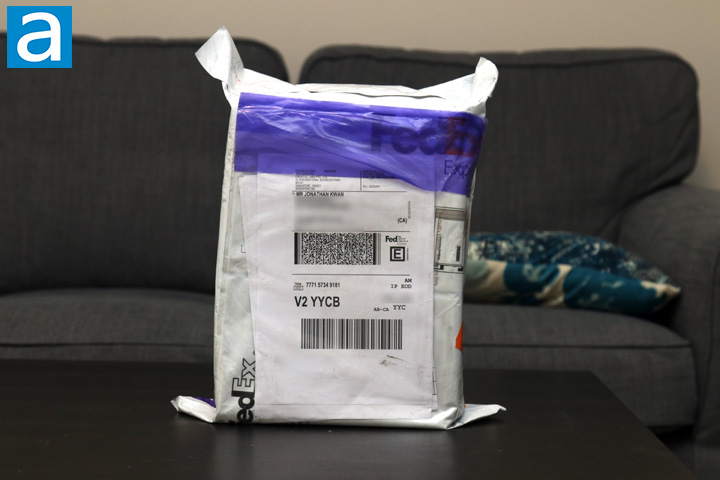 Today's review unit of the Creative Live! Mic M3 arrived from Creative's offices in Singapore. Traveling with FedEx and their Express service, this parcel was shipped from over 13,000 kilometers away to our offices here in Calgary, Alberta, Canada. Despite the distance traveled, the parcel arrived in a plastic FedEx envelope. There are no major holes or scratches here, so hopefully everything inside is intact. Along with the microphone, Creative also sent us a set of earphones to aid us in our testing of the microphone.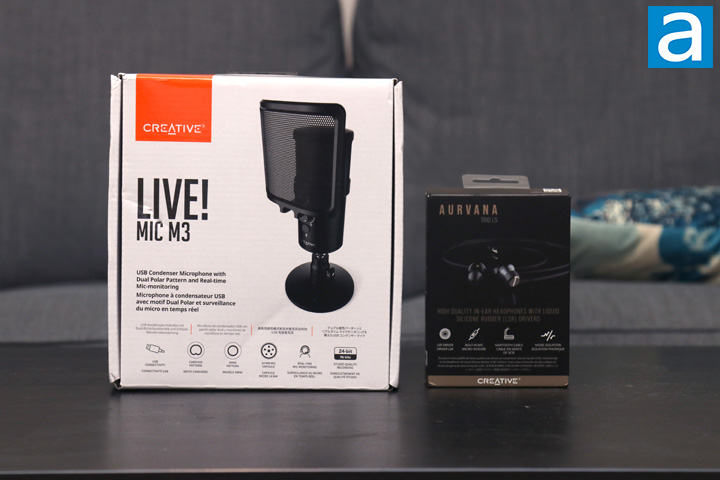 Out of the bag, you can see a better look at the Creative Live! Mic M3's retail box, along with the set of Aurvana Trio LS they sent for our testing purposes. The box does look a bit more damaged than I would like, but this is not too surprising considering the distance and packaging used to ship the products. As for the retail container, you can see the standard white and orange color scheme with the Creative logo at the top and the product name underneath. The microphone is shown on the right side of the box with its pop filter attached. Underneath, we have a description of "USB Condenser Microphone with Dual Polar Pattern and Real-time Mic-monitoring". We have a few more features and specifications here, including its USB connectivity, the two different Cardioid and Omni pickup patterns, 14mm internal microphone capsule, its real-time monitoring capabilities, and its 24-bit, 96kHz recording capabilities.
Before we continue, I have obtained the specifications for this microphone from the manufacturer's website:
Dimensions (L x W x H):
- Microphone with Table Stand and Pop Filter: 88 x 96 x 215 mm / 3.46 x 3.77 x 8.46 inches
- Microphone (without attachments): 57 x 61 x 127 mm / 2.24 x 2.4 x 5 inches
- Pop Filter: 88 x 27 x 96 mm / 3.46 x 1.06 x 3.77 inches
- Microphone Table Stand: 85 x 85 x 72 mm / 3.34 x 3.34 x 2.83 inches
- Microphone Table Stand Rotational Size: Ø 85 mm
- Mounting Hole Size: 1/4-20 UNC
Product Cable:
- Type: micro USB
- Cable Length: 1.5m / 4.92 ft
Product Weight:
- Microphone with Table Stand and Pop Filter: 570g / 1.25 lb
- Microphone (without attachments): 170g / 5.99 oz
- Microphone Table Stand: 380g / 13.4 oz
- Pop Filter: 20g / 0.70 oz
Microphone:
- Polar Pattern: Cardioid and Omni-directional
- Sensitivity (@ 1 kHz 0 dB = 1V / Pa)
- For Cardioid Pattern: -35 ± 2 dB
- For Omni Pattern: -36 ± 3 dB
Supported Playback and Recording Resolution:
- Recording: PCM Stereo 44.1K / 48K / 88.2K / 96 kHz, 16 / 24-bit
- Playback: PCM Stereo 44.1K / 48 kHz, 16-bit
Headphone Monitoring:
- Supports 3.5 mm, 3-pole, Up to 32Ω
- Frequency Range: 50—18,000 Hz
Operating Temperature:
- 0—40°C
Power:
- micro USB port, DC 5V 200 mA
USB Cable:
- micro USB
- Cable length: 1.5m / 4.92 ft
Controls:
- Supports mute and unmute microphone feature
- Supports direct volume level adjustment during mic-monitoring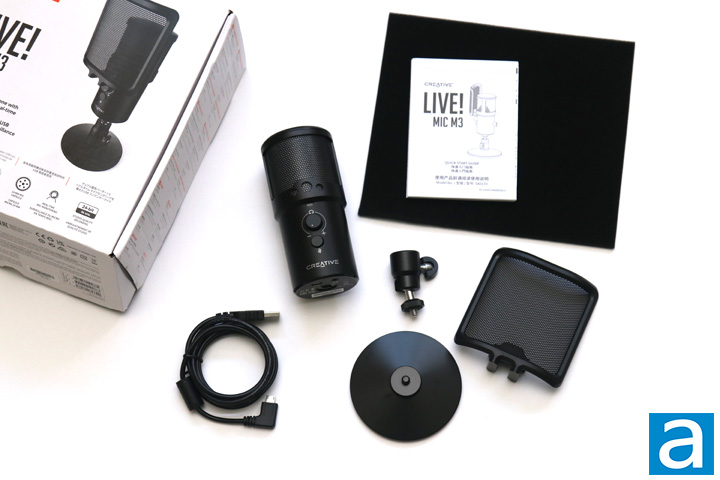 Out of the box, everything is packaged well in a foam frame. It is clear that the internal cushioning is quite sufficient in protecting the contents of the box despite all the dents and bruises around the box. Inside, we have the Creative Live! Mic M3 with all of its accessories packaged next to it. This includes a desk stand and base, 1.5m Micro USB to full-sized USB cable, and a magnetic pop filter. We also have some documentation for quick start and warranty information. Just so you know, this is covered by a one-year limited warranty.
---
Page Index
1. Introduction, Packaging, Specifications
2.
Physical Look - Hardware
3.
Recording Performance Tests
4.
Conclusion