By: Aaron Lai
August 25, 2017
This past Monday was a pretty big day for natural phenomena. If you have been reading any sort of news, you probably know this it was the day of a total solar eclipse visible across parts of North America. For your information, solar eclipses actually happen several times per year. However, not all of them are total eclipses, and even rarer is the fact they are not always visible in North America. The last total solar eclipse with its Path of Totality passing through continental United States occurred in 1979, which is before all of the staff on APH Networks were born. As for myself, our workplace and the other tenants in the building all gathered in the parking lot to eat mango slices and look at the sun with specifically made viewing glasses and pinhole projectors. On an aside, the mango slices were quite random, and I was confused as to why they were being served. Either way, just to see the sun become slightly covered was a pretty neat sight. Even Facebook reported there were more people talking about the solar eclipse compared to the last four Super Bowls. Personally, I think the pure rarity of this event makes people really want to turn their eyes to the sky. On the other hand, today we have a relatively common, unnatural event here at APH Networks. We have a new product from a new company in the form of the Creative Sound BlasterX Vanguard K08. Of course, Creative is not exactly a new company, but this is the first product we have received from them since the existence of this website. Furthermore, this is also Creative's first shot at the gaming peripheral market. They are definitely the veteran in the audio industry, but how will they fare with their first mechanical keyboard? Is there anything that separates this one from the rest? Read on to find out!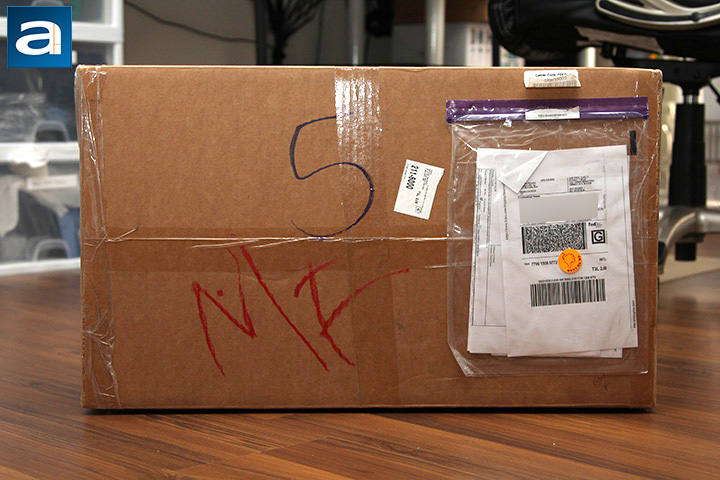 Today's review unit of the Creative Sound BlasterX Vanguard K08 arrived from Milpitas, California via FedEx and their International Ground service. Thankfully, the people of purple and orange brought this box in excellent condition. There is not much to note for dents or scratches, which is a good sign. Along with the Vanguard K08, Creative sent us their gaming mouse in the Sound BlasterX Siege M04. My colleague Hai Wang will be taking a look at this product later on.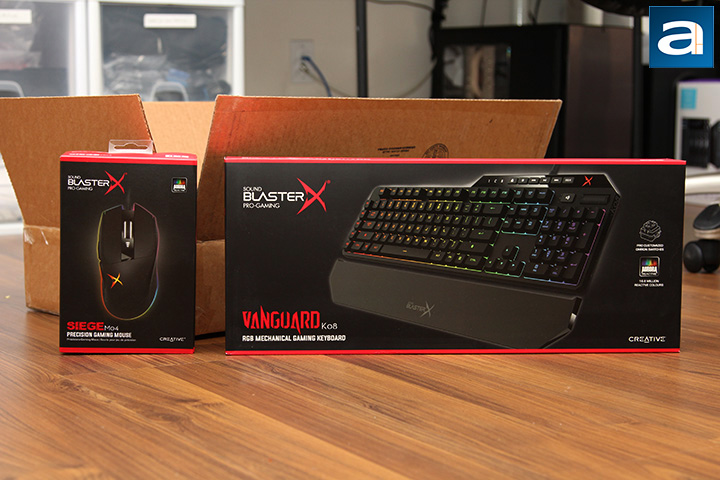 As I have just mentioned, here you can see both the Creative Sound BlasterX Siege M04 and Vanguard K08 in their respective retail containers. Both of them have a similar retail container, with a red top and bottom and black background. The product can be found smack dab in the middle, with the Sound BlasterX logo on the top left and the product name on the bottom right. As for the Vanguard K08, Creative describes this as an "RGB Mechanical Gaming Keyboard". On the front, two main features are emphasized on the right side, which are the Omron mechanical switches and the Aurora RGB lighting. Around the back of the box is some more specifications in various languages.
If you are so inclined, we have grabbed the specifications from the manufacturer's website for your perusal:
Specifications
Product Color: Black
Dimension (HxWxD): 215mm x 465mm x 37.6mm
Dimension Without Wrist Rest (HxWxD): 149mm x 465mm x 37.6mm
Lifespan: 70 million actuations
Mechanical
Actuation force: 45g
Actuation distance: 1.5mm
Total travel distance: 3.5mm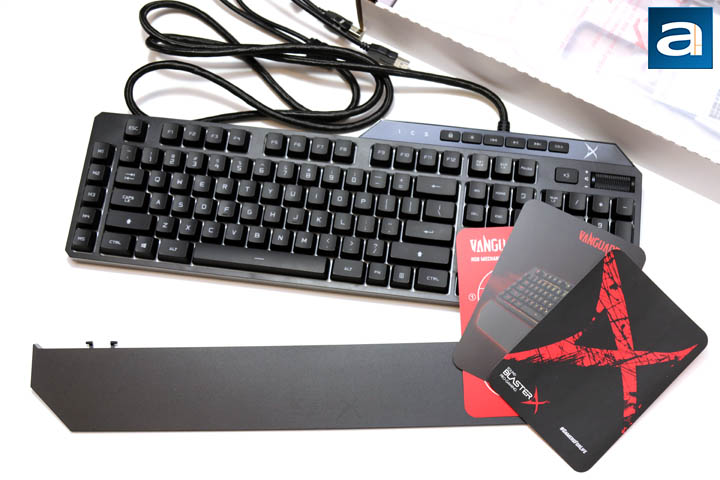 Sliding off the outer shell, we have a generic white cardboard box inside. Inside this box is not another box, but the Creative Sound BlasterX Vanguard K08. The mechanical keyboard is wrapped in a clear plastic bag to prevent surface scratches. The included wrist rest is also wrapped in a separate plastic bag and found underneath the keyboard. Creative has said a keycap puller should be here too, but it seems I did not get one. Finally, there is a small sealed bag, which holds multiple sheets of documentation for the Vanguard K08. Part of these pamphlets include warranty information. Creative includes a one year warranty with the Sound BlasterX Vanguard K08, which is kind of short to be honest.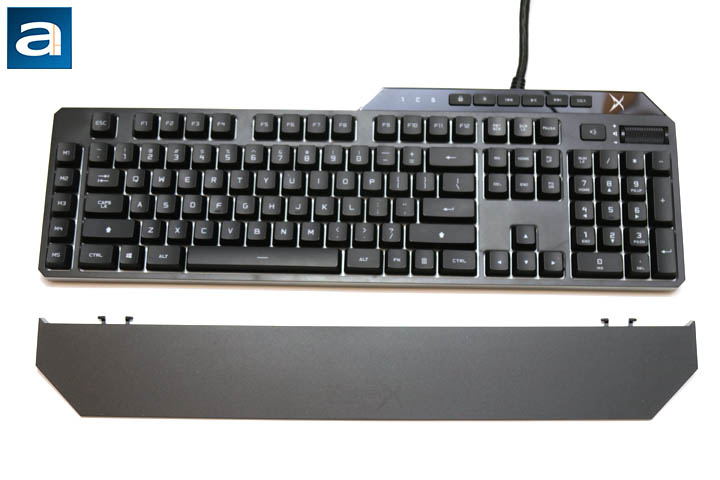 For Creative's first dive into the gaming peripheral market, I have to say they made some pretty interesting choices in their Sound BlasterX Vanguard K08. While a lot of the market is going to minimalism in terms of design, the Vanguard K08 takes a much more gaming approach, albeit a conservative one. From here you can see all of the angles are cut off, resulting in zero ninety degree corners on the edges of the keyboard. Creative has also kept branding at a minimum, with just the Sound Blaster "X" at the top right corner and the full logo subtly printed in the middle of the wrist rest. The K08 name can be found on the left and right side of the frame, but it is relatively hidden. The frame around the edges is quite thick also, but it is not too bad. The whole design is made out of plastic, with a slightly gritty finish on the edges. The top bar and side trimmings all are glossy in finish, for better or for worse. All of the surfaces pick up fingerprints easily, especially the keycaps, though I will get into those later. It is obvious the design is definitely targeted at the gamer crowd, but I think it is clean enough to be appreciated by non-gamers too.
One feature I am quite glad Creative has added with the Sound BlasterX Vanguard K08 is a wrist rest. While it is such a basic thing, many manufacturers have neglected this helpful addition. As for the one included with the Vanguard K08, it is plastic and it matches with the rest of the keyboard in terms of design. It also protrudes out enough so you can actually rest your palms on it. Unfortunately, there is one main misstep with this wrist rest, which is the fact it does not actually attach to the keyboard in any way. There are two plastic nubs on each side to slot into the Vanguard K08, but it does not actually clip to the keyboard. Instead, it rests in place. Once you lift the Creative Sound BlasterX Vanguard K08 up, the wrist rest will not follow along. Even sliding the keyboard can detach the wrist rest from the Vanguard K08. While the overall feature is appreciated, the implementation feels half-baked, and I wish Creative made a better way of attaching the palm rest.
As for dimensions, the keyboard is 465mm in width, 37.6mm in height, and 149mm in depth. The depth increases to 215mm when you connect the included wrist rest. Compared to the competition, these dimensions are quite similar, with the Creative Sound BlasterX Vanguard K08 being pretty average. In terms of mass, this one is pretty hefty at over 1.15kg. From this weight, you can tell there is a steel plate inside, despite the plastic shell enclosing it on all sides. Unfortunately, there is quite a bit of flex in the plastic enclosure. The keyboard does torque a bit too, though you really have to be twisting it hard to see it. Similarly, the wrist rest flexes and torques easily, though this is not too surprising considering it is just plastic. The volume scroll wheel also moves side to side, despite it being made up of metal. Overall, the Vanguard K08 still feels pretty solid, but these small things adding up are concerning.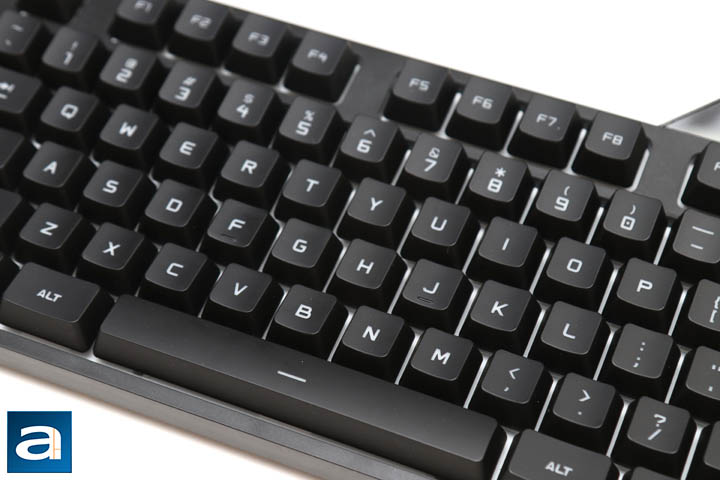 The Creative Sound BlasterX Vanguard K08 came to us in a standard 104-key QWERTY ANSI layout. As such, most of the keyboard is laid out in the same way as every other keyboard sent to APH Networks. The keycaps are average in quality, with the letters being translucent to allow the backlighting through. These are laser-etched ABS keycaps. ABS, which is short for acrylonitrile butadiene styrene, is a commonly used plastic for keycaps. They offer decent quality, but are also seen as inferior compared to PBT, or polybutylene terephthalate, which are stiffer, harder, and keep their color better. Thus, fingerprint staining will be seen with these keycaps. Maybe I have been spoiled with PBT keycaps, but I am a bit disappointed with the quality of these keycaps. It does not shine as quickly as some ABS keycaps, but oily marks do appear easily. To round off, font of the lettering on the keys is clean and legible. The surface of the keycaps is pretty smooth, but it feels nice on the fingers.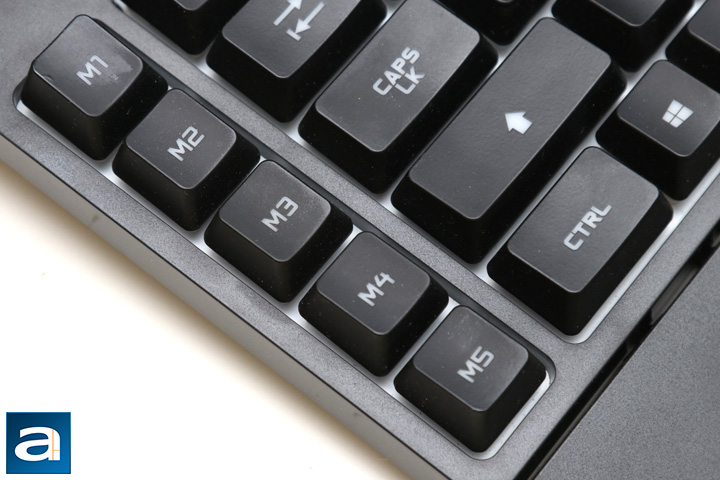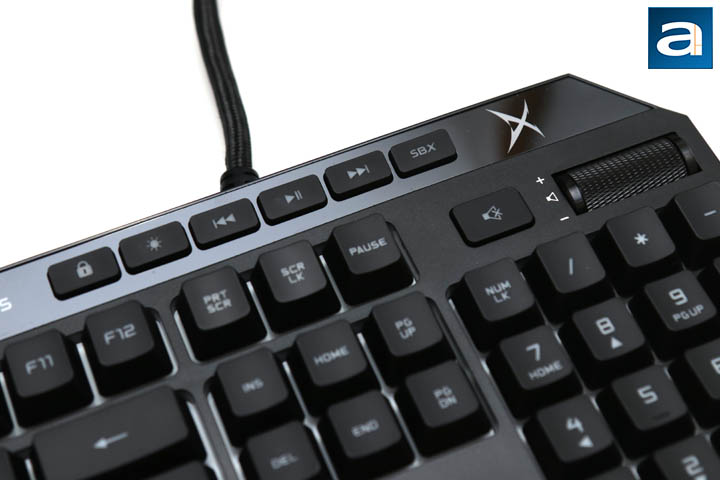 There are two more areas on the Creative Sound BlasterX Vanguard K08 to point out. The first exists on the far left where the dedicated macro keys are located. Using the software Creative has included with the Vanguard K08, you can record and save macros to these five dedicated macro keys, as well as any other key if you so desire. We will see how the macro recording and assigning process goes when we take an overview of the software later on. There are actually no other secondary keys on the keyboard. Instead, all of the keys you would normally find are located on the top right corner. This includes the Windows Lock key, a Brightness toggle, Previous, Play/Pause, Next, and a key marked SBX. Apparently, this last key is meant to launch the software, though I was unable to make this work properly during my use. These keys are all membrane keys, but they feel pretty decent to press. A Mute switch and Volume wheel round out the rest of the functions on the right side. I should note all of these keys are backlit, though they are set to specific colors. The keys on the top bar are all white, while the Mute key is illuminated red. The backlight of the Windows Lock and the Mute buttons will start flashing when their respective functions are active.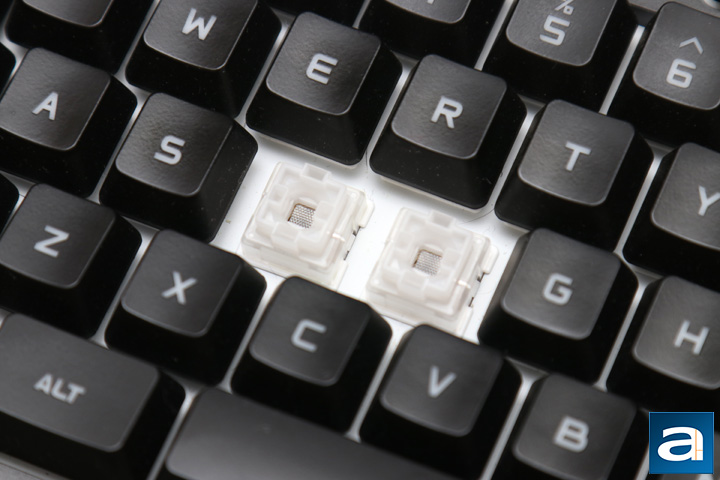 As for key rollover, the Creative Sound BlasterX Vanguard K08 offers NKRO, or more specifically twenty-six key rollover, over USB. NKRO is abbreviated for n-key rollover, which refers to the number of keys independently scanned by the hardware. In essence, this fixes ghosting issues found in cheaper and/or laptop keyboards. While ghosting is a marketing term, there are cases where keyboards will not be able to recognize more than one keystroke at a time, causing for missed keys. This can be frustrating when you are playing games, or even if you are just a very fast typist. On an aside, the original usage of ghosting in keyboards actually referred to a third key being registered when two other keys were pressed, which thankfully is not a problem with most modern keyboards.
Before continuing on, one of the main selling points of the Creative Sound BlasterX Vanguard K08 is the mechanical key switches. There are three main types of keyboards in the market today. The cheapest but most common is the membrane keyboard, which is the easiest to make, but also has poor typing feel and response due to squishy keys. Next is a scissor switch keyboard. This can be thought of as an enhanced rubber dome with two extra interlocking plastic pieces connected to the key and the keyboard. This creates a better tactile response and typing experience in comparison to the aforementioned membrane. Mechanical keyboards, such as the Sound BlasterX Vanguard K08, costs the most, because each key switch is an independent part. These switches are generally composed of a base, stem, and spring, with varying degrees of tactile and audible feedback.
Our unit of the Creative Sound BlasterX Vanguard K08 does not feature Cherry MX switches, but rather they feature Perceive-React-Execute Switches, or PRES for short. These were created in a collaboration between Creative and Omron. You probably have heard of Omron from our mice reviews, but they also make mechanical keys. In fact, Omron also worked with Logitech to make their Romer-G switches. These keys are rated to last up to seventy million keystrokes. While they do not necessarily have a flavor of switch, I would say these switches are most similar to Cherry MX Browns. This is because they feature a similar actuation force of 45g and a nonlinear key travel actuation without the audible click. However, they also have different traits, as their actuation distance is only 1.5mm and the total travel distance is 3.5mm. The Cherry MX Brown switches on the other hand both actuate and travel an extra 0.5mm further. As you can see also, PRES abandons the Cherry MX stems, so other keycaps are likely not compatible. The advantage of this is that Creative can now put an LED directly under the switch for better illumination, as we will see soon enough.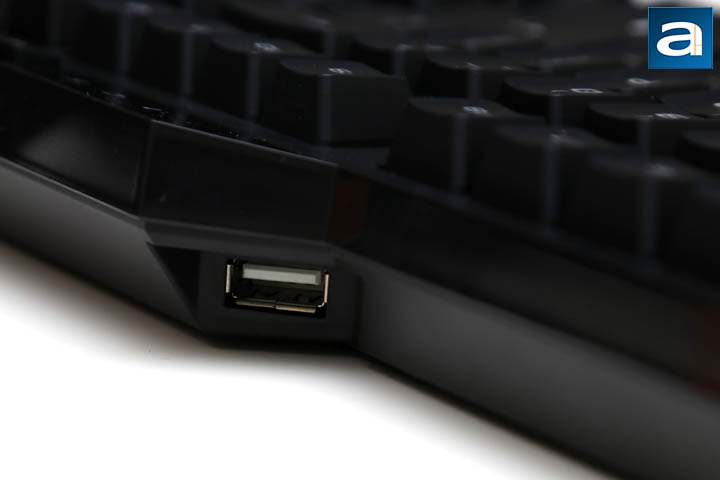 At the back, we have two things to point out, despite only showing one thing in the photo. First, we have the USB 2.0 output port. This port allows for both power and data transfer through your computer. While I would have liked to see something faster than USB 2.0, not many other keyboards have anything better here. It should be noted the port is angled in a forty-five degree angle away from the keyboard, which may make plugging and unplugging devices without looking a bit of a hassle. The second part to point out is the thick braided cable, protruding out the right side of the keyboard. This cable measures about 1.8 meters in length, and is surprisingly stiff. This is pretty typical for such a thick braided cable, but I would like to see a bit more flex. Otherwise, the cable splits off at the end into two USB plugs, with one to connect the keyboard and one for the extra USB port.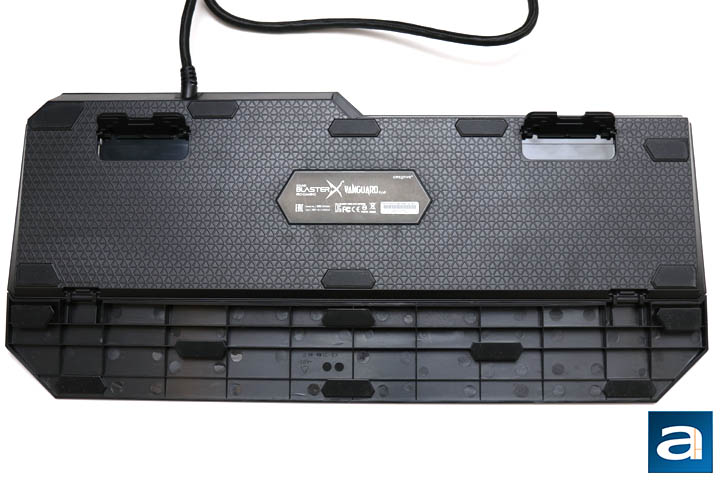 The last place to inspect the Creative Sound BlasterX Vanguard K08 is the underside of the keyboard. This bottom area is lined with a triangle pattern for a neat effect. The bottom is lined with not four, but eight rubber hexagons to keep the keyboard from unintentionally moving. Two large flip feet kick out at the back if you want to raise your keyboard, but they do not have any rubber ends to prevent any sliding. It would have been nice to see some grip on the feet, but it is not a huge deal. Finally, you can see there are another eight more rubber grips on the wrist rest too.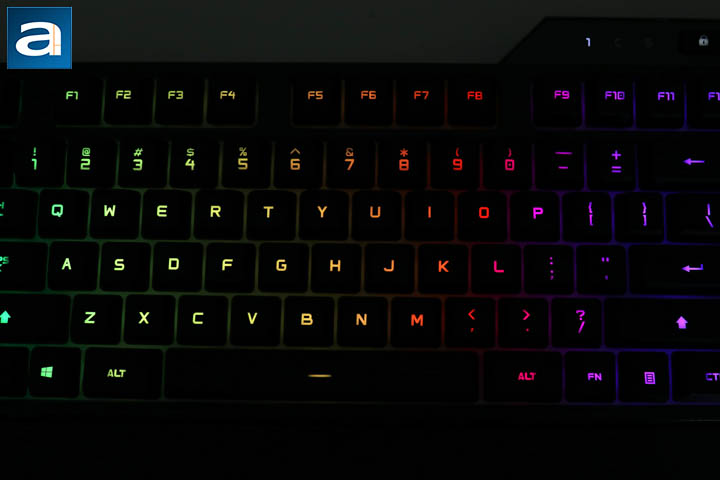 With the keyboard plugged in, we can now turn our attention to Creative's Aurora lighting on the Sound BlasterX Vanguard K08. As you can tell by the name, the lighting is RGB and looks amazingly vibrant. With the LEDs located directly underneath the keycap, the lights shine right though. Even better is the fact this lights up the whole key very well. On larger keys with words that spread across the key, such as "Caps Lk", there is a bit of fading on the sides, but it still looks evenly lit. Furthermore, the accuracy of the colors on the keyboard is surprisingly well done. Even the white backlighting looks neutral, with neither a blue nor yellow tint. One subtle thing I like is the fact they let the "X" logo follow the same lighting pattern as the rest of the keyboard, making for a very neat effect.
As for controlling the lights, everything is located in the software, but I will go over the effects here. Creative has implemented a total of four different modes including a Solo, Cycle, Wave, and Pulsate. Solo keeps the lights at a single color, allowing you to pick one of 16.8M colors. Cycle goes through a user selected set of colors. The keyboard lights will all uniformly transition through this set. Wave mode allows you to do a wave of different colors across the keyboard. You can also pick the direction of which the wave moves in, including in a clockwise and counterclockwise spiral. Finally, Pulsate makes the lighting fade in and out. All of the last three patterns allows you to select up to seven colors to use, and change the speed of the pattern. The last thing you can do is make a Custom mode, where you can change a static color of each key. I have to say I am quite surprised Creative did not have an audio synchronization effect, especially with Creative's roots in the audio industry. Either way, I think it would have been nice to see a few more effects in the lighting department.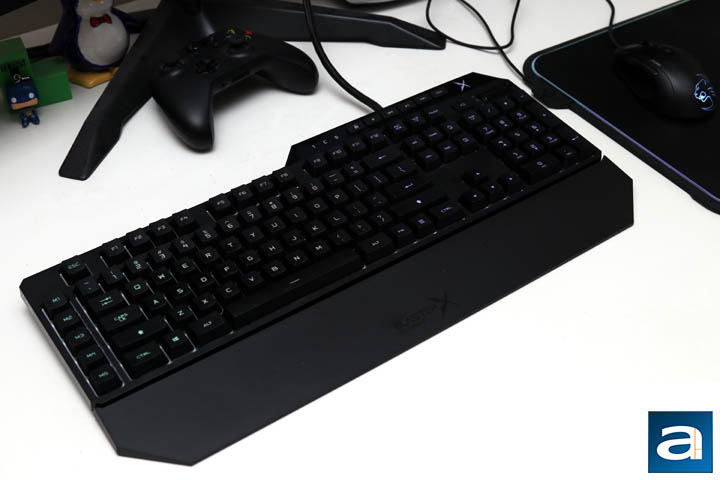 Despite this being my first time using PRES, or any Omron switches for that matter, I think it was an easy transition. As I have already mentioned, the PRE switches feel like a shorter travel version of Cherry MX Brown keys. In terms of feel, I think the Creative Sound BlasterX Vanguard K08 offers a very nice typing experience overall. The middle bump in actuation travel makes typing quite a joy, while actuation feels crisp and solid. The switches offer good bounce-back in terms of returning to their equilibrium position. They are also a bit quieter than Cherry MX switches, which is ironic considering the Sound BlasterX moniker. I also quite like this shorter travel, as it means I do not actually have to press down as much to actuate the keys. As you may have seen from the stem of the switches, the keycaps sit on top with four prongs going into the switch, making for a stable keycap feel with less wobble. There are also no inadvertent squeaks or sounds in the keyboard. As previously stated, these Omron PRE Switches have a seventy million actuation lifespan, and they definitely feel up to par in terms of durability. In games, the keys felt responsive, and I definitely benefited from the shorter travel. In the end, key switch preference still comes down to preference, and it would be best to try out the switch before buying them.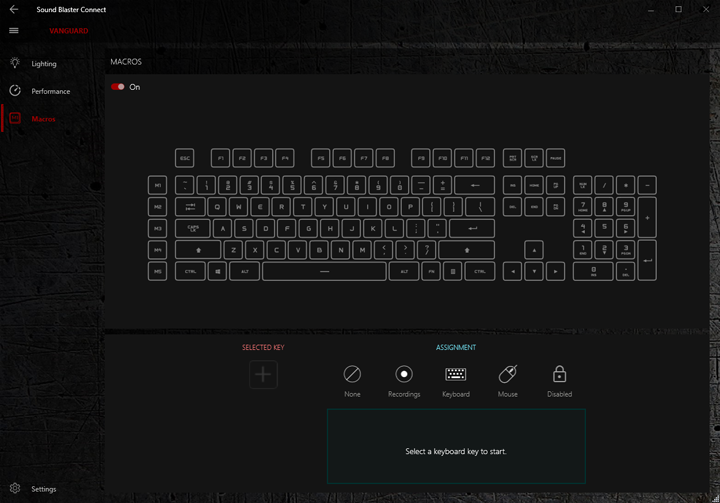 When it comes to the software, Creative made their Sound Blaster Connect software available from their website. It should be noted this utility is intended to be used with both this Sound BlasterX Vanguard K08 as well as their Siege M04. The download executable is relatively small at 61.4MB. When installed, the related installed applications takes up around 120MB. At release date, Creative has launched their Sound Blaster Connect version 3.1.20.0. You can also update your firmware for the Vanguard K08, with the latest being version 43.0.0.
With the Sound Blaster Connect utility installed, you can see there are three main tabs, as listed on the side. The first is Lighting, and all the available options have already been mentioned. A preview of the keyboard is visible to show users what they can expect for lighting. The next tab is the Performance tab, where you can change the repeat delay, repeat rate, and polling rate. Finally, the Macros tab is where you can setup macros for practically every key. This macro can be produced from keyboard actions, mice actions, or a recorded combination of actions. Overall, the software is decent, but there are some parts I think could be improved upon. For one, the software has an overall lag in using it, especially when changing colors. I think this comes from the fact it is continuously automatically updating the keyboard with every change you make, causing for a sluggish feel. This could be changed by removing this automatic polling and adding an Apply or OK button at the bottom to confirm changes. Secondly, there are several user interface issues I ran into, including the scaling of the entire application. For example, you can get into a window size where one tab will show all of the interface elements on the page, but with the same window size, another tab will have options cut off. At the end of the day, there are several areas I would like to see polished here, and hopefully we will see updates from Creative in this regard.
-----------------------------------------
I think one thing you can say about the solar eclipse of 2017 is that it did not disappoint. Whether you saw it in person or watched it live on NASA's live stream, that was a spectacle to behold. When it comes to the Creative Sound BlasterX Vanguard K08, there are so many elements to make this an attention-grabbing keyboard. The design is unique but relatively minimal for a gaming keyboard. It has an excellent feature set like a detachable wrist rest, dedicated macro and media keys, USB pass-through port, and even a volume scroll wheel! In addition, the collaboration between Creative and Omron for their PRE switches is quite astounding. For a non-Cherry MX mechanical keyboard, I do not miss anything from the German company. Finally, the Aurora lighting is one of the best implementations of RGB lighting, in terms of vibrancy and even the illumination itself. However, when you get down to using the Vanguard K08, there are several issues that start eclipsing even the beautiful RGB lighting. For one, build quality is called into question a few times. From the flex in the keyboard frame, a volume wheel that wobbles slightly, to an overly stiff cable, these small things start adding up. Secondly, while I am glad Creative included the wrist rest, I have to wonder why they did not make the connection any better. Finally, the software has some refinement to go through. The overall lag and user experience issues just make the utility feel like they shipped it out the door too early. To sum it up then, it is obvious there are some growing pains to work through when entering the gaming peripheral market. For a $140 USD price tag at review time, I have to say there are more proven and reliable options out there. However, to Creative's credit, they definitely have shown solid elements in the Sound BlasterX Vanguard K08 to build upon. I think if they can shore up some of the build quality issues and continue refining their software, they will have an eye-catching winner.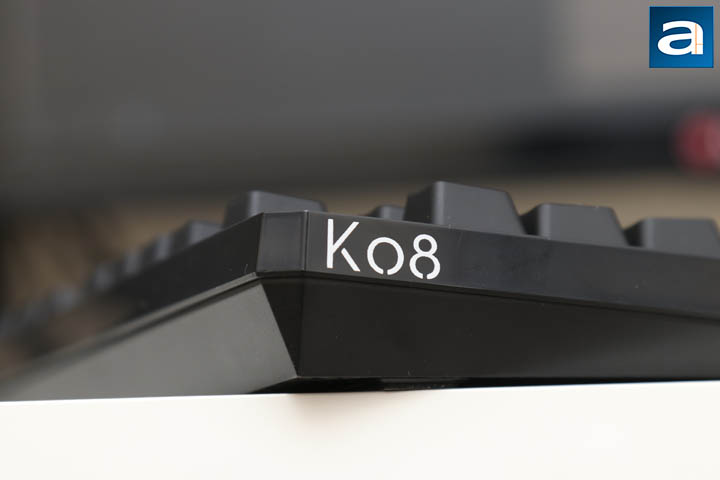 Creative provided this product to APH Networks for the purpose of evaluation.
APH Review Focus Summary:
7/10 means Great product with many advantages and certain insignificant drawbacks; but should be considered before purchasing.
6/10 means A product with its advantages, but drawbacks should not be ignored before purchasing.
-- Final APH Numeric Rating is 6.7/10
Please note that the APH Numeric Rating system is based off our proprietary guidelines in the Review Focus, and should not be compared to other sites.
The Creative Sound BlasterX Vanguard K08 has a foundation of solid elements, but some tweaking is required before it will really shine.
Do you have any comments or questions about the Creative Sound BlasterX Vanguard K08? Drop by our Forums. Registration is free, and it only takes a minute!