By: Aaron Lai
February 9, 2018
A month ago, we looked at the word "extra". To me, I would define it as over the top or excessive. However, today we look at a word at another word: Basic. What does a basic person look like? To me, a basic person is someone who is only interested with mainstream or popular trends. For example, a basic girl could be qualified as a female in Lululemon yoga pants, drinking a pumpkin spice latte, while posting a picture of her time to Instagram with a "#fallweather #starbucks #PSLife #drinksonme #<3" caption below. Basic boys would probably be doing something similar too. This is not to say these aforementioned things are bad, as I like a pumpkin spice latte once in a while. However, following in these trends can cause you to blend into the crowd with many other people rather than standing out. It is no reason why today when we received the CRYORIG H7 Quad Lumi, the first thing I thought was, "Man, this cooler is so basic". While you could say it actually looks basic in the sense it looks like every other cooler, I think it also follows the trend of having RGB lighting. This cooler takes the original CRYORIG H7 and adds two areas of rainbow lights in addition to a notable design change in the cooling department. On an aside, since not many other heatsinks have colorful lights directly on it, you could say this thing is also very extra. So, how do all these changes affect the core purpose of a CPU cooler, which is to keep the processor cool? And is its implementation of rainbow lighting basic or extra? Let us read on to find out!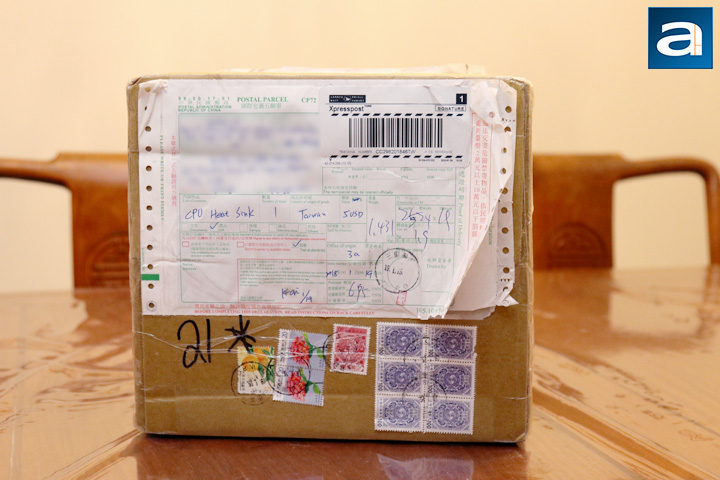 Today's review unit of the CRYORIG H7 Quad Lumi arrived to us from CRYORIG's offices in New Taipei City, Taiwan. Traveling to our APH Networks offices in Calgary, Alberta, this box arrived in decent condition, with no real issues to note of. Thankfully, Canada Post delivered this product from the border to our steps without leaving any worrying signs around the box. Otherwise, there is not much else to talk about, so let us take a peek at what is inside.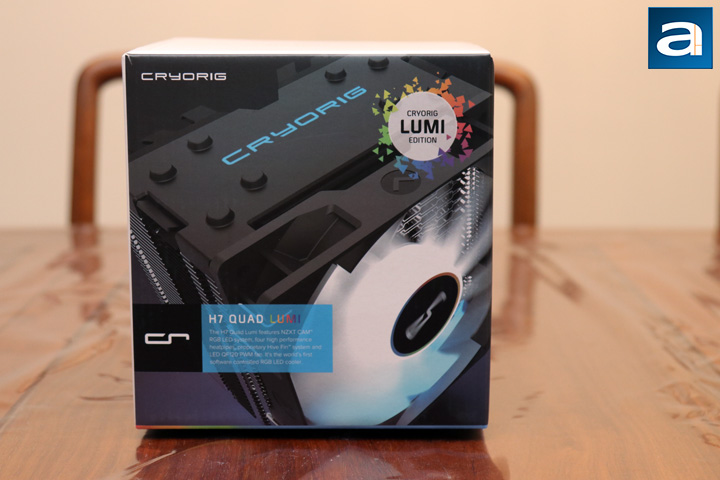 Similar to other CRYORIG products we have seen, the H7 Quad Lumi arrived in a black and white box with the product displayed on the front. Interestingly enough, this is the first CRYORIG product that is not just a combination of a letter and numbers. From the front of the box, you can see "Lumi" refers to the RGB LED integration with NZXT and their CAM software. The "Quad" part refers to the fact this model has an extra heatpipe compared to the original CRYORIG H7, making for a total of four heatpipes. On the other sides of the box, we have "H7" marked on the left, some features marked on the right, and specifications of the unit on the back.
Before we continue, if you are interested in the aforementioned specifications, we have grabbed them from the manufacturer's website for your perusal:
HEATSINK SPECIFICATION
Dimension ( with fan ): L98 mm x W123 mm x H145 mm
Weight ( with fan ): 713 g
Weight ( without fan ): 585 g
Heat pipes: 6mm heatpipe x 4 units
Fin: T = 0.4 mm ; Gap = 2.2 mm
Fin Pcs: 40 pcs
Copper Base: C1100 Pure copper nickel plated
RAM Height Limit: Limitless
TDP: 160 W
QF120 LED SPECIFICATION
Dimension: L120 mm x W120 mm x H25.4 mm
Weight: 128 g
Rated Speed: 330 ~ 1600 RPM ±10 %
Noise Level: 10 ~ 25 dBA
Air Flow: 49 CFM
Air Pressure: 1.65 mmH2O
Ampere: 0.25 A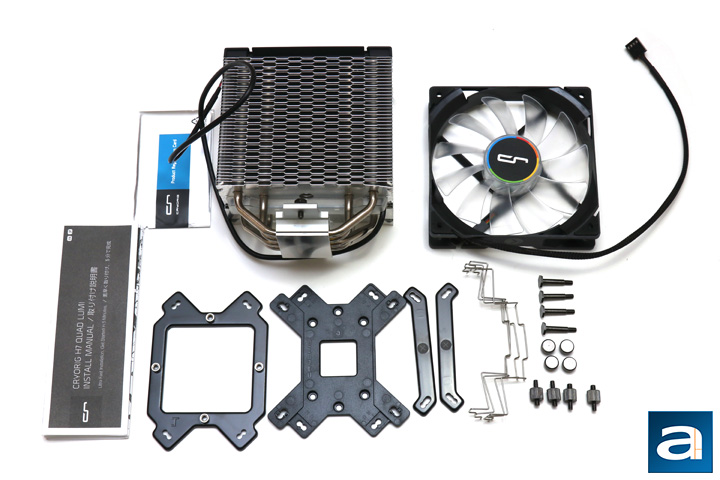 Out of the box, the CRYORIG H7 Quad Lumi comes with quite a few accessories. Once again, the box is a pretty small package, which means there is not a whole lot of wasted cardboard. Out of the box, we have the H7 Quad Lumi with a QF120 LED fan attached. Other accessories include mounting parts such as screws, arms, backplate, and fan clips. With the included mounting accessories, users can mount the H7 Quad Lumi on Intel LGA2011/V3 and LGA115x sockets, as well as AMD's AM4, AM3/+, AM2/+, FM2/+, and FM1 sockets. A tube of CRYORIG's CP7 thermal paste is also included, though it eluded the photo above. Finally, a user manual with a product registration card comes with the whole kit. For your information, CRYORIG offers a standard three year warranty, though this extends to six when you register the product. This is a pretty good as it matches up with Noctua's coverage length.
---
Page Index
1. Introduction, Packaging, Specifications
2.
Physical Look - Hardware; Installation
3.
Test Results
4.
Conclusion