By: Paul Dwalibi (Debut Review)
July 5, 2011
Australia -- what a glorious country. I may be biased in my observations, but no one can deny its epicness: Riding kangaroos to work, having a conservative political party called "Liberals", celebrating Christmas in the summer, and having everything in general upside down are just a few things to mention. As truly nice as Australia is to live in, we are often hard done by hardware and software vendors who delay release of their products compared to the release dates in the United States. Take Apple's range of mobile devices, for example. They have only recently begun to release the iPhone and iPad worldwide on the same date. How about Microsoft? Same deal with Windows retail boxes appearing in stores months after their stateside release. Same again with most Android phones getting released in East Asia or Europe before Australia. But not all is futile. Take Cubitek, for example. Their XL Tank chassis was released in most major worldwide markets at the same time, Australia included. So we were really excited to have the chance of reviewing one of these cases in our Sydney office, for the first APH Review, Australian Edition! However, before moving on to the review itself, I would like to point out an unfortunate incident. You know, as Australia is well known for being the upside-down land and all (Both geographically and culturally), it's only natural that I have encountered some "technical difficulties" with some of my photography. But never fear; said issues were pretty much ironed out after the first photo. Let's move on and see what we found!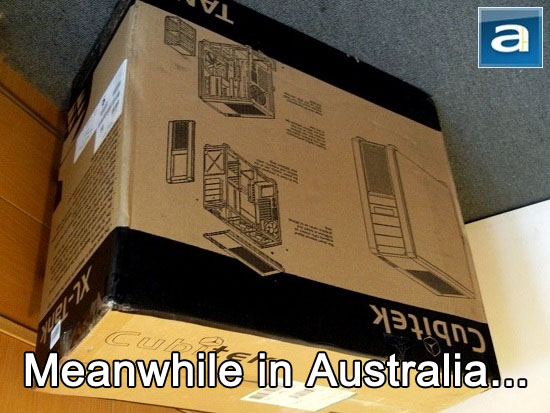 Our review unit of the Cubitek XL Tank arrived at our first Southern Hemisphere office in Sydney, Australia, courtesy of Mwave, a local Cubitek distributor. After some unforeseen delays, the case was finally delivered on a Tuesday afternoon by Australian Air Express, and arrived in better than average condition. It just so happened that I had an unusually short day at university, so I was very excited to get my hands on it and get started with the review. As you can see, I have encountered the aforementioned geographically-dependent technical difficulties in my initial review photo. The external brown corrugated cardboard box was slightly the worse for wear, being rather creased and dented, I'm happy to say once I cracked the box open, I discovered that the case itself had sustained no visible damage.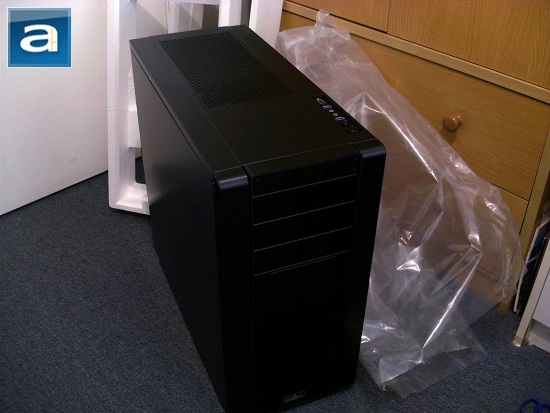 Upon opening the box, we found the Cubitek XL Tank itself, packaged as most chassis are nowadays. It was placed in a large plastic bag, which was then sandwiched snugly between two pieces of Styrofoam at each end for protection. Despite being couriered in its retail box with no additional external packaging, the case arrived in mint condition.
Let's take a closer look at the specifications of the Cubitek XL Tank, as obtained from the manufacturer's website:
Model Number :CB-TKI-B410
Drive Bay: External: 5.25" x 4 (one 5.25" to 3.5" converter included)
Internal: 3.5" x 6 + 2.5" x 2
Size (WxDxH): 230 x 490 x 525mm
Material : Anodized 5052 aluminum
Motherboard type: XL-ATX, CEB, ATX, Micro-ATX, Mini-ITX
PCI slots: 8
Front I/O : USB 3.0 x 2 / E-SATA / HD+AC-97 audio
Maximum Graphics Card length: 310mm
Maximum CPU Cooler height: 190mm
Maximum PSU length: 220mm
Cooling: 230mm front fan, 140mm rear fan, 140mm top fan x 2
Side Panel : Aluminum
Internal Finishing: Aluminum
---
Page Index
1. Introduction, Packaging, Specifications
2.
Physical Look - Outside
3.
Physical Look - Inside
4.
Installation and Conclusion