By: Jonathan Kwan
August 14, 2007
I know many computer enthusiasts and hobby overclockers who enjoy trying out new parts and installing new components every other week. Actually, let's put it this way -- I am one myself! One of the most prominent problems that I have experienced firsthand is, with our carefully selected and assembled components inside beautiful cases, it may not be always practical to disassemble the whole computer and reassemble them just because you need to reapply some new thermal paste between your CPU and the heatsink. Or when I recently picked up the latest motherboard, but just wanted to see how much it overclocks before I invest the next 2 hours taking out the old motherboard, installing the new one, and rewire the power supply cables so it is out of sight. No, that's not happening -- and for this purpose, at one point I actually tested a motherboard on my desk with a static bag in between and a couple of cardboard boxes to give it a gap between. All this is going to change today though -- with Danger Den's Torture Rack (No, it's not X-Rated, as certain readers inquired about the name) aimed at this particular crowd for this very purpose, how practical and well does this product serve it is criteria? Check it out -- you might end up wanting one as much as I did!
Known for their water cooling products, I wasn't overly aware of other enthusiast computer products offered by Danger Den. On the other hand, when learned of the presence of this Danger Den enthusiast product last month, it definitely got me interested!
Our review unit of Danger Den's Torture Rack came in a huge box using FedEx Ground, in which they just left on my doorstep as I came home that afternoon. The box is in an acceptable condition, so I won't blame FedEx -- it weighed quite a bit more than I thought I would.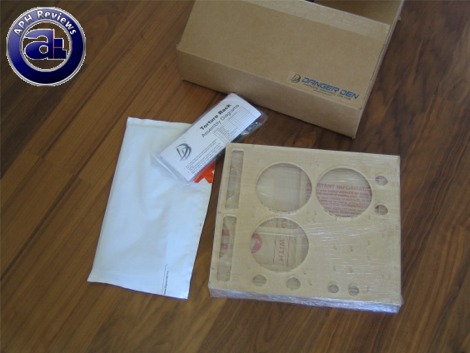 Much to my surprise, Danger Den packed the actual content in another box inside the shipping box with large, soft foam padding on both sides to prevent damage. Because of this careful packaging, everything arrived in perfect condition. After all, I don't think clear acrylic pieces are that forgiving to the tortures of shipping (No pun intended).
Out of the box, we received assembly pieces of the Torture Rack tightly wrapped in plastic, so we kind of felt like we were buying these materials from Home Depot. Also included is a step-by-step assembly guide as well as required accessories for putting the unit together. Inside the sealed partial portion of the plastic FedEx envelope is an I/O bracket for the Torture Rack -- you'll get to see what it is later in this review.
Before we move on, let's take a look at Danger Den's provided information on the Torture Rack, as obtained from their website:
The Torture Rack was originally created for internal Danger Den testing. A solution was needed that put the commonly changed components on the top level and the rarely changed items (hard drives, CD drives, PSU, etc.) on the bottom level out of the way.
The Torture Rack also has wow factor with acrylic panels. The motherboard tray standard color is clear but is also available in red, blue, green and yellow UV colors. An optional top and front plate are also available for closing up the system after testing or for taking it to a LAN party.
Specifications:
- Motherboard – ATX and Micro ATX
- Supports ATX PSU
- 3 x 3.5" Internal Drives
- 1 x 5.25" External Drive Bay
- Supports up to 8 x 120mm case fans
- Compatible With Aftermarket Air Coolers
- Strong and Durable Acrylic construction
- Size: 14.7" x 12.1" x 14.4" (373mm x 308 x 365mm) W x D x H
- Black Ice Series I or II radiators (Xtreme, Pro, GTS, and GTX)
---
Page Index
1. Introduction, Specifications
2.
Build Quality, Assembly
3.
Installation and Conclusion