By: Jonathan Kwan
October 8, 2010
In the past, I always wondered how TV and movie producers pulled off those fast action, heart thumping camera angles from a car right at bumper level, footage sourced from underneath an airplane while it is landing, views from the side of a speedboat riding the waves at incredible velocities, and whatnot. The funny thing is, despite this interest, it actually never extended beyond just thoughts crossing my mind that should have materialized into a couple of quick Google search queries. The illogical and unscientific part of me simply assumed it probably involved equipment that are out of reach, or simply impractical, for amateur hobbyists like me. After all, they do have budgets higher than what poor technology writers such as yours truly would make in a lifetime. (Okay, I lied, my main thing is Electrical Engineering, but you get the idea, haha.) If you ever wondered the about this, or still are wondering about this, then you are in luck -- because we have quite a practical answer to that question. Say hello to the Delkin Fat Gecko, a universal mount that can accommodate a camera weighing up to eight pounds on any smooth surface. That's right -- any non-porous surface. With a strong, rugged, steel frame construction, double knuckle design for any shooting angle configuration, and a duo of very hardcore suction cups, the company claims nothing less than it being "one extreme mount for extreme conditions". The good news does not stop here, either. Designed for consumers and professionals alike, it is extremely easy to use, and comes in at a very reasonable price of $90 at press time, so you don't need to remortgage your house just to afford such equipment. Pumped up and ready to make your own knockoff version of Top Gear? Read on to see our review of the Delkin Fat Gecko!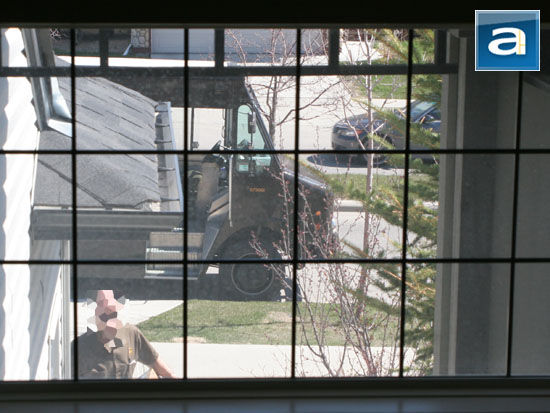 Our review unit of the Delkin Fat Gecko came in a medium sized, brown corrugated cardboard box from Delkin's corporate headquarters in Poway, California, USA to us here at Calgary, Alberta, Canada. Using UPS Saver, everything appeared to have been handled in a proficient manner throughout its trip, and arrived in excellent condition. Once again, the same brown-suited UPS man (Shown pixelated in the image above, before the popo comes and shuts us down) who came at least a dozen times in the past few weeks arrived once more to deliver the package -- the most recent being our QNAP TS-559 Pro+ review from a couple weeks back. Here's one location where he probably didn't need to look up, haha.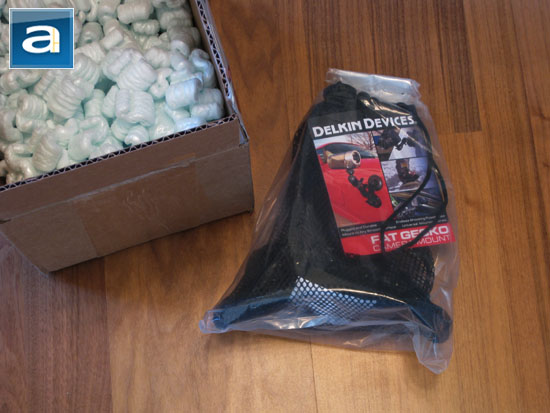 Moving the army of packing peanuts aside, we are greeted with a retail package of the Delkin Fat Gecko. Encased within an appropriately sized mesh bag, the opening is sealed by a drawstring and cord lock, designed for the user to travel with the camera mount when it is not in use. It is extremely simple with practically no excess packaging. As shown in our photo above, you will receive one Fat Gecko camera mount, a feature highlight card, and an instruction sheet from the manufacturer. Usage is generally straightforward and very intuitive; for the most part it is probably not necessary to even open the guide to see how to use it. It is simply common sense. But for the sake of your expensive photo and/or video equipment, I would recommend you to read it anyway. Cameras as projectiles on hard concrete usually do not end well!
Before we move on, let's take a look at the features of Delkin's Fat Gecko camera mount, as obtained from the manufacturer's website:
- Works With All Cameras: The ¼ x 20 tripod mounting screw means you can use virtually any digital still or video camera on the market.
- Rugged Construction Durable For Years: Steel frame construction is rugged and durable in design and construction, this steel mount can withstand the most extreme turbulence.
- Expandable Mounting Options: Loosen the top-most clamp to remove the standard ¼ x 20" photo mounting screw and the Fat Gecko can adapt to mount an array of other devices, including GPS systems, aircraft antennas and more.
- Double Knuckle Design: Allows for 360° tilt, 360° turn & 360° rotation for all the best filming angles in any activity - whether the mount is attached to an airplane canopy above your head or the side of your Ducati.
- Dual Suction Cups: Secure cameras to any smooth surface including; motorcycles, cars, airplanes, and more. Fat Gecko's suction cups are so strong they can safely and securely hold a camera weighing up to eight pounds. With Fat Gecko you can use heavier, more advanced video cameras to provide the best footage possible.
The Delkin Fat Gecko is made in the USA, featuring a solid steel frame construction and painted black in color for a subtle look. The entire unit feels extremely solid to hold, yet weighs only 1.40 lbs, according to the manufacturer. Not a single part of the Fat Gecko can be remotely considered flimsy. This is especially important, since the manufacturer claims this product can hold up cameras weighing up to eight pounds, while capable of withstanding a large variety of forces in a wide array of operating environments. Measuring in at 23.0cm tall, 19.0cm wide, and 8.5cm deep at its longest points, you literally can't go more than five centimeters on this camera mount without finding some implementation of a mechanical element. And this is what that makes the Delkin Fat Gecko worth the money -- the sheer complexity to accommodate camera position at virtually any shooting angle from virtually any mounting angle, carried out in such a simple manner, is definitely something to marvel at. This is what Delkin calls "360° tilt, 360° turn, and 360° rotation".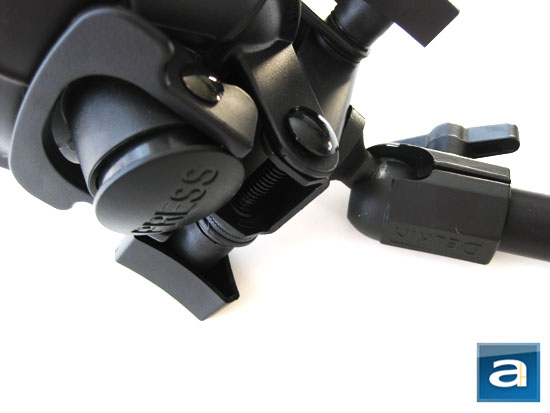 Let us take a closer look at the Delkin Fat Gecko's mechanical elements. From the bottom, we have two large suction cups to ensure a secure fit on any clean, smooth surface. By "large", it means having an 8.5cm diameter to each suction cup. And by "smooth", it means most metal, plastic, or glass surface would work well. Just if you wonder if such a method of attachment is truly capable of withstanding strong turbulence and G-forces without dropping your expensive filming equipment during operation, keep in mind this is certainly not your run-of-the-mill GPS windshield mount. Firstly, each of the mega suction cups is attached to the main frame by two strong metal joints. Both of them can be tilted at their respective joints to stick to surfaces with varying gradings, after which they can be tightened. Secondly, the buttons labeled 'Press' at the top of the independent suction cups (Shown in our photo above) are designed to be suppressed once the desired mounting position is found, and are used to create a vacuum inside the suction cups. A pull lever is to be engaged to lock the mount into place. Just to see how secure the attachment is in conjunction with the build quality and strength of the Delkin Fat Gecko, I went out and about to see how well it works out in the real world. What I have found is that you can do stuff like rock your car back and forth, pick up a desktop computer, and the such. Also, try attaching it and then pull it off your house window without properly releasing it. Well actually, don't... you might actually break something. And that 'something' is probably not the Fat Gecko. That said, the quick release mechanism still allows this camera mount to be easily removed from its residing surface. Yep, this is not your run-of-the-mill GPS windshield mount. Not even close!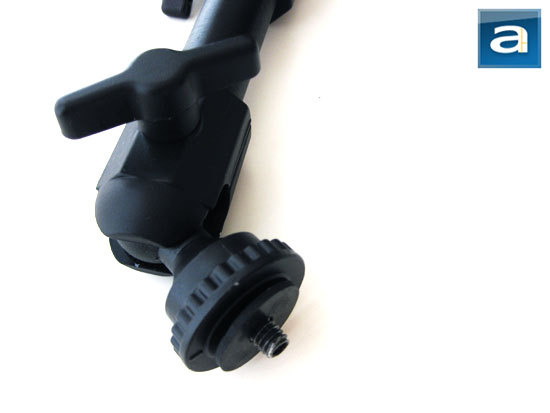 Finally, at the top of the Delkin Fat Gecko is a ¼ x 20" device mounting screw, which is the standard interface for attaching pretty much every photo and video camera out there. As aforementioned, this camera mount can hold equipment as heavy as eight pounds. If you need some idea of what you are allowed to carry, a Canon EOS 5D Mark II with 24-105mm L-series lenses is only 3.25 lbs in approximation -- so if you have anything more hardcore, there is plenty of buffer room to ensure all the right equipment can be used safely. To attach your camera, simply screw the Fat Gecko into it, tighten its base with the rubber washer in between, and your setup is all snug and ready to roll.
If you would just take a peek at our photo above, you will see one of two ball joints found on the Fat Gecko. Both of them are implemented in the same fashion. Each corresponding clamp can be fully rotated and tilted around its respective ball joints for 360 degree rotation in virtually every direction, in order to ensure the user's desired shooting angle is met without compromise. This is the 360° tilt, 360° turn, and 360° rotation thing we were talking about earlier, set for virtually any shooting angle from virtually any mounting angle. There are some minor limitations of which angle can be set, but it is not significant. Once again, the rotation points are to be tightened by a clamp-and-screw design once the final shooting position is found. It is a very strong and secure clip, so rest assured that the set angle is not going to shift afterward.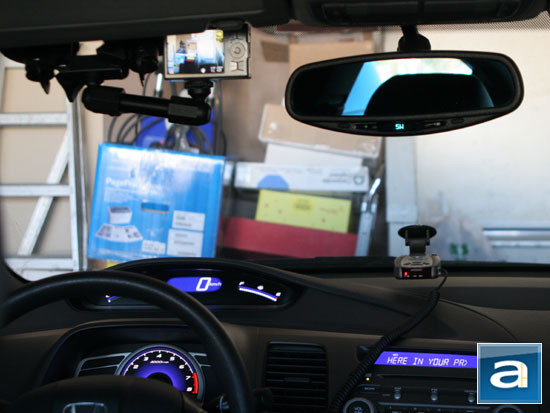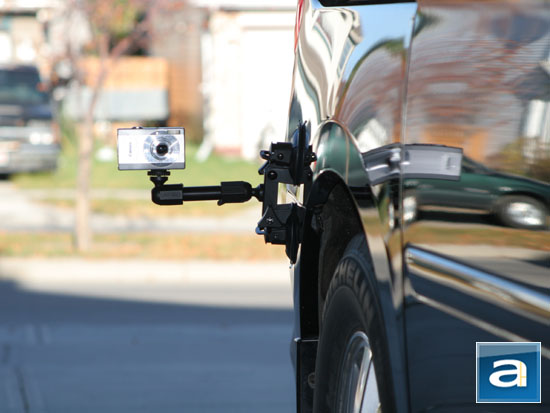 Due to the nature of Delkin's Fat Gecko, there are pretty much infinite ways of where it can be used. Whether you want to mount it outside your car, motorbike, airplane, water ski, or snowmobile -- any non-porous, smooth surface can be securely mounted on, inside or outside. The only thing you need to worry about is having the right shooting equipment, haha. And it can used for a wide variety of purposes, too. Whether you want to pull those wheel well shots at low ground clearance, to filming yourself driving inside the car (After all, that's how they do it in Top Gear!), the possibilities are simply endless! Even if you aren't using it in any exquisite external locations, there are plenty of stationary places where the Delkin Fat Gecko can possibly be used -- such as inside your house -- where a tripod normally cannot be set. Shown above is my camera installed inside my Honda Civic high on the windshield looking down on the road, while the second photo demonstrates external body mounting near the back of my Honda Odyssey. If it has a relatively flat, smooth surface that is large enough, then you can install a camera there with a Delkin Fat Gecko. Unleash your creativity -- this product is as capable as your imagination can go!
-----------------------------------------
Usage and Demonstration
The first thing I want to demonstrate is a video created using the Delkin Fat Gecko camera mount. The first part of the clip embedded above shows usage of my camera set outside my vehicle, while the second part is a footage obtained from inside my car. I do not have any other particularly 'extreme' scenarios, since I don't know how to fly a plane and the such, haha. You can clearly see how secure and stable the mount is from the video -- absolutely impressive stuff! To be honest, from a consumer perspective with my collection of equipment, the possibility of my camera falling off the mount is by far the least of my worries. As mentioned earlier, how well it sticks to the surface is quite incredible. What I am concerned about is my equipment's exposure to dust, debris, liquids and other unpredictable things when being operated outside at fast speeds, not to mention a lot of wind noise over condensed microphones (I have unmuted a small part of the clip to let you get a grasp of what I am talking about). If Delkin makes a transparent enclosure to allow users to use with the Fat Gecko that completely encloses consumer cameras and/or prosumer dSLRs, it would unleash a whole new legion of possibilities -- because it would enable us to shoot in environments we are unable to do so at the moment!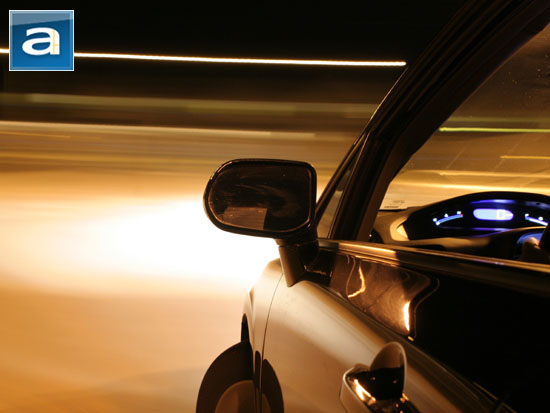 If you are used to reading automotive magazines or websites with photos where you would swear the car is moving at extra-legal speeds, it is merely photography technique. Read "The Art of the Rig Shot" on Inside Line -- it gives a lot valuable insight into how it is done in real life, using equipment like the Delkin Fat Gecko along with a dSLR camera only. My Honda Civic probably isn't the best example to demonstrate that, with the digital speedometer clearly shown at this typical angle. However, in the context of this review, it does show you what is going on behind the scenes. Our demonstration photo above was actually taken in an empty parking lot at 10pm. The speed of the car? Well, let's put it this way: It's so slow, the speedometer does not even pick it up, as shown. But it looks incredibly cool. The funny thing is it actually does not work as well if I went any faster.
-----------------------------------------
Now that you know about the Delkin Fat Gecko and what you can do with it, the mystery behind many of those fast paced video footage on TV and cool camera shots in car magazines is a mystery no longer. The Delkin Fat Gecko is a very well designed camera mount that can be used in many places for virtually any shooting angle. Combined with solid build quality (After all, you are going to trust it with some expensive stuff), and capable of accommodating equipment as heavy as eight pounds, this product is truly a must-have for professional and hobbyist photographers/videographers alike. It is not only a very capable mount, but also very practical and easy to use for the average consumer. The only thing I am concerned about is the safety of my non-specialized equipment when operating externally, and I believe this problem can easily be rectified if Delkin sells a compatible camera enclosure, so we can safely use our equipment anywhere. After all, I don't think many users would think it is not worrying to drive down a highway at 80mph with an Canon EOS 5D Mark II with expensive L-series lenses hanging outside their car filming HD footage while unprotected. Sand, rocks, and puddles are not our friends, whether the equipment on the Fat Gecko costs $300 or $3000. Other than that, for approximately $90 at press time, I think it is a reasonable price to pay for the quality and innovation you are about to receive, and its ability to unleash your unlimited creativity potential. By the way, be sure to give me a call when you are ready to film your first knockoff episode of Top Gear. I can be The Stig. I promise I won't tell anyone about it.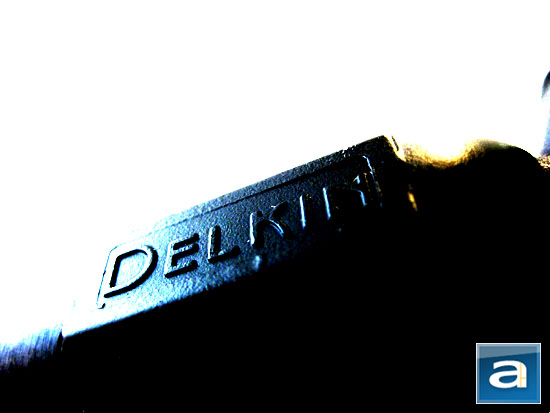 Special thanks to Tom over at Delkin for making this review possible.

APH:Renewal Award | APH Review Focus Summary:
8/10 means Definitely a very good product with drawbacks that aren't likely going to matter to the end user.
7/10 means Great product with many advantages and certain insignificant drawbacks; but should be considered before purchasing.
-- Final APH Numeric Rating is 7.9/10
Please note that the APH Numeric Rating system is based off our proprietary guidelines in the Review Focus, and should not be compared to other sites.
The Delkin Fat Gecko is an extremely solid camera mount that can be securely attached to endless things, at any angle, for every shooting angle.
Do you have any comments or questions about the Delkin Fat Gecko? Drop by our Forums. Registration is free, and it only takes a minute!