By: Aaron Lai
August 10, 2018
Personally, I have always had a weird feeling about deciding between console and PC gaming. This is one competition that has gone back for many years. Personally, I think there are pros and cons to both sides. On the console side, it provides a no-nonsense environment to play games. You will see exclusives that are for the systems, especially with Nintendo. Furthermore, upgrading within generations of consoles is not necessary, as the hardware to play these games stay consistent during its existence. Even if you do see minor upgrades, they generally do not inhibit you from playing the game altogether. As for PC gaming, while the initial cost for gaming is definitely higher, computers provide more function than just gaming. As well, you can see a much greater variety of games and a larger library overall. Not only are all the old games available to newer gamers, but some genres of games play only well on computers. This stems from the fact these two types of systems provide different types of inputs. Computer gaming is done mostly using a keyboard and mouse, while consoles use controllers. However, today we have something crossing the line, as we have a game controller on the PC side. While this is nothing new, this is from a lesser known brand in the name of EasySMX. Is this controller any good or should I just stick to gaming with a keyboard and mouse? Read on to find out!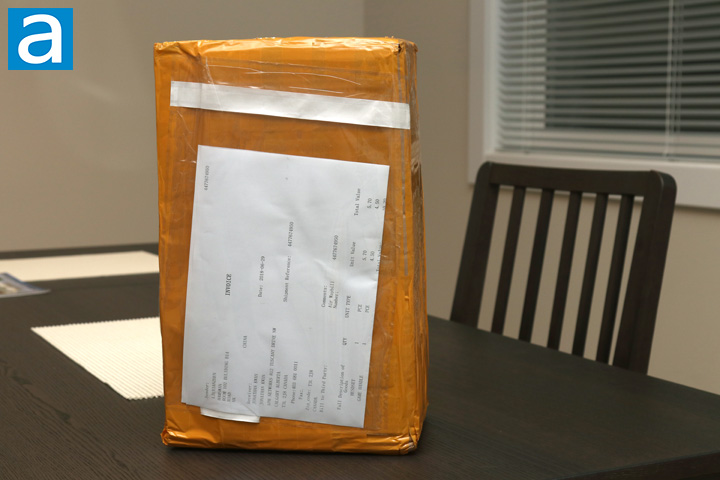 Today's review unit of the EasySMX ESM-9013 arrived from Hong Kong. Traveling ten thousand kilometers -- and some several more -- this box was shipped to us via the typical yellow shipper, DHL Express. Otherwise, the whole package is sealed with this goldenrod yellow tape to ensure no one has gotten into the box. It also should protect the container from sharper objects piercing through the box. Along with the wireless gaming controller, we also have a headphone that we will be giving opinion to the manufacturer privately.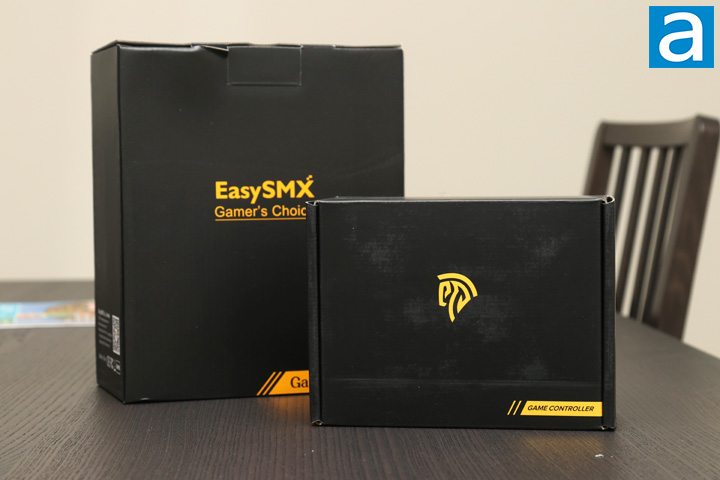 EasySMX is not exactly a well-known brand in terms of gaming peripherals, but they do have some presence on online retailers like Amazon and Newegg. Headquartered in Shenzhen, China, this company sells all sorts of peripherals like mice, keyboard, headsets, and controllers. Our EasySMX ESM-9013 came to us in a standard black cardboard box with some yellow highlights around the container. The horse head logo is smack on the front with a description of "Game Controller" in the bottom right corner. Its name can be found on the side of the box. I personally would have prefer to see the controller with a better name than a bunch of letters and numbers, but I guess it is not a big deal. Elsewhere, we have some specifications and contact information, but overall the information is limited. The box opens up from the bottom flap, so let us head inside.
Before we do so, let us peruse the sparse specifications from the manufacturer's website:
Data sheet
Compatible Platforms: PC, PS3
Length: 77 mm, 3.03 in
Width: 135 mm, 5.31 in
Height: 175 mm, 6.89 in
Weight: 220 g, 0.49 lbs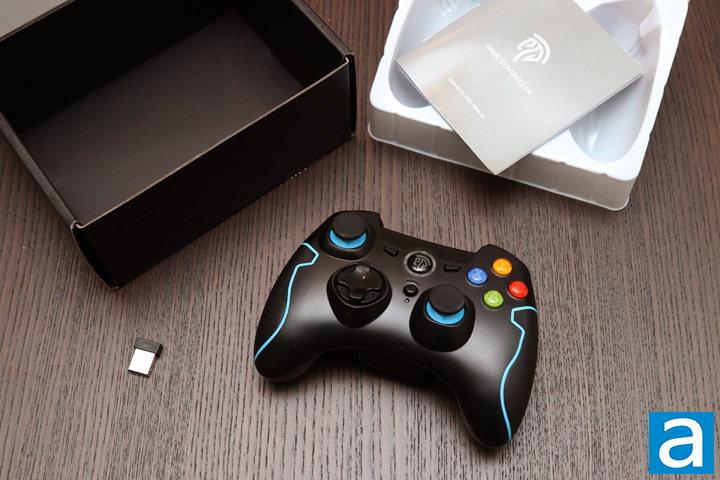 Out of the box, you have a pretty sparse set of accessories. Along with the ESM-9013 wireless controller, we also have a small USB adapter. This controller utilizes a wireless 2.4GHz signal, so the adapter is necessary to connect the controller to your computer. According to the manufacturer, we should get approximately 32.8ft in range, though I doubt you would be that far from your monitor or television. Both the gamepad and the USB adapter are fitted in a plastic shell. As you may have read, the controller can be plugged into either a PC or a PS3, but nothing in the current generation of consoles or any Xbox. Otherwise, we have a small manual with some more specifications about the controller. There is not a whole lot else to look at, so let us move onto the wireless gamepad itself.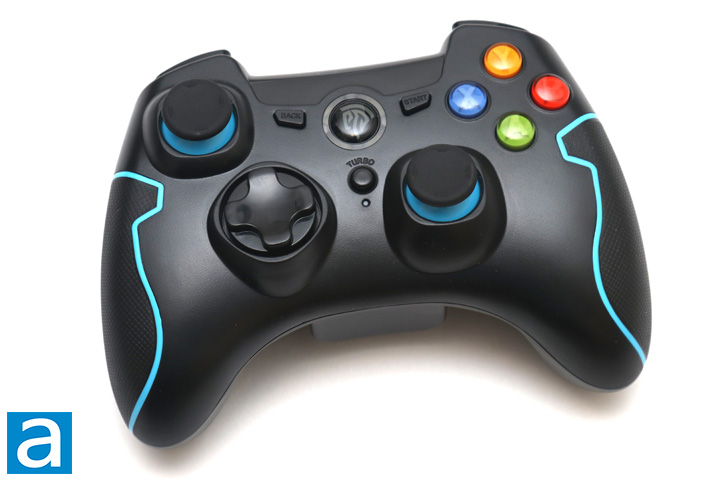 If there is anything you may immediately say about the EasySMX ESM-9013, its resemblance to the Xbox 360 controller may be the first. Whether it is the multi-colored ABXY keys, the curvy body, or the overall layout, the ESM-9013 looks a lot like the older Microsoft gamepad. There are some differences of course. The whole enclosure of the ESM-9013 is a black plastic shell with a matte-ish finish. Unlike the Xbox 360 controller, the sides are rounded out with a grippy finish. EasySMX has put a few more accents with the light blue framing found around the side grips as well as under the two thumbsticks. If blue is not your style, they also have a red one available. With dimensions of 175mm in width, 135mm in depth, and 77mm in thickness, this controller is slightly bigger in all dimensions compared to the wireless Xbox 360. With batteries installed, the ESM-9013 weighs 269g, which is only four grams heavier than the wireless Microsoft one. This is a pretty good weight and it balances out nicely since majority of the weight is in the batteries.
In terms of layout, the ESM-9013 has a familiar one as we have mentioned. On the left side we have a thumbstick with a D-pad underneath. This directional pad can activate diagonally as well as the typical directions. On the right side, we have another analog stick with the four ABXY buttons above it. In between, we have a back and start button with a connection button in the middle. Around this logo button is a blue indicator to toggle between different input modes. Finally, we have a classic "Turbo" button, which allows you to activate multiple button presses with just one press. It is interesting as you probably have not seen this button recently, but it is definitely more prominent on third-party controllers.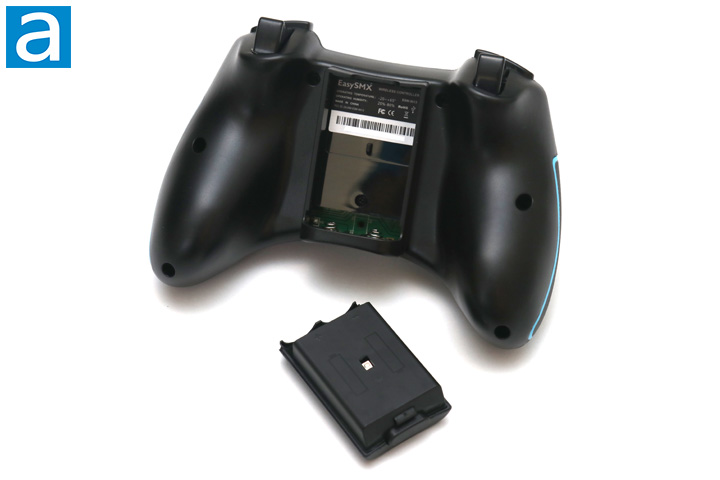 As for the back, you can see the battery holster in the middle. The EasySMX ESM-9013 takes two AA batteries. However, there is no port to recharge your batteries directly through the controller. This is not too surprising consider EasySMX does not restrict the type of battery used. Underneath the battery pack, a small label specifies an operating temperature range of -20 to 65 degrees Celsius, which should be fine for most of our Canadian days except for some of the worst winter nights. As for battery life, EasySMX says your batteries should last up to twenty hours of gaming, though it will depend on your usage of the vibration motor or the type of batteries. While we are on the same topic, two vibration motors are inside for some tactile feedback. We do not have any form of On/Off switch here, but the controller does go to sleep if it remains inactive for a while.
Near the top, there are two sets of triggers marked LB/RB and LT/RT. The LB and RB buttons are standard push buttons, while LT and RT are analog in nature, which means your PC can register how far down you have pressed down these triggers. This is handy in games like racing games, where you can use this for actions like acceleration or braking.
Setting up the EasySMX ESM-9013 is an easy task. It would have been nice to see it just be a plug and play controller, but you may have to download some drivers to get it working. As with the resemblance of the Microsoft controller, the EasySMX ESM-9013 also uses Microsoft Xbox 360 Accessories drivers. You can download these drivers either from Microsoft's website or from the manufacturer. After downloading and installing these drivers, which was a little under 8MB in size, the controller could be used as expected.
-----------------------------------------
The Tests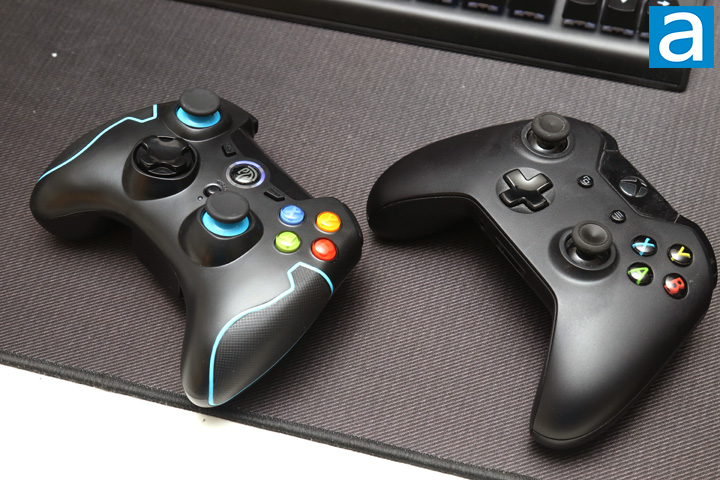 In order to truly test a gamepad, it only makes sense to play some games with it. For my tests, I decided to throw a bunch of different genres of games at it. This includes a 2D platformer in the form of Ori and the Blind Forest, a racing game in the form of Need for Speed: Most Wanted, and a first person shooter in the form of Overwatch. For comparison's sake, I took my impressions against a real Xbox One controller. Both of these controllers operate wirelessly.
Jumping into the platformer, Ori and the Blind Forest is one game I have truly loved for a long while. While you can play platformers on your keyboard, there is something nice about having a controller to travel with Ori around the forest of Nibel. Ori and the Blind Forest was originally released three years ago, but I still really enjoy it. As for the controller experience, everything felt quite responsive overall. Compared to the Xbox One controller, the one I have been using for most of my platformer games, the EasySMX ESM-9013 feels just as easy to use. Its familiar layout was quite easy to get used to. The buttons were a bit stiffer than what I was used to, but overall, still felt good. If there is one thing I would notice immediately different, it is the concavity of the analog sticks. While the Xbox One controller have relatively deeper thumbsticks to give users an easier grip on them, the ESM-9013 sticks do not cave in as much. This translates into requiring slightly more downward pressure to keep the push these mini joysticks in the intended direction.
Moving to Need for Speed: Most Wanted, which is a casual open-world street racing game, a lot of the similar characteristics I have mentioned before still apply here. Overall, there was nothing bad about the ESM-9013. As I mentioned previously, I mapped the two analog triggers to the acceleration and brake pedals, as it would provide me with different levels of acceleration and braking. One issue I found was a bit of a dead zone at the start of activating either trigger. Only when it was pressed a certain amount, maybe a few millimeters, did it begin registering. This is a bit annoying, as it will feel almost like there is a bit of lag to using the triggers. Even if you are Jeremy Clarkson with the pedal to the metal all the time, exclaiming POWER around corners, I think you would benefit from a more responsive trigger. Otherwise, I really liked the feel of the vibration motors, especially as it synchronizes with the engine revving.
I have never liked using a controller in first person shooters, as I never found they would move in the degree of motion I expect, at least compared to a mouse and keyboard. As such, I did not love my experience with the ESM-9013 and Overwatch. This is not to say the controller has anything apparently wrong with it, but rather I am just not used to it. Even so, buttons were well within reach of my hands, and nothing felt awkward to use. Even though I would probably avoid using controllers in general with shooters, I did not find the EasySMX ESM-9013 to be a huge issue. The same heavier thumbstick feeling was noticed when I used the gamepad. Otherwise, I never really noticed any lag, which is great to see for a wireless product. As for battery endurance, the ESM-9013 lasted well through our tests without needing to ever change the batteries. I used a pair of nickel metal hydride batteries and found no issues whatsoever, but of course your mileage will vary.
-----------------------------------------
Whether you use a keyboard and mouse or a controller, you really have to admire what EasySMX has done with their ESM-9013. While it comes to us with a rather uninteresting name, the EasySMX ESM-9013 shows it has put the flash and awe within the product rather than on marketing materials. Immediately, the ESM-9013 comes in a very familiar shape, size, and weight, making it easy to get used to immediately. Thus, button placement is also quite similar to the similar looking Microsoft counterpart. These are all excellent points, as the ESM-9013 is a very comfortable controller to hold. In terms of tactile feedback, all of the buttons feel really good to use and the internal vibration motors were working as expected. Wireless operation was also good with sufficient range, practically no lag, and very good battery life. There still are some improvements to be made, as there was a bit of a dead zone in the trigger actuation on both sides. In addition, I personally would have preferred a deeper dimple on each of the analog sticks to make them easier to control. However, when you look at the end price of approximately $25 USD directly from the manufacturer, this is a really good deal. Even in spite of some minor fine-tuning to be done, the ESM-9013 is a great way to get a console inputs on a PC.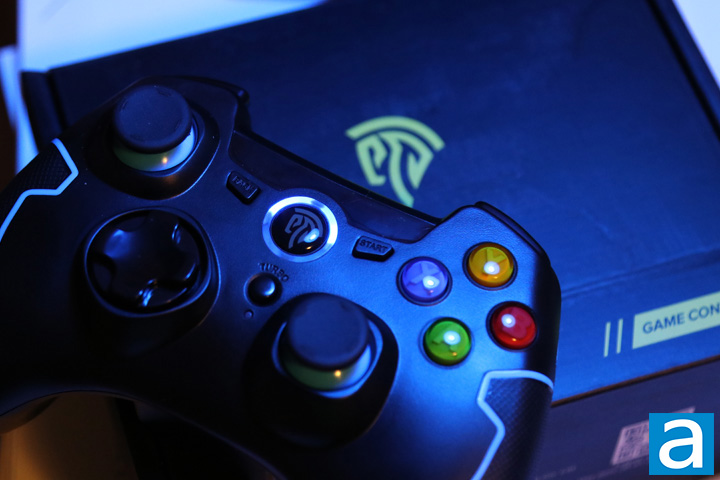 EasySMX provided this product to APH Networks for the purpose of evaluation.

APH equal.balance Award | APH Review Focus Summary:
8/10 means Definitely a very good product with drawbacks that are not likely going to matter to the end user.
7/10 means Great product with many advantages and certain insignificant drawbacks; but should be considered before purchasing.
-- Final APH Numeric Rating is 7.3/10
Please note that the APH Numeric Rating system is based off our proprietary guidelines in the Review Focus, and should not be compared to other sites.
The EasySMX ESM-9013 is an excellent value pick with a familiar shape and a satisfying feel.
Do you have any comments or questions about the EasySMX ESM-9013? Drop by our Forums. Registration is free, and it only takes a minute!