By: Aaron Lai
September 8, 2017
Two weekends ago, I had the privilege of being a photographer for a wedding of my friend's friend. In preparation, I went out with another couple to take photos as practice. It was quite obvious as a photographer, both the couple and I were pretty unsure of what to expect or what to do during the photo session. Thankfully, my more experienced friend directed most of it, trying to relax the couple while giving me pointers along the way. However, I think two things I realized came out of it. Firstly, I did not realize how many of the things I forgot when I was just put out there to shoot. What was natural for me was to just start shooting but I found myself forgetting to check metering or I focused on the wrong thing. Some of these things will get better as I get to know my camera more and as I become more experienced with people photography. The second thing I found is some people are better at being subjects compared to others. You could chalk some of this up to experience, but I think majority of it comes from personality. Some people are great in front of the camera and some are the awkward bunch like myself, who are better found behind the camera. The two subjects during my practice shoot were a bit apprehensive to start out with, but they got into the hang of things as the night went on. Even still, I think they were definitely more reserved than the couple we worked for at the wedding. When it comes to today's review unit of the Edifier R1010BT, I have to ask, what kind of personality does it have? As a bookshelf speaker, there is no real clear characteristic or personality I should really expect from the R1010BT. However, it is our job to find the results, so let us get on to see what these speakers can do!
Today's review unit from the Edifier R1010BT arrived in a large brown corrugated cardboard box. From the smile on the side, you can tell this box did not arrive directly from Edifier, but rather through Amazon Canada. Shipping all the way from the eastern city of Mississauga, Ontario, Canada, where Amazon's Fulfillment Services exist. Otherwise, the box arrived to our Calgary, Alberta location in pretty good condition with UPS' standard service.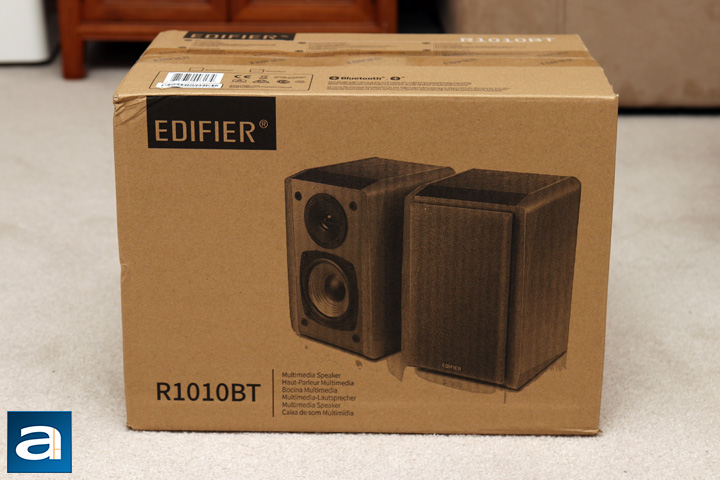 Opening up the box, we are immediately introduced to the retail box of the Edifier R1010BT. This brown corrugated cardboard box shows several things, including the Edifier logo and the product name below. The product description of "Multimedia Speakers" is shown, with a large image of the R1010BT shown in the middle. Otherwise, the design of the container is pretty plain. Around the box, we have several specifications and features about the speakers in many different languages.
If you are interested, we have grabbed the specifications off the manufacturer's website for your perusal:
Total Power Output: R/L: 12W+12W
Signal to Noise Ratio: ≥85dB(A)
Frequency Response: 70Hz-20KHz
Input Sensitivity: Line in A: 700mV±50mV, Line in B: 500mV±50mV, Bluetooth: 400mV±50mFFS
Input Type: RCA (x2)
Bass Driver: 4 inch (106mm)
Treble Driver: Φ13 mm
Dimension: 6in x 9.5in x7in (WxHxD)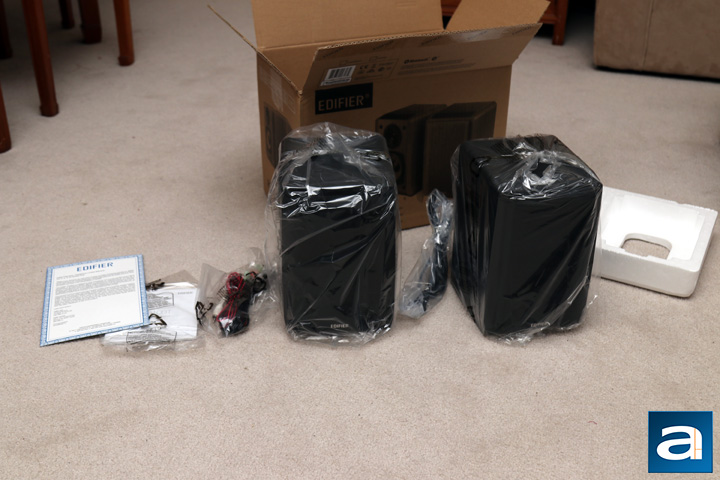 Upon opening the box, you will be greeted by a Styrofoam tray holding the Edifier R1010BT speakers in place. The speakers are also held in individual plastic bags to prevent any surface damage while in transit. The power cable is also directly attached to the right speaker unit and wrapped in another plastic bag.
Out of the box, the following items are included:
1x Active speaker
1x Passive speaker
1x Speaker interconnect wires
1x 3.5mm to dual RCA audio cable (male to male)
1x 3.5mm to dual RCA audio adapter (female to male)
1x User manual
1x Warranty guide
---
Page Index
1. Introduction, Packaging, Specifications
2.
Physical Look - Hardware
3.
Subjective Audio Analysis
4.
Conclusion