By: Aaron Lai
November 20, 2015
Last week, I went to a ceramic painting studio for a friend's birthday. There, they have a selection of blank ceramic items, and a whole load of paint colors to choose from. After choosing your item and paints, you can sit down and start working. One thing the staff told us specifically was to make sure we painted several coats on the ceramic pieces, as this would result in the best looking finish. Afterwards, we would leave our items with them, where they would apply a glaze, and put it through a kiln. So when I got there, I started with picking an item. I could have chosen something practical like a plate or a mug, but I decided to pick a small penguin figure. When choosing my colors, I always saw penguins having a darker colored body, so I chose a deep navy blue just to be a little bit different from black. I started painting the coats when I realized the colors I was painting on was quite a bit lighter than what I expected. However, the firing process is what increases the contrast and richness of the paint. Halfway through the painting process, I forgot the color I was painting as actually going to be darker, and I grew more akin to the pastel blue I was using. It was not until I finished when I remembered my original choice of a navy blue. I was a bit disheartened when I realized this, but it brought up an important concept. While many products we review come in with a great looking design or superior specifications, the only way we can judge an item objectively is to see how well it can handle our proverbial flames, or our testing methods. Only then are the true colors are revealed. Today, we have a combination of a media sharing hub and a power bank in the EMTEC Power Connect. It may seem like an interesting fusion, but does the Power Connect work well? What happens when we run it through the fires of our charging tests? Hopefully this review will answer all these questions.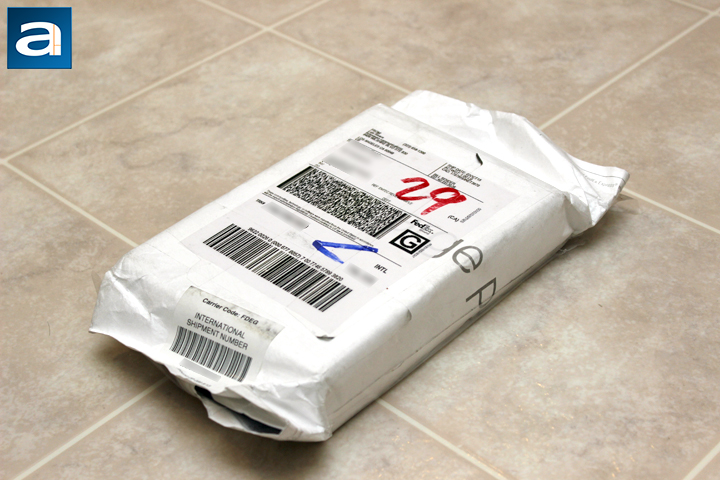 Today's review unit arrived via FedEx Ground. In the past, I have thoroughly praised FedEx, as they have delivered products with speed while keeping them safe. The EMTEC Power Connect arrived in a FedEx envelope, and it was taped shut. The envelope was pretty wrinkled and worn, but it still held its shape. There were no holes or scratches on the packaging, so I could only hope the inside was a similar story. Just like the EMTEC Stay Earbuds Wireless, this product did not arrive from EMTEC's offices, but through a public relations firm in Los Angeles, California. With nothing else to really take note of, I pulled out a pair of scissors, and hacked away at the envelope to open it.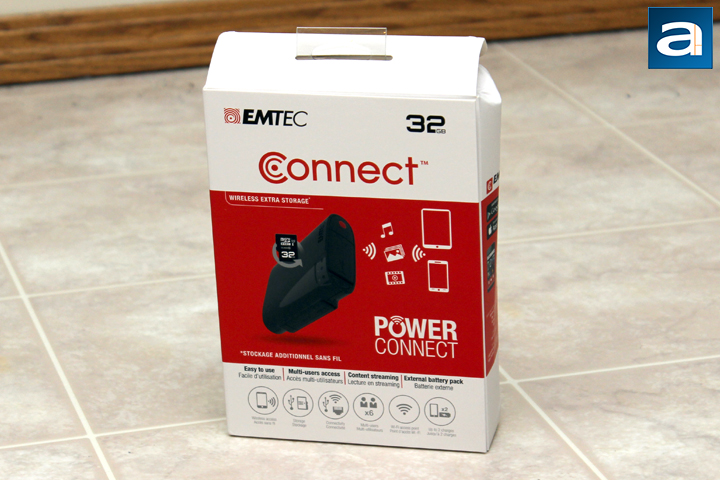 Unfortunately, opening up the envelope unveiled a disappointing result. The EMTEC Power Connect's retail box was completely crushed on the top right corner. In addition, even the plastic frame inside displayed the results of the damage. Thankfully, it seems the brunt of the damage was sustained by the box and not the product itself, so at least the retail container is doing its job in protecting the Power Connect. Whether this retail container was damaged before or during transit is an unknown, but at least the product inside is safe. As for the retail container itself, the entire box is very busy with a lot of words and features. There is a plastic window behind the front panel to reveal the device itself. As this is both a power bank and a wireless storage hub, a capacity of 32GB is printed on the front of this product, supposedly in the form of a micro SD card. The front panel shows the Power Connect in a smaller scale. Otherwise, there are just too many words for me to comprehend the features, so I decided to pull the product out and get a closer look at it instead.
But before we do so, I will pull up the features and specifications, as obtained from the manufacturer's website:
Features
Charge
- Fully charge your smartphone on-the-go up to 2 times
- 5200 mAh battery
Store
- Easily upload your files on your Power Connect
- Extra-storage for mobile devices
- microSD slot and USB host
Stream
- Easily access your files from all of your mobile devices
- You can watch a movie, listen to music and view your photos
- Up to 5 simultaneous stream
Share
- Easily copy and paste your files from your Power Connect to your mobile devices. Your friends can too!
- Connect to the Internet
Access the Internet on your mobile devices via the Power Connect.
- Wired access via LAN cable (Ethernet port)
- Wireless access via Wi-Fi
Technical specifications
- Battery capacity: 5200 mAh
- Battery type: Li-ion
- Battery autonomy: Up to 8hrs
- Full charge time: 5hrs
- Output: 5V / 1A with built-in microUSB
- Input: 5V / 1A
- Lifecycle: 300 cycles (full charge)
- Network: 802.11 b/g/n, RJ45 100Mbit/s
- Network service: Samba (SMB) and UPNP (Multimedia Server)
- Device mobile App: Apple iOS 5.1 or later/ Google Android 2.2 or later
- microSD slot: Support microSD/SDHC/SDXC
- USB host interface: Support USB 2.0 flash/HDD (HFS+ (Mac), NTFS (Win), FAT32) Support 1.0A output current charging for smartphones
- USB device interface: micro-USB
- Contents: Power Connect, micro-USB cable, quick installation guide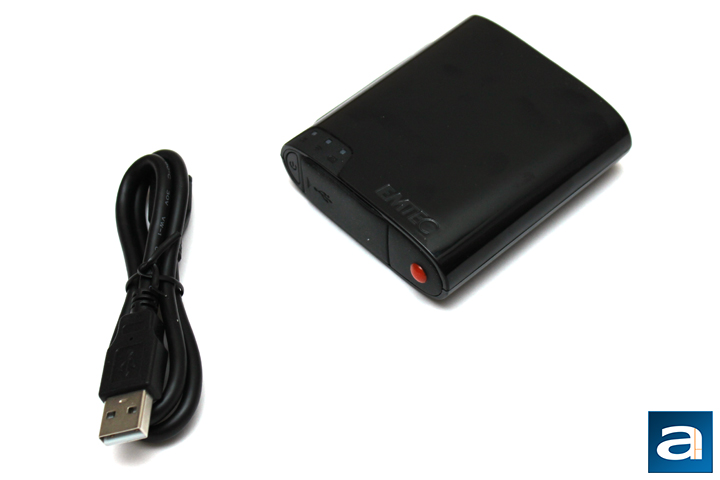 Out of the box, there are a few things to note, but even one bigger omission. There is the EMTEC Power Connect, which is wrapped in plastic to future protect the device from scratches. A thick but short micro USB cable is also included, measuring approximately 40 cm in length. An installation guide is included here too. As I already mentioned, this Power Connect has a 32GB capacity, but when I opened up our product, there was no micro SD card included. There seems to be some conflicting messages even on EMTEC's webpage too, as there are two landing sites for this product, with one saying it comes with a card, while the other makes no mention of it. I will excuse this as a miscommunication error. If you do order this product, however, be sure to determine whether or not this is the case, so you know whether or not you need an additional micro SD card.
---
Page Index
1. Introduction, Packaging, Specifications
2.
A Closer Look - Hardware and Software
3.
Test Results
4.
Conclusion