By: Aaron Lai
December 20, 2019
If there is one dish I think is hard to cook well, it is the standard pork ribs. I think people can be scared of other things like steak, beef wellington, or a fancy French dish, which is well justified. However, I have never made ribs on my own and buying premade or fully cooked ribs can be a dicey situation. I have tried two different pre-cooked ribs that I need to be reheated in the oven. In both cases, the meat was definitely "fall off the bone" tender. On the other hand, the problem was actually how they were seasoned. The first rack of ribs I bought was covered in a BBQ sauce that was much too tangy and sour for my liking. Since that was a double pack, I thought reducing the amount of sauce used when baking would help the second time around, but it was still quite sour. The second time, I bought a generic brand from the local supermarket that was advertised as dry rub ribs. This was probably my mistake as I usually prefer saucy ribs. Even so, the issue I had with these ribs was the fact it smelled pretty good but the taste was underwhelming. I think if I were to really make my own ribs, I would try to keep all of the important aspects of the texture, smell, and taste in mind. Hopefully, I will be able to execute on all of these points well. Moving to our review today, I think it might be easy to identify what makes a good case. But like every review we write, we recommend products that successfully deliver across all of its categories. In today's review of the FSP CMT350, FSP marks this case as a compact mid-tower with excellent airflow. What does this mean in reality and what can we expect from the CMT350? Let us read on to find out!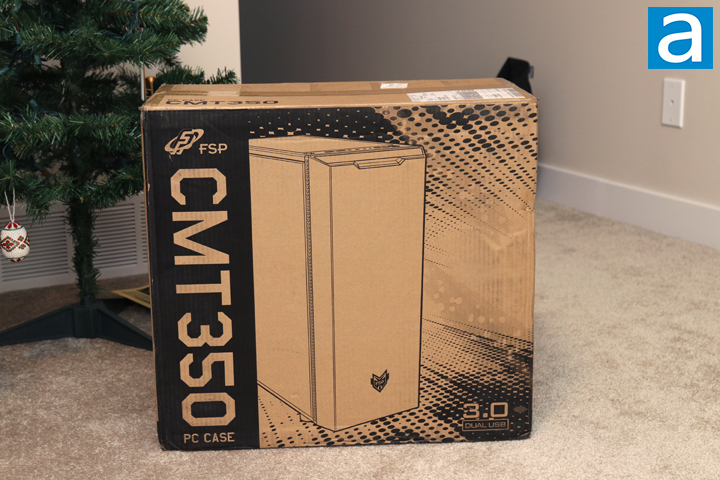 Today's review unit of the FSP CMT350 arrived from FSP's offices in Chino, California. Traveling with FedEx and their Ground service, this box arrived in decent condition with no real dents or bruises to be concerned about. As this is a pretty large product, the shipping container also doubles as the retail container that you would normally see in a store. Like the CMT340 we saw from FSP earlier this year, this CMT350 box design is pretty similar with the company and product names down the left side of the front panel. A black outline of the case can be found in the middle. Interestingly enough, the only feature listed on this panel is the fact this has two USB 3.0 ports. Otherwise, the rest of this box is slightly stylized but kept much cleaner than the CMT340 retail container. The sides have a list of features and specifications for this computer chassis.
If you are interested, we have grabbed the specifications from the manufacturer's website for your perusal:
Model Name: CMT350
Type: ATX Mid Tower
Color: Black
Materials: SPCC, Plastic, Glass x 1
Weight: 6.04KG
Dimension DxWxH (mm): 368 x 206 x 471mm
Maximum CPU Cooler Height: 160mm
VGA Card Length: max 350mm
Expansion Slots: 7
MotherBoard Support: ATX, Micro ATX, ITX
External I/O port: USB3.0 x 2, HD Audio
Power Supply Type: ATX
3.5" HDD: 2
2.5" SSD: 2
Fan Including(pre-install): Front: 120mm Fan x 2, Rear: 120mm Addressable RGB x 1
Fan & Water Cooler Support: Front: 120mm x 3 or 360mm Radiator, Top: 120/140mmx2 or 240mm Radiator, Rear: 120mm x 1
Max Radiator Support: 360mm x 1, 240mm x 1
Maximum PSU Length: 170mm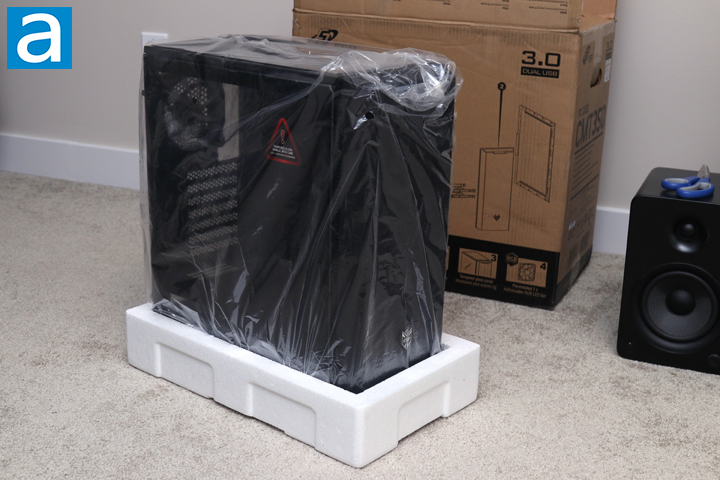 Inside, the FSP CMT350 is held in a clear plastic bag and surrounded by two foam brackets. This ensures the case does not get damaged during shipping. These foam brackets are not the highest density or quality, but they should do well in at protecting the case while it is in transit. Otherwise, there are plastic layers on the side window to protect it from any scratches. Inside the CMT350, you will find a small bag containing all the other necessary accessories to install your components in the case including all of the screws and cable ties. Some documentation is included to help with installation and provide users with warranty information.
---
Page Index
1. Introduction, Packaging, Specifications
2.
Physical Look - Outside
3.
Physical Look - Inside
4.
Installation and Conclusion