By: Jeremy To
September 23, 2011
Let me tell you a small secret within APH Networks. Although all of us here behind the scenes are diverse individuals, we surprisingly have many of the same values, hobbies, and opinions. Take colors for example. Most of you will tend to have a favorite color. Whether you lean towards warm colors like red and orange, or darker and colder colors like purple and blue, colors and how we see them is undoubtedly part of our identity. If you haven't already noticed, colors are an integral part of society. The Calgary Flames NHL Hockey team conjures up the color of red -- symbolizing fire, energy, strength, and power. The United States of America national flag focuses on red, white and blue; symbolizing freedom and patriotism. The Tt eSPORTS sub-brand by Thermaltake has taken black and red as their home colors for products, advertisements, and even eSPORTS tournaments. Believe it or not, I am not very far away from the truth if I say the world runs on colors. Even my fellow co-workers love their colors. Of course, we tend to show more love for black and white because of its simplicity. However, we do like our contrasts. Take pink for example. This color is backed up with centuries of societal stereotypes that can be quite intimidating. But did that stop Jonathan (My boss) from choosing that as his main Windows Live Messaging font color? Did that stop FSP Group from choosing pink as one of the available colors in the new NB Q90 universal notebook adapter? No! Heck, it didn't even stop me from asking Jonathan to get the pink version in for review. Why? Because pink is awesome. And so just how much female overtone pink is the NB Q90 adapter? Read on to find out!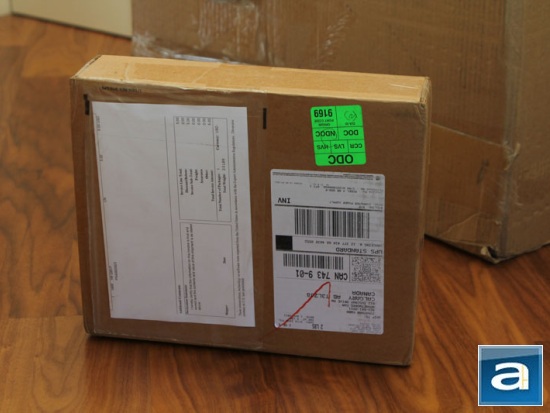 Our notebook power supply, the FSP NB Q90, came to us in a small sized cardboard box from FSP Group's office down south in USA -- more specifically, Chino, California. Shipped via UPS Standard, the brown corrugated cardboard box made its journey to our office in Calgary, Alberta, Canada; arriving safely without any traces of abuse or damage.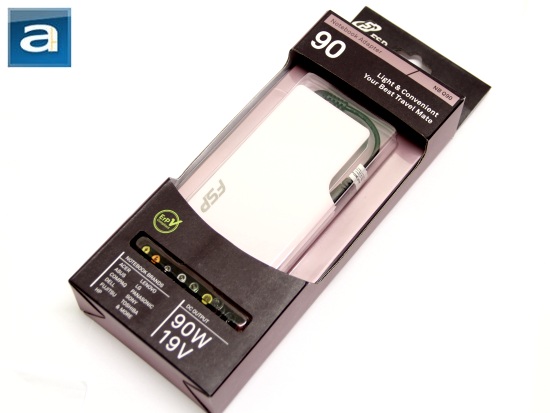 As mentioned earlier in my introduction, FSP Group's theme color for this product is pink. Although the NB Q90 is also offered in black and white, the retail packaging will still be in pink -- how pleasing. The first emotion that came to my mind when seeing the packaging was joy and happiness. The box takes on an aesthetically pleasing pink colored theme with purple highlights, and a beautifully positioned display window. Sitting smack dab in the large window is the unit itself, followed by a separate one right underneath it, featuring nine different connector tips. Found around the box is a list of the adapter features and specifications.
Before we go on any further, let's briefly take a look at the features and the specifications of the NB Q90, taken from the product packaging, as well as from the manufacturer's website:
Features
- Slim and Sleek Design, only 18.9 mm thick
- EZ-Cable Management ,easy to pack away
- Multi-Colour Optional: White/ Black/ Pink
- High Efficiency > 87% & Eco-Friendly design saves your electricity bills.
- Highly compatible to HP, Dell, Acer, Asus, Toshiba, Lenovo, SONY, Fujitsu and more brands of laptops.
- Package included exchangeable DC Tips & Travel pouch
Specifications
- Model: NB Q90
- Product Type: AC-DC
- Efficiency: > 87%
- Input Outlet: --
- Input Voltage: 100-240VAC
- Input Frequency: 50-60Hz
- Output Power: 90W
- Output Voltage: 19V
- Short-Circuit Protection: V
- Over-Current Protection: V
- Input fuse Protection: --
- Safety Approval: TUV /GS , FCC, CE, CB , UL /cUL , BSMI , GOST
- Dimensions (LxWxH) mm: 120*72.5*18.9mm
- Accessories: DC Output Plug Tips: 9
- Accessories: Travel Bag: V
- Accessories: Power Cord: V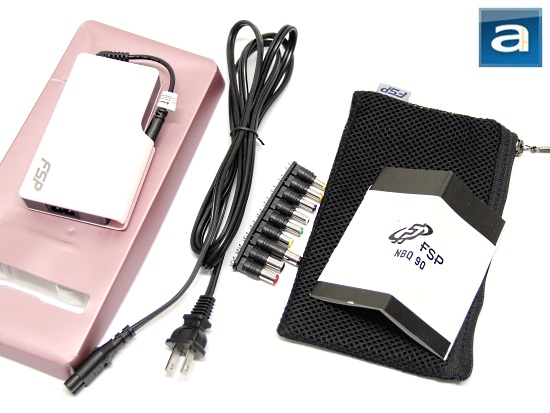 The retail packaging opens through a main flap at the top. Opening the flap reveals a plastic box -– which slides out easily –- attached onto a metallic pink piece of paper. The unit and adapter tips are found under the plastic display window, and the other accessories are found behind the pink background box. The other components include a slim travel bag, AC power cord, and a user's manual. The soft travel carrying case provided includes two sections; one for carrying the unit, and the other for carrying the power cord and other accessories.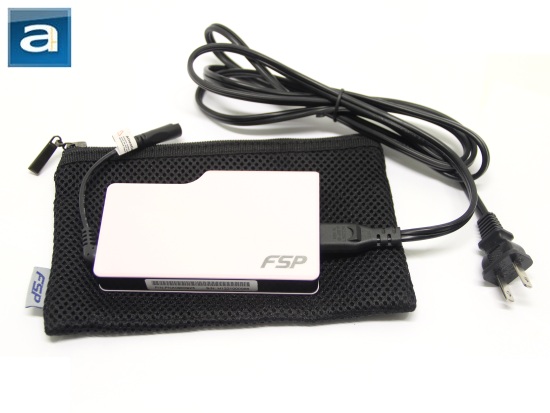 At a first look at the FSP NB Q90, the overall unit is quite slim. Although it is definitely not as small as, say, your average 65W OEM power adapter -- and it should not be -- the NB Q90 is definitely slimmer. Stated boldly in the features list, this power adapter is definitely one of the slimmest and sleekest units I have come across in the last little while. Its dimensions allow users to place the unit in tight pockets and spaces, which is perfect for travel. To clarify with empirical numbers, it comes in at 120mm in length, 72.5mm in width, and 18.9mm in height.
For reference, the Lenovo ThinkPad SL500 laptop's stock adapter I have used to compare with the FSP NB Q90 comes in at 100x40x26mm (LxWxH). The NB Q90 is larger, but I wouldn't consider this a fair evaluation of size, since the Q90 is a 90W adapter, whereas the SL500 comes with a 65W adapter.
One outstanding feature of the NB Q90 adapter the way it is physically designed. The entire unit follows a single color theme aforementioned (Pink, white, or black) and has a smooth gloss finish. I find this design to be very appealing as it complements the sleekness of the unit. However, as a reminder to you consumers, I must state that the physical appeal of a laptop adapter is probably not the sole reason why you would want it. Unfortunately, no matter how stylish or how appealing a laptop PSU is, it will always end up hiding behind the laptop performing the only function you really care about –- powering your laptop.
The lead out cable is situated on the side furthest away from the FSP logo. The other end of the unit where the logo is situated is where the AC cord leads in. The wires on the Q90 are quite thick, giving an overall durable feel. With regards to wire management, the DC lead out cable features a very unique design built onto the unit. Integrated onto the unit is a hollow cylindrical cover where the lead out tip is stored when the adapter is not in use. This excellent cable management feature allows the user to pack up the cables with efficiency, while keeping the wire and adapter tips safe from damage. Unfortunately, although this design has many benefits, it is not without its flaws. First off, since the overall DC lead out cable is so short, plugging the unit into a laptop becomes very problematic. This forces all users to utilize the FSP NB Q90 only on large flat surfaces. Users will not be able to use the NB Q90 while they use their notebooks on their laps, or on small area surfaces, as the adapter does not have the sufficient lead out length to support the unit. If one decides to use their laptop on such a surface, then one must be ready to have their power supply adapter hanging in mid air; damage to the wire and/or the adapter tip is likely. The overall length of the FSP NB Q90, including measurements of both the lead in and lead out cables, gauges to only 174cm, which is simply way too short. Be ready to carry around an extension cable if your nearest outlet is a fair distance away. And by doing this, you are really defeating its built in cable management features.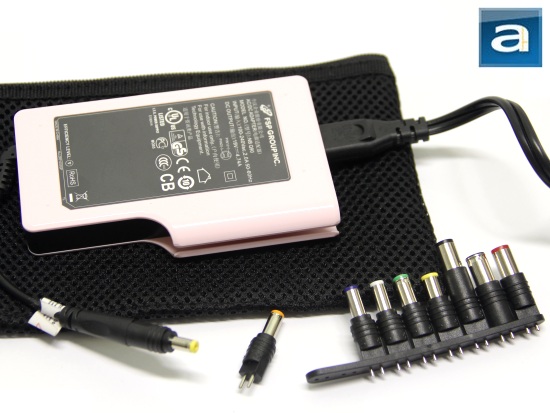 Accompanying the unit are nine different I-point interchangeable output connectors. Each output tip is securely fastened on a braid of rubber -– the tip stand. The rubber tip stand worries me a little, because the tips' back-end is bare. The lack of protection could damage the tips rendering the entire unit worthless. Also, it would be nice if the unit itself could hold the tips, since losing the entire tip stand is possible.
On the other hand, the tip is designed very well, allowing a perfect insertion point to the DC cord. Also, the tip design permits a strong connection, and prevents users from inserting it in incorrectly. My only issue with the connection was that the tips can be taken off the cord without much effort. I have not personally lost a tip, but losing one is a definitely possibility. The tips do not form an angle with the cable, as mentioned earlier.
Each tip is color coded; matched with a compatibility table printed on the back of the retail box. The same table can be found on the manufacturer's website. The list compiles and matches each color coated tip to specific laptop brands –- in the attempt to lessen the guess and check work:
Yellow: Acer, Asus, Compaq, HP
Orange: Acer
Blue: Acer, Compaq, HP, Lenovo
White: Acer, Asus, Clevo, Compaq, CTX, Dell, Gateway, Gigabyte, Hitachi, HP, Lenovo, LG, Mitac, MSI, NEC, Panasonic, Toshiba.
Green: Asus, Mitac, Toshiba
Yellow: Fujitsu, Panasonic, Samsung, Sony
Black: Dell
Black: Lenovo
Red: Compaq, HP
In the list above, some brands are found to be using up to five different tip colors, which is to be expected, since brands don't usually follow only one tip type. Also, out of the nine different tips, some of them are coated as the same color. Not to worry here, since the compatibility list comes with numbers and a picture guide used as a reference to determine the number of a specific tip. Although, it would have been better if FSP Group could have utilized nine different colors to avoid this minor confusion.
It is also important to note that certain notebooks manufacturers like Dell have custom proprietary laptop adapters. When using the FSP NB Q90 on these notebooks, it will only power on the notebooks, but not charge them. The basic rationale behind this certain design is that some laptops will authenticate their power adapters before they permit it to charge. Regarding this situation, FSP Group does not give warning to this possibility, and could therefore lead some consumers to buy something that does not completely do its job. In fact, FSP Group has stated that the NB Q90 is compatible with all 18-20Vdc input notebooks, which is only half right, since charging is not compatible with some laptops –- a small problem and fact when dealing with all universal adapters.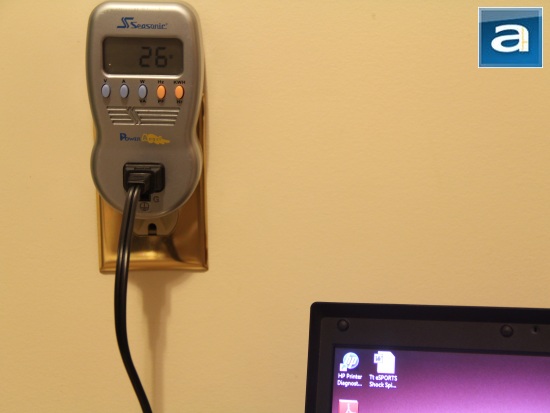 Before you ask, 26W is idle with Maximum Performance power profile. Our test result below is only partially based on this load; we will also have results where the laptop is under full throttle.
It is important to touch on a few things when testing the FSP NB Q90. This universal notebook adapter has the wattage to power most mid-ranged laptops, but may have difficulty when powering more high-performance laptops. The laptop I have used to test the NB Q90 is a Lenovo ThinkPad SL500 (Core 2 Duo T9400, 4GB, 320GB 5400rpm, 15.4" WXGA LED, NVIDIA GeForce 9300M, 5100ABGN) which leans towards a mid-ranged business laptop. As stated previously in a different section, the ThinkPad SL500 uses a 65W stock adapter. If you own a laptop that comes with an adapter less than or equal to 90W, then the NB Q90 is the perfect choice for you. If your stock power exceeds 90W, I do not advise you use a 90W universal adapter as an alternative power source.
For the first test, I had the SL500 idle at 22W power consumption. With the same condition, the outlet input measurement came in at 26W, as shown in our photo above. Therefore, at 24.4% load, the FSP NB Q90 is capable of producing the power at an efficiency of 84.6%; which is surprisingly good. A power adapter generally is most efficient when under 50-60% load, but for marketing purposes, some manufacturers take their numbers at 25c -- which is almost never the temperature the power supply operates at. While what we got isn't quite the 87%+ FSP claims, 84.6% isn't something to be worried about with this load percentage and non-ideal operating temperature. In the second test, I had the SL500 load with an outlet input measurement of 57W. On the other end, the laptop was drawing around 46-47W. This means that at around 51-52% load, the NB Q90 was reached an efficiency of 82.4%. This result is also quite good. Of course, by using the notebook I used to test the NB Q90 with, I was unable to load the power supply adapter to over 90%. Chances are, the user will not exceed over 90% load on the NB Q90 unless one does not heed my warnings stated earlier in this section.
During these two tests, the PSU heated up quite a bit. I am actually very surprised the unit heated up as much as it did for such a low power consuming laptop. I would recommend that the NB Q90 would not be used outside in the sun or on a surface that does not dissipate heat well (Blanket, bed, etc.).
------------------------------------------
I am having mixed feelings about the FSP NB Q90. It is definitely a one-of-a-kind universal notebook power adapter with its stylish design. You know, it comes in pink, too. In fact, I was very excited to get my hands on such a unit. The gloss finish and sleek design is perfect for style and boasting. The innovative wire management design for the DC lead out cable is efficient, durable, and perfect for traveling. The nine interchangeable tips will fit a wide variety of laptops from many different manufacturers. Also, the technical efficiency and durability may stand far from your regular stock adapter. However, the NB Q90 still needs quite a bit of improvement. First off, due to the cable management feature for the DC lead out cable, the unit has several small convenience issues that can prevent one from using the unit at a specific location. Because the lead out cable is so short, the entire unit is considered very short when compared to other adapters, which can become an inconvenience unless all you are doing is using it on your desk. Also, the unprotected tip stand and somewhat loose tip connection can limit the unit. FSP Group fails to acknowledge the possibility of proprietary adapters used on some laptops produced by manufacturers like Dell. When compared with another unit like the Cooler Master SNA 95, it lacks an auxiliary USB port on the side to charge your miscellaneous items. However, this cannot be seen as a con, since FSP has made the NB Q90+ available, which features an auxiliary USB port. With that in mind, carrying a MSRP of $65 USD at press time, the FSP NB Q90 is a great looking power adapter to consider -- if you don't mind the length -- or lack thereof.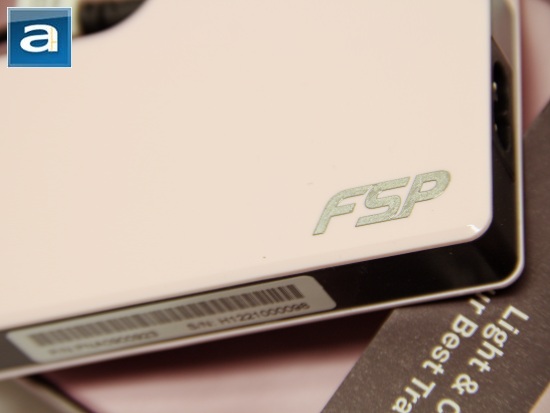 FSP Group provided this product to APH Networks for the purpose of evaluation.
APH Review Focus Summary:
7/10 means Great product with many advantages and certain insignificant drawbacks; but should be considered before purchasing.
6/10 means A product with its advantages, but drawbacks should not be ignored before purchasing.
-- Final APH Numeric Rating is 6.8/10
Please note that the APH Numeric Rating system is based off our proprietary guidelines in the Review Focus, and should not be compared to other sites.
A one-of-a-kind pink glossy finish with all the interchangeable tips you need, the only thing I wish for is a longer cable in the FSP NB Q90.
Do you have any comments or questions about the FSP NB Q90? Drop by our Forums. Registration is free, and it only takes a minute!