By: Devin Chollak
May 27, 2011
Whenever someone brings up the topic about keyboards, the first thought that runs through my mind is 'headshot'. Why headshot? Well, I just think about the frustrated gamer who does a miniature Hulk smash on his keyboard when he suddenly dies in Counter-Strike. I hate to imagine how many keyboards die every year due to competitive gamers unleashing their rage. Of course, when it comes down to playing games at a competitive level, many would say a mechanical keyboard is the only way to go. Mechanical keyboards excel at quick keystrokes due to independent switches and high tactile resistance. Obviously, those who want the upper edge and play at a competitive level would probably be looking for the typical gaming keyboard and wired mouse. In today's world, some feature LCD screens, and still others provide macro capabilities. However, many people could say, at one point or another, they had to play games with a normal office keyboard. I remember way back when I first got my own awesome gaming computer, I had to settle with a cheap wireless keyboard and mouse. It was nothing special, but I will tell you a little secret of mine. I still loved it. Was I a super competitive gamer at 14? No. Games were all about the fun of being engaged in some fantasy and working towards an objective. It never really mattered if there was a few milliseconds of delay, or have my wireless mouse die on me in the middle of critical situations. The latter grew into the reason why I changed over to a wired mouse for gaming. Nonetheless, the Genius SlimStar 8000 brings back the nostalgia of playing games and completing other office work with a wireless keyboard and mouse, and things have gotten much smaller since then. Read on to find out more about this slim little keyboard and mouse.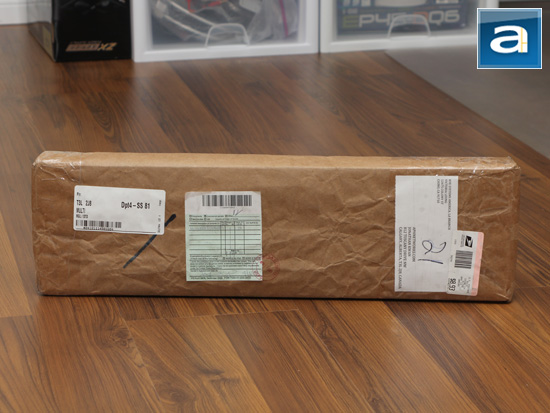 The Genius SlimStar 8000 arrived here at our Calgary office from Chino, California via USPS. Arriving inside of a neatly wrapped package, the Genius SlimStar 8000's box had only taken a few minor hits. As always, it is expected to see a few of these dents, and thankfully there was nothing major that could have affected the contents inside the box. Pealing the packaging away, I laid my eyes upon a bright red box sporting a keyboard and mouse. It always feels like Christmas here at APH Networks, who else gets to open packages as often as we do?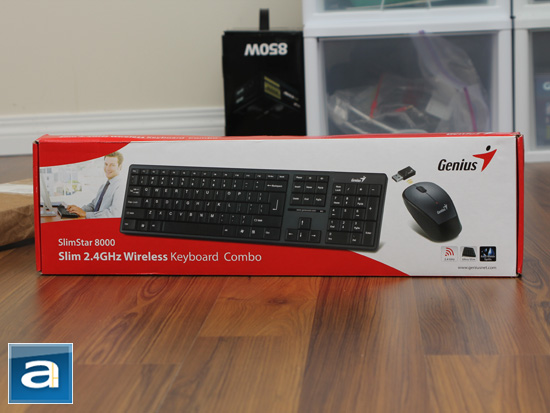 The design of the Genius SlimStar 8000 box is very simple and appealing; clearly showing it is meant for an office environment on the front, with an image of it being used on an office desk. The box consists of red highlights, but uses white to contrast against the black keyboard and mouse. This is no gaming keyboard, however. It boasts being an ultra slim wireless keyboard combo that is spill-resistant. I am always a fan of simple box designs, but it would have been better to print the name of the product a bit larger in my personal opinion. The largest text on the front says, "Slim 2.4GHz Wireless" and that really could mean anything from Wi-Fi to Bluetooth technology. Take it out of context, and someone might think it is a new weight loss device. Other than the questionable arrangement and style of the text, it certainly does a fine job presenting the product. Before moving on further, here is a short list of specifications, as obtained from the manufacturer's website:
Features
- 2.4GHz anti-interference desktop combo
- Ultra-slim keyboard design, innovative keycaps for great tactile feedback
- Two hot keys for volume control
- 1200 dpi optical mouse sensor for smooth movement control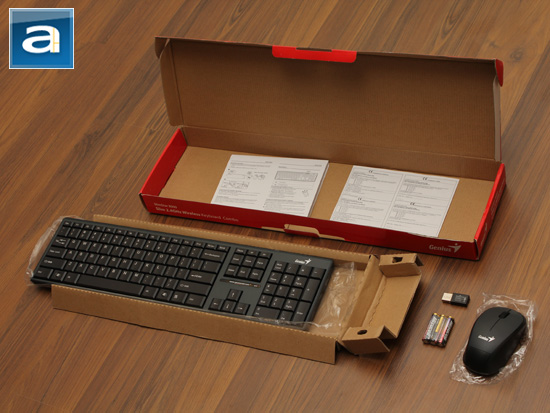 Opening the box is simple enough, as the top flap lifts off nice and easy. Inside, you are greeted with the keyboard and mouse inside plastic bags to make sure no dust bunnies get in. The keyboard and mouse are placed on cardboard, which is used for securing them in place and padding them from the elements. Pulling up the cardboard, you will find the installation instructions written in more languages than I have fingers; with recycling information also sporting many language options. There are also three AAA batteries included from your typical brand nobody has heard about, and a tiny little USB wireless receiver. I have to thank Genius for including batteries in the box. It is like having your candy stolen as a little kid when manufacturers decide to not include them. I suspect the manufacturers that never include batteries are just getting ready for the days when wireless devices no longer need them. Unfortunately, I think they missed the memo, and have not realized they are a few decades too early!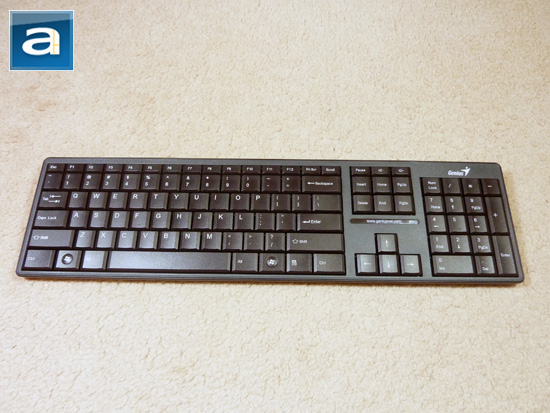 First, let's take a look at the keyboard of the Genius SlimStar 8000 cordless desktop set. Is it slim like the superstar models you see on TV? Not quite. It reminds me of a laptop keyboard, and less of a typical desktop keyboard. If you normally type on a laptop, you will feel right as rain with this keyboard. On the other hand, if you are used to the standard sized desktop keyboard, you might be surprised at how compact is the size of the SlimStar 8000. I will admit I have bolded text when I was really just trying to paste with the control keys. Now, before you start thinking this keyboard is tiny, I will let you know that the keys are actually a bit larger than most keyboards I have used. Genius has just cut out all of the spacing between the keys, leaving only a meager 2mm between them. Something that is worth noting about this keyboard is the lack of a palm rest. This can be more of a personal preference, as I have gone for years without using one on a regular basis; however, others may find this a necessity to their comfort while using a keyboard.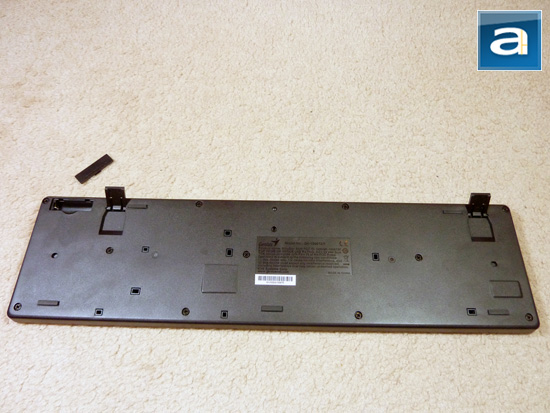 The SlimStar 8000 is a fairly typical QWERTY keyboard other than the keys being fairly close together. The keyboard itself measures at 448mm in length, 119mm in width, and 17mm in height. I don't think it takes a rocket scientist to figure out this is a pretty slim and small keyboard. Note that the 17mm includes the height of the keys. The keyboard itself uses dome-switched keys; this is expected to provide a reasonable amount of tactile resistance, but not very good quality tactile resistance. Scissor would have been better in my opinion, but hey -- this set is only $30. By the time I had written the introduction, I could tell you that the keyboard felt more resistive than what I had anticipated. The rebound on the key presses feels delayed, as if someone had put something sticky underneath my keys (Don't get any ideas here). Basically, the Genius SlimStar 8000 keyboard is not the best option if you type quickly. If you think you are quick when it comes to typing tests, this keyboard will feel like drag racing with the e-brake on. The keyboard seems to be lacking good back support; when you press down on the keyboard with any reasonable amount of force, it will bend under the pressure. This is due to the fact that the frame is only made of plastic, and doesn't use any metal to increase the structural strength. The back of the keyboard also features two keyboard risers to give you a gentle tilt to it. However, just from regular typing, I can see the middle of the keyboard dip slightly whenever I press the function keys or the number keys.
I have to say the complete lack of space between the function keys and the rest of the keyboard allows for significantly less distance for your fingers to travel. The down side is you can easily "fat finger" the function keys. No, I am not saying my fingers are fat, but they could be for all you know! If you use any applications that happen to employ an ALT+4 shortcut, you might want to consider changing the key mapping for the Genius SlimStar 8000, or risk wanting to gouge your eyes out. If you press slightly higher than '4', you will easily hit the 'F4' key, and if you happen to be working something important, it will feel like someone just poured an ice bucket over your head. Fortunately, most applications these days seem to like to confirm with the user before closing, but some applications have been known to just outright call it a night and leave. In my opinion, I can say I like fact there is no horizontal space between the function keys. It always baffled me as to why it is so important for the functions keys to be grouped up and have spacing between them. On the other hand, the lack of space between the function keys and the typing section of the keyboard is a little painful. Accidentally hitting 'F1' when I really just wanted to type '1', just tells me the Genius SlimStar 8000 keyboard was designed to remind me of the existence of the dreaded Help dialog. In reality, help dialogs are not really as helpful as they suggest, and in fact can be rather annoying.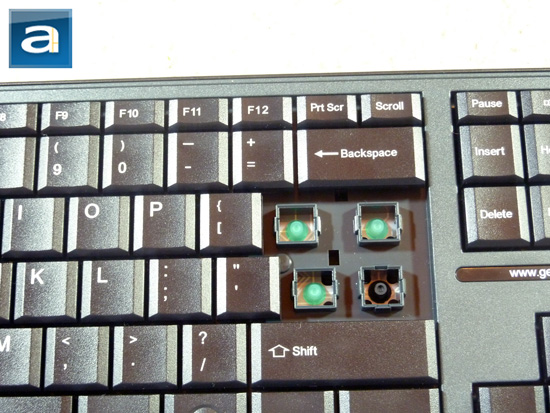 The keys on the keyboard are fairly well attached, as it takes a good edge and some force to pop them off. Underneath, you can see the membrane that the keys press down upon when you type. The fact the openings to the membrane underneath have large ridges suggests this keyboard will be very easy to clean. The keys are not overly difficult to remove, and there are water drain holes to prevent spill accidents. I dislike the fact the drain holes are flush with the bottom tray, which means any small little spill will not naturally flow through the keyboard tray. If you have the keyboard tilted at an angle, as I would assume most would, the drains at the bottom edge are not lined up against that edge. This means the liquid will pool at the bottom and not flow directly out. If you take a quick look at the number pad portion, however, you will notice that it does not suffer from this problem.
An interesting aspect of the keyboard is the change in positioning of the 'Print Screen', 'Scroll Lock', and 'Pause' buttons. Genius wanted to be different, and with the lack of space between the function keys, it would look awful if they did not shift them over. The 'Print Screen' and 'Scroll Lock' are located directly above 'Backspace'. Not that it really is an issue in the first place, but I always found 'Print Screen' to be too far away for how useful it is anyways. It just feels that it would have been more logical to put the audio adjustment keys directly above the backspace, and keep the rest of the keyboard layout the same. Thankfully, Genius decided to stick to the standard for the rest of the keyboard. It's like a thorn is in my finger when I use a non-standard number pad, because what I end up typing up my document, it simply looks like some cryptic code instead of a math equation. Genius has taken out the LED indicators for the lock keys, and I believe this is a good way to reduce the amount of power usage of the keyboard. From a user perspective, this is not the case, as you have almost no way to telling which of the lock keys are being used. It is like playing whack-a-mole when you misspell a password, because you don't have a quick way to just look and see you have made the foolish mistake of leaving caps lock on. I would have suggested the usage of two AAA batteries instead of one for keyboard and put some LED indicators for the lock keys. This would mean a longer battery life and a more user friendly experience at a very low cost, but I guess I will have to learn how to play whack-a-mole with my passwords in the odd occasion.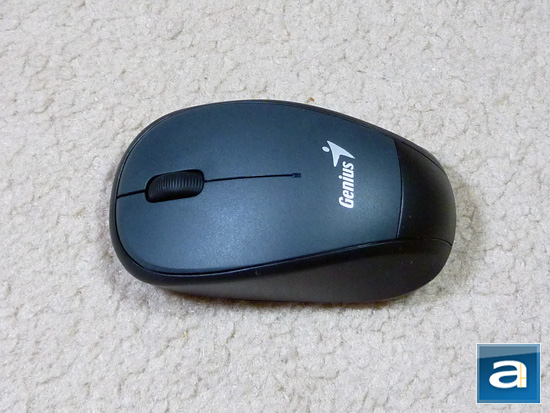 Now that we have lifted up the skirt from underneath the keyboard (Uhh... I'm not sure if that's a good metaphor. -- Editor), let's take a look at the other part of the SlimStar 8000 cordless desktop set -- the mouse. The mouse is very light-weight in comparison to other wireless mice I have owned and used in the past. This is mostly because of the usage of two AAA batteries instead of two AA batteries. This basically means the mouse will not last as long as the Energizer Bunny, but it will be easier to move around because of the trimmed weight. The mouse features three input buttons -- left, right, and middle -- as well as a scroll wheel. The whole mouse is made of hard plastic except for the scroll wheel, with no padding or grip anywhere else. I personally found the mouse to be a bit too small, but this is probably due to the fact I have fairly large hands. By large, I mean this mouse barely fits into the palm of my hand. Don't get me wrong though, as I don't have Hulk hands. I will admit I got used to the size of it fairly quickly, so don't judge the poor little mouse too harshly; it isn't an overly big concern of those with large hands.
The mouse wheel feels smooth as you use it, since it offers you a soft click when you scroll. I do own a wireless mouse with a frictionless scroll, and I am split about which one is better. I guess some could argue that the clicking ones offer more resistance, but that boils down to personal preference. Do you like clicks or no clicks, or do you just want it to do its job? In any of case, it does the job and does it comfortably. The mouse buttons themselves have a bit of a louder click. I happen to have noise cancelling headphones, so it doesn't bother me. If you are in the office, and happen to be using Office Communicator or the equivalent, I am sure anyone near you will be able to hear the constant clicking noise of your mouse. This would probably result in having to listen to your manager yell at you for distracting him while he was giving a status update.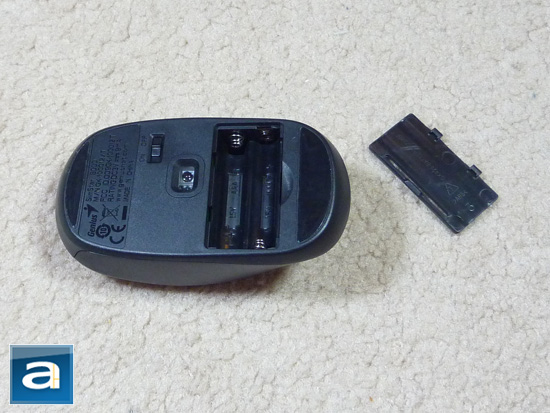 Flipping the little mouse over, you will see the 1200 dpi optical LED sensor. There is also the on/off switch, which I feel is located slightly higher than where my natural grip is, as well as the battery cover. The battery cover comes off easily, but once the batteries themselves are placed inside the mouse, it is a bit difficult to get out. They fit in quite snugly without any point to easily push against to get them out. Maybe the SlimStar 8000 mouse is laughing at me when the batteries die and I am desperately trying to replace them before I also die in the middle of my game. At the bottom of the mouse, you will also find two hard Teflon contacts that the mouse rests on. These work quite effectively on hard surfaces for ensuring low resistance while providing protection against wear and tear. In summary, the mouse is what you would call your typical wireless office mouse with no frills.
The wireless mouse has a slight delay in motion and a more noticeable delay when clicking and scrolling. It isn't significant enough that it would have a serious effect on everyday tasks; however, if you decide to take it for a spin in a game, I am quite sure you will see notable differences from the standard gaming mouse. As for the precision of the motions, the mouse seems to provide reasonable accuracy as I move it around and with 1200 dpi, and I would expect nothing less than that.
-----------------------------------------
The Genius SlimStar 8000 keyboard and mouse probably doesn't sound like the most amazing piece of hardware. The truth here is that for $29.99 USD MSRP, you are getting not only a wireless keyboard, but also a wireless mouse. If you happen to be on a budget, I would first like to give you a piece of advice: Stop spending all your money. However, I would also say that this keyboard and mouse is a pretty respectable value for its price if you are looking for something to tack onto your computer. By no means is this set your all-star business class keyboard and mouse. However, it will certainly do the job, considering its compact size, it is also fairly portable. The overall structure being plastic makes it feel flimsy, and if you aren't going to nerd rage over getting killed in Counter-Strike, it should last you for a reasonable length of time. The keyboard layout feels only slightly different from what you would expect, and after a few hours, you will start to feel like you know where ALT+4 is instead of ALT+F4. The mouse sports a 1200 dpi sensor, which overall feels fairly accurate; unfortunately there is a small delay with both inputs of the mouse and keyboard. I did not overly notice it for day-to-day tasks, but the second I went into any interactive applications or games, the delay became fairly apparent. The mouse isn't a quiet one either; every click can be heard with reasonable loudness that would certainly get on the nerves of people around you. I will let you decide if that is a pro or a con as to each person it could be different. In the end, you get what you pay for, and for a low cost keyboard-and-mouse set, do not expect anything too fancy.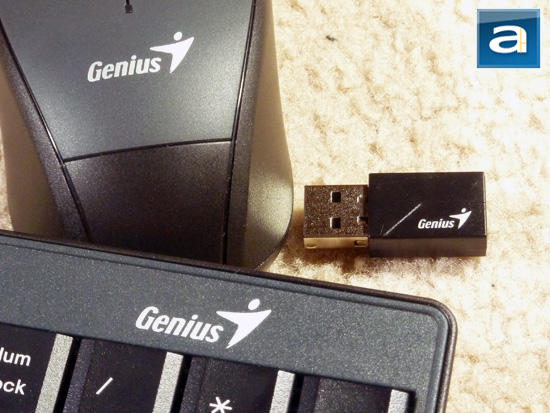 Genius provided this product to APH Networks for the purpose of evaluation.
APH Review Focus Summary:
7/10 means Great product with many advantages and certain insignificant drawbacks; but should be considered before purchasing.
6/10 means A product with its advantages, but drawbacks should not be ignored before purchasing.
-- Final APH Numeric Rating is 6.3/10
Please note that the APH Numeric Rating system is based off our proprietary guidelines in the Review Focus, and should not be compared to other sites.
The Genius SlimStar 8000 is a slim wireless office keyboard and mouse combination that will easily meet your basic office needs.
Do you have any comments or questions about the Genius SlimStar 8000? Drop by our Forums. Registration is free, and it only takes a minute!