By: Aaron Lai
March 13, 2015
When it comes to food, I will say I am one of those people who will eat mostly anything, as long as it is edible. When I was a toddler, there were a bunch of people at my church who were making crafts with other kids. In this case, they took used crayons and melted them into different shapes with plastic molds. As I was too young to actually do this, I sat on the side and observed the other children making their crayons. After they were finished, one of the adults came over with a finished product and proceeded to offer it to me. I looked at it and I asked her, in Chinese, "Can I eat it?" She laughed and said it was not for eating. In my young and innocent nature, I quickly replied, "It is not edible? I do not want it", gave it back to her, and ran off. I laugh now at this story, but nowadays my judgement for food has grown past the criteria of just being edible. Many people have different opinions about food, whether it is a necessity, or used to satisfy the soul. But to me it boils down to two things: Looks and taste. Good food will look scrumptious, and taste delicious. These two aspects are both important as together they will make the items of consumption more appealing. For example, if the food in question looks amazing, but tastes horrendous, you probably will not be having seconds. However, if it looks like manure on your plate, you probably will not think of having firsts. Thus, there is a balance between the two. This can extend into things like computer parts, especially for components more exposed than others. More specifically, computer chassis are probably the first thing you see when you look at a computer. But like the finest delicacies, it has to balance between the two ends of looks and performance. Today we have a stunner in the house with the In Win 904 Plus. However, the most obvious question for me is whether or not this is just for the eyes, or if it is also easy to use. Are there compromises made to make such a looker of a case? Let us head to the product, and hopefully you will get a taste of the case.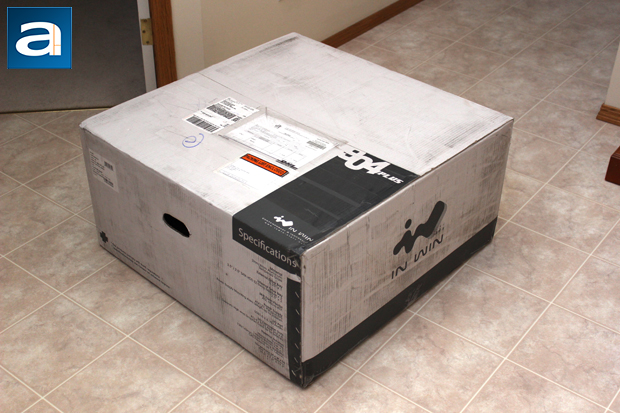 Today's review unit of the In Win 904 Plus arrived via FedEx Ground to our APH Networks Calgary location. Traveling over fifteen hundred miles, this box actually looks in good shape, considering the origin of the City of Industry, California. This Los Angeles suburb is also home to our other partners such as Gigabyte and ARCTIC. Unfortunately, shipping a product in a white box may not necessarily be the greatest of ideas, as dirty and scuffs will be the most prominent. The biggest thing to surprise me was just the size of the box itself. It was a struggle to carry through my front door, in both dimension and weight. As this is just an ATX mid-tower computer case, it was a little bizarre to see such a large box.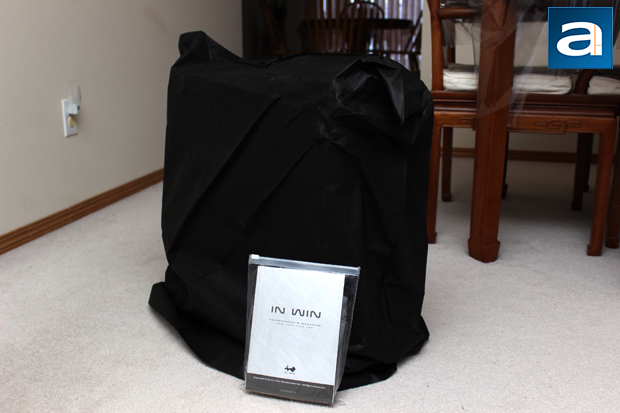 Pulling out my utility knife, I sliced open the tape and revealed the answer to the unusually large box. Wedged between four huge foam brackets, the In Win 904 Plus was laying on its side, sheltered from any impacts or unintended objects. In addition, the 904 Plus was wrapped in a nice black mesh bag for more protective measures. While this may cost more than a standard plastic bag, it sure adds to the already premium feel the 904 Plus exudes. Included with the case is a small resealable bag of multiple accessories, screws, nuts, bolts, and extension cables which will come in handy later when I am doing the installation. Otherwise, before I take the wraps off this case, let us peruse the features and specifications of this case:
Features
New Choice of Chassis Material
• One piece construction with 4mm aluminum alloy
• Tinted tempered glass side panel
Innovative and Stylish Design
• Extreme simplicity design
• Elegant back panel
• Stylish hairline texture surface design
Easy Component Installation
Supports High-End PSU up to 268mm
Spacious Cable Management Area
Excellent Thermal Solution
Specifications
Case Size: Mid Tower Chassis
Material: 2mm/4mm Aluminum, Tempered Glass
External Drive Bay: 5.25" x 1
Internal Drive Bay: 3.5" / 2.5" SATA HDD EZ-Swap Module x 3, 2.5" x 2
M/B Form Factor: ATX / Micro-ATX
Power Supply: ATX12V, PSII and EPS, Power Supply Mounting Area Length up to 268mm
I/O Port: USB3.0 x 4, HD Audio
I/O Expansion Slots: PCI-E / PCI / AGP Slot x 8, supports High-end Graphic Card Up to 360mm
Thermal Solution: Supports - 90mm Rear Fan x 1, 140mm Bottom Fan x 1, 120/140mm Liquid Cooling Radiator, CPU heatsink up to 145mm
Dimensions (H x W x D): 490 x 192 x 490mm, 19.3" x 7.6" x 19.3"
---
Page Index
1. Introduction, Packaging, Specifications
2.
Physical Look - Outside
3.
Physical Look - Inside
4.
Installation and Conclusion