By: Brian Cheung (Guest Writer)
February 20, 2015
As a third year Business student at the University of Calgary, there are many supplementary courses that I have to take to fulfill the requirements of my degree. One of these supplementary courses include Business and Environment 395, otherwise known as simply just Business Law for Decision Makers. In the latter part of January, the main topics of discussion in the course were contracts and claims. I was fascinated by the various types of claims that are involved in business, but I was even more fascinated about the ways people "interpret" their claims. This was my first thought when I got the Kingston HyperX Skyn mousepads. On the front of the packaging, were many claims mainly pertaining to the performance of the mousepads. However, one stood out to me the most. Its claim was "Two mousepads - one designed for control, one for speed - for the price of one". As an Asian university student, this was a mind blowing moment for me. This claim would mean that as a consumer, I would be paying one price for the equivalent of two products. This sounded great. However, is this too good to be true? Additionally, will the other claims pertaining to the performance of the mousepad match up to what it states? Read on to find out!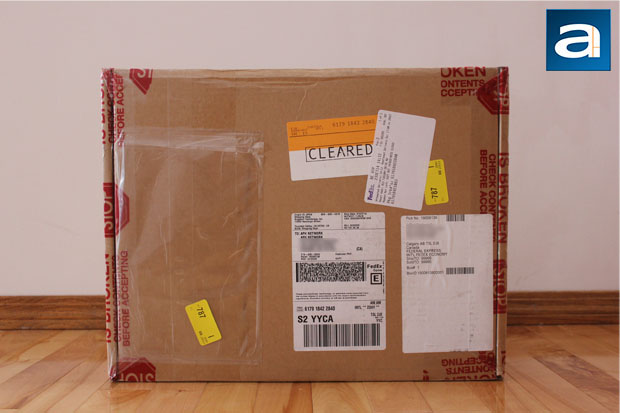 The brown corrugated box containing the HyperX Skyn was sent to us from Fountain Valley, California. This city in Orange County has a small population of around 56,000, and is often referred to a commuter community, where many of its residents work elsewhere. The box itself was shipped using FedEx, and sealed with standard packing tape and large stickers stating, "If Seal Is Broken, Check Contents Before Accepting". The box arrived at our APH Networks office in Calgary, Alberta damage-free and seal-proofed, with the Skyn sitting between two thick sheets of bubble wrap. This provided a very short lived flashback of memories for me and my sister.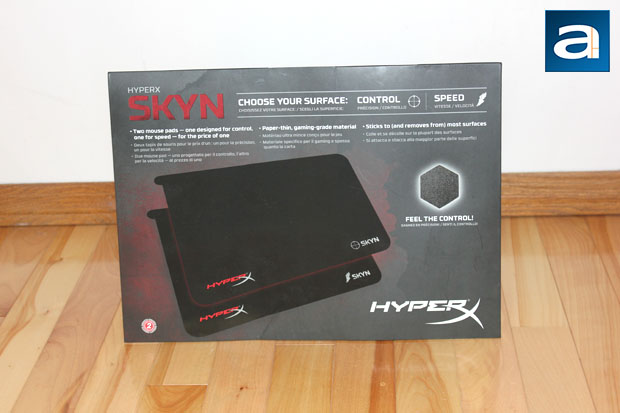 Taking the HyperX Skyn out of the brown corrugated box revealed it was packaged in a very nice folder. This was a very appropriate form of packaging in my standards, as it shows the company is considerate about shelf space and efficiency. Taking a closer look at the front of the folder reveals the design, being overall black with a splash of red, stays true to the family of products Kingston offers with their HyperX line. Aside from that, another intelligent design I would like to mention is the slightly raised glossy lettering for the company name, product name, and the clear image of both the mousepads. Since Kingston sent us both the Control and Speed model of their Skyn line, there were two small hexagonal windows; one on the front and one on the back. This allows users to feel the textile of the mousepads even before opening the folder. It is a smart feature that would allow users to get a better feel -- quite literally -- of what they are buying the moment they pick it up off the shelves. Flipping it to the backside, you will find an outline of features and specification of the Skyn.
A separate data sheet provided on the Kingston manufacturer's website highlights the features and specifications of the HyperX Skyn in more detail:
Features:
-Paper thin gaming-grade hard surface (Ultra thin form factor)
-Plastic anti-microbial surface designed for prolong use
-Adhesive bottom with pull-off tab for firm stick and easy removal
-2-year warranty with free technical support
Specification:
-14" x 10" x 1/100" (355mm x 255mm x 0.254mm) approximately
-Approximate weight of 20 g (0.04lbs)
---
Page Index
1. Introduction, Packaging, Specifications
2.
A Closer Look
3.
Subjective Performance Tests
4.
Conclusion