By: Jonathan Kwan
August 29, 2009
It all started with the idea of an ultra low cost PC for education use in third world countries. Then Asus took the basis of that idea, and evolved into the Eee PC -- a small, low cost laptop for mainstream consumers. The netbook craze began to take off. After that, Intel decided that they needed to make a processor for this very purpose in order to take advantage of this rapidly growing segment. The Intel Atom was born. Then the netbook market exploded. Welcome to 2009, a year where many low cost computing solutions came into this world, thanks to the Intel Atom CPU. From the original netbooks, nettops were born; a term to describe low cost desktop computers as juxtaposed to its laptop counterparts. The Atom processor even found home in network attached storage devices such as the QNAP TS-439 which we'll be reviewing next week! Interestingly, since the desktop world is all about making use of standard form factors, Mini-ITX suddenly took center stage, after development by VIA since 2001. Unsurprisingly, mITX cases also suddenly experienced a surge of demand in the market as many manufacturers jumped onto the boat, and started showcasing their own entry into this high potential segment. We took our opportunity, so what we got here today at APH Networks is, well, a mITX case (Why else do you think we took so much time to talk about it anyway? Haha). The Lian-Li PC-Q07 is a beautiful, high quality, full aluminum case from renowned chassis manufacturer... well, Lian-Li -- which you probably have guessed from the name as aforementioned anyway. And this time, it's mITX. How does it stack up in this new world of computing solutions? Read on to find out.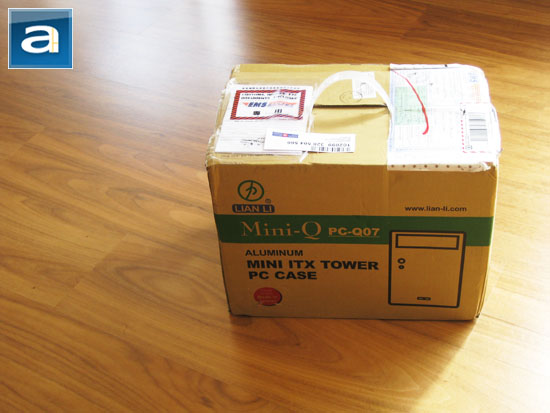 Our review unit of the Lian-Li PC-Q07 mITX computer chassis arrived in a small, corrugated cardboard box from Lian-Li's headquarters in Taiwan. The shipping box is also the retail box for this product, as seen in the photo above. A small handle is placed at the top for carrying convenience. After being transferred to Canada Post when it arrived on Canadian soil (eh), our Lian-Li PC-Q07 arrived in excellent condition for review, with minor bumps and damages on the shipping box itself.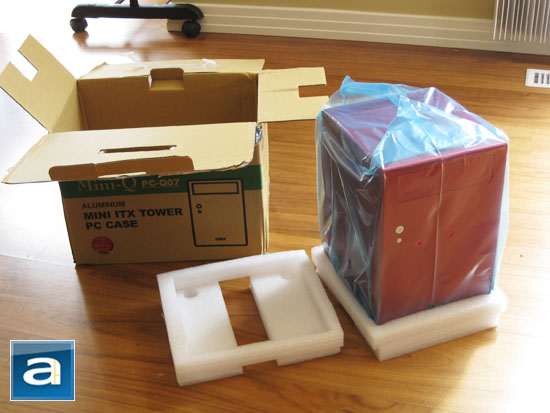 It's kind of funny, because when I didn't exactly know what to expect when the Lian-Li PC-Q07's delivery notice got dropped off in our mailbox. Therefore, to play it safely, I parked my car directly outside the postal outlet's main entrance built conveniently one minute's drive away from here. Much to my surprise, I walked into the postal outlet, signed the standard papers, and walked out with a box that is sized as seen above, and felt as if it weighed half a pound. Heck, if you told me that the box was empty, I would have believed it. The Lian-Li PC-Q07 is really that light!
In reality, the Lian-Li PC-Q07 is actually 1.1kg, or 2.4lbs, but it certainly didn't feel that way. Other than that, the retail packaging of our Lian-Li PC-Q07 is pretty simple (Or sample and stylish as Lian-Li writes on their website, haha). Lian-Li's logo resides in the top left corner, and the model number is printed boldly in a green band across the middle. A simple description, "Aluminum Mini-ITX Tower PC Case" -- along with a simple diagram that's pretty much exactly how the PC-Q07 looks like from the front -- takes their spot in their respective positions on the box. Miscellaneous information like "Finest Quality Made in Taiwan" proudly has its own red seal near the bottom left. Its opposing side presents identical information; while its adjacent sides contain a list of specifications. A sticker slapped on shows what color the Lian-Li PC-Q07 is inside, where in our particular case is "Red". It is also available in black or silver.
Opening the retail box reveals the Lian-Li PC-Q07 clipped between two foam brackets, wrapped in a clear bag with a blue tint. It is safely packaged with no wasted room. Accessories are placed inside the chassis; in which we'll get to later on in this review. Before we move on, let's take a look at the specifications of Lian-Li's PC-Q07, as obtained from their website:
Model: PC-Q07
Case Type: Mini Tower
Dimensions: 193mm x 280mm x 208mm (W,H,D)
Front bezel Material: Aluminum
Color: Black / Red
Side Panel: Aluminum
Body Material: Aluminum
Net Weight: 1.1kg
5.25" drive bay (External): 1
3.5" drive bay (External):
3.5" drive bay (Internal): 1 ( Plus 1 x 2.5
Expansion Slot: 1
Motherboard: M-ITX (170mm x 170mm)
System Fan (Front):
System Fan (Top):
System Fan (Rear):
I/O Ports: USB2.0 x 2
---
Page Index
1. Introduction, Packaging
2.
Physical Look - Outside
3.
Physical Look - Inside
4.
Installation and Conclusion