Page 2 - Physical Look - Hardware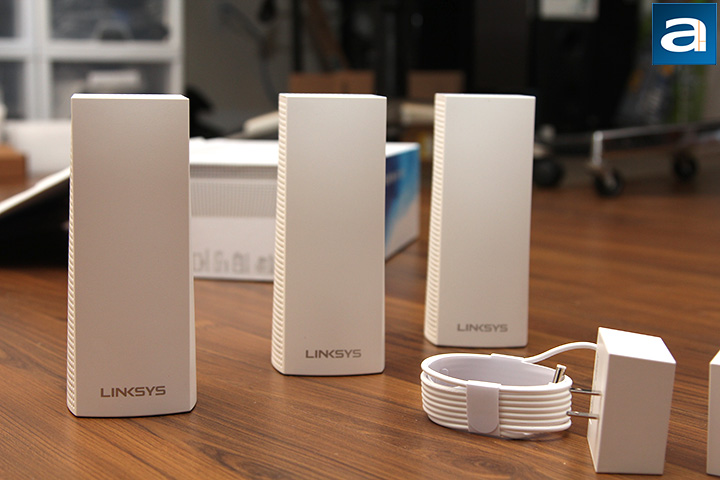 The Linksys Velop mesh Wi-Fi system can be purchased with one, two, or three nodes out of the box. Linksys provided us with the triple-node kit as shown in our photo above. Although it is probably impractical to purchase one of these as a standalone system due to a lack of wired Ethernet ports, purchasing a one-node pack will allow you to add an additional node to your existing system. You can use as little as one node if you want, and there is no hard upper limit to the maximum number of nodes. Linksys claims to have tested up to six nodes with adequate wireless performance.
As you can see in our photo above, the Linksys Velop does not look like a traditional router. Linksys' branding is minimal yet elegant, and its slim profile will fit anywhere in your home. Each node has dimensions of 3.1" by 3.1" by 7.3". The sleek twisted tower design is thoroughly modern; all six antennas are built inside the matte white plastic enclosure for a contemporary appearance. Why six antennas, you may ask? The first reason is the Linksys Velop system needs extra antennas to communicate with each other using a wireless backhaul. (A wired backhaul for increased performance and reliability is also supported; more on this later.) On the client side, the use of multiple antennas for communications has been the foundation of many modern wireless technologies; ranging from short range unlicensed bands such as Wi-Fi to long range licensed bands like LTE cell phone networks. The fundamental principle lies in the fact that multiple antennas allow the designer to enhance performance using beamforming and diversity techniques. Beamforming, in the simplest explanation, allows power to be directed towards a certain direction. Diversity exploits multipath -- where the same signal can arrive via different paths due to reflection and refraction in the propagation channel -- to enhance the received signal quality. Multi-user MIMO, otherwise called MU-MIMO, lets multiple antennas from multiple users to communicate with multiple antennas on base station. Obviously, the more antennas on the access point the better, but we are bound by the laws of diminishing returns. The Linksys Velop is designed to intelligently select antennas for the backhaul and the front end for optimal wireless bandwidth allocation.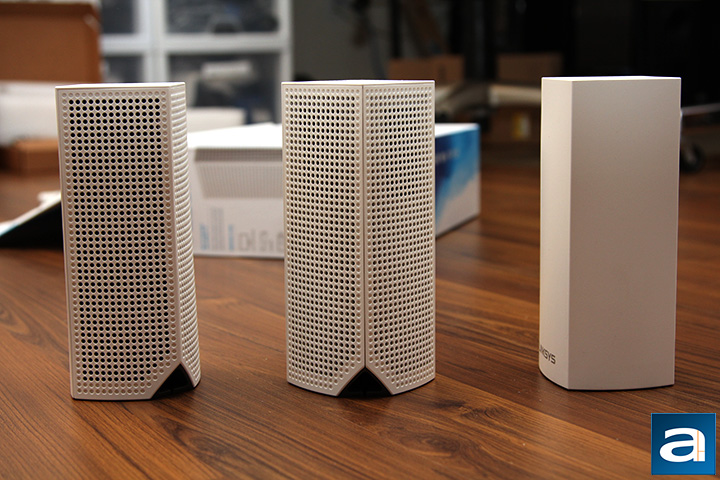 Rotating the Linksys Velop nodes around, two of the four sides are ventilated to ensure the 716MHz quad core processor, 512MB RAM, 4GB flash memory, and all the associated electronics stay thermally stable. In one of the corners at the back is a cable guide to keep everything neatly routed. An LED at the bottom right corner of the top surface of each node is used to indicate its operational status. A blinking blue light indicates it is starting up, while a solid blue shows everything is working correctly. As for the rest, blinking purple means the node is paired with phone for set up, solid purple means the node is ready for set up, blinking red for lost connection to primary node, solid red for lost connection to the internet, and solid yellow means the node is too far from another node to be connected to the Velop system.
Each Linksys Velop node is an AC2200 wireless access point. This means it operates at 400Mbps on the 2.4GHz band via one 40MHz channel with three streams, while an 80MHz channel with four streams on the 5GHz band provides 1733Mbps for a total of 2200Mbps theoretical throughput. One of the 5GHz bands is used for the backhaul connection. We will evaluate the performance of this mesh system in just a moment.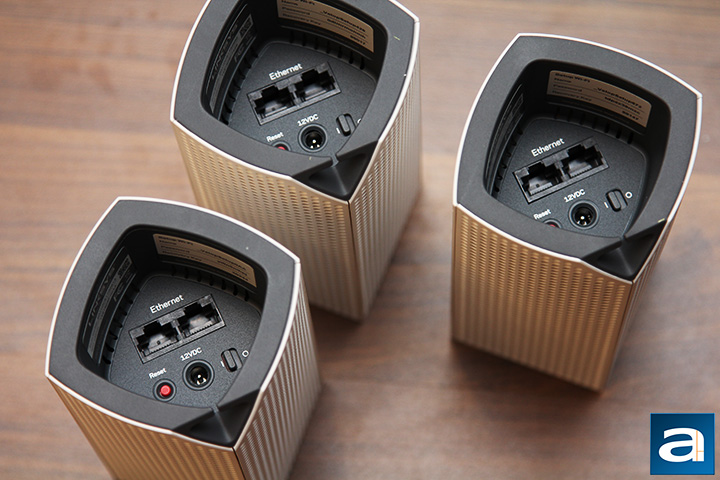 Turning the Linksys Velop upside-down, we can take a closer look at the ports and switches hidden in the elevated bottom. These include a two Gigabit Ethernet ports, 12V DC power input, reset button, and a power switch. For the main node, one of the Ethernet ports is used to connect to your modem, while the other can be used for a wired device like your desktop as it is with a traditional router. For any other nodes, these ports can be used to connect to wired devices to your main network. The Ethernet ports can also be used to connect between Velop nodes for a wired backhaul instead of a wireless backhaul for increased Wi-Fi performance. Meanwhile, a label is present with information like its serial number, default SSID, as well as Wi-Fi password. Of course, you are free to change your wireless network name and encryption key in the web configuration interface, but this will get you going right off the bat if you are the type to stick with default settings.
---
Page Index
1.
Introduction, Packaging, Specifications
2. Physical Look - Hardware
3.
Configuration and User Interface
4.
Performance Tests
5.
Conclusion