By: Jonathan Kwan
September 30, 2016
Does everything have a purpose? Before we get too deep into the question and wonder whether your life has a meaning and purpose, if there is a meaning and purpose at all, I suggest you to go on desiringGod.org rather than reading a review on a technology website for an answer. But whether you think you have a meaning and purpose to your life or not, I think we can at least trust the things we create out of our hands at least serves a certain purpose. Or does it? As I sit here at the Students' Society of McGill University building writing this review introduction, while listening to the constant banging of construction all around, sometimes you have to wonder why the whole city of Montreal is always under construction -- and I have only been here for less than one week. Montreal construction aside, in my opinion, not everything necessarily has a purpose, but some things always have a purpose. The question for these things is not what you can use it for, but how well it does its job. Recently, we received a totally new type of product to review here at APH Networks. The Loftek Nova 50W is a portable floodlight powered by an array of bright RGB LEDs for cool lighting effects at a distance of up to eight meters. With an IP66 certification and infrared remote control, you can use it indoor and outdoor, within reach and out of reach, and light up your world to show off to your neighbors or use it to fix your car like a mechanic's work light. The Nova 50W definitely has a purpose. But will it do its job well? Read on to find out!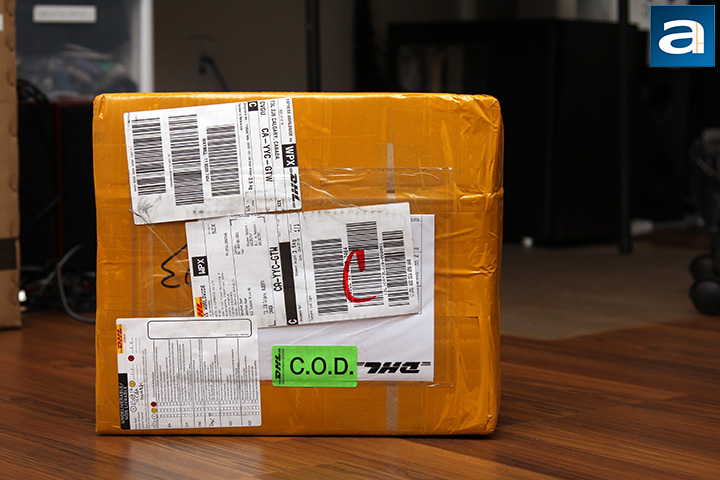 Our review unit of the Loftek Nova 50W RGB Timer LED Security Floodlight came wrapped in tons of tape from the company's headquarters in Shenzhen, China. If you have been following APH Networks for a while, you will realize most products come from California, USA, so this is a departure from the norm. However, this is not the first time we received a product from one of the most advanced technology development and manufacturing centers in China. The aLLreLi USB Car Chargers reviewed by Brian Cheung also came from Shenzhen. After making a geographically long trip across the Pacific Ocean to us here in Calgary, Alberta, Canada using the International Express service, the package from DHL was pretty beat up, but nothing to be too overly concerned about. With that in mind, we cracked open the package, and got straight to work.
The retail packaging of the Loftek Nova 50W RGB Timer LED Security Floodlight is pretty plain to say the least, and for a company that deals primarily through Amazon, this is not necessarily a bad thing. Other than the fact any fancy retail art will not be enjoyed by anyone until after they received the product, having a brown corrugated cardboard box with plain black ink printing makes it more environmentally friendly. Furthermore, it is a perfectly valid cost saving measure in my opinion. As you can see in our photo above, the front flap has Loftek's logo and slogan, along with the URL for the company's website. I find it kind of funny how they have a US top level domain being a Chinese company, but I digress, haha. Other than some regulatory logos on one side, the rest of the box is completely plain.
Before we move on, let us take a look at the specifications of the Loftek Nova 50W, as obtained from the manufacturer's website:
- Power Consumption: 50W
- Input Voltage: AC 85V--265V
- Lifespan time: 50,000 hours
- Beam angle: 120°
- The best illumination distance: 6m
- Acceptable illumination distance: 7-8m
- Illumination area: 8 m²
- Output Lumen: Red 640-800LM; Green 960-1120LM; Blue 240-400LM; White Triad light, no lumen value
- Wiring Mode: Brown--Live Wire(L); Blue--Naught Wire(N); Yellow--Earth Wire (GND)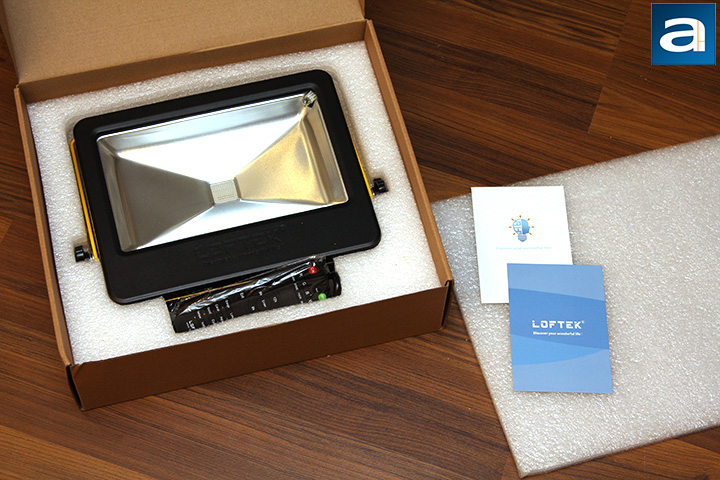 Upon opening the flap top box, there is not a whole lot of things included inside. Sitting securely in the middle of a block of white foam is the Loftek Nova 50W RGB Timer LED Security Floodlight itself, along with a cavity right under it for the included remote control. Two spare screws, contact card, and a manual for the remote control are also included. I would have appreciated it if batteries for the remote control were included, but thankfully, it uses two standard AAA batteries.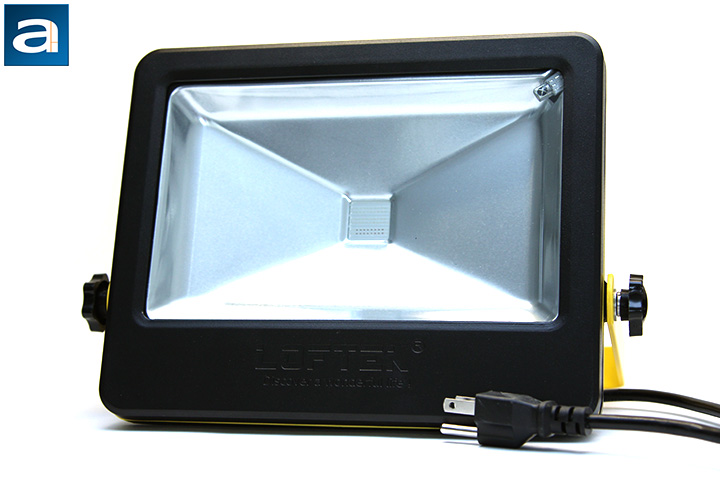 Loftek utilizes a pretty straightforward design with the Nova 50W RGB Timer LED Security Floodlight. The rectangle with rounded corner design measures in at 25cm wide, 20cm tall, and 7cm deep. After using a pair of Dell UltraSharp U2417 monitors in my office, I cannot say the Nova's black bezel is thin, but 2cm at the top, left, and right and 5cm at the bottom is pretty reasonable for a floodlight. The extra space at the bottom is used to accommodate Loftek's logo and slogan engraved onto its die cast aluminum cover. A piece of tempered glass measuring 25cm diagonal with an aspect ratio of approximately 16:10 encloses an aluminum reflector. An IR receiver for the remote can be seen at the top right corner. This means you can only control the Nova when you are in front of it, but not behind or beside it. In the center are three rows of LEDs, a row each for red, blue, and green, to create sixteen user-selectable color choices. The LEDs are rated for 50,000 hours of operation, or almost six years of continuous operation. In other words, the lights should not burn out for the lifetime of the product under normal usage.
Internally, the aluminum reflector is designed to create a 120 degree beam angle. The maximum effective illumination distance is eight meters, with an area of eight square meters. The optimal illumination distance according to Loftek is six meters. The LEDs themselves are also very bright; red is rated between 640 and 800 lumens, green between 960 and 1120 lumens, and blue between 240 and 400 lumens. We will take a look at its lighting performance in just a moment. Externally, thanks to a dual O-ring seal, the enclosure is IP66 certified, which means it is dust tight and protected against heavy seas or powerful jets of water. This does not mean you can use it in your swimming pool, but it does mean you can use it outdoors. The rated operating temperature range is from -30c to 60c, so it can stand even Canadian winters. For those who want to take it along for some real work in the field, the Loftek Nova 50W is vibration and drop tested to handle more rugged environments.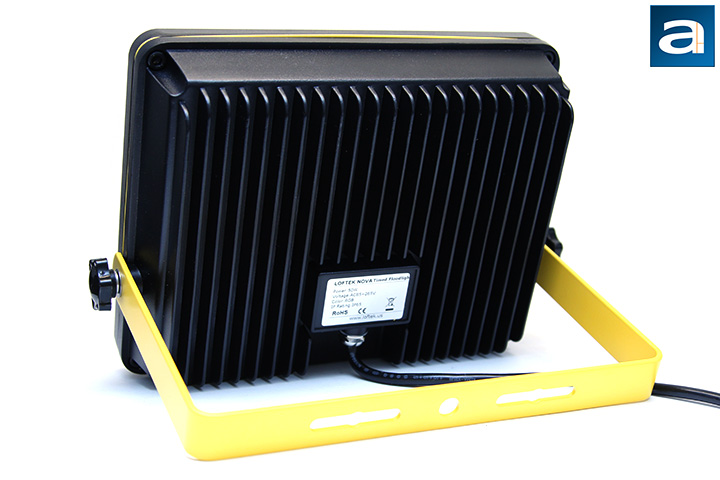 There is not a whole lot of interesting things going on at the back of the Loftek Nova 50W RGB, and this should come as much of a surprise to you. It is a floodlight after all, and you get everything you need to get in front already. Functionally, we can see a large black aluminum heatsink to dissipate heat from the LEDs. In the middle, a sticker shows the model name, power rating, voltage rating, light color, IP rating, and the usual array of regulatory logos. The sticker is immediately adjacent to the sealed power input, where a thick grounded power cable comes into the LED floodlight.
Interestingly, the sticker at the back says the Loftek Nova 50W RGB Timer LED Security Floodlight is IP65 certified, rather than IP66 certified like it is advertised on the company's website. The difference is IP65 can sustain low pressure water jets rather than high pressure water jets. Loftek confirmed the product is indeed IP66 certified, and the sticker is incorrect.
Attached to the left and right side of the Loftek Nova 50W RGB is a yellow C-shaped bracket. I found the use of the yellow color pretty interesting, as the floodlight's black and yellow color scheme reminds me of the Tonka toy trucks I used to play with when I was a kid. If you do not like that, you can buy an all-white version. That aside, the bracket can swing 360 degrees around the device, and is secured by two knobs on the side. When placed on a table, the C-shaped bracket can act as a stand, as shown in our photo above. Furthermore, openings at the horizontal bar allow you to attach some screws to mount it on your wall or ceiling, which is pretty convenient. Two of these screws are included from the factory.
Overall, the Loftek Nova 50W feels like it is very well built. The entire floodlight is totally solid, with absolutely no flimsy parts. However, the first unit I got died after only a few minutes of usage, which was rather unfortunate. Loftek promptly sent me a new one for this review, and so far, I have not experienced any problems.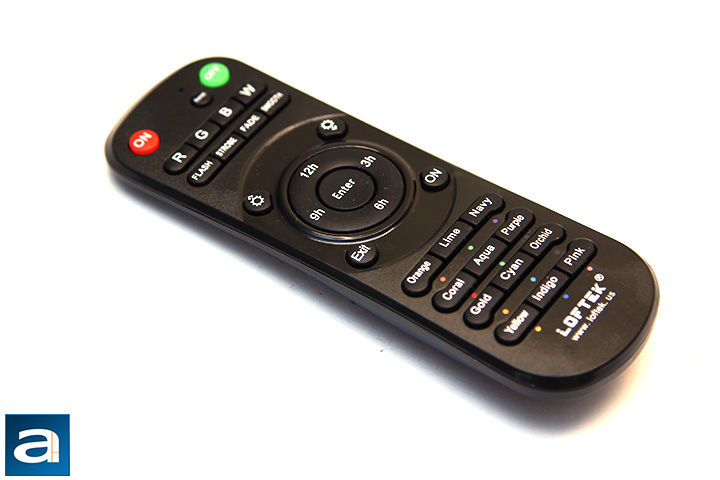 The only way to operate your Loftek Nova 50W RGB is using the included remote control. The remote control is powered by a pair of AAA batteries, which, as I have mentioned earlier in this review, is not included from the factory. Since the only way to operate this floodlight is via the remote, if the remote ever goes wrong, or if you lose it, the entire thing will be rendered useless. This is probably a design compromise so the Nova 50W can get its IP66 rating, but I would at least appreciate having a power switch on the device itself. That aside, with all the buttons on the remote, operation is quite self-explanatory. An on, off, and reset button can be found at the top row, followed by an array of standard colors. A matrix of twelve additional non-standard colors can be found at the bottom. Next are four lighting effects, including flash, strobe, fade, and smooth, which I will demonstrate in my video coming up next. The brightness of the Loftek Nova can be adjusted to seven distinct levels as well.
In the middle, the D-pad is not really a directional pad per se; it allows you to set a countdown for the Loftek Nova 50W RGB to turn off automatically after a set amount of time. To enable this feature, simply hit 3h, 6, 9h, or 12h, depending on how long you want it to be, and the light will flash twice. Once you hit "Enter", the light will flash twice again, and the timer is enabled. To stop the timer, simply press the "Exit" button on the remote.
Each time you turn on the Loftek Nova 50W RGB, it will start on the previous color setting. However, you cannot adjust each color channel independently, so you are only limited to only the preset color choices on the remote. This is definitely not a deal breaker, but for those who are looking to custom tune the color output, then you are out of luck, haha.
At first, I was planning to take some photos to demonstrate the output of the Loftek floodlight, but it did not take long for me to realize a video does the job so much better. The white balance on my camera was a little off, since I calibrated it based on the white output of the Loftek Nova 50W RGB, which was pretty blue to begin with. As such, it made the actual blue output of the floodlight look purple in the video. That aside, I am quite impressed by the output of the Nova 50W. The brightness is excellent and throw is wide, making large surfaces well-lit even when placed from a relatively short distance. It is also very easy to use -- just plug it in and press some buttons on the remote control. You will learn everything you need to know in no time simply by trial and error.
For those who are curious how much this 50W LED floodlight uses, I plugged it to a wall measurement device and gave it a quick check. It uses 20W on red, 18W on green, 17W on blue, and 14W on white. I have never encountered a scenario where it uses 50W, but it sure as heck is bright -- do not ever try to stare into the Loftek Nova, even if you are looking at it indirectly. This creates an interesting scenario, since the IR receiver is located on the same side as the light. It is not possible to control the Loftek Nova 50W RGB if you are behind or beside it, so you will have to look at the floodlight to control it. A 360 degree receiver would make it much more eye friendly.
-----------------------------------------
Without a doubt, the Loftek Nova 50W RGB Timer LED Security Floodlight has many purposes. Whether it is to let you see outside clearer, use it at night as a work light to work on your car, or even as auxiliary lighting to shoot a video like I did in this review (Look at the part where I was speaking), the possibilities are simply endless. However, whether it does its job well is a totally different question -- and we are here to answer it in this review today. Overall, the Loftek Nova 50W RGB is very well built. Every bit of it feels solid, thanks to its strong aluminum and tempered glass enclosure. Its IP66 certification enables the floodlight to be used pretty much anywhere other than the bottom of your pool. Functionally, the LEDs are very bright with excellent illumination power and spread, and with sixteen colors settings and four lighting effects, the Nova will really light up your world like nobody else -- not quoting any boy band teenage girls love, of course. It even features a timer for those who want it to turn off automatically by itself. However, there are a few things I would like to see Loftek improve on in future revisions of this product. Firstly, make it operable without a remote. If you ever misplace your remote control, or if your remote control ever dies on you, then the whole thing will become practically useless. Secondly, allow it to receive remote control commands from any direction. Making it only controllable from the front can be quite blinding for the end user, and I say this literally. Lastly, it would be nice if individual color channel power can be adjusted for custom color output, although this is definitely not a deal breaker for me. For about $67 at press time, the Nova 50W RGB Timer LED Security Floodlight is a fine piece of lighting device for a pretty reasonable amount of cash that can serve many purposes for years to come.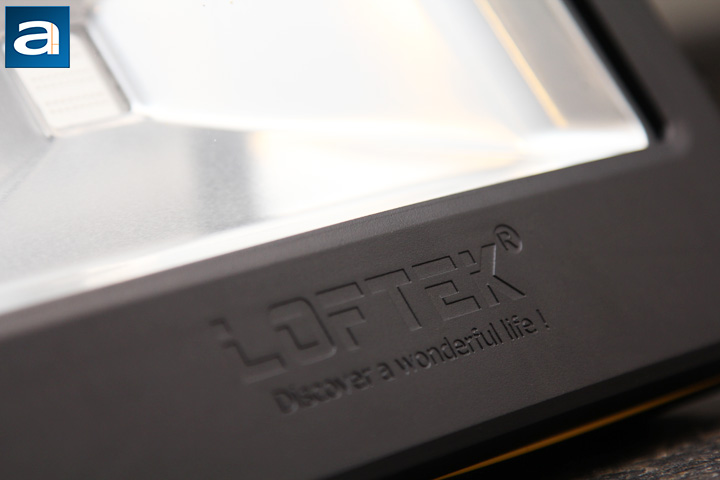 Loftek provided this product to APH Networks for the purpose of evaluation.
APH Review Focus Summary:
7/10 means Great product with many advantages and certain insignificant drawbacks; but should be considered before purchasing.
-- Final APH Numeric Rating is 7.0/10
Please note that the APH Numeric Rating system is based off our proprietary guidelines in the Review Focus, and should not be compared to other sites.
The Loftek Nova 50W RGB Timer LED Security Floodlight is a super bright floodlight that can be used pretty much anywhere for pretty much anything.
Do you have any comments or questions about the Loftek Nova 50W RGB Timer LED Security Floodlight? Drop by our Forums. Registration is free, and it only takes a minute!