By: Jonathan Kwan
April 14, 2007
Nowadays, fortunately for the computer user -- it's not just about function anymore. Prior to the popularity of computers as a home entertainment device, design is almost completely irrelevant. Beige cases, beige monitors, beige keyboards with grey keys and funny sounding springs -- oh, the memories (IBM, much?). However, in the recent few years, it seems that major changes have taken place. Pretty much every family has at least one computer in the home for various purposes. With many users implementing PCs as a home entertainment hub, design has caught up significantly as the computer is no longer just used for work purposes. It is an integral part of the digital home. With this in mind, industrial design has also been modified so much that design and function all comes together in a package. How about a very sleek, advanced, and simply (subjectively) beautiful keyboard? Let's take a look at the function and design of Logitech's diNovo Edge Bluetooth keyboard today.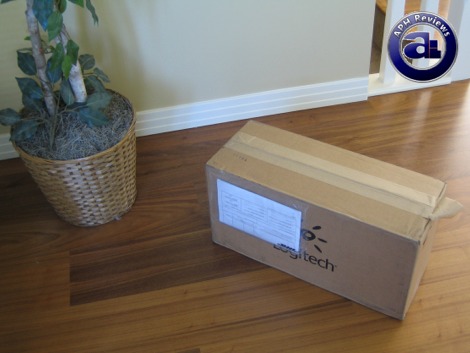 Our review unit came in a large cardboard box from Logitech via DHL Express. The same one that contained our Logitech MX3200 and MX3000 that was reviewed in 2006 and 2005, respectively (I discarded the latter one because that was a horrible review, har har). And, as the last few times, absolutely no custom issues and our unit arrived in less than 2 days. Less wait time means more time to get my hands on this highly regarded keyboard -- especially in terms of design!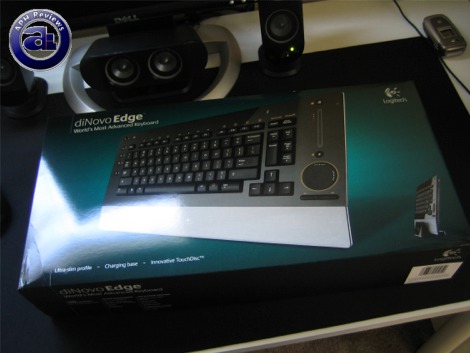 The retail package of the diNovo Edge can be easily recognized by anyone in a retail store due to Logitech's unique teal, white, and black color scheme over the box. This design differs from other standard Logitech retail packaging as this box is actually a complete box with no openings with clear plastic windows/custom shaped plastic to show off various parts of internal units. Similar to Monopoly game boxes, a larger cover lays over another tray to ensure easy to open design as well as reusable for future purposes.
On the side and bottom, however, is printed in entirely black background with Logitech teal and white text to highlight unique aspects of the diNovo Edge. With captions such as "The World's Most Advanced Keyboard" and "Ultra Slim Keyboard with Charging Base", we can't say that we won't expect a lot out of the diNovo Edge. We are extremely excited to see if it lives up to the name as well. Therefore, before we move on, let's take a look at the specifications provided on Logitech's website:
The world's most advanced keyboard.
An ideal partner for any high-end computer, the ultra-slim Logitech® diNovo Edge™ delivers the ultimate in feel and response. The revolutionary TouchDisc™ with hyper-speed scrolling and pixel-perfect control makes trackpads obsolete. A slim recharging base doubles as a keyboard stand. Work longer thanks to the longer-lasting Li-Ion batteries, and more securely via Bluetooth® wireless technology.
PerfectStroke™ key system
A precision micro-scissors mechanism distributes typing force evenly across key surfaces, making every stroke natural and fluid.
Stylishly sleek
Laser-cut from a single piece of Plexiglass and set in a brushed aluminum frame, the diNovo Edge makes a bold statement. Only 11 mm thick!
Elegant charging base
Put your keyboard on display while charging via the slim base/stand. Advanced Li-ion batteries recharge faster and last longer.
TouchDisc™ scrolling
A new type of touchpad, the TouchDisc™ unifies scrolling, selection, and cursor control. Scroll at hyperspeed with a touch of your finger.
Backlit stealth controls
Hidden hot keys light up at a touch, and fade into the background when not in use. The touch-sensitive volume slider gives you precise, fingertip audio control.
Bluetooth® wireless technology
Bluetooth® wireless technology ensures seamless, secure operation from up to 30 feet.
Specifications
Keyframe
* Full-sized standard 18 X 18 mm keys, 3.2 mm key travel, 60g activation force
* 10M keystroke supported per key
* Scissor switch technology
* Plexiglas panel with brushed aluminum palm rest
Enhanced Controls
* 38 mm circular Touchpad with horizontal and vertical scrolling
* Acceleration settings goes from None to 10 times the scrolling speed
* TouchDisk can be disabled with FN + Left Click on the keyboard
* 17 one-touch access controls with instant backlit feedback
* 57 mm touch sensitive volume slider with instant backlit feedback
Connectivity
* Bluetooth® Wireless Technology, version 2.0
Power and Battery
* Built-in rechargeable 950 mA lithium ion battery
* Fast-charge time: About 5 min for approx. one day usage
* Full-charge time: About 2 hours for up to 2 months usage
Dimensions and Weight
* 11 mm (H) X 410 mm (W) X 210 mm (D)
* 940 grams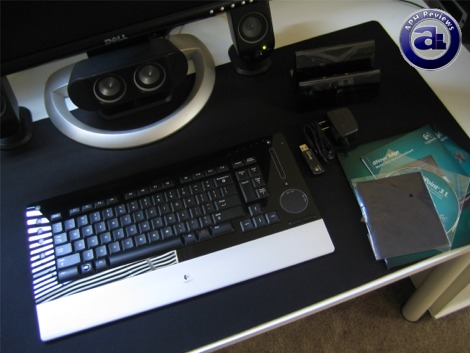 Out of the box, you will get the Logitech diNovo Edge keyboard itself. Included accessories include a charging station, AC adapter for charging station (90 degree angled; 8V 500mA output), Logitech product brochure, user manual, driver CD, and even a cloth for cleaning (We'll tell you why later, although you probably already know why). See how shiny the keyboard is, by the way?
Also included is the mini Bluetooth adapter. It is slightly shorter, thinner, and not as fat as the SecureConnect RF receiver that comes with the Logitech MX3200. This way, I can now use it with the USB ports at the back of my computer without interfering with the neighboring USB port. Much better implementation, I must say.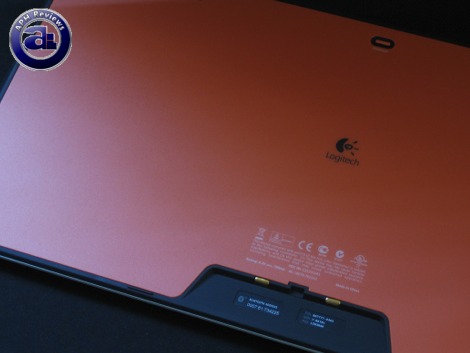 The bottom of Logitech's diNovo Edge is almost entirely orange with a Connect button placed at top center. At the bottom, two metal contacts are placed right up on the side of the recessed ramp in order to make contact with the charging station. Two keyboard risers that opens using an inside to outside style is also located on both sides of the keyboard.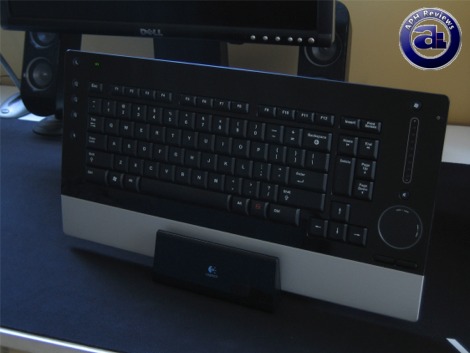 The charging station stylishly clips the Logitech diNovo Edge and holds it up vertically. It fully charges the diNovo Edge's built in 950mA Lithium Ion battery within a couple of hours. According to Logitech, a full charge equates to two month's usage, and a five minute charge will allow you to use it for a day. Depending on your usage, my usage is usually around 2/3 (66%) battery life of Logitech's specifications.
While Lithium Ion batteries will wear out, a properly cared for battery (Meaning, don't completely deplete the battery all the time) can actually last a long time. Even if you are going to drain the battery all the time and abuse it a bit, the battery will probably still last you two years due to the low consumption rate -- so there's nothing to worry about in my opinion. The battery is not user replaceable, just for your reference.
Back to the charger, it is made of the same Plexiglas material as the surface of the Logitech diNovo Edge. What this means to you is that the charger will definitely a fingerprint magnet -- the cloth that comes out of the package definitely comes in handy. In general, handle the charger by its edges!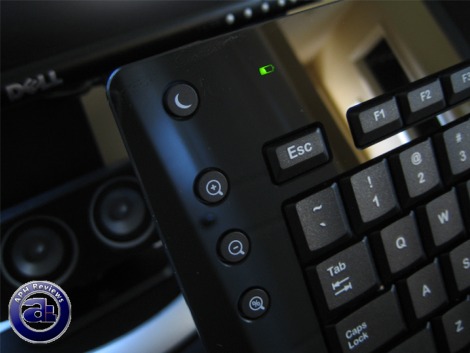 The LED located at the top left corner beside the array of circular buttons is the battery charge indicator. When it is charging, it will blink; and when charging is complete this LED will remain lit.
One thing I must note is that, if you are extremely sensitive to sound frequencies -- in an almost completely quiet environment you can hear the LED flash on and off. My computer is located in my room, and one night when I was charging the diNovo Edge I could actually the slight "whee - whee" of a slightly higher frequency consistently as it corresponds to the LED going on and off. Therefore, see if you can hear it -- if you can, don't charge the keyboard at night if your computer resides in your room.
Located at the left, as I described earlier, is an array of five circular buttons. A larger gap exists between the three groups of buttons; from the top is a standby key -- and the second group includes a zoom in, zoom out, and zoom reset button. The last button is the pointer selection button. All these buttons have an orange LED located directly at the right of the keys, and lights up with a corresponding icon when pressed.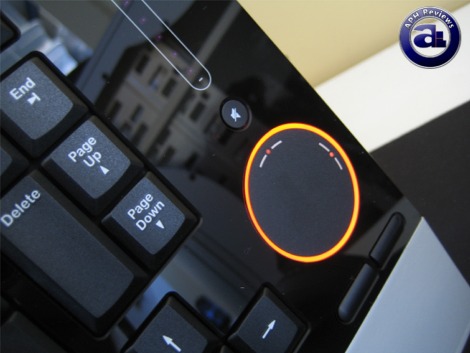 The Logitech diNovo Edge may be missing a numpad, but it certainly implements a feature other keyboards don't -- a touchpad. The TouchDisc, as Logitech calls it, can be used in a circular motion to scroll up and down or left and right -- depending on where you start. This is quite similar to Apple's famous iPod scroll wheel; but how it works takes time to get used to. Once you get used to the TouchDisc, scrolling through documents and webpages could be quite entertaining.
The TouchDisc's perimeter is an orange LED strip completely surrounding it and lights up as the touchpad is used. There are two buttons underneath it as a laptop would; and simulates the left and right click. The TouchDisc can be turned off by preference by hitting Fn+Left Click and turned back on by Fn+Right Click as well.
Using Logitech's SetPoint 3.3, the TouchDisc on Logitech's diNovo Edge can be configured individually for acceleration and scrolling speed (Along with a few other things) as you can with independent Logitech mice. Windows Device Manager also detects the TouchDisc as a separate Bluetooth pointing device independent of the keyboard.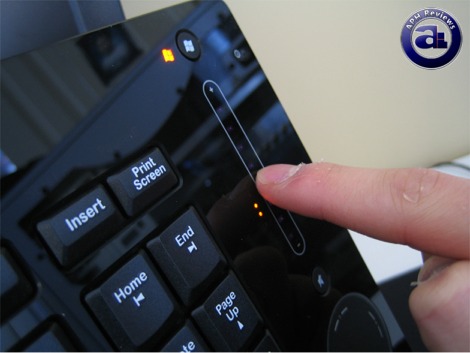 The volume control strip is very unique. Located under the Plexiglas layer, it is touch sensitive and allows you to adjust volume. Two LEDs will light up as it tracks and moves with your finger. Above the volume control strip is a media center button (It loads Windows Media Center if available, or Windows Media Player if not) and a corresponding orange LED icon beside it. Under it is a similarly implemented mute/unmute key.
One thing you might notice is the missing scroll lock button. Once you hit the Fn button, text with backlit orange LEDs will light up above the Insert and Print Screen keys, turning them into Scroll Lock and Pause, respectively.
As the Plexiglas material is very shiny (You may have noticed in our photos throughout the review), it is also very prone to fingerprints as I've mentioned earlier -- you'll know what happens if you use the volume control strip a lot!
The group of Delete, Home, End, Page Up, and Page Down keys are organized in a standard Logitech fashion we've seen in the last few years.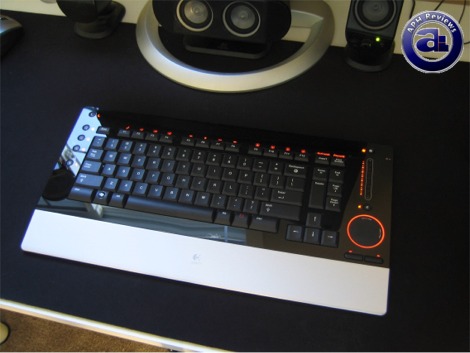 There is a switch located at the top right corner to allow you to turn the keyboard on and off when necessary. Once turned on, all LEDs will light up for several seconds until it fades or animates away (The volume touch strip).
There's a few interesting things that Logitech mentions in regards to the key mechanism and design. Replicating a laptop style design, the PerfectStroke key mechanism is designed to cross over the middle in an X-scissor fashion to evenly distribute application weight evenly among each key. During usage I noticed that the keys are much more 'solid' and not 'flakey' -- especially when compared to the Dell Inspiron 6400 keyboard, the PerfectStroke key mechanism is by no doubt superior with solid keys, and each key barely tilts when pushed from one corner.
Another thing is activation force. Logitech mentions about 60 g activation force and 3.2 mm travel distance. Shorter travel distance done by keys will cause fatigue to higher force required, but in general -- technical specs are technical specs, it's really how it feels that matters in my opinion.
As I mentioned earlier, I felt that each key was solid and gives nice response. It definitely feels natural, and that's what that matters to me. Just as I am typing away this review on this keyboard...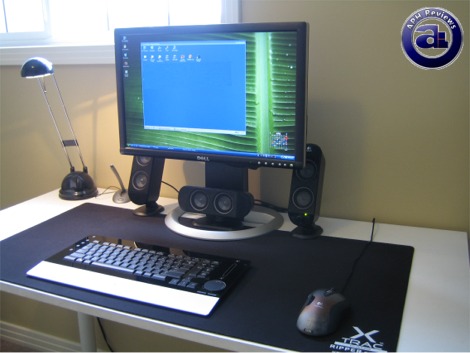 Bluetooth as communication may or may not scare off some Logitech users due to the MX5000 lag nightmare a few years back. Personally, I noticed no detrimental lag, at least on my unit, over RF based Logitech wireless keyboards. Typing long documents were beyond acceptable (And keys felt great), and gaming was fine as well.
There's no capslock indicator LED though, but an integrated speaker on the Logitech diNovo Edge will emit different sounds when capslock is adjusted on and off -- along with on screen notification when a compatible version of Logitech's SetPoint is installed.
Pretty stylish on my desk in my opinion though, after all!
In general, this is definitely one of the most beautiful keyboards I've used. Its clean, stylish, and unique design is definitely the keyboard that distinct itself over others and catches everyone's attention. There are sacrifices to such a design though. You'll get a cool TouchDisc, but the features you must give up includes the numpad -- depending if that bothers you or not. Another thing is, the Plexiglas is very shiny and beautiful -- but a huge fingerprint magnet that in order to retain the shine, you'll have to clean the keyboard at least once every day. Price is another factor, but if you want an input device simply incredibly looking for your living room, the Logitech diNovo Edge is the way to go.
Special thanks to Kate over at Logitech for making this review possible.
APH Review Focus Summary:
7/10 means Great product with many advantages and certain insignificant drawbacks; but should be considered before purchasing.
8/10 means Definitely a very good product with drawbacks that aren't likely going to matter to the end user.
-- Final APH Numeric Rating is 7.6/10
Please note that the APH Numeric Rating system is based off our proprietary guidelines in the Review Focus, and should not be compared to other sites.
This keyboard is very typing friendly, and looks amazing regardless of where you put it. It is art -- while you may sacrifice things such as a numpad, you might want to consider if that matters to you. And the price, of course, but you pay for what you get -- and you pay for art.