By: Jonathan Kwan
February 9, 2008
I don't know what the phrase "gaming peripherals" means to you, but to many technology enthusiasts it usually means an overdone combination of odd colors, excessively distracting LEDs, tasteless designs, and equipment built with pages over pages of compromises in the name of 'gaming'. However, equipment slapped with the gaming label doesn't actually guarantee poor quality all the time. The Logitech G51 surround sound speakers are designed and marketed as gaming speakers, but how does this 5.1 set fit into the category of daily usage and real life applications for stuff such as music in addition to audio positioning in games? I can't help but notice all the glowing reviews on this set of speakers for the last few months, and to be honest I was a bit skeptical -- I mean, if the subwoofer is powerful enough to knock things off your desk and cause pictures to fall off your wall, or alter your house's structural integrity, it's an earthquake machine capable of delivering a magnitude of seismic energy earning at least a 4.5 on the Richter scale. Generally speaking, we'll check into how these speakers really perform on an objective scale in our subjective tests of what we think of these speakers today.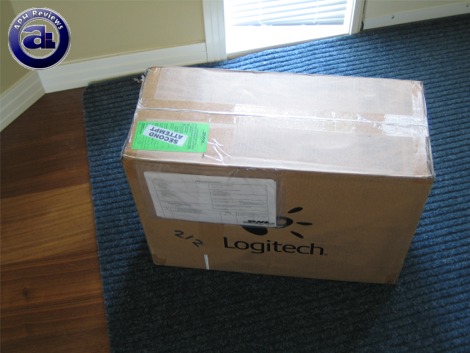 Our review unit came in a large, and relatively heavy box from Logitech's offices in Fremont, California using DHL Express. It sure came fast -- and the friendly DHL delivery man showed up at my door with the speakers, and as usual we had a nice chat... who knows, he probably has grown to love APH Networks after delivering all the stuff in the past few months.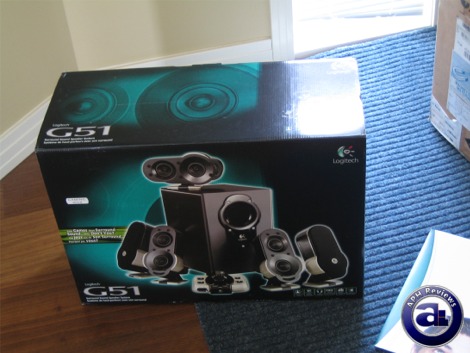 Logitech sent us a retail package of the Logitech G51, which interestingly had a complete perfect fit in the shipping box -- obviously a tailored shipping box for the Logitech G51 speakers! The Logitech G51 retail box incorporates aspects of what we'd usually see in terms of design from Logitech; from its color scheme to placement of object and overall box design. The classic teal and black color scheme takes the background as images of the speakers are printed on the box; with clear markings of the model name and the Logitech logo in the corner as usual. Product highlights and other miscellaneous information are printed on other sides of the box.
Before we move on, let's take a look at the specifications of the Logitech G51 speakers, as obtained from Logitech's website:

- Total RMS power: 155 watts RMS
Satellites: 20 watts RMS x 4 (into 8 ohms, @ 1 kHz, @ 10% THD)
Center channel: 19 watts RMS (into 8 ohms, @ 1 KHz, @ 10% THD)
Subwoofer: 56 watts RMS (into 2 ohms, @ 100 Hz, @ 10% THD)
- Total peak power: 310 watts
- Frequency response: 36 Hz–20 KHz
- Subwoofer crossover frequency: 150 Hz
- Drivers:
Satellites: (2) 2-inch laser-tuned drivers
Subwoofer: Down-firing 5.25-inch high-excursion driver
- Speaker dimensions (H x W x D, inches)
Satellites: 4.2 x 5.6 x 8.5
Center channel: 8.0 x 3.9 x 5.6
Subwoofer: 7.7 x 10.4 x 13.1
- Enclosure: Bass reflex enclosure with tuned port
- Inputs: 6-channel direct, stereo RCA
- Precision control pod:
Non-skid silicone feet
Master volume control
Subwoofer, center, and surround level controls
Matrix surround sound music and gaming modes
Independent audio and microphone mute controls
Headset jack (microphone and headphone)
- Signal-to-noise ratio: >94 dB, A-weighted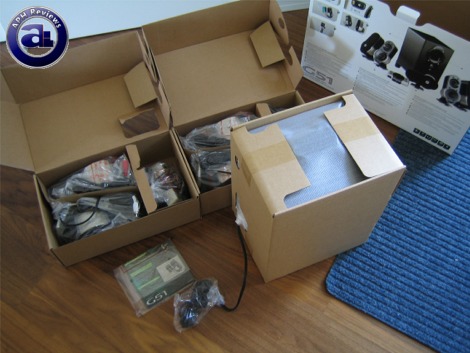 The last set of Logitech speakers I bought were the X-530s back in 2004, which used Styrofoam brackets as packaging. It's really, really annoying with all the squeaky noise in packing and unpacking -- as we moved just last year, I had to literally plug my ears because I just couldn't stand the noise. Fortunately, the Logitech G51 speakers uses corrugated cardboard instead of Styrofoam. In the retail box, the subwoofer is placed in the middle with the five speakers separated into one of two boxes and placed on both sides. The cardboard packaging was used very nicely; each speaker is independently packaged in a clear plastic bag and is very secure for transportation; with the subwoofer wrapped in a thin foam sheet. Everything arrived undamaged, and without a scratch. What you'd get out of a retail store will be identical.
Out of the box, you will receive the following:
- 1x subwoofer (With built in amplifier)
- 2x front speakers
- 2x rear satellite speakers
- 1x center speaker
- 1x control pod
- 1x PC to speaker cable
---
Page Index
1. Introduction, Specifications, Bundle
2.
A Closer Look
3.
Usage, Performance, Conclusion