By: Jonathan Kwan
December 24, 2005
Yes, everyone has a set, and they are generally the same. They don't seem to change at all, and yet it does -- it's the keyboard and mouse. Yes, the keyboard still has the same QWERTY layout, and the mouse, well, still has two buttons and a wheel. (Unless you have a 15 year old mouse, of course).
How has the keyboard and mouse evolved from from the plain-old-keyboard-and-mouse to... well... let's get to the point. Today we'll be reviewing the MX3000 Cordless Laser Set from Logitech. As the name suggests, it's cordless, and it includes a laser mouse. (Nope, the keyboard is not laser :P )
Anyway, our review sample came in a nice box. (Like always)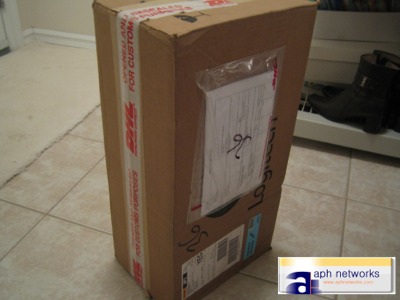 As you can see by the tape, it's been opened by the customs... but special thanks to Logitech for communicating well with me and DHL (And paying the tax), the package came here just the day before I went on trip to Toronto. And that's where I am writing this review.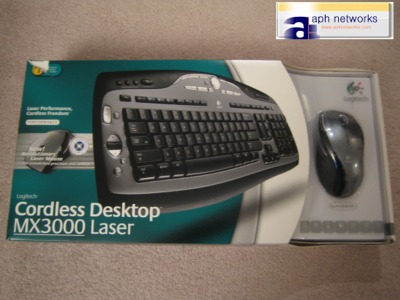 Anyway, our review sample came in nice retail packaging. The teal and white design just tells you it's a Logitech product if you see this at a retail store.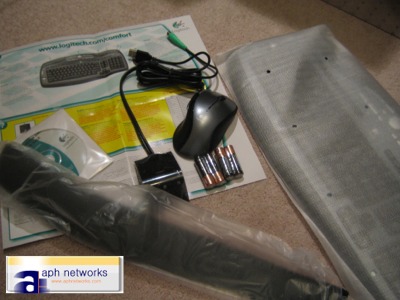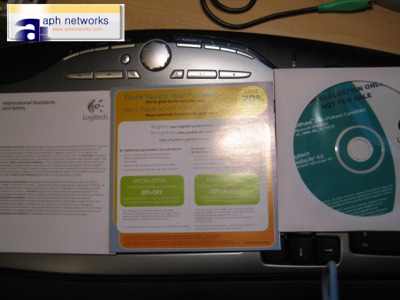 Right out of the box are the keyboard, mouse, receiver, palm/wrist rest, driver CD, set up poster, four AA batteries and a few other booklets that come with every Logitech product.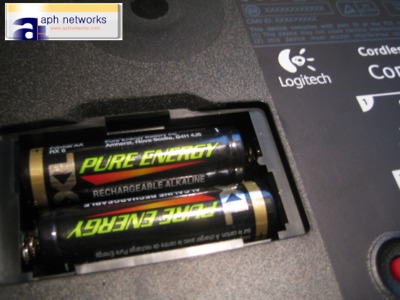 Setting up is fairly easy. First, you connect the receiver either to a single USB port, or two PS/2 ports (One for the mouse, and one for the keyboard). Unfortunately, there is only one PS/2 connector, and that's for the mouse. The USB to PS/2 connector is not included, so I had to use my own USB to PS/2 connector from my previous keyboard. It worked flawlessly; I guess you are encouraged to use USB, but I decided to save a USB port and use PS/2 instead.
This is a wireless keyboard and mouse set, remember? So the next thing I did was load up the keyboard and mouse with batteries. There are four Duracells included with this set, where the keyboard and mouse each takes two. (By the way, it's marked "Not for resale" on those batteries)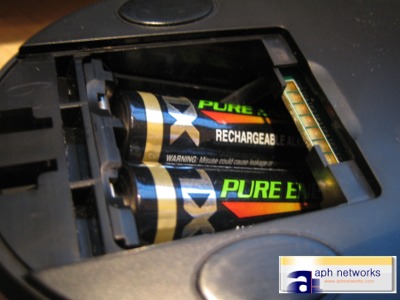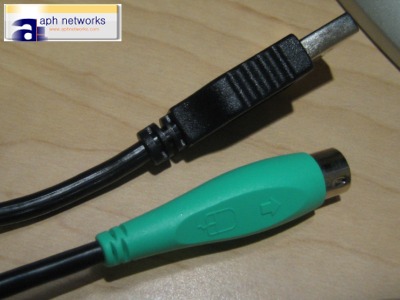 Of course, I am going to use my favourite batteries... Pure Energy Rechargeable Alkalines! If you were to get this keyboard and mouse, be sure to get a set of these batteries. They are just "So great", as reviewed here.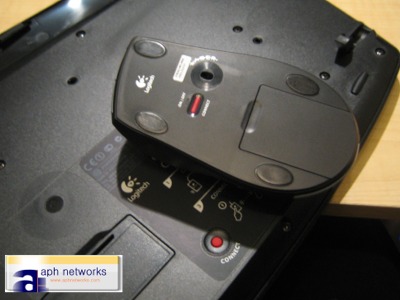 After connecting everything and loading up the batteries, you press "Connect" on the receiver. The LEDs on the receiver will start flashing and then you press the "Connect" button at the bottom of the keyboard and mouse once. It should detect the keyboard and mouse, and you are good to go for now.
Before we enjoy anything, you have to download the drivers and software to enjoy the special features, right?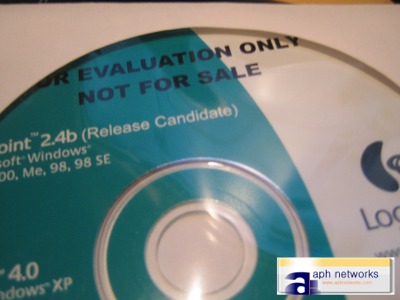 Included with the review sample are some beta drivers. I think I'll stick with the stable version of Setpoint drivers on Logitech.com. By the way, it says "Not for sale" on the beta driver CD... who would want to sell such a nice keyboard/mouse set instead of keeping them?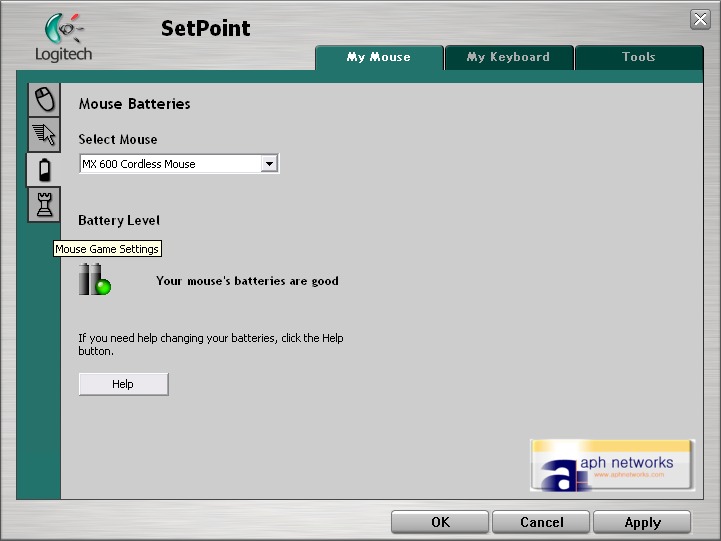 Installing the driver requires a reboot. After rebooting, I started configuring my set.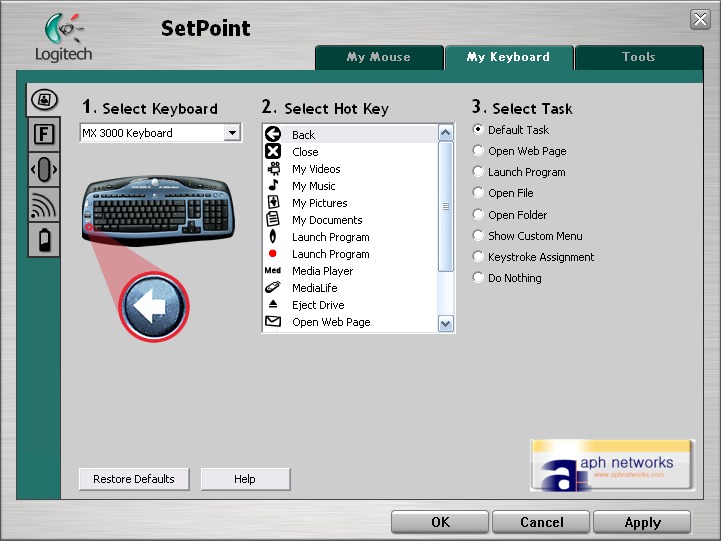 You can view the battery level of your keyboard and mouse within Logitech's program.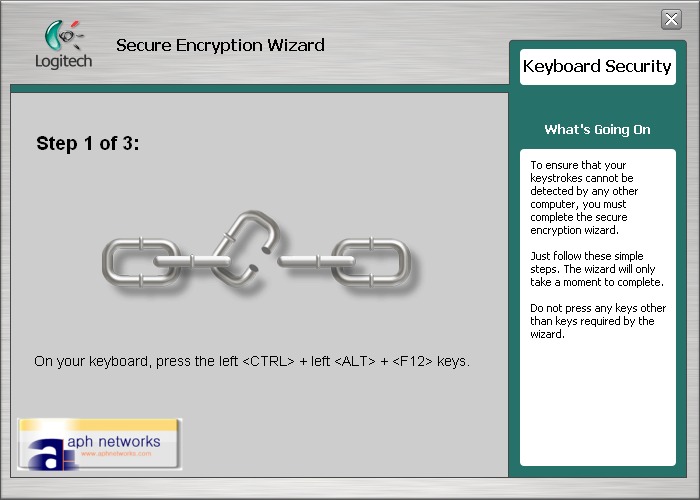 The hotkeys are fairly easy to configure and also fairly customizable.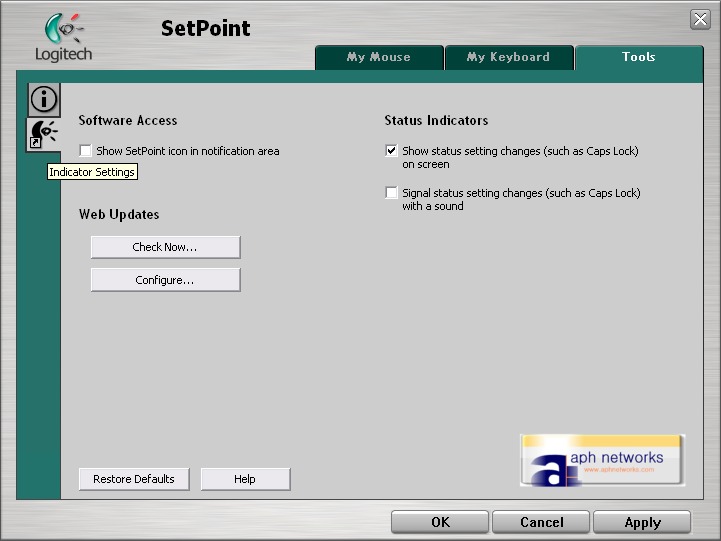 I haven't even thought of this yet... (Maybe because I haven't really used a wireless set before anyway) but you can encrypt your keyboard's wireless signal, in three easy steps. Pretty nice.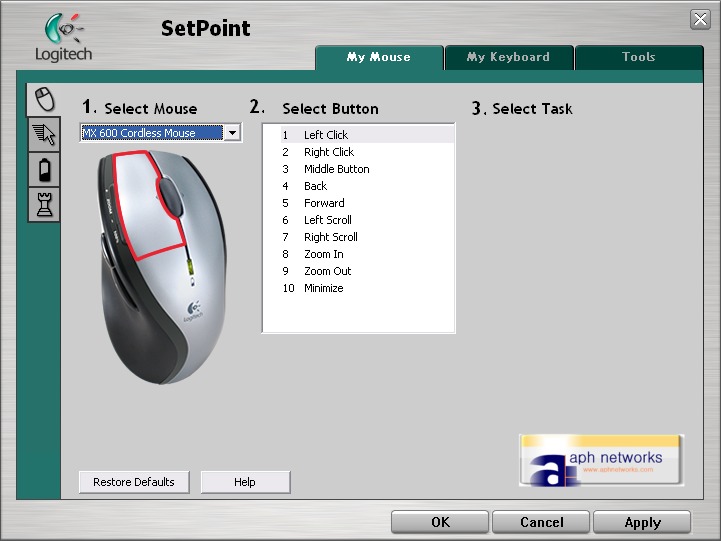 Remember how they used to have Mouseware for the older Logitech mice such as MX500, and you can program the middle button on the mouse to do things such as "Minimize All" and such? Well, I found Minimize All such a good function on my MX500. In Setpoint, you cannot program the buttons on the MX600 laser mouse to minimize all. The closest one is just minimizing the window in focus. If only Logitech would add that to their next version of Setpoint drivers...
Moving on, let's take a look at the physical attributes of the keyboard.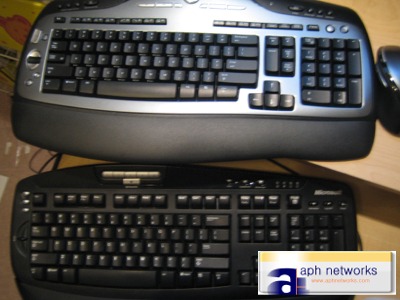 Sorry for the bad photo, that's all I have with me right now. Just a comparison with my old Microsoft Digital Media keyboard.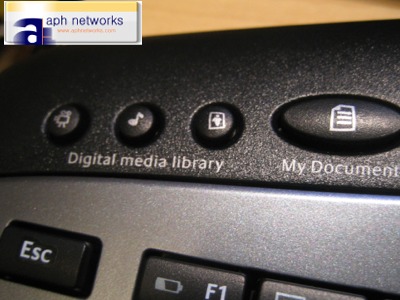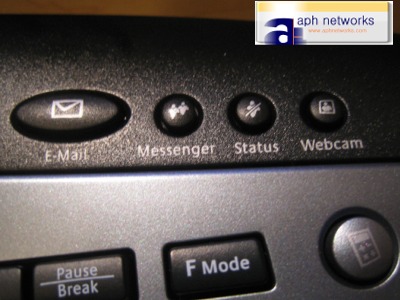 The hotkeys. However, I never got used to using hotkeys on my keyboard, but to some people it may be useful. (Don't worry, I open everything through my start menu, so I am the odd one). The idea behind this is to make your work more efficient, with all the often used programs ready to launch at your fingertips.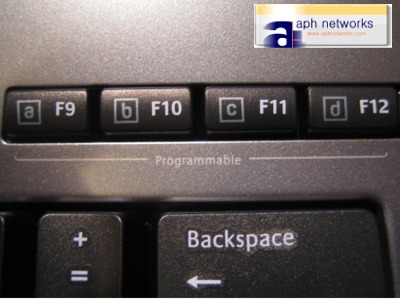 Yep, they are programmable -- as long as you have Setpoint installed, of course. By the way, this keyboard is pretty thin and stylish. When you press the keys, it goes down just as much as any other keyboard, so it does not feel like a laptop keyboard at all.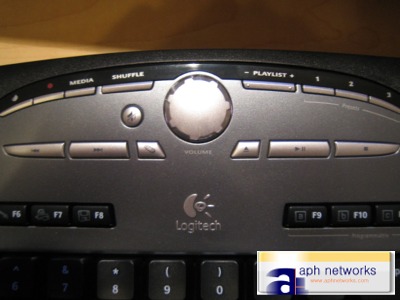 Then there are all the media keys. Volume control is standard on all keyboard nowadays, but the Shuffle and Playlist buttons are not. (Nice addition, Logitech)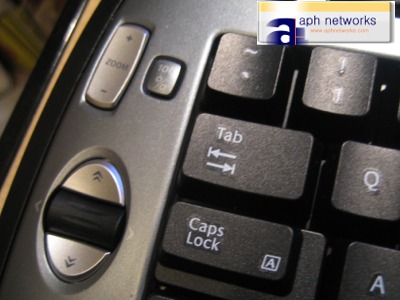 Don't you see the zoom and wheel on every keyboard nowadays? Ever since Logitech had these on their Internet Navigator keyboard, or that Microsoft had it in its Office keyboard a few years back. (Whoever that had it first anyway)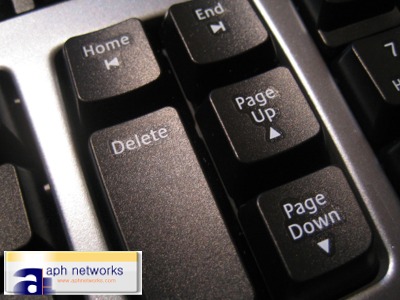 Hmm... what the heck, five keys here? Where did the Insert key go?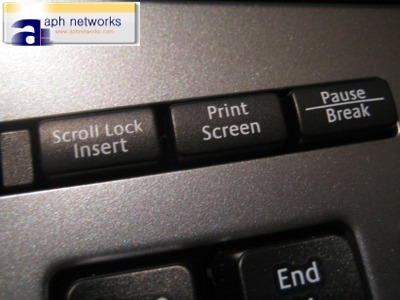 After a bit of searching, I discovered that the Logitech keyboard designers decided to move it with the Scroll Lock key. I never use any of those keys anyway -- and most people press "Insert" by accident when reaching for the "Delete" key. Good move, Logitech.
Typing on this keyboard is a little different than others -- the key placement is different, and I often hit the wrong key/miss a key/hit the one next to it with the intended key. After a while, however, I got used to it.
What else can I say about this keyboard? It's a keyboard, and it's wireless, with a lot of hotkeys and programmable keys. Oh yeah, typing is fairly quiet on this and of course, Logitech advertises this on all their keyboards -- Zero Degree Tilt!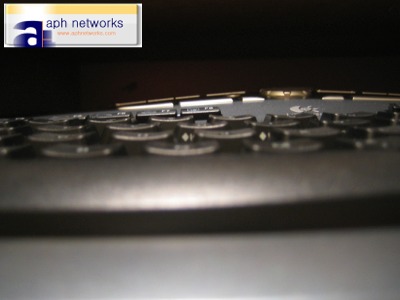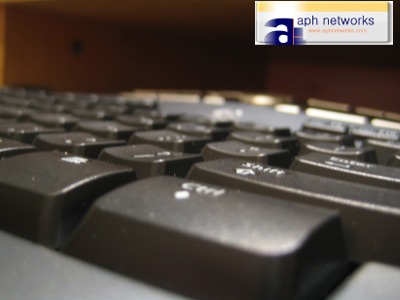 Nice 'n flat, just like how it's supposed to be...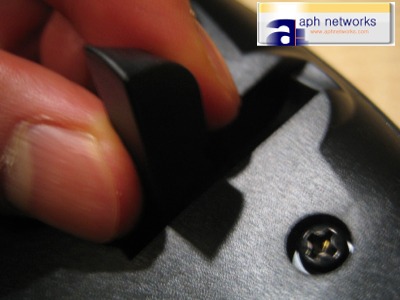 You know how people like their keyboards lifted up a bit, well, there's the risers right here. Logitech always likes to make these riser/leg things open differently than the "typical way"...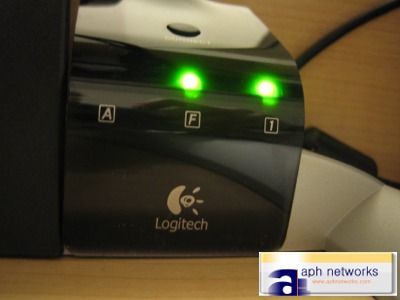 If you look closely at the keyboard, there are no Capslock or Numlock LEDs on it. The LEDs are moved onto the receiver. No more looking down at your keyboard and wondering if Capslock is on or not. Very cool.
There isn't much to say about the actual performance of this keyboard, or let's put it this way -- the performance is so good, I can't really put down anything. It doesn't miss a key even if I type fast, and I can sit pretty far away from the receiver and have no problems typing away a document. As for battery life, well, since Logitech says that it lasts over a year, I have no way of testing that (yet). Very nice looking keyboard and offers excellent performance.
The star of this set, however... is the mouse! More importantly, I must stress that it is a "Laser" mouse.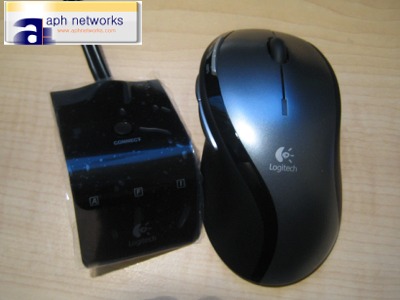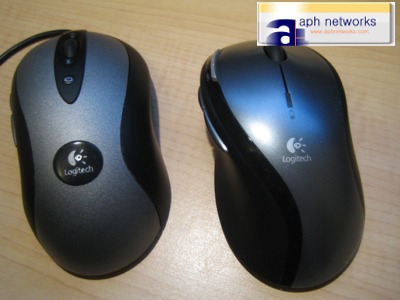 Compared to my old MX500.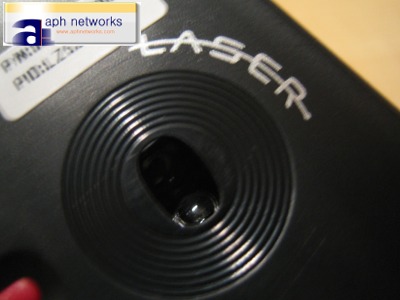 So what's the difference between an optical mouse and a laser mouse? Or, why choose laser over optical/LED? As far as I know, the LED or laser is a light source to illuminate the tracking surface. LED light isn't very concentrated, where as laser can be concentrated onto one point, and so on, allowing more precise tracking and the ability to work on shiny surfaces.
The main difference between the MX600 included in this set and the MX1000 which can be purchased seperately is battery life. Logitech claims that this mouse can last up to six months on two AA batteries, while the MX1000 lasts about a week on its built in, non-removable battery. One thing is that the MX600 mouse can run off one battery. So if your battery dies down really fast, its either one of them has bad contact or you installed it the wrong way.
Performance of this mouse is excellent. It's very precise, I have no problems playing Counter-Strike: Source with this mouse (and keyboard). Photoshop-ing isn't a problem at all either, it communicates very well with the reciever, and so far no lost signals as far as I can tell.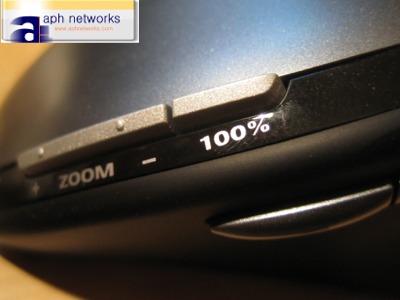 There are the standard back/forward button, and the whatever-you-call it Zoom and "100%" button (Which I programmed to minimize. Again, no "minimize all", one of my favourite feature on the MX500/Mouseware drivers)
So far, the MX3000 has been performing very well for me. I have no problems typing fast on this keyboard, the encrypt feature is not really a "must have", but still an excellent feature. As for the mouse, it's very precise and the performance is amazing. Aesthetically, the MX3000 set looks very nice, with the receiver at no exception. I can sit pretty far away from my desk while typing and clicking without a problem. The layout has been slightly modified from typical keyboard designs, but it's still very logical and easy to get used to. In fact, the MX3000 changed my entire view on wireless keyboards and mice -- I once disliked using wireless input devices due to their lack of performance against wired equivalents. The MX3000 is just plain awesome, it's superb. If you were to get a wireless keyboard and mouse set, look no further than the MX3000 -- you can pick one up for as low as $58 USD online.
Special thanks to Kate over at Logitech for making this review possible.
Note: The number ratings below has been adjusted accordingly to comply with our new Number Rating System.

Rating: 8/10 | APH Recommended
What do these ratings mean?
Truly outstanding keyboard and mouse set at an excellent price. Drivers just needs a tiny bit of work.